Overview

Bluetooth Speaker Alarm Clock Radio
Wake up energized with the Magnasonic Bluetooth Speaker Alarm Clock Radio. Enjoy the ultimate convenience of this all-in-one alarm clock while appreciating the sensational sound you wouldn't expect from your bedside table.

Wirelessly Stream Your Music To Your Clock Radio
Designed with all the features to get you out of bed and ready to rock! With an integrated Bluetooth speaker to get you moving to your favorite beats. Stream from Spotify or iTunes directly to your bedside speaker.

Charge Two USB Devices as You Sleep
Recharge your phone and yourself. Enjoy the ultimate charging station that will keep your most used devices within arm's reach, fully charged, without taking up multiple hard to reach outlets hidden behind furniture. Keep your smartphone, tablet, or e-reader at 100%.

Start Everyday with Simplicity Without Sacrificing Functionality
We developed the world's easiest to use alarm clock. Plug it in, select your time zone and it automatically sets the time. Packed with innovative & useful features like automatic adjusting display brightness, dual alarm, battery backup, auto daylight savings time, aux 3.5mm input, large 4.8" display, indoor temperature (C/F), date display, digital AM/FM tuner, sleep timer, radio presets and wake to radio or gradual wake buzzer to awaken even the heaviest sleeper.

Project the Time on Wall or Ceiling
Rolling over in the middle of the night to see the time when you're half asleep isn't pleasant. Easily spot the time on the wall or ceiling with the 180-degree swivel projection. The time will always remain in convenient view; all you have to do is open your eyes.

Record Your Own Custom Alarm
Wake up to the beautiful sound of your children or grandchildren singing the new song they learned. One-up your significant other with a hilarious custom alarm prank war. Or just record a beloved sound or song to start your day with a smile.
Get the quality sleep you need and deserve.
Specifications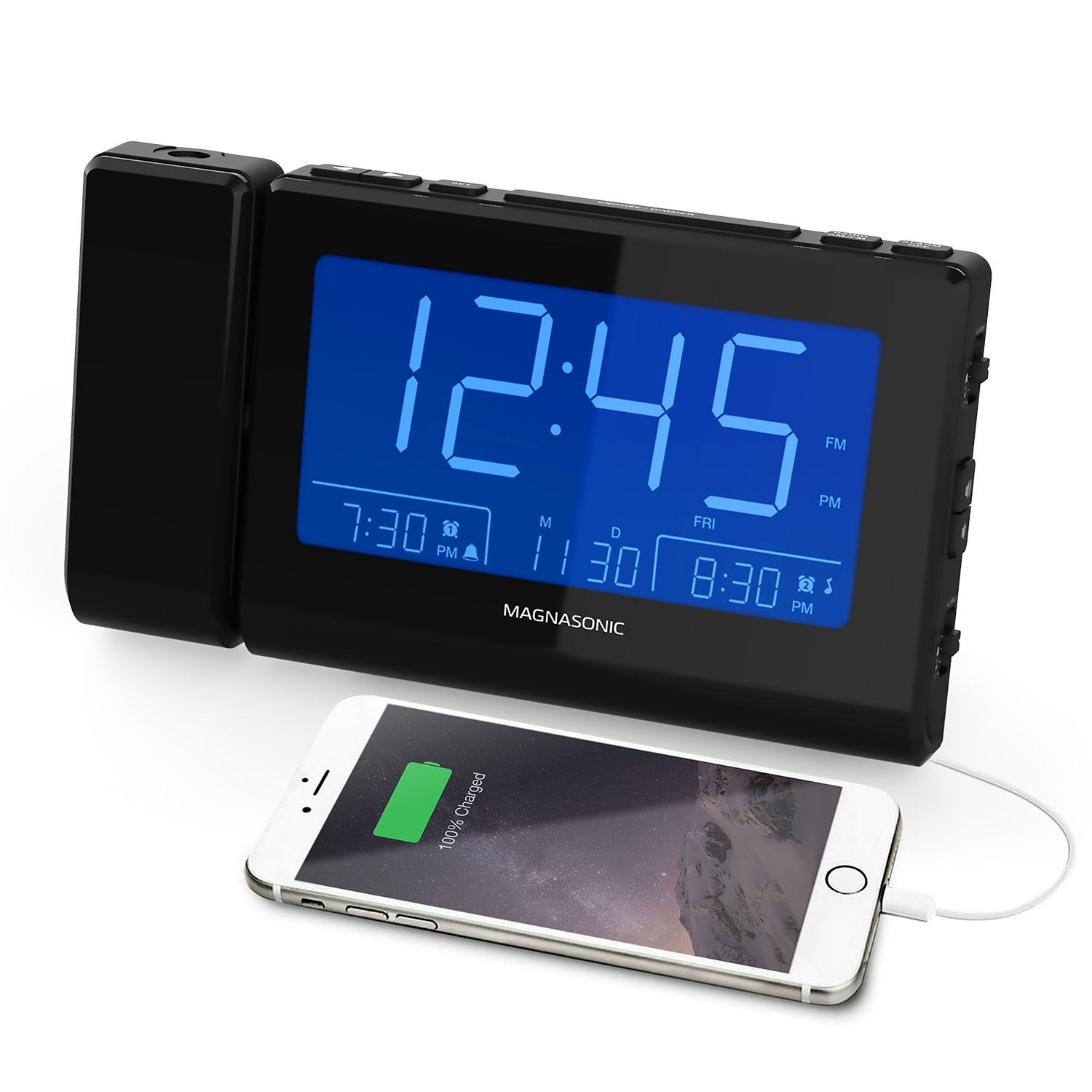 Display Size
4.8" LCD
Display Colour
White/ Blue
Dimensions
7.5 x 4.25 x 4.0 inches / 19.05 x 10.8 x 10.16 cm (HxWxD)
Automatic Time Set
Yes
Sure Alarm
Yes
Wake Up
No
Battery Back-up for Time
Yes
USB Charging
Yes
PLL Digital Radio Tuner
AM/FM
Radio Station Pre-sets
10 AM, 10 FM
Dual Alarm
Yes
Calendar Display
Yes
Indoor Temperature Reading
Yes
Adjustable Brightness
Auto, High, Medium, Low, Off
Sleep Timer
Yes
Daylight Savings
Yes
Time Zones
8 (Newfoundland – Hawaii-Aleutian)
Recording Modes
Yes (30 seconds)
USB Charging Power
Dual Ports, 2.1A (1 Device: 2.1A, 2 Devices: 1A each)
Speaker Size
2" 5W, 4 Ohms
Volume Indicator LED
Numerical display of volume value
Power Input
100-240V 50-60 Hz
Audio Inputs
Bluetooth, 1 x 3.5 mm Aux In (Aux cable not included)
Frequency Range (AM)
AM – 520 – 1710 kHz
Frequency Range (FM)
FM – 87.5 – 107.9 MHz
Power
DC 5.0V 3.0A
Projection Swivel Tilt
180%C2%B0 Tilt
Number of Alarms
2 (week, weekday, weekend)
Alarm Options
Radio, Buzzer, Custom Recording
Projection Flip
Yes
Projection Focus
Yes
Time/Date Restore
1 x 3V, CR2032 Flat Lithium Battery (Included)
Unit Weight
1.3 lbs
Unit Colour
Black
Certifications
FCC/ICES, ETL/CETL, NRCan
UPC
061783267493/ 061783267479
What's Included
CR65 Clock Radio
Instruction Manual
1 x 3V, CR2032 Flat Lithium Battery (installed)
100V-240V (50/60Hz) AC Power Adapter
Lifetime Customer Support
1 Year Manufacturer's Warranty
Customer Reviews
Aron, L

January 17, 2020

California, United States

It was amazingly difficult to find an alarm clock that had all the features I was looking for; small but not too small, projected time, self-setting, Bluetooth speaker, dimmable, dual alarm, wake to alarm or music, good price...
Very hard to find, but this product hit all those marks, but just barely.
Size was good, projection was ok but the display of dots was difficult to read. Dimming was too dim and the next setting up was too bright. Bluetooth was ok but the sound was not great. Self-setting time was not accurate. Off by almost ten minutes. Everything else was alright, even the price.
Considering how few products have all these features, I guess I was lucky to find this one, even if it was not perfect.

Aron, L

4

Homeschooling H

September 13, 2019

I really expected to like this clock, but was immediately disappointed upon opening it. There is no film covering the front of the clock to protect it, no soft packaging inside the box. The clock face just rubs against the box and arrives with small scratches on it. The glossy surface shows fingerprints whenever you touch it.The light of the clock is nice, and the projection is nice. It doesn't work on my wall as I wanted as a side sleeper since the wall is too close and the numbers would be too small for my eyes, but the focus feature is great and an absolute must when you find the right projection clock. Wearing my glasses, I could get it to focus on the near wall and clean up the focus for the ceiling. The number on my ceiling are big enough as the numbers are larger that farther away it is projected. People with vision problems probably won't do well with a projection clock. I can read my cell phone better to be honest, with less physical body movement. If I could see it on the wall, the projection portion would be perfect for me. My eyes are at fault for this feature, not the clock.The functions of the clock themselves is a whole another negative for me. I've had complicated, comprehensive clock/alarm/radio systems that I could operate without reading directions. However, I needed the directions just to figure out the buttons since the buttons are tiny and the print is small. The instruction guide print is super small too so have those reading glasses handy.The AC outlet cord is just way too short. If you don't have an electrical outlet handy right where you're going to set the clock, then you're going to need some type of extension cord or power strip.So, unfortunately, the 3 negative things I had read in reviews I have to agree with. Careless packaging, not a user-friendly-in-the-dark layout, and too short of a cord.The readability of the clock and the projection features work great if you have the vision and the right location far enough away for your vision =].Being disappointed with these things, I didn't bother to try to bluetooth connection or recording my own alarm sound. It's going to just be a digital clock display for me.

Homeschooling H

3

TH

September 2, 2019

I love this clock, but it's my alarm and both alarms stopped working. I googled the problem and someone suggested resetting the clock by unplugging it and taking the battery out to reset it. I'm not confident that if that solves the problem, it will not happen again. Don't want to be late to work again! Very disappointing. I only had it 4 months.

TH

1

Catherine b

July 26, 2019

Works great has everything

Catherine b

5

Abdillahi a

June 19, 2019

Its worthy but was much smaller than expected

Abdillahi a

5

Jim

May 15, 2019

I bought this because I got lazy - got tired of rolling around looking for the time, now I just look up at the ceiling and there is the time, Love that! I have not used the alarm, radio function, or charged my phone yet, planning on taking it on some trips and with the auto set feature should not be a problem and that is when I will use the other functions. Works great for what I got it for.

Jim

4

ACWN

May 15, 2019

The clock itself is nice and the projection feature is cool, however in order to make the numbers big, you have to have it some distance away. We have ours pointed on a surface a good 10 or so feet away and the numbers are very large. This normally wouldnt be a problem, however anything beyond about a foot in front of my face becomes so blurred its only recognizable by vague, blobby shapes and colors (IE faces) without my glasses. This means that even though the numbers are a good 8' in height, and plenty bright at night, I cannot read them from my bed - which is why I even got the clock in the first place. The numbers also entirely disappear during the day.If I was able to get the same projection size on the ceiling above my bed where I could most likely read it, I would be giving it 5 stars and all the praise in the world, but alas...

ACWN

2

Debbie S

April 23, 2019

The clock radio only arrived yesterday so we haven't spent a lot of time with it yet, but so far we like it. The only disappointment is that the projection clock on the ceiling is backwards.

Debbie S

4

sandy

April 11, 2019

It works just fine. Convenient to have an outlet for phone, without too many cords by bedside. The only negative is, since it's digital, the volume is either too low or too high. Overall a good product.

sandy

4

BriMur

April 10, 2019

Clock was great. Alarm was very quite. Even at full volume I could barely here it across the room.

BriMur

3

Amazon Customer

March 27, 2019

Easy to use. Would like an easier to read display.

Amazon Customer

4

Amazon Customer

March 25, 2019

It's exactly what I needed.

Amazon Customer

5

Guy L

March 19, 2019

Quebec, Canada

Would recommend. Full of nice features.
Auto set, USB charger, time projection...they are GREAT
Things I would like in a upgraded version in the future:
Less buttons - have a menu button instead.


Guy L

4

sleepy g

March 15, 2019

Has all the features I was looking for. The time projection on the ceiling is excellent. Automatic time setting is so convenient. Handy USB ports. Dual alarms. Really like it. Highly recommend!

sleepy g

5

udontknowme

March 1, 2019

I have been using this alarm for about two weeks now and so far it has been great. I bought it for the Bluetooth so I could listen to music off of my phone at night, and also the dual usb charging ports for both my wife's and my phones. But the other features have been really cool as well. The clock projection works wonderfully and isn't to bright with all the lights off. The dual alarms can both be set to go off on only certain days of the week so you won't forget to turn it on after a long weekend. The FM radio also has 10 preset channels to use instead of beeping alarm if you prefer. It may be a little pricy but I think it was totally worth it.

See all reviews

udontknowme

5
Resources
Manual
FAQs
Does the CR65 Clock Radio set itself like an atomic clock? ▼
No, the clock is shipped to you with a pre-set time. The first time the clock is set up, you will be asked to select your time zone which will set the correct time for your area.


Does this Clock Radio have a gradual alarm? ▼
Yes! The radio and recorded alarm sound with a gradual increase in volume up to the setting selecting during setup. The buzzer option will sound at a consistent volume level.


Can I play music from my Smartphone as an alarm? ▼
No, the clock does not have the ability to control the phone to start playback based on alarm


Will this clock run on battery alone? ▼
No, while the clock has battery backup, it's used to retain settings when the power goes out. It doesn't provide enough power to run the clock on its own.


Will the alarm go off if the power goes out? ▼
Yes! The Magnasonic CR65 Bluetooth Speaker Clock Radio uses Sure Alarm technology to sound your alarms on time, even when the power is out! When power is restored, all of your settings and time will remain as well.