Overview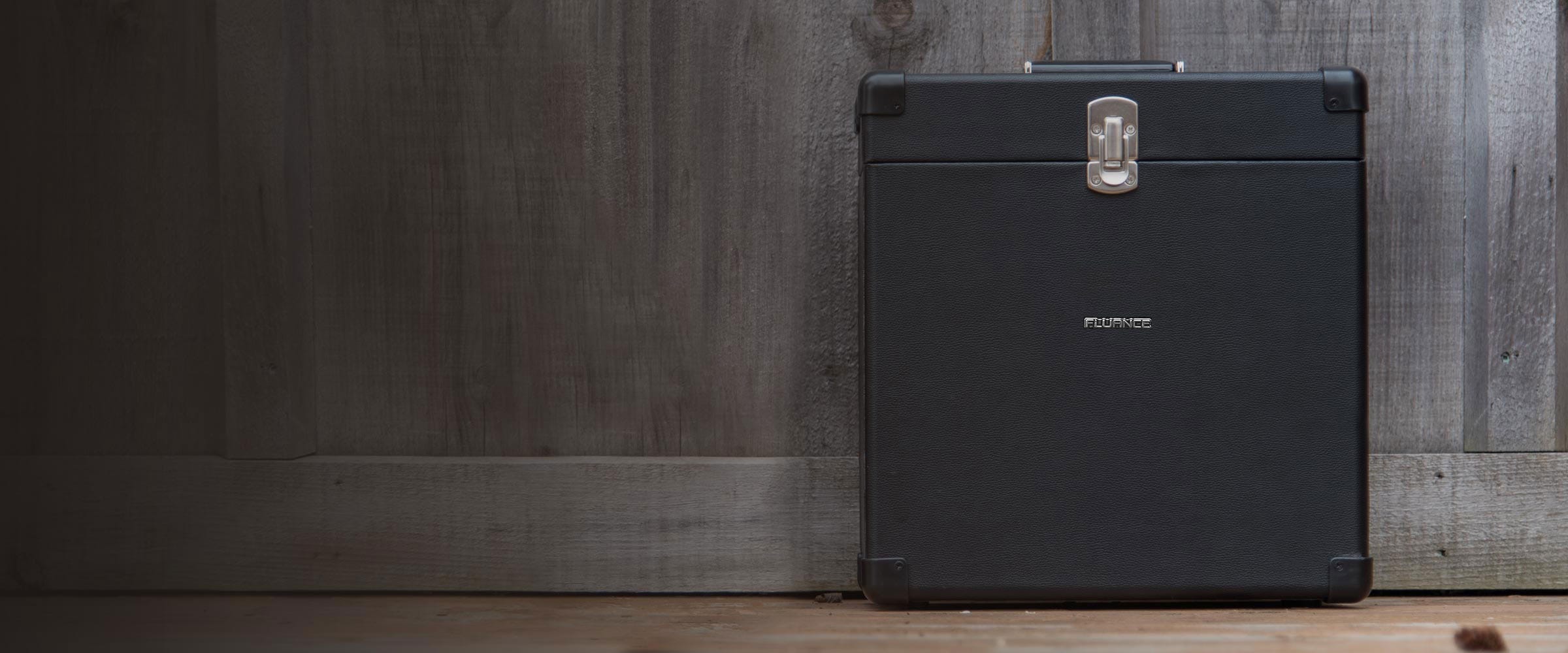 Your vinyl collection is a delicate representation of you, your character and your personality. Protect it on the go with the RT10 Vinyl Record Carrying Case. Say goodbye to milk crates. You can conveniently transport up to 30 records of all sizes in style.
Classic Styling
The Fluance Vinyl Record Carrying Case is more than just a practical possession: It's also stylish. Carrying your LPs becomes effortlessly chic thanks to a simple and sleek design that calls on the style of the 1960s. Whether the vinyl case is placed next to an original, mid-century record player or a contemporary stereo, it will pair beautifully. The case boasts a black vinyl finish with metallic hardware to give it an elegant look.
Secure Storage for your Growing Collection
Safely store up to 30 of your cherished records whether at home or on the go. Set it down next to your record player, pop open the lid and browse through the neatly organized albums. When you set off for your next destination, simply clip the solid metal latch back on and take your vinyl to go.
Durable Case Designed to Last
Protect your precious records from dust, humidity, and physical damage with a heavy-duty case built to last. The body itself is made of tough MDF-grade wood (measures 13.75" x 6.75" x 15.5"). Even better, there are reinforced corner guards to protect your valuable albums from damage as corners are often the first part of a carrying case to wear.
Strengthened Carrying Handle
This handle holds strong even when the case is full. Have some peace of mind knowing you don't have to worry about travelling with your favorite records.
Specifications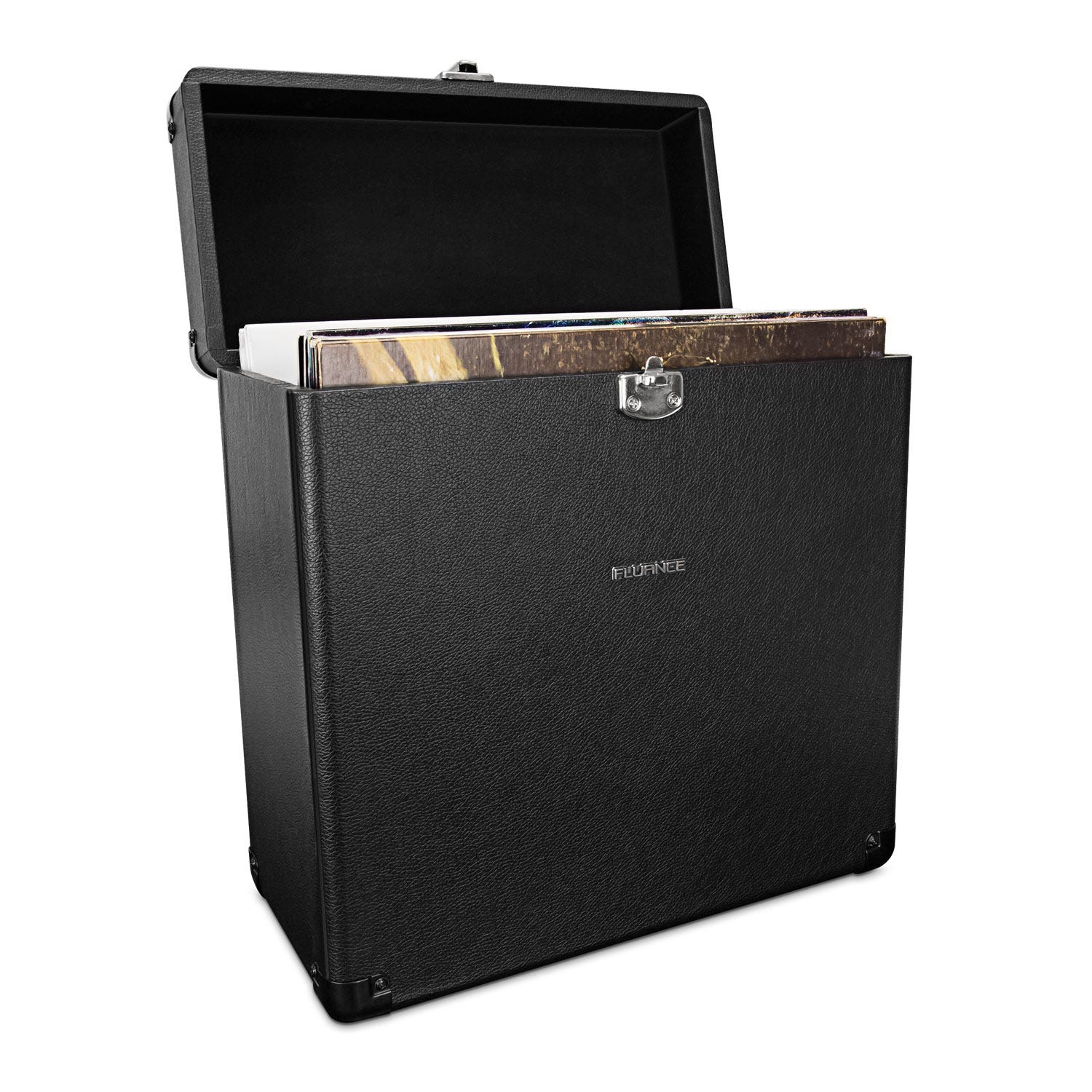 Dimensions (External)
13.75" x 6.75" x 15.5"
Dimensions (Internal)
12.625" x 5.75" x 13.25" (includes lid space)
Carrying Capacity
30 Records
Load
29.5 KG
UPC
061783265680
What's Included
1 Vinyl record carrying case
1 year manufacturer's direct warranty.
Customer Reviews
Chris P

February 8, 2019

New Jersey, United States

This record case looks great! Perfect for my albums

Chris P

5

BRAD B

February 4, 2019

California, United States

Record case was great! High quality and matches my record player well. I have the fluance RT81

BRAD B

5

Dennis, T

January 23, 2019

Massachusetts, United States

I am very excited to use this while traveling. Looks great!

Dennis, T

5

Dennis, T

January 22, 2019

Massachusetts, United States

Looks great! Cannot wait to travel with it.
The shipping was fast, and the packaging was great.

Dennis, T

5

AnthonyL

January 22, 2019

California, United States

It stores alot of my records and keeps them safe. I don't have much space so I really needed this.

AnthonyL

5

Affy R

January 19, 2019

Ontario, Canada

The case is made from very good quality materials and the craftmanship is immaculate! Rest assured, my records are safe in this case!

Affy R

5

Marc W

January 19, 2019

Ontario, Canada

Great little case. Use it to transport records around. Also looks great in my listening room. Very nice indeed.

Marc W

5

Brad M.

January 14, 2019

Indiana, United States

Heavy duty case. Well packaged.

Brad M.

5

Randy P

December 12, 2018

Arizona, United States

Very well built

Randy P

5

Ralph Wilson

October 6, 2018

California, United States

Very well made with quality parts.
A little to big but I am sure it will work just fine.

Ralph Wilson

4

Carl D

October 2, 2018

Quebec, Canada

Looks great just like the picture. Built very like they used to do 50 years ago. I love it!

Carl D

5

A. F

June 12, 2018

Sturdy and well-built from beefy materials. Really pleased with the product! - Verified Store

A. F

5

K. M

April 26, 2018

Pretty solid case. It's not too big but will securely carry a decent sized stack of records. I plan to use the case for transporting records in my car and I have no concerns that the quality of this item will withstand the daily wear of being left in the trunk with my other random stuff. Four-Stars because I paid around $55 with shipping I would have been happier paying $40. I chose this case because of it's durability and size I am not disappointed at all. - Verified Store

K. M

4

Lisa

February 23, 2018

This was here the day after I ordered it. It's sturdy and keeps my records safe. - Verified Store

Lisa

5

Larry P

September 23, 2017

Very well made. Great quality. Fast shipping. - Verified Store

See all reviews

Larry P

5