Overview
Featuring vivacious high-end sound and elegant style, the SV10 is an elite, flawlessly made three-way speaker system. The SV10's narrow profile is given additional emphasis by the side positioning of the high excursion subwoofer, allowing for an un-crowded placement in your sound system. This system provides exciting performance in any listening environment, and with superb sound radiation and rich timbre, the SV10 is perfect for music and home theater applications.
The SV10 is internally braced - both vertically and horizontally - to ensure that the acoustic image remains free from cabinet vibrations and driver resonances. Audio grade MDF wood construction suppresses enclosure panel resonance for distortion-free, accurate response. By virtue of the tuned bass reflex cabinet, with ports in the rear and the side-firing 8 inch subwoofer, the SV10 produces a brilliant and dynamic low frequency performance. Coupled with Neodymium balanced pure silk dome tweeters - rare in speakers at this price - the SV10 provides a smooth and accurate high frequency projection. By utilizing only premium components - such as powerfully dimensioned, high-performance drivers - and boasting a distinct design with a classic natural beech finish, the SV10 offers a pure listening experience that will harmonize perfectly with any modern living area.
8" Side Firing Subwoofer

Long throw side-firing drivers for longer excursion and better linearity.

Side-mounted subwoofer eliminates frequency interference from front-mounted drivers.

Audio grade MDF wood construction to reduce cabinet resonance

Vertically and horizontally internally braced cabinet with reinforced front baffle

Ultra high-end Neodymium tweeters provide accurate high frequency response

Ferro-fluid cooled tweeter for longer life

Butyl rubber surrounds for increased durability and performance

Thick subwoofer baffle with high strength frame

Flush mounted woofer to avoid basket frame related diffraction

Tuned bass port for controlled low frequency response and improved efficiency

Bi-amp/bi-wire 5-way gold plated binding post terminals for optimum conductivity

Banana plug and speaker wire compatible connectors on all speakers

Low diffraction flush fit removable front grilles for spacious imaging

Magnetically shielded to avoid interference with other video products

Floor spikes to isolate speakers from the floor - for use on hardwood or carpeted areas

Premium crossovers feature Butterworth design for audio equalization

18 gauge internal lead wire to reduce signal degradation

Sold in mirror image pairs

Premium natural beech vinyl veneer woodgrain finish to compliment any home decor
Specifications
Fluance™ High-Fidelity Three-way Floorstanding Loudspeaker SV10Single-Right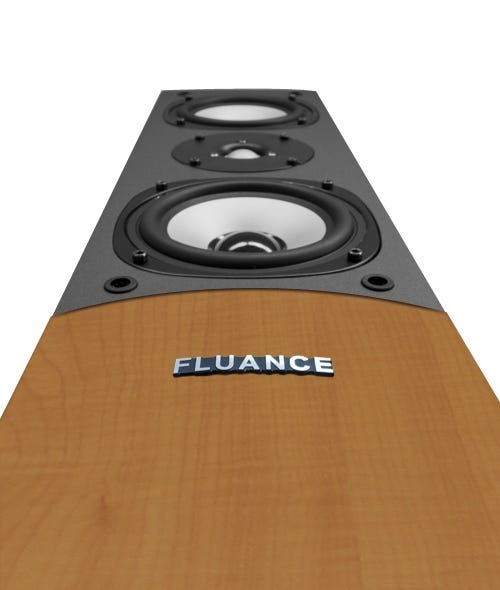 Fluance™ High-Fidelity Three-way Floorstanding Loudspeaker SV10Single-Left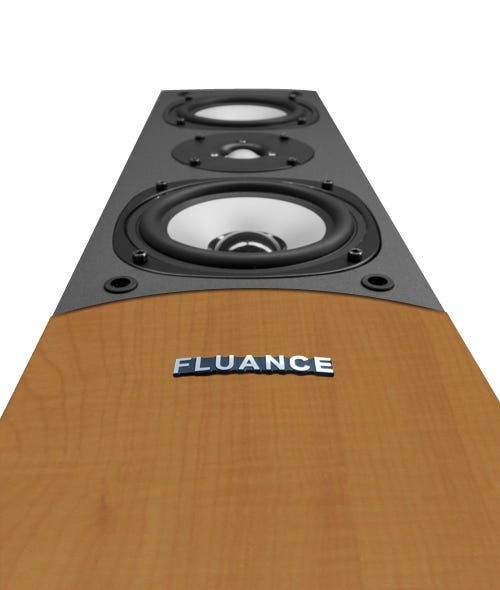 Customer Reviews
john c

November 20, 2015

this is the first time i decided to purchase fluance speakers.. with limited room, instead of bulky speakers i needed tower speakers to be able to fit into a bedroom.... first of all, these speakers were packaged vary well, shipping was fast... the build and quality is quite impressive... these speakers will be for stereo imaging two channel use... i wont be hooking these up to a typical receiver, which most receivers dont put out the proper wattage to drive speakers, but a powerful wharfedale mp-2800 power amplifier that produces 600 watts per channel under 8 ohms... this would allow me to have the full effects from these speakers... just as, if these produce 200 watts, have a amplifier at least double the wattage of your speakers..... with a separate pre amp, a full detailed equalizer and a sonic processor the sound quality is vary impressive.... vary good sounding bass, mid voice, and upper top end of the spectrum is vary detailed and clear... as noted, these speakers can produce up to 200 watts.... with the side firing subwoofer, there is not need to purchase a separate sub... the side firing subwoofer does produce enough bass for the sound desired... keep in mind these speakers are not excessive loud dj speakers, but vary impressive detailed sounding speakers.... note, these speakers are some what tall, the finish is laminated and the inner cabinet content bracing is good... these speakers are made overseas, with certain restrictions of quality control... finally, these speakers are not the vary best, but are vary impressive in detailed sound and quality.... i would recommend these speakers to anyone who wants the clarity and detailing of sound in stereo or even a surround system.....

john c

5

Jan M

November 20, 2015

I purchased these speakers 6 years ago and not only do they still look like they did when I received them but now that they are hooked up to a Premium JVC AV receiver with all heavy duty wires and banana plugs to a brand new 55" LG LED flat panel they sound amazing more today than how I had them hooked up before.

Almost like they are now on their second life and I hear sounds now that I have never heard before. Everything is Optical connected and truly amazing.

The bestthing of all is how Fluance takes care to ship them, the look is incredible, the price is too and all my friends think I spent a $1.000.00 for them so I just tell them to go on the Fluance site and see for yourself. Amazing job Fluance.

Jan M

5

Jason F

November 20, 2015

I have had these speakers for a couple of years now and I could not be happier. Clean, Clear and powerful sound with excellent imaging and detail. From classical to jazz and all the way up to hard rock, these speakers immerse the listener in sound much like a live performance. I replaced my PSB Image towers with these and now the PSBs are sitting in the closet. Once these speakers open up after a few hours of use they are very nice...and the price is way below what the sound quiality dictates. The construction is rock solid and the finish nice. I would prefer a real wood veneer but the finish provided is very durable, easy to clean and really looks great. Put a quality amp or receiver on these and they sing...even better, bi-amp and hold on for one h&ll of a ride. Music and movies all sound amazing.

Jason F

5

Gene

November 20, 2015

I bought these nearly five years ago and they still sound great! They are in a large room that is using an excellent older tuner w/o 5.1. I did not want to go the sub-woofer route and these handle the bass very well w/o any subs. One of my concerns before I ordered them was the possible appearance w/o actual wood veneer. Not to worry, they are very attractive and still look new. Polk had a comparable speaker design at over twice the price and these sounded better to me at that time. The quality is very apparent and the sound is amazing. I was impressed with the quick response and protective packing they used for shipping. Not like anything I had seen before from an on-line supplier.

Gene

0

Chris A

November 20, 2015

These perform well in a small to medium size room. They are good entry level speakers but they are weak on low frequencies and are inefficient so they require a receiver/amp with plenty of power because they are inefficient and 8 Ohm. I would suggest a receiver/amp with at least 120+ watts. The 8" side firing subs might be good enough for music, depending on what you listen to, but if your going to use these for watching movies I would add a separate subwoofer with a dedicated amp. Something that can fill in the low end frequencies, mid 20's-80 or 90 Hz. That way you will get the full effect of the movie and you can place the subwoofer in the room where it sounds best.
I also recommend a receiver with an Audyssey Room Acoustics feature which, with help from a microphone that is plugged into the receiver, calibrates each speaker to sound its best from the main seating area i.e. couch, recliner etc.
If your a little bit handy there are plenty of DIY subwoofer designs online. Parts Express sells some great subwoofer "kits" and there are other sites that have plans for DIY subwoofers. Building the subwoofer yourself will save a lot of money and you can design it to fit the style of your room.

Chris A

4
Resources
FAQs
Do I need a receiver/amplifier for these speakers?
All Fluance passive speakers (unpowered) require a receiver or amplifier to provide them power and a connection to your home theater or media setup.

For more information on how to match your speakers and amplifier, please see our video: