Overview

Sandisk 8GB SDHC Memory Card
This SD card is a highly secure stamp-sized flash memory card, and weighs approximately two grams. Jointly developed by Matsushita Electronic, SanDisk and Toshiba, the SD Card weighs approximately two grams. It is fully plug and play, compatible with all digital music players, digital camcorders, digital cameras, handheld PCs, mobile phones and other devices that are SDHC (high capacity) compatible. Optimal Price. Optimal Performance. Guaranteed Compatibility.
FEATURES:
High storage capacity (8GB) for storing essential digital content such as high quality photos, videos, music and more
Optimal speed and performance for SDHC compatible devices
High Quality SDHC card backed by 5 year limited warranty
Easy to use, just snap it in and you are ready to shoot or play
Cryptographic security for copyrighted data based on proven security concepts
High transfer rate for fast copy/download up to 2.5MB/s burst data transfer rate
High storage capacity & plug-n-play
2.7V to 3.6V power supply operation (power consumption 45mA)
Non-volatile solid-state no moving parts maximizes battery power
Data is not lost when power is turned off
Low battery consumption to maximize battery life in small portable devices
User selectable mechanical write protect switch on the exterior card casing
Operating shock rating of 2,000Gs equivalent to a 10-foot drop to the floor
Unfazed by drastic weather conditions ranging from blistering heat to freezing cold
Security level complies with current and future Secure Digital Music Initiative SDMI portable devices
The SD Card weighs approximately 1.5g, is 32mm x 24mm, and is 2.1mm thick.
Specifications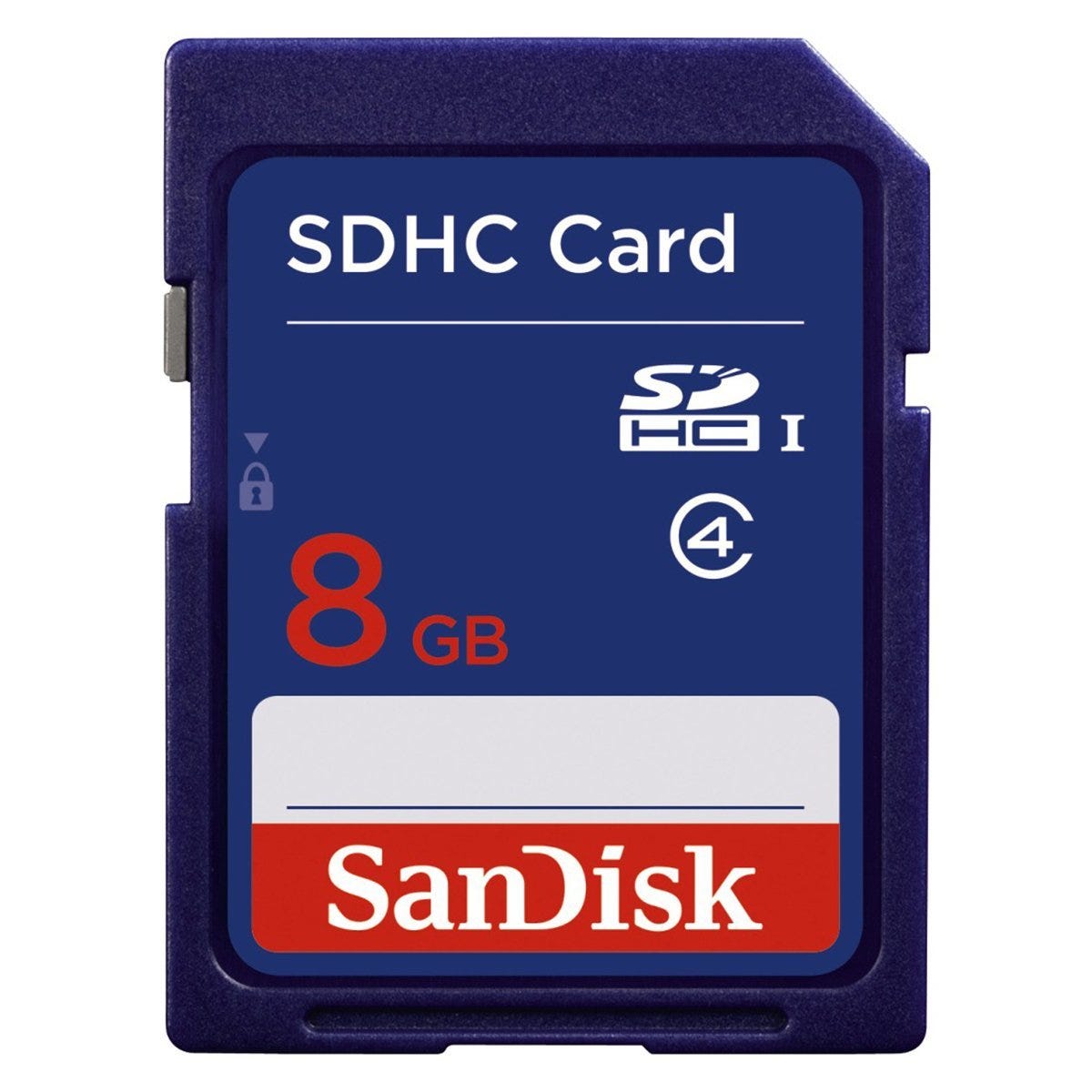 Storage Capacity
Max 8GB
Speed
Optimal Speed for SDHC compatible devices
Power Supply
2.7V to 3.6V power supply operation (power consumption 45mA)
SD Warranty
Yes
Length
32mm
Height
24mm
UPC
619659039639
What's Included
Sandisk SDSDB-8192-A11 8GB SD High Capacity Flash Memory Card (bulk packaging)
5 year manufacturer's direct warranty.