Overview
Want to listen to your Ipod or other MP3 player on your home stereo system? This 3.5mm stereo plug to dual RCA plugs allows you to listen to your portable audio device, or computer, on your home theatre receiver. It is the quick and easy way to adapt a standard 3.5mm (1.8-inch) sound output (headphone jack, computer sound card, etc) into standard RCA jacks. Great for listening to the sound from a device with a normal headphone jack on anything that has RCA stereo sound inputs.
Can be used with these and other devices:
MP3, Ipod, CD, portable DVD, PMP, MD, walkman, Digital Audio PC, laptop computer, computer soundcard.
Features & Specifications:
Fits standard 3.5mm (1/8") stereo headphone jack
Connects into left and right RCA type sound output male connectors
Stereo signal transmission (note that many low priced cables are mono only)
High quality audio performance
Specially engineered connectors ensure proper connection
Allows transfer of the full frequency range of your audio signal
3.5mm stereo plug to left and right RCA connector type adapter
6-foot length cable with color coded outputs
Requires device with 3.5mm (1.8") sound output (such as headphone jack, sound card, etc)
Specifications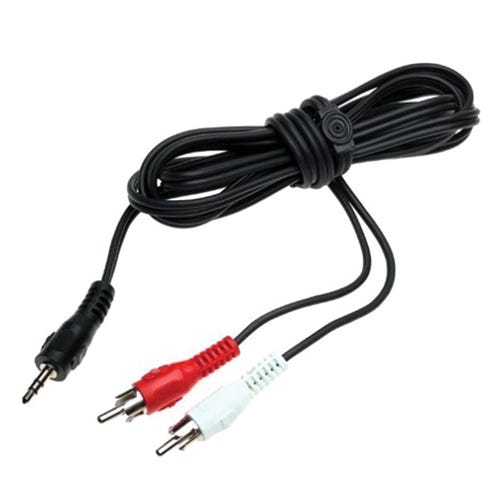 UPC
871363003461
What's Included
Stereo Headphone 3.5mm Plug To Dual RCA Plugs Y Adapter Splitter Cable
1 year manufacturer's direct warranty