Overview

Featuring a contemporary design and exciting audio performance, the SX6 is a flawlessly made two-way speaker system. With remarkable reproduction of even the finest details, the SX6 is a highly accurate and intensely musical system with broad frequency response and low distortion. While digital audio formats demand a new level of performance, these speakers are built for the task! With superb sound radiation and rich timbre, the SX6 is perfect for music and home theater applications. Even at high volume levels, the acoustic image remains free from cabinet vibrations and driver resonances.

The bookshelf design allows for multiple placement options, and in a home theater surround sound application, the SX6 speakers produce exceptional sound, and can operate as front main or rear surround speakers. Thanks to its distinct design and premium natural beech finish, this system harmonizes perfectly with modern living areas. By virtue of the tuned bass reflex cabinet, the SX6 produces an outstanding and precise performance for its compact design. Only premium components such as high-end tweeters - rare in speakers at this price - and high-performance magnets are used in this system. The result is a pure listening experience that represents a new standard in audio accuracy, craftsmanship and quality.

PREMIUM FEATURES
Premium components ensure serious performance, natural sound and great reliability at an exceptional value
Bookshelf speaker configuration for full range sound in any application
Designed for use as front main or home theater surround speakers
Engineered MDF wood construction to reduce cabinet resonance
Ultra high-end tweeters provide accurate high frequency response
Ferro-fluid cooled tweeter for longer life
Butyl rubber surrounds for increased durability and performance
Tuned bass port for controlled low frequency response and improved efficiency
5-way gold plated binding post terminals for optimum conductivity
Banana plug and speaker wire compatible connectors on all speakers
Low diffraction flush fit removable front grilles for spacious imaging
Magnetically shielded to avoid interference with other video products
Premium crossovers feature Butterworth design for audio equalization
18 gauge internal lead wire to reduce signal degradation
Premium veneer woodgrain finish to compliment any home decor.
Specifications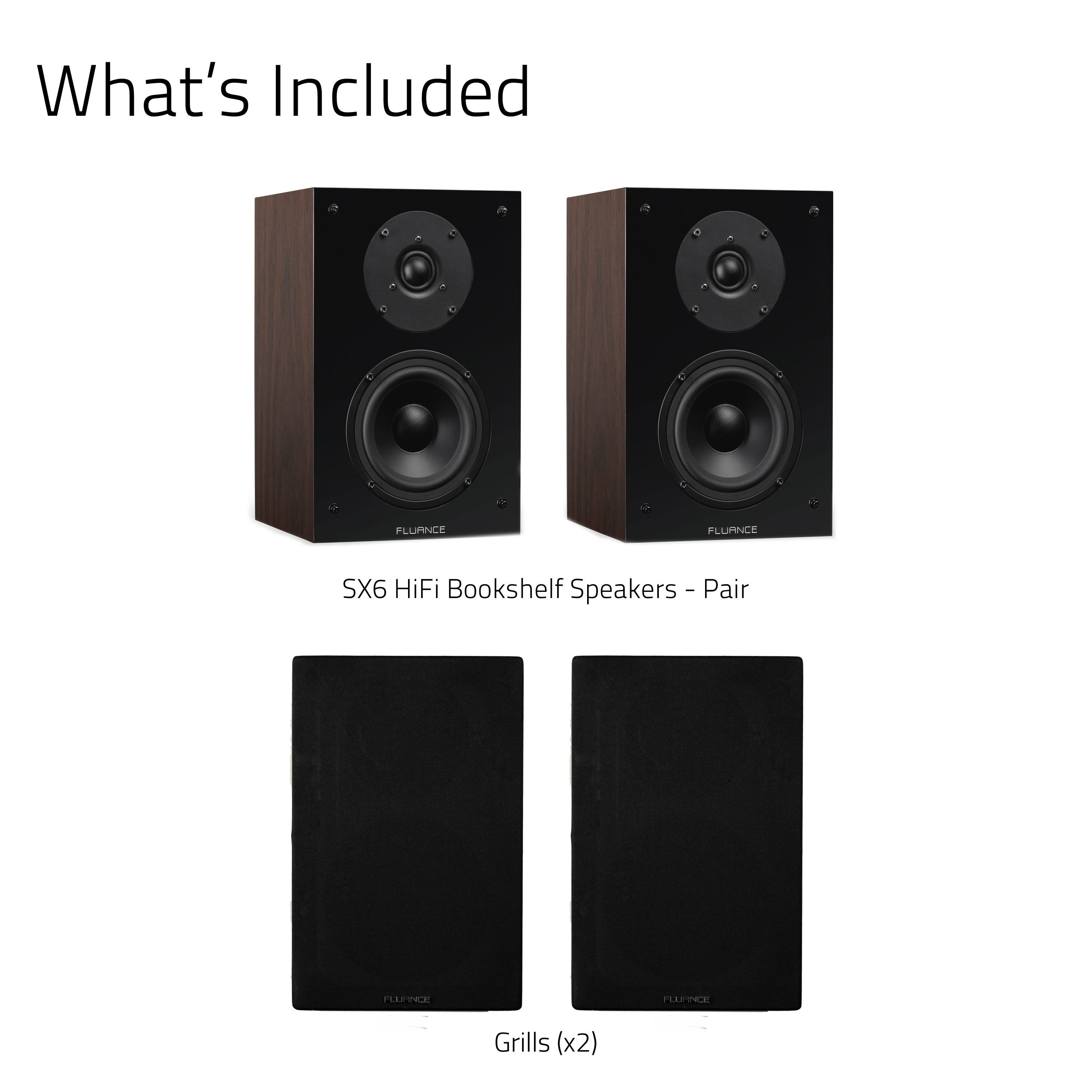 Speaker Configuration
2 Way - 2 Driver Bookshelf Loudspeakers
Tweeter
1 inch Soft Dome Ferrofluid Cooled
Woofer
5 inch Polymer Treated Driver with Butyl Rubber Surround
Power Handling
30 - 100 Watts
Frequency Response
50Hz - 20KHz
Sensitivity
89±3dB @ 2.83V / 1m
Crossover Frequency
3500Hz PCB Phase Coherent - Mounted Circuitry Butterworth Design
Impedance
8 Ohms
Enclosure
Tuned Rear Port Bass Reflex Bookshelf Design
Dimensions
13.5 x 8.3 x 9.1 inch
Speaker Weight
11.6 pounds/speaker.
Series
ELITE
Speaker Type
Bookshelf
Certifications
CE Certified, RoHS
Subwoofer Output
No
DOLBY ATMOS
Ideal for use as surround sound speakers in a Dolby Atmos™ Surround Sound System
Frequency Response Graph

Click to Expand

Fluance Speaker Size Comparison Chart

UPC
871363003829
What's Included
Two Bookshelf Loudspeakers
Instruction Manual
Full Lifetime Parts and Labor Manufacturer's Direct Warranty
Lifetime Customer Support
Customer Reviews
Lance H

August 26, 2021

These sound great, and the veneer looks nice... except. The glossy material used on the front looks awful. It's splotchy, and looks to be bubbling in some spots. This isn't an issue for those of us who leave the covers on, but sometimes I enjoy seeing the speakers doing their work. They would have been better off using the same veneer as the sides and top, on the front.

Lance H

4

Sebastian

August 20, 2021

Great value for money. Works perfectly in my small media room setup.

Sebastian

5

leo

August 2, 2021

This product is amazing. A friend was able to buy it and he has shown it to me and it is absolutely amazing. I hope I can buy it soon! But those who can buy it now I assure you that it will be a good buy!

leo

5

Carlton B

May 16, 2021

I have read a lot of great reviews on this product and now that I have purchased it, I am blown away by the excellent sound quality. It has full sound so that you can really appreciate all of the vocals and instruments in a recording, I'm hearing instruments in some of my music collections that I did not hear on my older Klipsch speakers which this pair of Fluance SX6 replaces. I'm actually going to buy another pair of these speakers or upgrade to the signature series for my other stereo system. I highly recommend these speakers they are an excellent value for the money, I have other speakers that are 4 times the price of these and they don't sound as good as these Fluances. They are well made, very solid and they look darn good. I love them!!!

Carlton B

5

Ryan, S

May 7, 2021

Ohio, United States

This is my first high-quality turntable, I've always had cheap ones or vintage tables that weren't in very good condition. So now I guess I'll have to buy a record cleaning kit because I can hear all the dirt and scratches on my records...but that's a good thing. This baby is incredible, beautiful, pristine!

Ryan, S

5

kawtar a

May 5, 2021

Great product

kawtar a

5

Danielle S

April 24, 2021

Great sound quality

Danielle S

5

Chris D

April 22, 2021

Shockingly good sound for the pricetag.

Chris D

5

gayla733

April 21, 2021

They have come a long way in bookshelf technology . I am somewhat of an audiophile since the late 70's . These little follows are just great . I played them constantly through my Amazon personal playlists all day . They do need the suggested 10 hours to loosen up . I also put them through the paces with high end cd's . Fantastic bass , midrange , and highs . I am now considering the larger Fluance tower speakers . Oh Canada !

gayla733

5

David J M.

March 16, 2021

Colorado, United States

I haven't had a lot of time to do critical listening but first impressions, I am impressed. Imaging is great, wide and deep, everything nicely placed in space. Frequency balance is good for a small speaker with modest bass. All in all, hard to beat for $150. Would have to spend $500 or more to do better. Only reason for 4 stars is the sound limitations at this price point, it's not going to be perfect.

David J M.

4

Mohamed Z

December 30, 2020

Great Speakers

Mohamed Z

5

Steven S

December 23, 2020

I have well known speakers from many companies and decades, nothing can hold a candle to these Fluance speakers. I now own several sets of Fluance speakers which are being used with top shelf new and retro stereo systems with excellent results. And on top of all this the price is extremely good. Thanks Fluance!!!

Steven S

5

Frankie N

December 21, 2020

Wow! Is all I can say. I paired these with a Rockville BlueTube receiver and I am blown away by the sound quality just streaming from my iphone! I have a turntable on the way which was my main motivation for the purchase so I can't wait to here some good vinyl through them!

Frankie N

5

Todd B

December 21, 2020

North Carolina, United States

Awesome sound. Great price and they look amazing.

Todd B

5

Expose d

December 6, 2020

I am more than satisfied and amazed at how good these speakers sound for the price. As mentioned before they do need to be broken in to get the best sounding bass but if you love music this will be a plus. Highs sound awesome as far as my ears can tell, bass gets better over time but now slaps hard. They look so classy and you can tell someone put their sweat into the build quality and design. The flag is a nice touch as well eh. Pair them with a bass to get a low cost entry level setup. You cannot go wrong with these as they can take 30-100w. Take the grilles off to watch the cones shake, OOF!

See all reviews

Expose d

5
Resources
Manual
FAQs
Do I need a receiver/amplifier for these speakers?
All Fluance passive speakers (unpowered) require a receiver or amplifier to provide them power and a connection to your home theater or media setup.

For more information on how to match your speakers and amplifier, please see our video:
What size speaker wire do I need?
At Fluance, we recommend using 12 gauge speaker wire to get the best performance from your speakers.
Articles from our experts