Regular Price: $129.99 USD
Special Price $99.96 USD
Overview

Winston™ RETRO MUSIC SYSTEM
Enjoy an amazing audio journey with a classic design from Electrohome's 100+ years of history. Made with real wood, you can play your entire collection of vinyl records, CDs, AM/FM radio and even connect your smartphone or tablet. You have many options with this unique 3-in-1 system. The old-fashioned look will match any decor, while the rich sound from the speakers will play in crystal clarity.

Classic Vintage Design with Elegant Real Wood Finish
Not only is this system great for entertainment purposes, the old-fashioned look of this music player also makes it a great addition to any room in your home. The real wood finish and classical design will complement your decor perfectly, and will bring you back to a time when just a penny would give you a melody and a dance.

3-in-1 System Plays Vinyl Records, AM/FM Radio, and CDs
Sit back and relax while you listen to music from your record collection, CDs, or even the radio. The belt-driven turntable plays 7, 10 and 12" records at three speeds of 331/3, 45 and 78 revolutions /minute, so that your entire vinyl library can be enjoyed. You can also listen to your favorite radio station with the AM/FM tuner.

Dual Full Range Dynamic Speakers & Headphone Port
The powerful speakers in this system allow for high fidelity sound, whether you're listening to your favorite record, CD, or radio station. For private listening, a 3.5mm headphone jack is built into the front of the unit.

Old Style Backlit Rotary Tuner Dial and Knobs
The radio tuner on this stereo system makes it look like an old-fashioned radio, consisting of a rotary control knob and analog radio dial. The dial is even backlit to give it an authentic look, and allows you to easily see the controls in the dark.

Beautiful and Strong High Quality Construction
Upholding Electrohome's strong reputation for solid design, this stereo system is built to last. Made of high quality components, you will enjoy this reliable system for years to come. Rubber feet on the bottom of the unit will protect your furniture from scuffs or scratches.
Specifications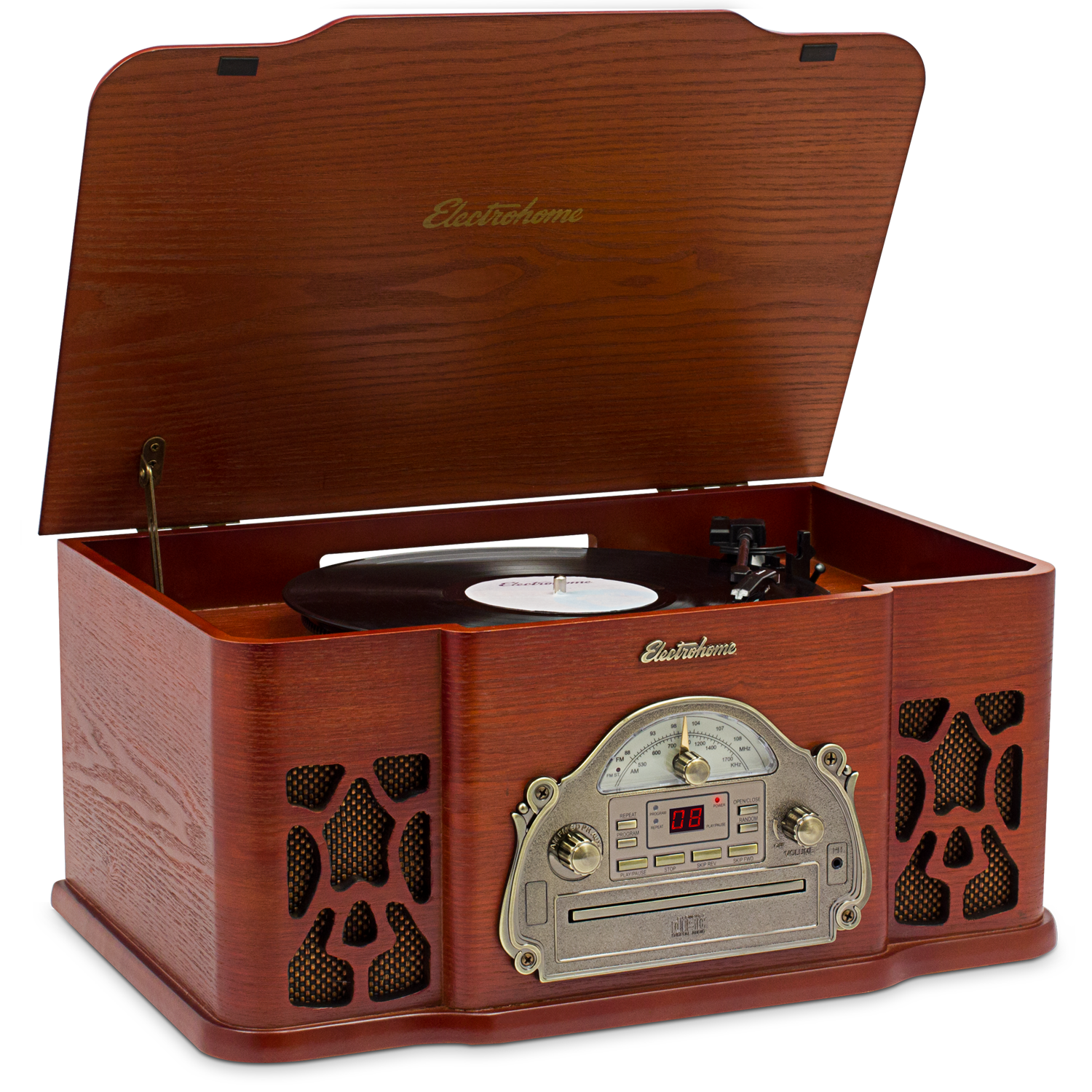 | | |
| --- | --- |
| Unit Color | Mahogany |
| Finish | Real Wood Veneer |
| Construction Material | MDF (medium density fiberboard) |
| Cartridge | - EANOS501 |
| Record Speeds | 33, 45, 78 |
| Platter | Plastic |
| Record Auto Return Arm Adjustment | Yes |
| Frequency Range (FM) | 88.0 – 108.0 MHz |
| Frequency Range (AM) | 530-1710 kHz |
| Radio Station Pre-sets | - EANOS501 |
| Bluetooth | - EANOS501 |
| Speaker Size | 2x 5W (3") 8 Ohms |
| Amplifier Power | 19 watts - EANOS501 |
| Power EPS | Internal Power Supply |
| Power Consumption | 19 watts |
| Dimensions | 19.29" x 12.6" x 9.1" |
| Unit Weight | 16.3lbs |
| Certifications | ICES, FCC Certified, ETL/CETL |
| UPC | 871363014061 |
| What's Included | Winston Retro Music System 45 Record Adapter Instruction Manual 1 Year Warranty Lifetime Customer Support |
Customer Reviews
Harpreet S

December 29, 2018

Ontario, Canada

I bought this as a gift for christmas and after searching everywhere, this was the best one! Other vintage looking ones have a cheaper wood feel to it but this one was perfect!

Harpreet S

5

Jonilee k

December 28, 2018

New Jersey, United States

Am pleased with the sound. Wish it were easier to read the dials. The record arm does not retract automatically.

Jonilee k

4

Jonathan H

December 25, 2018

Texas, United States

first off the website goes to great lengths to promote the history of 'Electrohome' but in reality this company CWD bought the name and this is cheapo made in china crap just like you see everywhere these days. not built to last, cheapest components, and zero QA all wrapped up in marketing & promoted with a classic name that gives the illusion of quality from days long long gone by.

mine arrived damaged - clearly from the factory as the boz was not damaged - top lid broke off and screws missing.

first impressions - cheap, and made in china sticker
1. wood material is very lightwieght
2. top lid arm very cheap hardware and will not last multiple open and close sessions.

plugged it in to check it out
3. very cheap cd player - which didnt work

4. that nice dial glow pictured on the website and photoshopped into non-reality is actually two (very bright yellow) led lights that don't back light the dial with a nice warm glow - they are like headlights on the front of a car.

5. the record player - it worked, it sounded ok, but you cant get past the extremely cheap hard plastic record platter - at-least they could have placed a nice record pad on it to hide the cheapness.

I would have gladly paid more for a quality vintage system like 'electrohome' produced turn of the century - unit going back and I will shop elsewhere.




Jonathan H

1

Michael H

October 24, 2018

Missouri, United States

Love the vintage look

Michael H

5

Nicole

July 5, 2018

Fit our needs exactly....As described ...sound quality is good - Verified Store

Nicole

5

Dana B

June 30, 2018

Works really well. It is so nice to be able to play my albums again. The CD player is a special treat for those who love to listen to music. Being able to plug in your phone to play your stored music requires a special cord that we will have to order online to have that ability. Other than that the sound is crisp clear and you can actually hear those tiny stratches in your vinyl collection. Love that sound. Thanks for giving the public a player that will let you reminisce through your collection of musical time. I love today's music but nothing beats the past too. - Verified Store

Dana B

5

Amazon Customer

June 11, 2018

Absolutely love this unique and beautiful wood record player that also has modern features. The sound is amazing. I woukd definitely tell anyone this is a must buy. Great quality and fast delivery. - Verified Store

Amazon Customer

5

Lisa D

June 7, 2018

bought for my mother for mothers day and I think she really enjoys it. she had a big old turntable radio back in the 70's and it just took up so much room. good quality i would love to have one for myself. - Verified Store

Lisa D

5

Jackie B

May 29, 2018

I like the turntable. The writing on the front could be more legible.https://images-na.ssl-images-amazon.com/images/I/51IqCr5NTEL._SS300_.jpg - Verified Store

Jackie B

4

Amazon Customer

May 25, 2018

Very prompt delivery...Very well packaged...The Record Player was as advertised...Everything works and the sound is pretty good for internal speakers.... - Verified Store

Amazon Customer

4

mr. t

May 20, 2018

It was a great transaction. The product was a gift for my father and he loved it. It arrived on time and was as described - Verified Store

mr. t

5

Disco

May 19, 2018

I returned this. The record player is nice but if you play any new records on it the sound is not good. - Verified Store

Disco

2

barry 4

May 9, 2018

Sound is great for the price. The cabinet is super made of wood. The entire unit works radio player and cd player. I have received compliments from friends about everything on this unit. - Verified Store

barry 4

5

Client d

May 5, 2018

tresd bonne tabled'occasion - Verified Store

Client d

5

Amazon Customer

May 4, 2018

Product arrived way ahead of expected timeframe. It works as well as advertised so far (we've only had it for a couple weeks). Much better sound than the Victorola 6 in 1 we had. - Verified Store

See all reviews

Amazon Customer

5