Regular Price: $179.99 USD
Special Price $134.96 USD
Overview

What do you expect from your speakers?
How about the emotion and intensity of a live performance in the comfort of your own home? The Fluance XL7S High Performance Surround Sound Bookshelf Speakers are engineered with premium components that skillfully cater to your audio needs. From the loudest explosions to the spine-chilling cinema effects of a creeping marauder, surround sound speakers utilize your room's acoustics to reflect music and sound effects from behind listeners for multidirectional sound.

As Powerful as Tower Speakers
Not your typical surrounds, these speakers can also be utilized as bookshelves or fronts. They provide superior performance at every volume level with outstanding precision and clarity, allowing you to soak up all the dramatic impact your movies and music can deliver.

Thrilling Highs
Soar to new heights as bullets fly and cymbals clash through the neodymium tweeters of the XL7S Surround Sound Speakers. Our superior tweeters produce high frequencies with captivating clarity at all volume levels. Enhance your home theater system with surround sound effects that are vibrant, controlled and audibly stunning.

Richness in the middle
The essence of all harmonious sound reproductions is the midrange driver. The XL Series surround sound speakers house first-class midrange drivers that pick up the tones and notes most easily recognized by the human ear. Ease on into the velvety nuances of your favorite movies for a truly authentic listening experience.

Made for you
From the engineered MDF wood to the vented bass-reflex design, the Fluance XL7S Surround Sound Speakers have been meticulously-crafted for vivid, distortion-free sound performances. Expertly crafted with a lustrous mahogany finish, as well as a glossy piano-black front baffle, these speakers look as good as they sound.

The perfect complement to an audiophile's lifestyle, you'll be enjoying cinematic performances in your home for years to come.
Specifications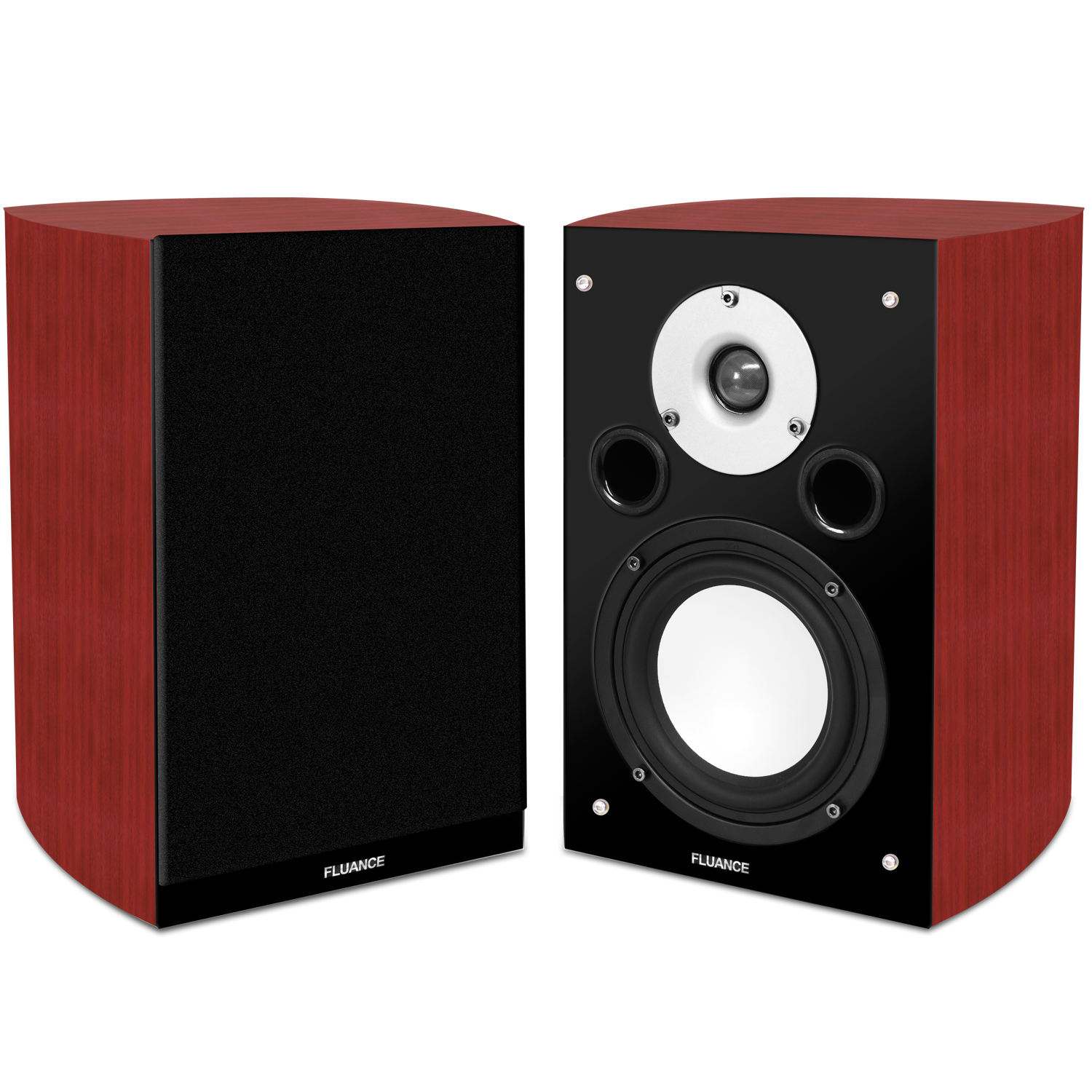 Speaker Configuration
2 Way - 2 Driver Surround Speaker (Wall Mountable)
Tweeter
1 inch Neodymium Balanced Silk Dome Ferrofluid Cooled
Woofer
5 inch Polymer Treated Butyl Rubber Surround
Power Handling
25 - 120 Watts
Frequency Response
60Hz - 20KHz
Sensitivity
84dB @ 2.83V / 1m
Crossover Frequency
6000 Hz Phase Coherent - PCB Mounted Circuitry
Impedance
8 Ohms
Enclosure
Vented Bass Reflex Design
Dimensions
11.4 x 8.1 x 9.0 inch
Speaker Weight
8.6 pounds/speaker
Series
REFERENCE
Speaker Type
Bookshelf
Certifications
CE Certified, RoHS
DOLBY ATMOS
Ideal for use as surround sound speakers in a Dolby Atmos%E2%84%A2 Surround Sound System
Frequency Response Graph

Click to Expand

Fluance Speaker Size Comparison Chart

UPC
871363024565
What's Included
Two Rear Surround Sound Speakers with Integrated Wall Mounting Brackets (keyhole slots)
Instruction Manual
Full Lifetime Parts and Labor Manufacturer's Direct Warranty
Lifetime Customer Support
Customer Reviews
Jeffrey B

May 16, 2018

All my speakers are Fluance and will probably always will be. - Verified Store

Jeffrey B

5

Roger D

August 5, 2017

I got these speakers yesterday. They are fantastic. They are beautiful to look at, and they far exceeded my listening expectations. I played Miles Davis, first, and it sounds like the band and the great one are in the room playing. Anyone who is concerned with the description saying these are 'surround sound' speakers shouldn't worry. My home office is in a pretty good sized (medium) room, and I wouldn't have to turn up the volume very loud to run myself out of the room with loudness. Yet, the speakers can handle the power (rated up to 120 watts) while reproducing sound, beautifully. I hooked these up to a subwoofer, but they reproduce bass notes just fine by themselves. I own multiple sets of speakers...(JBL, ELAC,..etc) but these Fluance speakers are perfect for my purpose. I use them for music and Spotify, but I can understand why these speakers are popular with folks for their home theaters. The speakers even have brackets on the back to attach to the wall for home theater or simply home audio uses. I bought them with the mahogany finish, and they are beautiful. The craftsmanship (Canada) of the speakers is very high quality, too. Searching for the right speaker to suit your purpose can be daunting and confusing. Read the specs on these speakers and match them to a proper amp or receiver...put on your favorite music...and listen to these beauties. For me, Miles Davis never sounded so good, and I could isolate every musician's instrument thanks to these speakers. No regrets. - Verified Store

Roger D

5

B.B.

May 17, 2017

I must say these are great speakers for the dollar. I consider myself a coneseur of speakers (not an audiophile) but I know what my ear likes and doesn't. And these are great. Great lows, strong mids and even some punchy bass. They will easily beat some far more expensive speakers. To that point I got them as just stereo speakers after retiring and older amp, but I plan on getting the full surround solution just because they are cost effective and sound so good. - Verified Store

B.B.

5

Scott D

November 2, 2016

I purchased the XL7C last year and was very impressed with the sound quality for such a low price. I'm steadily building a full surround sound system again (first time in 20 years) but didn't want to break the bank. For $179 for the XL7S, I figured, why not? Reviews have been resoundingly good and if the speakers didn't meet expectations, I'd use them in a secondary TV room.I'm initially pairing these as my front channels with the Fluance center channel and an old Infinity PS12 subwoofer. After the required 10 hour break in time and a lot of tweaking, (primarily with the sub) I am pleasantly surprised with the quality of sound coming from these things. My favorite sound check is Hotel California, on the Eagles Hell Freezes Over disc. Crowd noise is clear and crisp and mid ranges are very well balanced throughout. Right now, I'm using the three speakers as a 3.1 setup and they appear to be very well balanced with seamless sound. And that's running out of my old, old, old JVC 8040 receiver crossed over at 80 Hz. I can only imagine what these will sound like with a quality amp (next on the upgrade list).I'll be rounding out the system with the XL7F towers soon but for the time being, these speakers fit the gap for fronts nicely. Heck, even my wife noticed the difference. I guess if you want to spend $1500 on a bookshelf speaker, have at it. Here you spend a 1/10 of the cost and you get two for the price. So, if you're an audiophile in a sound acoustically treated room cranking tunes out of your $10,000 amp, you'll likely be disappointed. For the rest of us that have to compete with college tuitions, making house upgrades, determining where to place your speakers (on the barbie shelf or the air hockey table), and mostly finding the time to enjoy it all, I think you'll find these to be money well spent.Oh and, give them their proper break in time (10 hrs). Out of the box they sound a little lifeless but a week later, they're spot on. - Verified Store

Scott D

5

Amazon Customer

July 6, 2016

I read great reviews on the Wharfedale diamond 10.1 and the Fluance XL7S. I was unsure which I would prefer so I bought them both:) Both speakers are very good for the price. The Wharfedale speakers were $120 more. After listening to both sets, I prefer the Fluance. The Fluance just does a better job on the high range. Both deliver sufficient base. I do prefer the build quality of the Wharfedale, but in the end it is about sound. I will be keeping both sets as they both are very good. -Verified Store

Amazon Customer

5

Allen D

June 7, 2016

great speakers. easy to connect to receive. the sound quality exceeded our expectations. -Verified Store

Allen D

5

Amazon Customer

June 3, 2016

These Speakers are a life time Investment .One out of many sets of speakers that are affordable plues a life time warrenty. -Verified Store

Amazon Customer

5

Lech S

May 30, 2016

Fluance XL7F is an excellent pair of speakers for an affordable price. I've purchased these after reading the following reviews:
[...]
and do not regret my decision. I am not a hardcore audiophile but I do appreciate being able to hear details and nuances when listening to jazz, rock and classical music. I've been satisfied with the all around sound XL7F produce.
I am using these also for watching movies without an additional sub-woofer as they produce enough bass for my taste. Some of the action movies may benefit from boosting bass in the amp if you like to feel the rumble in your guts.

My pair is connected to Yamaha RX-V677. I've decided to bi-amp speakers which is an option usually reserved to premium speakers. Indeed, Fluance XL7F build quality matches premium speakers except for a significant lower price.

The only negative part was long shipping time (over one week) but it was worth the wait.

Very happy so far... -Verified Store

Lech S

5

Amazon Customer

May 30, 2016

These speakers sound fantastic, very happy with my purchase. Took about 15 hours to break them in but once that was over the tone became very warm and the sound really jumped out at me. You can't go wrong with these speakers at this price. Only thing I wish they would specify a little more clearly other than using the word "speakers" in plural form to relay that you get 2 speakers for the price shown. Most speakers out there are sold 1 per unit and because these speakers looked so good with all they have to offer I had to call Amazon and make sure I was getting a pair for the price as things were feeing too good to be true. Even the gentleman in customer service had a bit of difficulty in finding out whether it was a pair or not because other than an "S" at the end of the word "Speaker" (which I totally understand means more than one but could easily be a typo) nowhere in the description does it specify in wording that this is sold as a pair. Again I'm not going to rate these speakers anything less than 5 Stars as I feel the Stars should be based off of the product and how it performs, so for that, these speakers get 5 -Verified Store

Amazon Customer

5

Scott L

May 27, 2016

Very good speakers. The sound is great. -Verified Store

Scott L

5

J. M

May 25, 2016

Great sound in all volume. They look great also. I would recommend these tower speakers to anyone wanting a pair of fantastic speakers and a fantastic price. -Verified Store

J. M

5

William M

May 23, 2016

Purchased these speakers as replacements for a pair of very old 10" 3-way units. Am delighted with both the sound and the appearance of the Fluance speakers. They provide crisp, clean midrange and high frequencies, and a level of base similar to my old speakers. The Fluance systems are also an attractive addition too my living room - I purchased the dark walnut color to coordinate with my other furnishings.

Several reviews have commented on the excellent packaging Fluance uses for its products. The tower speakers were cushioned by thick foam padding on all sides, and double boxed for further protection.

I recommend these speakers to anyone looking for top quality sound in an attractive enclosure. Five stars! -Verified Store

William M

5

Eric P

May 17, 2016

Fantastic speakers for the money. Great bass even without a sub and clarity is superb through all volume ranges. -Verified Store

Eric P

5

john c

May 4, 2016

Ok, these speakers do in fact require a break in and patience, don't be fooled as somebody compared these to b&w quality, they are not. What they are is a pretty good sounding speaker at a really good price. -Verified Store

john c

5

x

May 1, 2016

I was a little hesitant because of the low price but I was very happy that I went with these speakers. After the break in they sound great! I have recommended them to others -Verified Store

See all reviews

x

5
Resources
Manual
FAQs
Do I need a receiver/amplifier for these speakers?
All Fluance passive speakers (unpowered) require a receiver or amplifier to provide them power and a connection to your home theater or media setup.

For more information on how to match your speakers and amplifier, please see our video: