Regular Price: $17.99 USD
Special Price $14.99 USD
Overview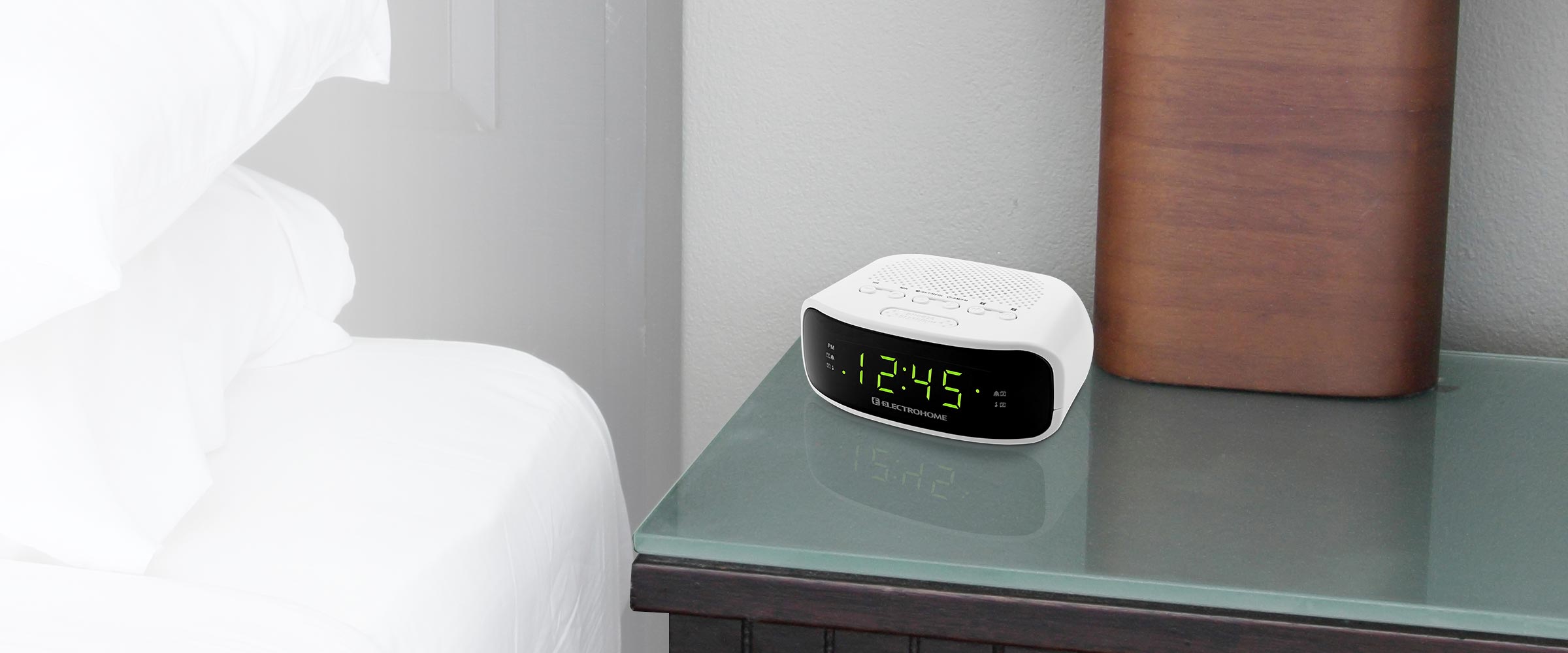 Digital AM/FM Clock Radio
Your mornings are in good hands with the reliable Electrohome Digital AM/FM Clock Radio. This clock radio has been designed with convenience and functionality in mind – from the vibrant 0.6" red LED display with dimming option to the easy-to-use button controls that adjust volume, seek radio stations, and program the device's dual alarm.
Digital AM/FM radio with 20 station memory
Treat yourself to crystal clear audio every morning with the digital tuner that locks onto the strongest point of the radio signal, giving you the best reception with static-free sound. Easy to use electronic controls make programming the device's 20 station presets and seeking your favorite station simple.The clock's digital frequency display eliminates the awkward tuning dial found on most conventional alarm clocks.
Dual alarms that fit your lifestyle
Get two alarms in one clock. The dual alarm feature included in the EAAC200 is ideal for couples with different wake up times. Fall asleep peacefully knowing both you and your partner will wakeup each morning on time.
Battery Backup
This clock's battery backup ensures its time and alarm settings are maintained and remain active even through power outages. Rest assured knowing your morning routine won't be derailed by dysfunctional power lines or Mother Nature (2 x AA batteries not included).
Wake to Radio or Buzzer
Choose to wake up to your favorite radio station, or to the traditional built-in buzzer. And, when you need a few extra minutes of sleep, take advantage of the convenient snooze and sleep functions.
Specifications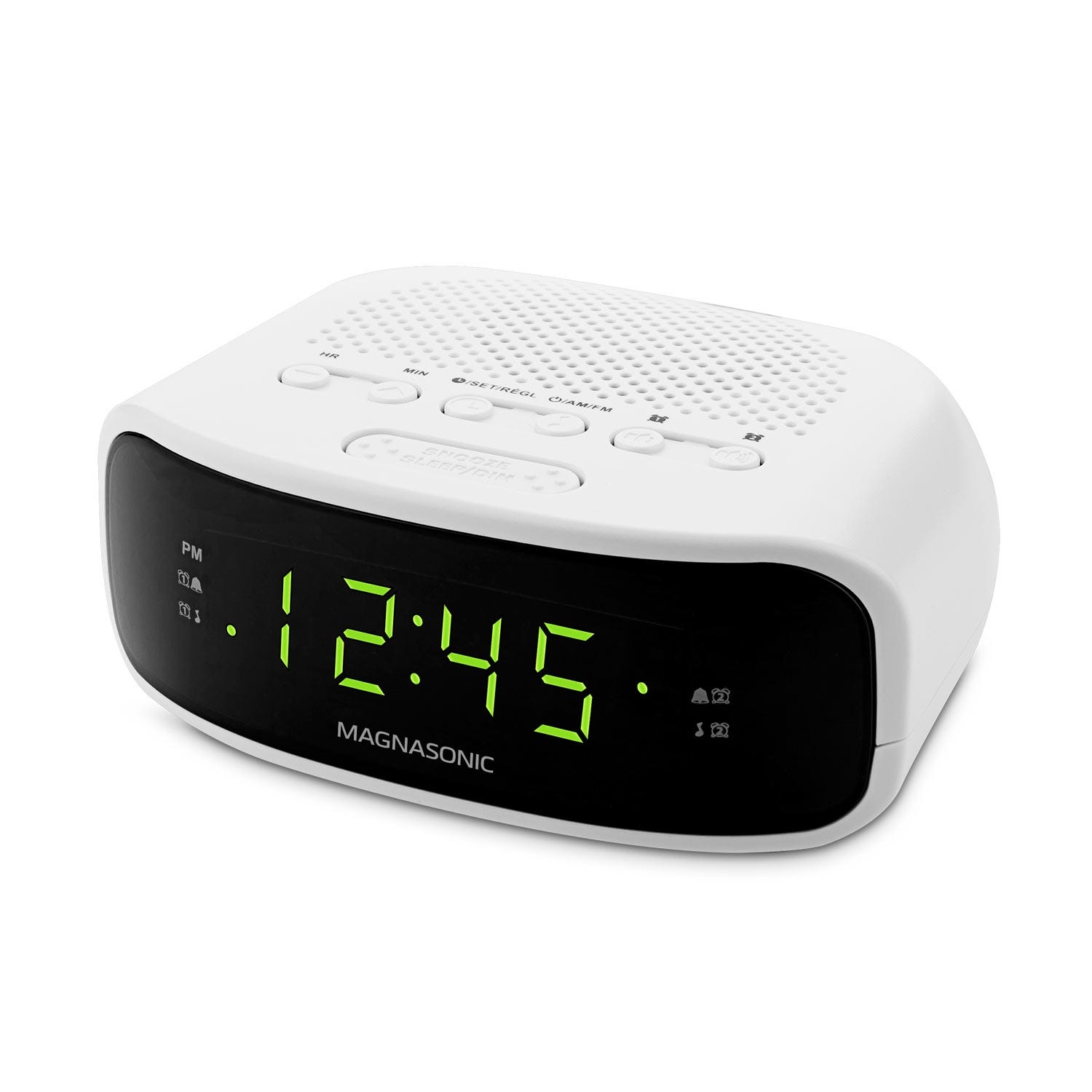 Display Size
0.6"
Display Colour
Green LED
Automatic Time Set
No
Sure Alarm
No
Wake Up
No
Battery Back-up for Time
Yes
USB Charging
No
PLL Digital Radio Tuner
Yes
Radio Station Pre-sets
20 – 10 AM/FM
Dual Alarm
Yes
Calendar Display
No
Indoor Temperature Reading
No
Adjustable Brightness
Low, High
Sleep Timer
Yes
Battery Required
2 x AA (Not Included)
USB Charging Power
NA
Speaker Size
2.0" 1W, 8 Ohms
Volume Indicator LED
Yes
Power Input
NA
Audio Inputs
NA
Frequency Range (AM)
520 - 1710 kHz
Frequency Range (FM)
87.5 – 107.9 MHz
Power
120V - 60 Hz, 5W AC
Battery Backup
NA
Projection Swivel Tilt
NA
Number of Alarms
2
LCD Screen Size
3"
Alarm Options
Radio / Buzzer
Projection Flip
No
Projection Focus
No
Time/Date Restore
NA
Dimensions
5.0" x 4.5" x 2.0"
Unit Weight
0.85 lbs.
Unit Color
White
Certifications
ICES, FCC Certified, ETL/CETL, NRCan
UPC
061783257661
What's Included
EAAC201 Alarm Clock Radio
1 x Manual
1 Year Warranty
Lifetime Customer Support
Customer Reviews
Grace B

February 9, 2023

Ontario, Canada

Definitely hard to see the signs on the buttons and not the easiest instructions to follow. No instructions given on how to cancel alarm time when not required. I agree with other comments that instructions are in a very small font .

Grace B

3

Cheryl L

December 30, 2022

Operating are not clear on how to turn off the alarm. I finally unplugged it to turn off the alarm. Very frustrating

Cheryl L

1

debbie b

December 30, 2022

The item is way too small. Expected it to be wider

debbie b

1

Ms. C

December 29, 2022

Bit of a learning curve to Set Time upon plug-in but after that it works fine. Bright Green Time Display with radio playing in the background set on 04-volume. Color blends with my room.

Ms. C

5

Stasia

December 28, 2022

The instructions were in the smallest font possible and with the least amount of information they could legally get away with. The buttons are difficult to read as well.I had a wonderful Zenith alarm clock for over 30 years that was so simple and easy to see. I miss that.

Stasia

2

Jean R

December 27, 2022

New York, United States

This is the hardest clock radio to set. Would like to throw it against the wall

Jean R

1

jnkochjr99

December 27, 2022

It doesn't bother me too much but this buzzes constantly. My wife complains about it more.

jnkochjr99

2

Disappointing!

December 27, 2022

I am sorry I waited so long to set these up (I bought two) and no longer have the boxes to send them back. These are so small...difficult to set-up...difficult to listen to the radio and I will not use them. They are cheap and NOT user friendly. So very disappointed. These will show up in my next summer garage sale.

Disappointing!

1

Rob

December 25, 2022

Very easy to use

Rob

5

M. R

December 25, 2022

If you just want a bright clock for your nightstand, this one will get it done.But if you also expected to maybe listen to a little radio before going to sleep or when it's time to wake up, get something else. This poor radio has a tinny sound that sounds like those little transistor radios of the 70's. No wait, those old radios were better.And just setting the time is tricky - you have to be fast or it will go back to 12:00. So be ready when you start. Finding your radio station can be tricky, too. It seems like all this should be easier.I guess this clock radio should get a star for having a nice big bright display, but that's about it.

M. R

1

MD

December 23, 2022

The clock is small and light, and moves with the wire too easily when touched. The dim setting is still very bright.

MD

3

wingnit

December 23, 2022

Use as a bedroom alarm.Bought based on price.

wingnit

3

B. J

December 23, 2022

The time continued to flash 12:00 and very difficult to set time and alarm

B. J

1

Robbie

December 22, 2022

Returned the item, difficult to set time.

Robbie

3

Sam

December 20, 2022

Ok as a clock but rubbish as a radio or alarm. Very frustrating

See all reviews

Sam

1