Overview

The Elite Series 7.0 Speaker System
The Elite Series 7.0 Speaker System delivers radiant and engaging performances with a skillfully matched 7-speaker surround sound system. The premium components ensure sound reproduction that will exceed audiophile expectations. From the powerful solo excursions to the defined lyrics, the floorstanding towers, surrounds, rear surrounds, and center channel speaker harmonize for genuine listening experiences.

Speakers Matched to Your Lifestyle
When the Elite System is used in Dolby surround and DTS systems you can truly hear what home theater is supposed to be. Each speaker provides superior performance at every volume level with outstanding precision and clarity, allowing you to soak up all the dramatic impact your music and movies can deliver.

Soaring Highs
Perk your ears up with exhilarating high notes reproduced by the Elite System. The premium silk dome tweeters provide breathtaking, crystal clear performances. This surround sound system's high frequency drivers deliver vivid, precise sounds and effects with lifelike realism. Sit back, relax and enjoy the show.

Energetic Midrange and Rich Lows
The Elite system articulates the rich vocals delivered from the midrange drivers and reproduces the fine details with sonic accuracy. The floorstanding speakers' dual 6.5" woofers allow for optimal low frequency response enhancing the overall cinematic experience. Get taken back by the thrilling explosions as if you were on the set of a Hollywood blockbuster.

Match Made in Home Audio
The Elite Series is expertly matched to fit your home audio lifestyle. Engineered MDF wood construction reduces cabinet resonance and distortion for uninterrupted enjoyment of your favorite movies and music.
The perfect complement to an audiophile's lifestyle, you'll be enjoying cinema quality sound in your home for years to come.

System Includes: SXC-BK, SXHTBFR-BK, SXSS-BK, SX6-BK

PREMIUM FEATURES
Engineered MDF wood construction to reduce cabinet resonance
Vertically and horizontally internally braced cabinet with reinforced front baffle (Fronts)
Ultra high-end neodymium balanced silk dome tweeters provide accurate high frequency response
Ferro-fluid cooled tweeter for longer life
Tuned bass port for controlled low frequency response and improved efficiency
Banana plug and speaker wire compatible connectors on all speakers
Built-in keyhole slot wall mount hardware (Surrounds)
Low diffraction flush fit removable front grills for spacious imaging
Magnetically shielded to avoid interference with other video products
Isolation platforms (Fronts/Surrounds) with integrated floor spikes to separate speakers from the floor - for use on hardwood or carpeted areas
Premium crossovers feature Butterworth design for audio equalization
18 gauge internal lead wire to reduce signal degradation
Specifications
Classic Elite Series Center Channel & Surround Sound Speakers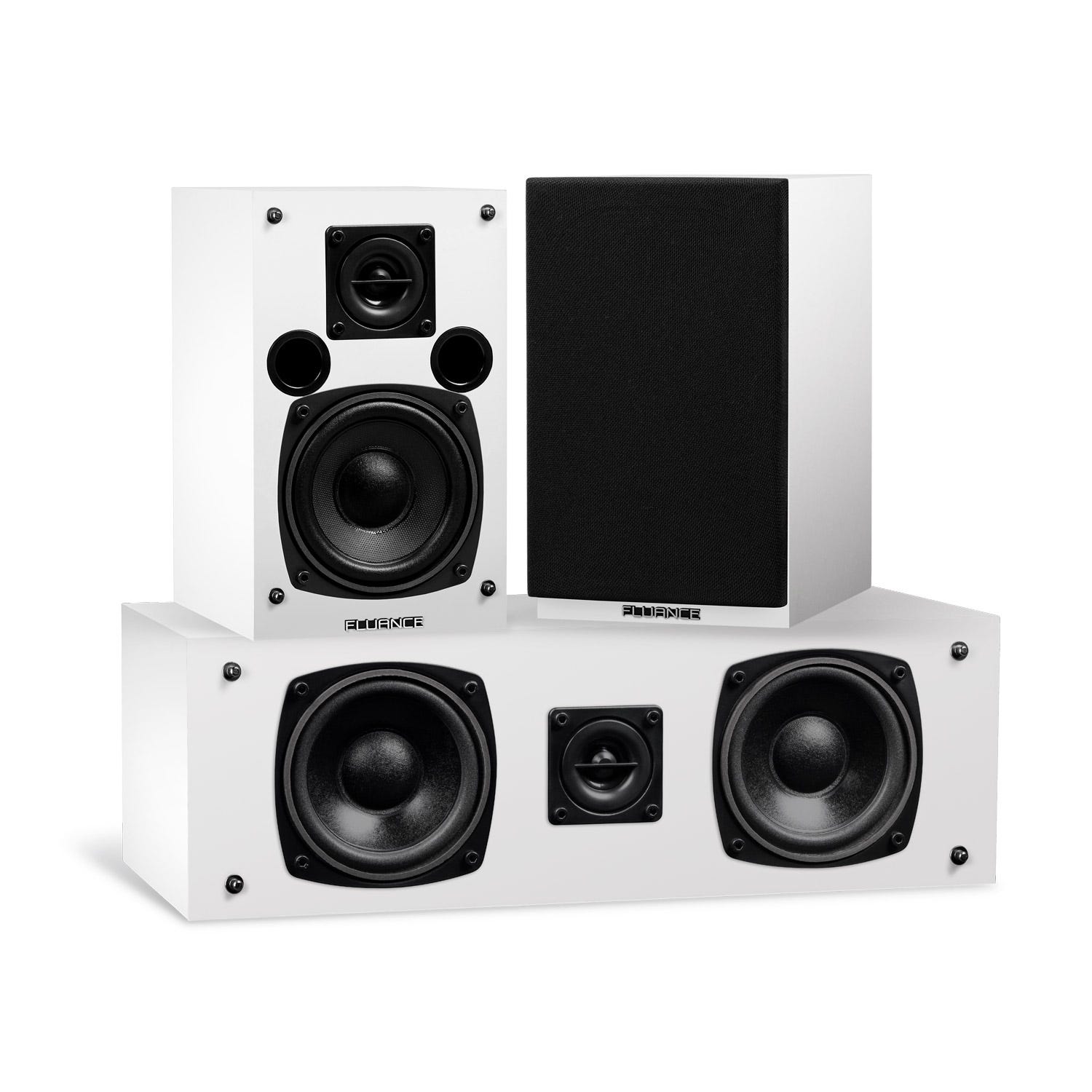 Speaker Configuration
2 Way - 3 Driver Center Channel
Tweeter
1 inch Neodymium Balanced Dome Ferrofluid Cooled
Midrange
Dual 4.0 inch Poly-coated Drivers
Power Handling
30 - 100 Watts
Frequency Response
80 - 20K Hz
Sensitivity
86dB @ 2.83V / 1m
Crossover Frequency
8000 Hz Phase Coherent - PCB Mounted Circuitry
Impedance
8 Ohms
Enclosure
Bass Reflex Design
Dimensions
5.24 X 15.8 X 7.9 inches (H x W x D)
Speaker Weight
9.0 pounds/speaker
Series
ELITE
DOLBY ATMOS
Surround: Ideal for use as surround sound speakers in a Dolby Atmos™ Surround Sound System
Frequency Response Graph

Click to Expand

Fluance Speaker Size Comparison Chart

UPC
061783270905
What's Included
1 x Center Channel Speaker - White
2 x Rear Surround Speakers - White
Lifetime Customer Support
Full lifetime Parts and Labor Manufacturer's Direct Warranty
Classic Elite Series High Definition Two-way Floorstanding Main Speakers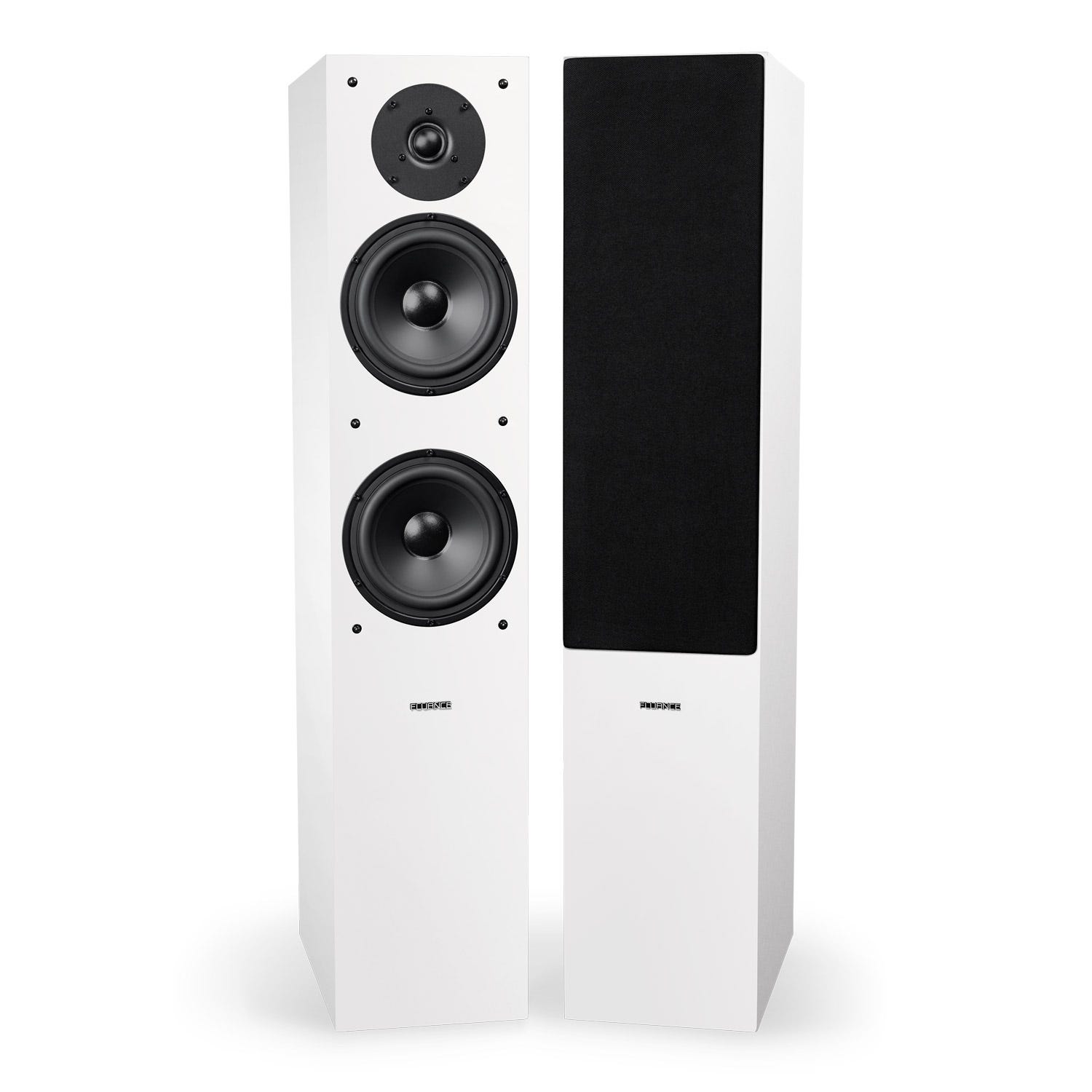 Speaker Configuration
2 Way - 3 Driver Floorstanding Main Speakers
Tweeter
1 inch Silk Dome Ferrofluid Cooled
Woofer
Dual 6.5 inch Poly-coated Drivers with Butyl Rubber Surrounds
Power Handling
50 - 160 Watts
Frequency Response
49 Hz - 20 KHz
Sensitivity
89dB @ 2.83V / 1m
Crossover Frequency
3500 Hz PCB Phase Coherent - Mounted Circuitry
Impedance
8 Ohms
Enclosure
Bass Reflex Design Internally Braced
Dimensions
38.8 x 7.8 x 13.0 inches / 98.6 x 19.8 x 33 cm (HxWxD)
Series
ELITE
Frequency Response Graph

Click to Expand

Fluance Speaker Size Comparison Chart

UPC
061783270912
What's Included
2 x Floorstanding Main Speakers -White
8 x 1 Inch Isolation Floor Spikes for use on Hardwood or Carpeted Areas
Instruction Manual
Full Lifetime Parts and Labor Manufacturer's Direct Warranty
Lifetime Customer Support
Elite High Definition 2-Way Bookshelf Surround Sound Speakers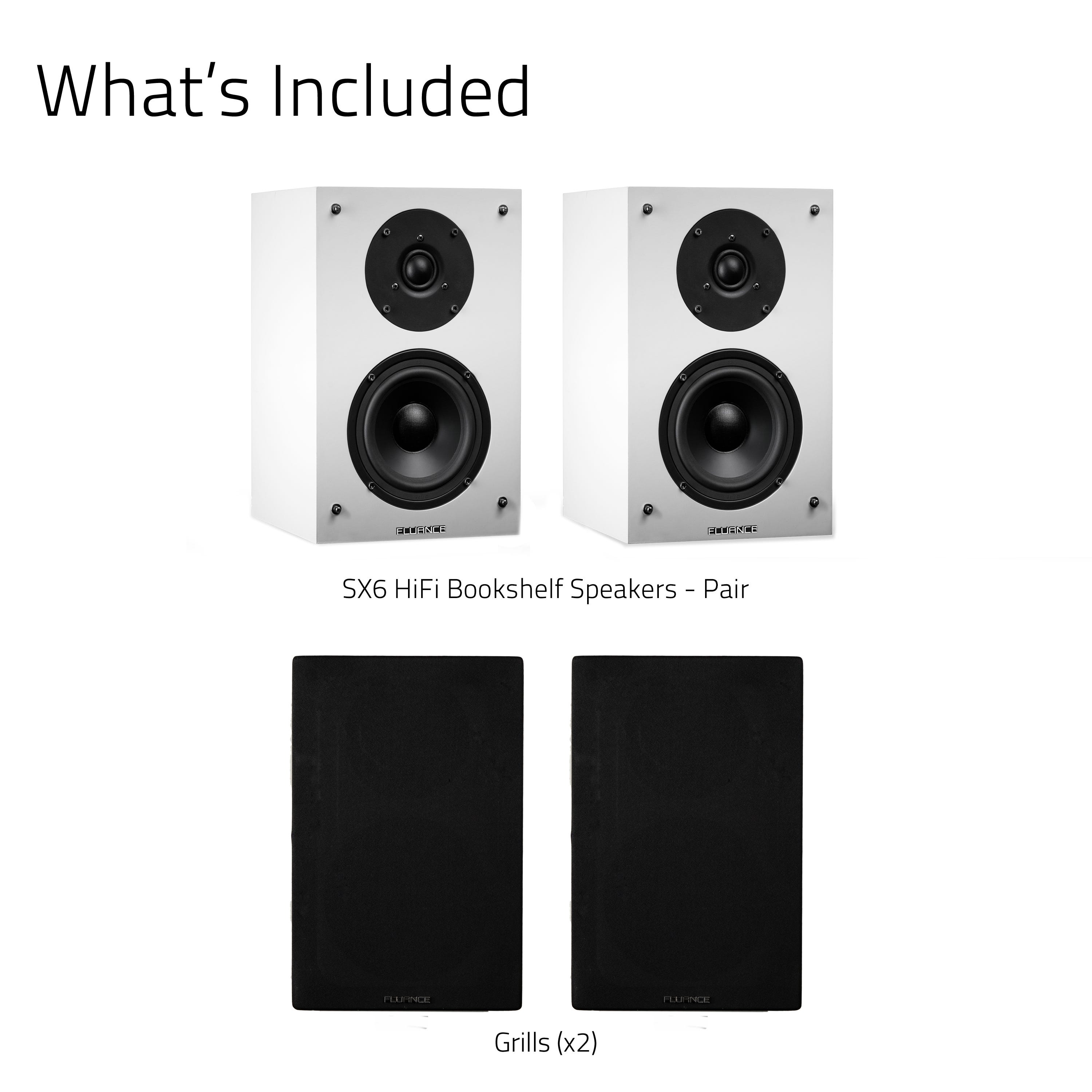 Speaker Configuration
2 Way - 2 Driver Passive Bookshelf Loudspeakers
Tweeter
1 inch Soft Dome Ferrofluid Cooled
Woofer
5 inch Polymer Treated Driver with Butyl Rubber Surround
Power Handling
30 - 100 Watts RMS
Frequency Response
60Hz - 20KHz
Sensitivity
89±3dB @ 2.83V / 1m
Crossover Frequency
3500Hz PCB Phase Coherent - Mounted Circuitry Butterworth Design
Impedance
8 Ohms
Enclosure
Tuned Rear Port Bass Reflex Bookshelf Design
Dimensions
13.5 x 8.3 x 9.1 inches / 34.3 x 21.1 x 23.1 cm (HxWxD)
Speaker Weight
11.6 pounds/speaker.
Series
ELITE
Speaker Type
Bookshelf
Frequency Response Graph

Click to Expand

Fluance Speaker Size Comparison Chart

UPC
061783270929
What's Included
Two Bookshelf Loudspeakers
Instruction Manual
Full Lifetime Parts and Labor Manufacturer's Direct Warranty
Lifetime Customer Support
Customer Reviews
Jeff C

August 10, 2020

Florida, United States

Ive had this setup since 2003ish and it is still going strong to this day except one of the tweeter mounting brackets broke but was an easy fix. They sound amazing for the small size of the speakers. They sound alot like my old high end huge cerwin vegas I got in the late 70s.

Jeff C

5

David H.

August 8, 2020

California, United States

I've been an audiophile since I was a kid, always tweaking sound, employing graphic equalizers into my audio gear to get as good quality sound as I could out of my equipment.

Lately become a fan again of tube audio gear. With that said, I have had my eye on Fluance for a few years and finally purchased a set that both fit my budget and space. I live in an apartment and while I would have wanted to get the Signature series 7.0, I don't have the space to accommodate the towers. I read reviews and went to a friends house to listen to his set.

I purchased these and they were shipped quickly, I had them within a week of the order.

They come very well packaged against damage in transit and though the box for the towers took a scuff or two, the contents was very well protected.

I have been playing different types of music through them, from classical, jazz, big band, EDM to opera. These speakers sound great with all music genres.

These speakers are fantastic for their price range, and they sound great. Very clean audio, highs are there but not overly bright. I am not using any equalization and am very pleased with the sound which is rich and warm. I'm using a Yamaha 7.1+ receiver which delivers 90W/Channel. I have a Polk PSW-10 subwoofer which mated perfectly with my audio set up. I had purchased the sub about 3 months before investing in the Fluance 7.0 set in walnut finish.

I expect they will only get better with time. Money well spent, and my inner audiophile is very happy.

David H.

5

Lisa P.

October 13, 2019

Alberta, Canada

Great sound and fast delivery, definitely would recommend to any thinking about this system.

Lisa P.

5

Lisa

October 13, 2019

Alberta, Canada

Great sound and fast delivery, definitely would recommend to any thinking about this system.

Lisa

5
Articles from our experts