 Ai60 High Performance Powered 6.5" Bookshelf Speakers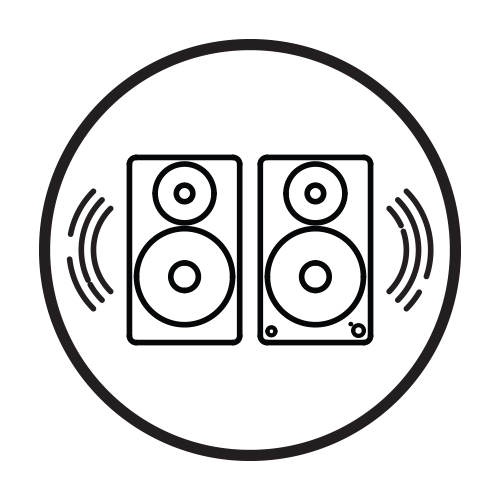 RAW POWER MEETS SUBLIME SOUND
Experience true stereo sound with these high performance active bookshelf speakers with an integrated 100W Class D amplifier designed to deliver a crisp, deep and accurate response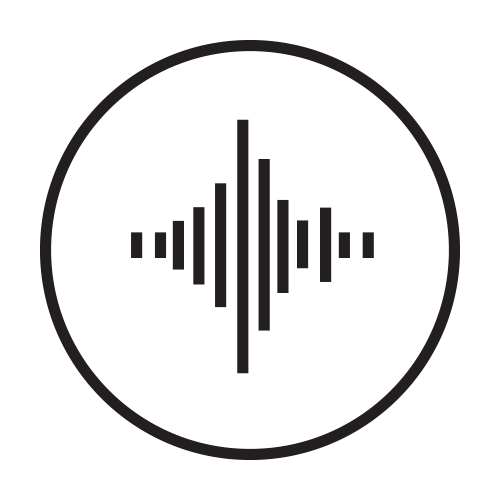 TRUE AUDIO VERSATILITY
Level-up any sound system in your home including your turntable, TV, computer, or Bluetooth speakers to experience unparalleled sound in any set-up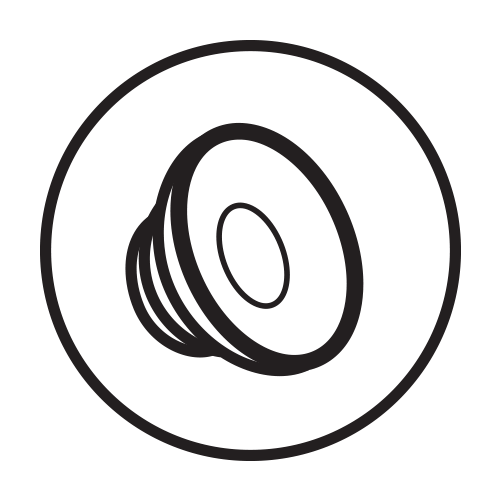 PREMIUM COMPONENTS
Meticulously developed with 1" silk dome tweeters and 6.5" woven drivers producing stunning highs, balanced mids, and powerful rich bass

PRECISION-CRAFTED WOOD CABINETS
Hand-built with engineered wood, creating a warm, distortion-free sound for exquisite audio reproduction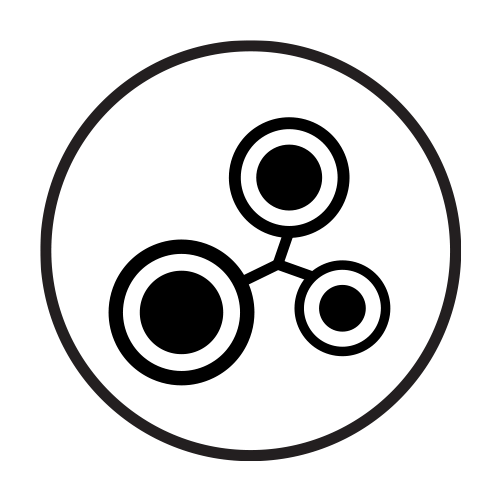 ULTIMATE MUSIC CONNECTIVITY
Pair these feature-rich speakers to any source through Bluetooth aptX, RCA/Aux, Optical, PC/MAC USB, and add more bass with the subwoofer output… if you dare
Overview
RAW POWER MEETS SUBLIME SOUND
Specifications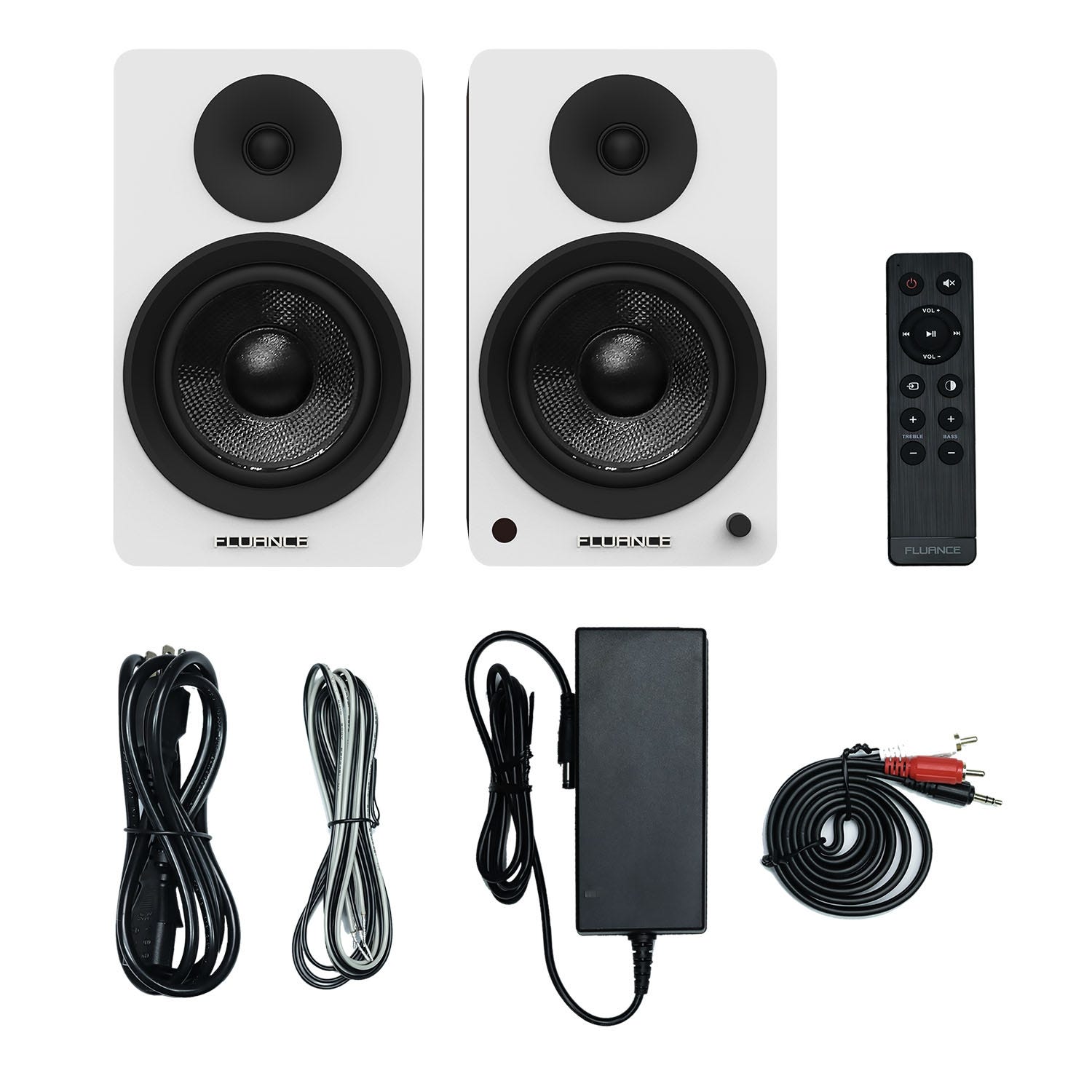 Speaker Configuration
2 Way – 2 Driver Powered Bookshelf Speaker System with Integrated Amplifier (Pair)
Bluetooth
Yes; aptX Codec
Inputs
RCA L/R, Digital Toslink Optical, Micro USB
Tweeter
1 inch Silk Soft Dome Ferrofluid Cooled
Woofer
6.5 inch Woven, Glass Fiber Composite Drivers with Butyl Rubber Surrounds
Amplifier Power
Class D 100 Watts Continuous Average Output (2x 50 watts)
Frequency Response
35Hz – 20KHz (DSP Virtual Sound)
Internal DAC
Cirrus Logic CS8416
Internal Lead Wire
18 gauge Internal Lead Wire to Reduce Signal Degradation
Power
Input: 100-240V AC (50/60Hz); Output: 24V 3.0A
Crossover Frequency
2600Hz Phase Coherent – PCB Mounted Circuitry
Enclosure
Acoustic Suspension Design
Dimensions
13.1 x 7.8 x 9.2 inches / 33.3 x 19.8 x 23.4 cm (HxWxD)
Speaker Weight
Active Speaker: 14.55 lbs
Passive Speaker: 14.1 lbs
Speaker Type
Bookshelf
Certifications
ICES, FCC Certified, ETL/CETL
Total Harmonic Distortion (THD)
<0.3%
WiFi Casting
Pairs via Bluetooth with Google Home, Amazon Echo and AppleTV (Ai60 is not a WiFi speaker)
Frequency Response Graph

Click to Expand

Fluance Speaker Size Comparison Chart

UPC
871363024817
What's Included

Ai60 Speaker Line Out

Click to Expand

Fluance Ai60 Powered Bookshelf Speakers (pair)
Remote Control
2x AAA Batteries
8ft 100-240V Power Adapter
8ft 18 Gauge Speaker Wire
3ft 3.5mm Aux to RCA Cable
Quick Start Guide
Fluance Catalog
Lifetime Customer Support
2 Year Manufacturer's Warranty
Press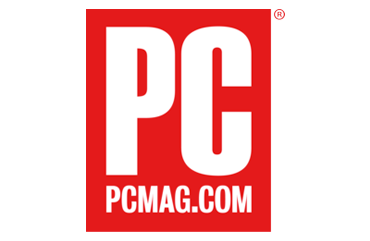 PC Mag Reviews the Ai60 Bookshelf Speakers
"The Ai60 speakers can get exceptionally loud, and on tracks with intense sub-bass content... the drivers deliver powerful bass response."

Read Full Review



The Soundbar Annihilator - Review by Joe N Tell
"This thing can actually play down to 35 Hz and at significantly loud volumes - that is a huge surprise"


Customer Reviews
Mark D

April 27, 2021

Sound is smeared and bass is muddy and bloated. Some frequencies missing as well as poor imaging and soundstage. Very disappointing. Not even Lo Fi.

Mark D

1

Gannon g

April 9, 2021

I really do have to say these are the greatest entry level monitors you can find and the price is phenomenal you can't beat it if you are new to desk speakers studio speakers these are for you... powered plug them in and your ready to jam... I've had mine for almost 2 years and they still run great with top quality sound and clarity. I've thought about upgrading but just keep putting it off because these are just amazing and I don't really need anything more. I can't stress it enough THESE ARE THE BEST ENTRY LEVEL SPEAKERS YOU CAN FIND! If you've been hesitating for any reason just buy them trust me! Thank you for an awesome durable reliable product FLUANCE!

Gannon g

5

Gregory

April 8, 2021

I just returned from a very experienced technician who basically told me that my speakers are shot. He said the design of internal amps inside speakers are 'crap'. My speakers were sitting in my credenza for that past year - I broke them out today and they don't even work. The power cuts out due to poor internal construction. I will touch base once I hear back from the manufacturer. I'm very disappointed considering the cost, and the primary reason why I bought them was to support Canadian made.

Gregory

1

Killafornia K

December 3, 2020

Well they are not too little but the do sound good... I also owned some edifier 1850s.... the edifier was a little bit more clearer, higher highs and bass was good too... these ai60 looks very nice and plays a little bit louder, but lacks a little bit on highs and bass is ok... I do like the fact it has a bass output for subs... if these had the same highs as the edifiers they would be 5 stars, then again some ppl don't like highs that are too high...

Killafornia K

4

Jim B

November 24, 2020

Ontario, Canada

Great speaker, excellent sound, quite substancial but a bit bigger than I thought! Thinking the Aio40's for my office my be the perfect size.

Jim B

4

Kim E

November 15, 2020

My daughter loves the sound and all features. We paired it with the turntable, but she also can listen to other sources with the bluetooth.I think it was a great option to get into a high end sound for a teenager without having to go with an amplifier.Very pleased with the quality and the functionality.

Kim E

5

Darcy l

November 5, 2020

Alberta, Canada

Really enjoy using these speakers, easy setup with striking quality.

Darcy l

4

Cristian Cismas

October 26, 2020

Ontario, Canada

I purchased a pair of Fluance Ai60 speakers back in August off of Amazon for usage as TV speakers to replace my old soundbar. My first impressions were very good, they were leagues ahead of the old Samsung soundbar I had, however, a few days later I realized the sound seemed a little muffled. It turns out the left speaker had a tweeter issue, which created muffled sound on the left speaker. After reading a few of the reviews on here, I realized that others have had similar problems, and so I had the speakers returned.

Although this experience was disappointing, I was very pleased with my first impressions and so I decided to give them another shot and I purchased them again, this time directly from Fluance. They arrived within 2 days, and I've been in love with them ever since.

These are now hooked up to my 4k TV, with my turntable hooked up underneath. They produce clear sound, and completely blow the previous sound bar I had out of the water. I'm also happy by the fact that I don't need to blast the TV at loud volumes, as the detail & clarity of these speakers is amazing. Overall, they are exactly what I was looking for, and I'm happy I gave them a second try!

Cristian Cismas

5

Sylvain Beland

October 20, 2020

Quebec, Canada

I find myself constantly adjusting the bass. When playing 70s and 80s music, I need to increase the bass but when I listen to new music, the bass is like a sub woofer bass even at minus 5 which I really dislike. I bought those speaker thinking the bass would be crisp but it is muddy. My experience is only based on Bluetooth connection. I wrote in to complain and forgot to mention Bluetooth connection, got a reply for wired connection. Wanted an exchange for AI40 but it hasn't been in stock for a long time. Anyway my wife was after me to get rid of the huge box, so I did and will be keeping the speakers with its issues. Too bad the newer music has so much sub-bass. I have Audio Technica reference headphones and I listened to the same music and had no bass issue. So must be the AI60 dsp pushing too much bass is my final conclusion. Live and learn I guess.

Sylvain Beland

2

Kevin G

September 29, 2020

California, United States

Great sound, no buzz, strong bass. I got the 6.5" because I wanted to make sure I felt the bass in my bones and let me tell you it's more sound then my neighbors would like. The 5" would've been plenty for my computer/desktop set up but I'm happy with the 6.5"ers.

Kevin G

5

Adam S

September 24, 2020

Ontario, Canada

Simply amazing! Incredible range and bass even in my studio space with 11' ceilings! Crisp and detailed sound at any distance.

Adam S

5

Greg O

September 22, 2020

Nova Scotia, Canada

The Ai60's are my latest and 3rd Fluance product that I have purchased and as usual they shine just like the others! I am extremely satisfied with these powered speakers and I have them set up in my office.. If you are in the market for powered speakers then look no further and get a pair of the Ai60's

Greg O

5

Geo T.

September 20, 2020

Ontario, Canada

Good sounding speakers overall with good build quality, easy setup and use. Was very easy to setup the bluetooth and function is great.

Geo T.

4

Jason H

September 17, 2020

These speakers have full time feedback... Always humming. My power plug has a short even though these were plugged in and never moved. The company's return policy makes returning items extremely difficult.

Jason H

1

Ted S

September 7, 2020

I was looking for wireless surround speakers (not a sound bar) but couldn't find such a thing. Contacted Fluance and Elac but neither had options that exactly met my need. I have vaulted ceilings so I can't run wire to the surround or rear speakers (maybe an electrician could ($$expensive$$), but I didn't see how I could easily do it after going in the attic). Fronts and center are Elac Debut 2.0 (6.2 series) wired in the wall with banana plug plates.What I did was buy 2 pairs of these (since these are powered- one powers the other and bluetooth).I put the bluetooth 'primary' for the rear where there is a power outlet each side, then ran 14GA banana plug wire (not included- I made them up to length) to the secondary speaker (surround). Used raceway as necessary to hide the speaker wire going from primary to secondary ($15). But it made it much less expensive than calling an electrician.I used a bluetooth Aptx HD transmitter hooked to Left rear (L) and Left Surround (R) line outs on my AV receiver, and a second bluetooth transmitter hooked to Right Rear (L) and Right Surround(R) line outs.The sound is very good to excellent (my opinion) using these bookshelf speakers in my 7.1 Home theater system.Contractors who have come into my home doing other work have been amazed how clear the sound of my setup is. I usually have put on the Rise of Skywalker BluRay to showcase the sound when asked so they can get a good example - haven't heard anyone say it sounds bad, but have had people ask me exactly what I bought to get to this result...

See all reviews

Ted S

5
Resources
Guides
Manual
FAQs
What's the difference between the Ai40 and Ai60?
Model
Ai40
Ai60
Drivers
1" Tweeter,
5" Woofer
1" Tweeter
6.5" Woofer
Frequency Response
40Hz – 20KHz
(DSP Virtual Sound Perceived by Ear)
35Hz – 20KHz
(DSP Virtual Sound Perceived by Ear)
Connections (Input)
RCA L/R (Aux to RCA cable included)
RCA L/R (Aux to RCA cable included) Toslink Optical
Micro USB
Size HxLxW
10.9" x 6.5" x 7.6"
13.1" x 7.8" x 9.2"
Weight
15.1 lbs
29.3 lbs
Amplifier
Class D 70 Watts Continuous Average Output (2x 35 watts)
Class D 100 Watts Continuous Average Output (2x 50 watts)
Sub Out
No
Yes
What can I connect to Ai60?
Ai60 includes inputs for USB audio from a computer, Toslink Optical for connection to a TV and RCA L/R (3.5mm Aux to RCA cable included).
Some devices you can connect are:
- Turntables
- Smartphones and MP3 Players
- Laptops or Desktop computers
- Game Consoles
- Televisions
Can I connect a subwoofer to Ai60?

Yes! One of the most common requests after the launch of Ai40 was a Sub Out connection. This has been included on the Ai60 which matches up great with the Fluance DB10!
 
Do I need an amp or receiver with Ai60?

Absolutely not! The Ai60 Powered Bookshelf Speakers are powered by a 100-Watt amplifier built into the right speaker, this provides power to the left speaker through the included 18 gauge speaker wire!
 
Can I connect Ai60 speakers to my TV?

Yes! Using the Toslink Optical connection, you can connect your TV directly to your Ai60 Speakers! When using the speakers this way, it will be important to set you TV audio output to PCM or Stereo as Ai60 does not support Dolby or surround options.


Does Ai60 have a preamp for my turntable?

While the Ai60 does not include an internal preamp for use with a turntable, those with built-in preamps such as the Classic (RT80) and Elite (RT81) will not require additional equipment to be played over the Ai60 speakers.
To maintain the cleanest signal path, the Reference Series (RT82 to RT85) will require an external preamp.

 
Articles from our experts