 Reference Surround Sound Home Theater 5.0 Channel Speaker System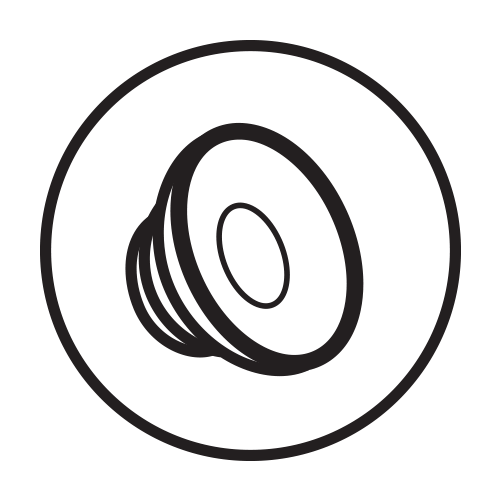 NEXT-LEVEL SOUND PERFORMANCE
Engineered with premium components to pack a powerful punch of room-filling music delivering a truly immersive home theater experience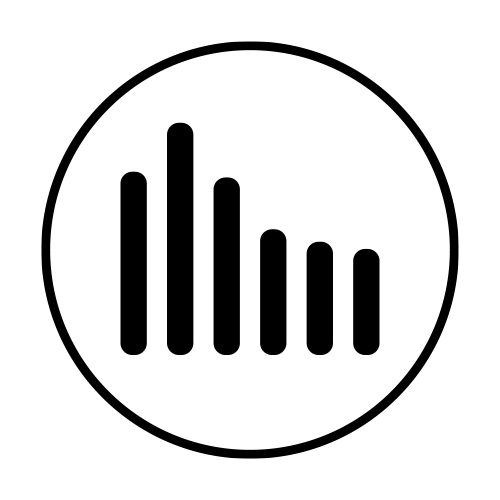 EXQUISITE BASS PERFORMANCE
Unique down-firing 8" subwoofers produce exceptionally deep and undistorted low frequency response while maintaining a minimalist footprint

RICH AND DETAILED MIDRANGE
Woven fiber drivers provide vibrational damping and optimal linear movement resulting in a faithful reproduction of the original recording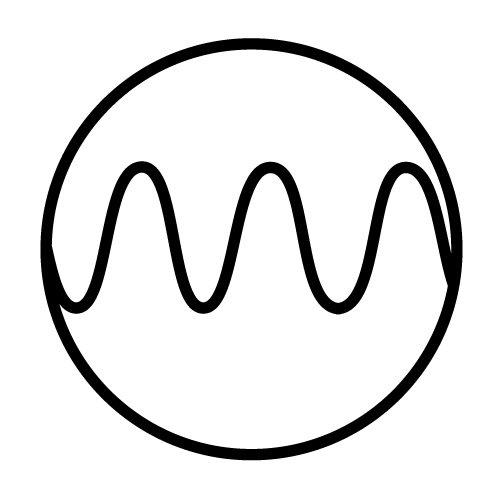 CAPTIVATING CLARITY IN THE HIGH FREQUENCIES
Silk dome tweeters produce crisp, natural highs while providing spacious off axis dispersion making every spot the sweet spot

SUPERIOR CABINET ENGINEERING
Meticulously designed enclosure with rigid internal bracing to avoid unwanted resonance and dual rear ports for controlled low-frequency response
Overview
Specifications
Reference High Performance 3-Way Floorstanding Loudspeakers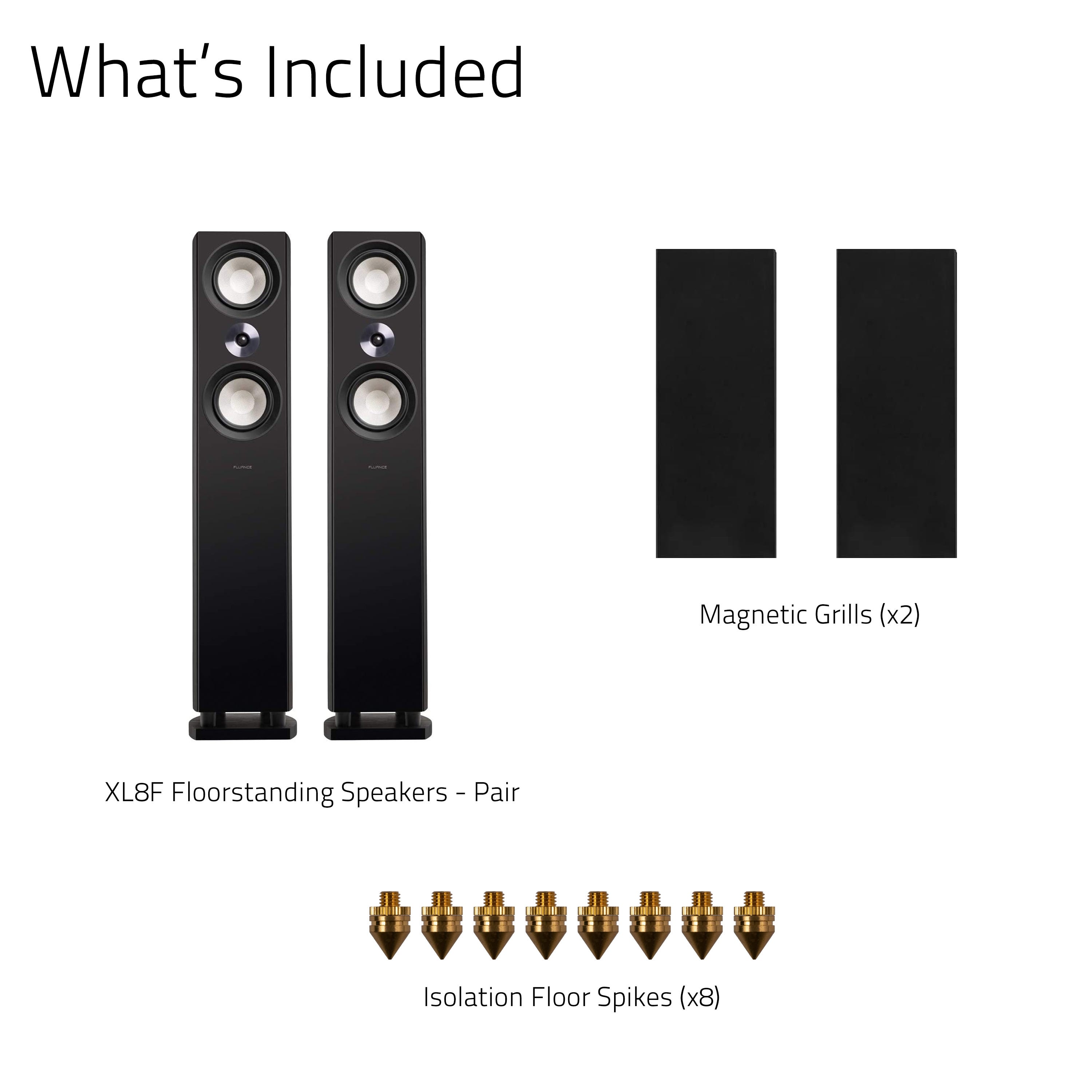 Speaker Configuration
3 Way - 4 Driver Floorstanding Main Speakers (pair)
Tweeter
1 inch Neodymium Balanced Silk Dome Ferrofluid Cooled
Midrange
Dual 6.5 inch Woven Glass Fiber Composite Drivers with Butyl Rubber Surrounds
Woofer
Isolated Down-firing 8 inch Polymer Treated High Excursion Driver with Butyl Rubber Surround
Power Handling
80 - 160 Watts RMS
Frequency Response
35Hz - 25KHz
Sensitivity
87dB @ 1W / 1m
Crossover Frequency
100/3000 Hz Phase Coherent - PCB Mounted Circuitry
Impedance
8 Ohm Compatible
Enclosure
Tuned Rear Dual Port Bass Reflex Tower Design Dampened
Dimensions
45.86 x 9.25 x 12.99 inches (HxWxD)
Speaker Weight
47.70 pounds/speaker
Series
REFERENCE
Certifications
CE Certified
DOLBY ATMOS
Ideal for use as front speakers in a Dolby Atmos Surround Sound System
Frequency Response Graph

Click to Expand

Fluance Speaker Size Comparison Chart

UPC
061783269787
What's Included

Two High Performance Floorstanding Speakers
Eight Isolation Floor Spikes
Two Magnetic Front Grills
Instruction Manual
Lifetime Customer Support
Lifetime Parts and Labor Manufacturer's Direct Warranty
Reference High Performance 2-Way Bookshelf and Surround Speakers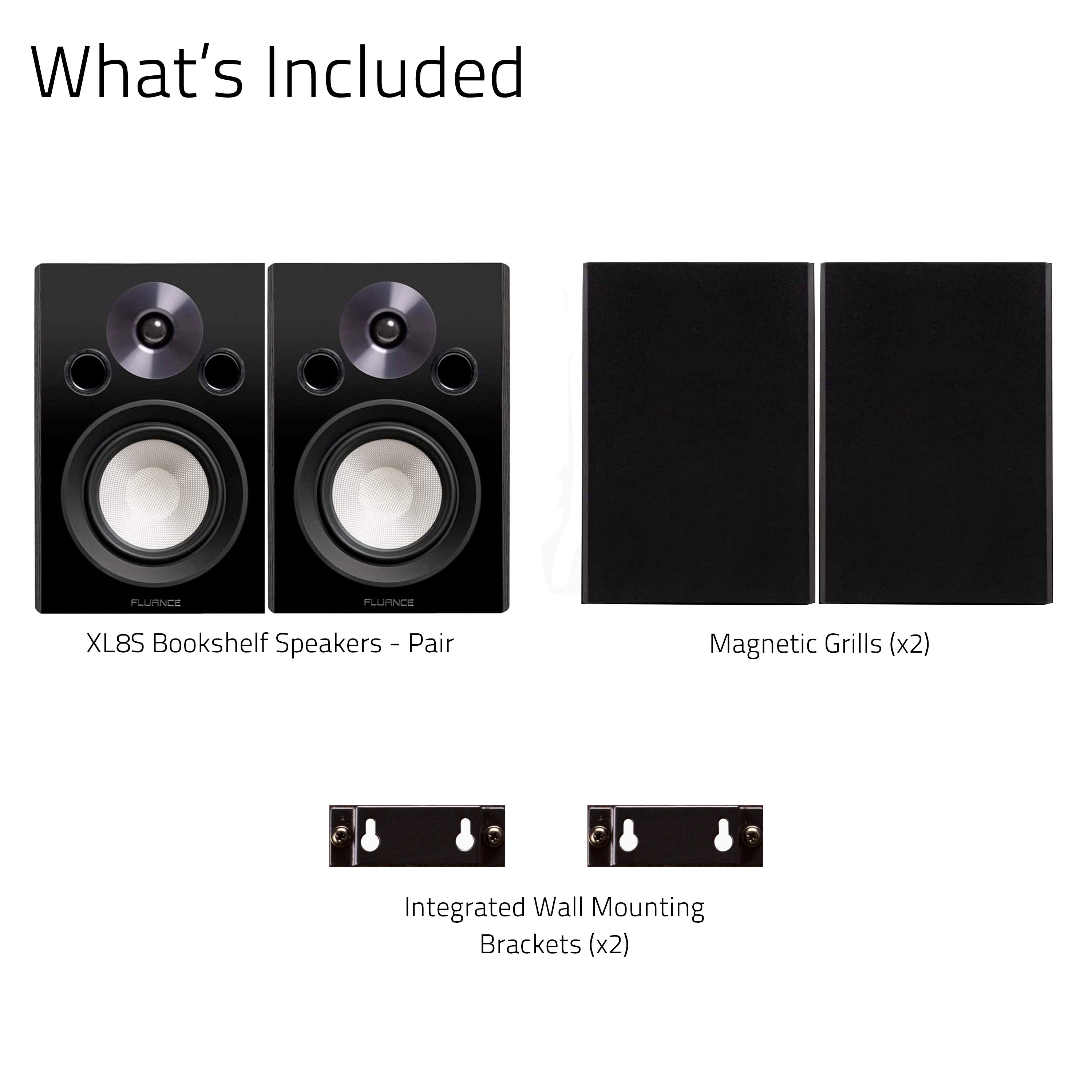 Speaker Configuration
2 Way - 2 Driver Passive Surround Speakers (Wall Mountable)
Tweeter
1 inch Neodymium Balanced Silk Dome Ferrofluid Cooled
Woofer
5.25 Inch Woven Glass Fiber Composite Drivers with Butyl Rubber Surrounds
Power Handling
40 - 80 Watts RMS
Frequency Response
50Hz - 20KHz
Sensitivity
85dB @ 1W / 1m
Crossover Frequency
3100 Hz Phase Coherent - PCB Mounted Circuitry
Impedance
8 Ohm Compatible
Enclosure
Vented Bass-reflex Design
Dimensions
11.4 x 8.1 x 9.0 inches (HxWxD)
Speaker Weight
11.35 pounds/speaker
Series
REFERENCE
Certifications
CE Certified
DOLBY ATMOS
Ideal for use as surround sound speakers in a Dolby Atmos Surround Sound
Frequency Response Graph

Click to Expand

Fluance Speaker Size Comparison Chart

UPC
61783269732
What's Included

Two Bookshelf Surround Sound Speakers with Integrated Wall Mounting Brackets (keyhole slots)
Two Magnetic Front Grills
Instruction Manual
Lifetime Customer Support
Lifetime Parts and Labor Manufacturer's Direct Warranty
Reference High Performance 2-Way Center Channel Speaker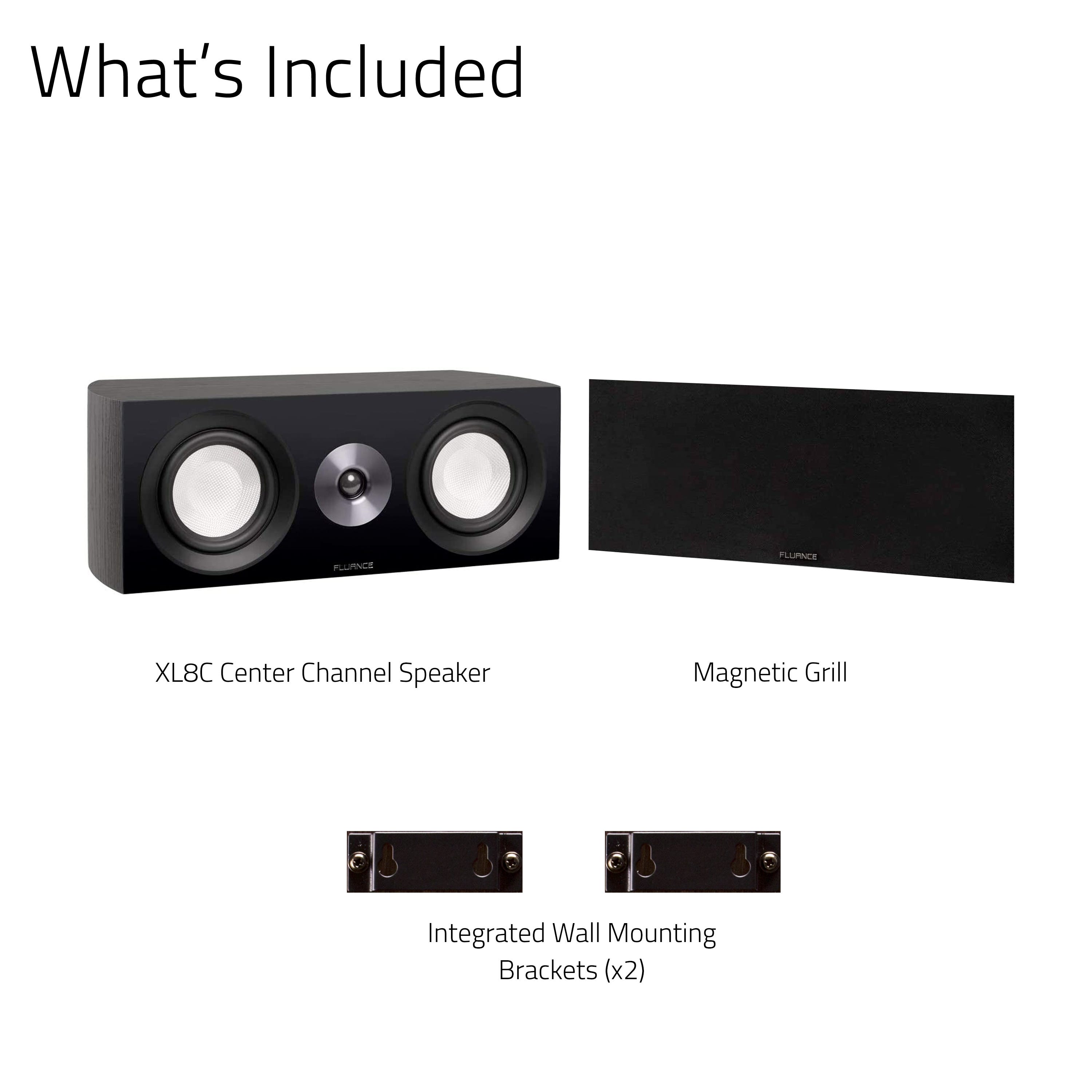 Speaker Configuration
2 Way - 3 Driver Center Channel
Tweeter
1 inch Neodymium Balanced Silk Dome Ferrofluid Cooled
Woofer
Dual 5.25 inch Woven Glass Fiber Composite Drivers with Butyl Rubber Surrounds
Power Handling
50 - 100 Watts RMS
Frequency Response
110Hz - 20KHz
Sensitivity
86dB @ 1W / 1m
Crossover Frequency
3000 Hz Phase Coherent - PCB Mounted Circuitry
Impedance
8 Ohm Compatible
Enclosure
Acoustic Suspension Design
Dimensions
6.9 X 18.5 X 9.0 inches (HxWxD)
Speaker Weight
15 pounds
Series
REFERENCE
Certifications
CE Certified
DOLBY ATMOS
Ideal for use as surround sound speakers in a Dolby Atmos Surround Sound
Frequency Response Graph

Click to Expand

Fluance Speaker Size Comparison Chart

UPC
61783269718
What's Included

Center Channel Speakers with Integrated Wall Mounting Brackets (keyhole slots)
Instruction Manual
Lifetime Customer Support
Lifetime Parts and Labor Manufacturer's Direct Warranty
Press

" GREAT SPEAKERS for STEREO and HOME THEATER! "
Join Andrew Robsinson for an in-depth look at his personal thoughts of the XL8F Reference Series Floorstanding Tower Speakers audio experience.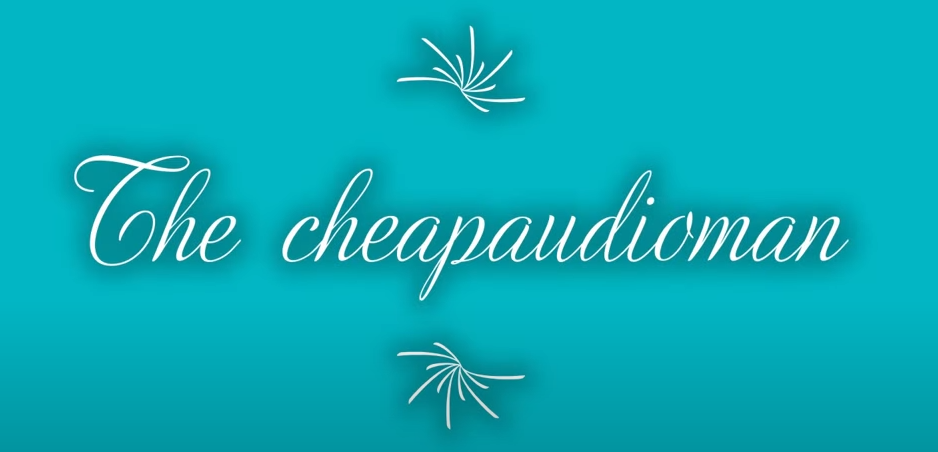 "Fluance Reference Tower and Center Review - Budget Beasts!"
" With the tower speakers, center channel, and bookshelf speakers, you have a fantastic home theater system and enjoyable music."





"CRAZY GOOD SPEAKERS' - XL8S REFERENCE BOOKSHELF SPEAKER REVIEW"
"Virtually everything I played through the XL8S speakers didn't just sound good, they sounded %@*&!*# great."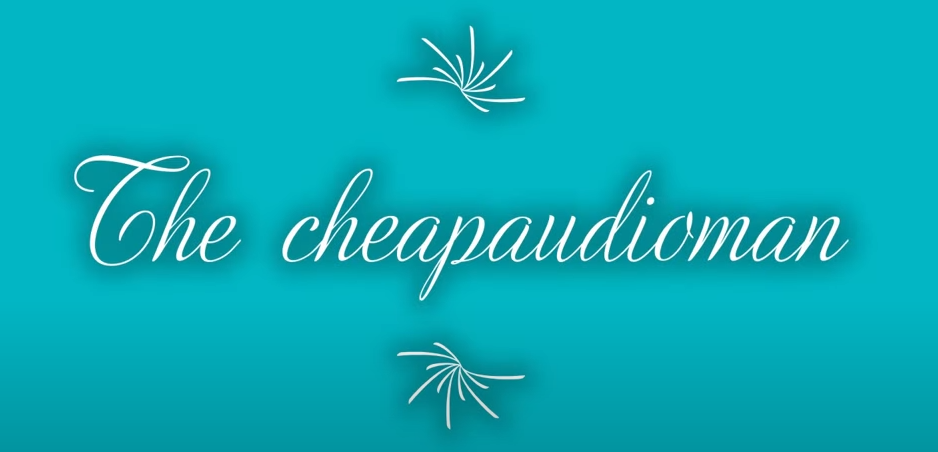 Fluance Reference XL8S Review
" Great speaker, absolutely perfect, does everything it says it's going to do for surround sound. "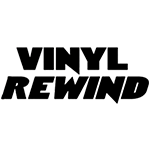 Takes the Reference Tower Speakers for a Spin
Sit back and relax with Vinyl Rewind as you are immersed in a top to bottom review of Fluance's Reference Tower Speakers.




Z Reviews - Reference Tower Speakers
Dive in with Z Reviews for an overview and test session with the Reference Tower Speakers. " These are one of the speakers I'd recommend to show you what you can do without a sub. "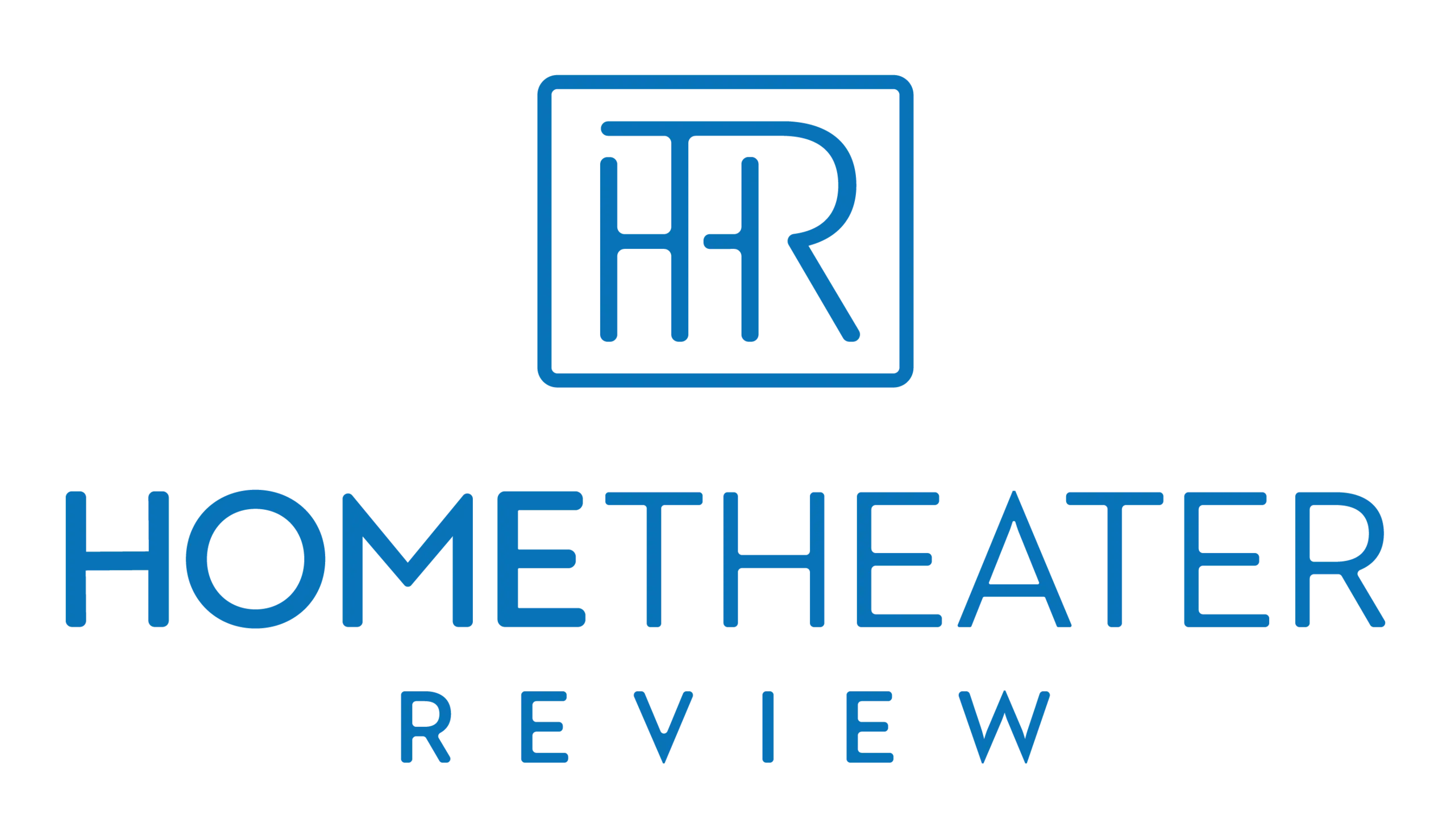 XL8F Reference Tower Speaker Review – "Handsome & Impressive Sound"
"The new Reference Towers from Fluance deliver sound and solid value and challenged what has been my standard speaker system for decades."

Read Full Review

Alex Hernandez Reviews the XL8F Reference Tower Speakers
"Overall, the sound these loudspeakers produce is just beautiful and beastly. They handle music amazingly well, but they also make movies sound stellar, along with games and TV."

Read Full Review
Customer Reviews
David A

August 9, 2021

I love these speakers, they sound great and look great. It took some time to get my receiver dialed in, the center sounded a bit muddy at first, but after dialing in the eq, they are perfect.

David A

5

Darry Hedgepeth

July 11, 2021

Maryland, United States

I am very happy with my acquisition of this home theater package. After careful consideration & research I, knew that these speakers would be a good fit for my system. They sound great as well as look like a much pricier audiophile combo. I would most definitely recommend Fluance to anyone in search of excellent high fidelity equipment!

Darry Hedgepeth

5

timothy e

June 20, 2021

You can't beat the price vs quality.

timothy e

5

audra s

October 16, 2020

High quality for the money

audra s

5

CNDSTEVE

October 13, 2020

I previously has the XL7Fs for the front towers and center channel. Recently upgraded to these beauties and I have to say, they are absolutely gorgeous and sound amazing! I consider myself quite the audiophile and I have to say, without a subwoofer, these babies shake the house!!

CNDSTEVE

5

Joey C

October 8, 2020

I have dabbled in home theater for about a decade and had many sets of speakers. From Bose, Boston Acoustics, Polk, Klipsch, Pioneer, Sony. These sound better than all of them. Hands down. For the price you absolutely can't beat it. You will probably need a sub but at this price that should be easy to afford.

Joey C

5
Resources
Manual
Guides
FAQs
What is different from the XL7 Reference Speakers?
While they follow the same form factor, the XL8 Reference Series feature improved components such as woven glass fiber composite drivers. We've also redesigned the crossover, drivers and cabinet to improve the overall performance of the entire series.
Articles from our experts