 Reference High Performance 2-Way Bookshelf and Surround Speakers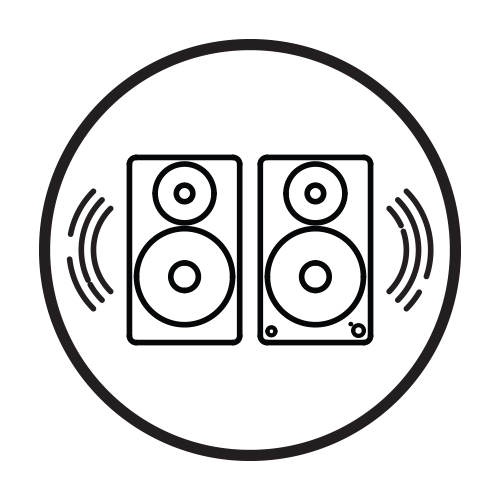 EXQUISITE ROOM-FILLING SOUND
As impactful as tower speakers, with outstanding clarity and immersive sound reproduction, these bookshelf speakers are perfect as fronts or surround sound speakers (external amplifier required)

RICH AND DETAILED MIDRANGE
Woven fiber drivers provide vibrational damping and optimal linear movement resulting in a faithful reproduction of the original recording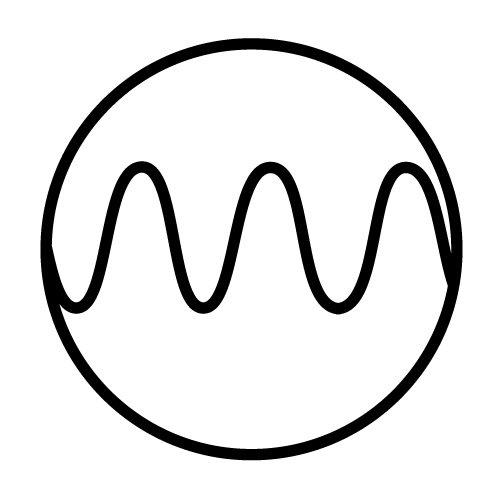 CAPTIVATING CLARITY IN THE HIGH FREQUENCIES
Silk dome neodymium tweeters produce crisp, natural highs while providing spacious off axis dispersion making every spot the sweet spot

SUPERIOR CABINET ENGINEERING
Meticulously designed wood enclosure to avoid unwanted resonance with front firing bass ports for improved bass response (Frequency Range 50Hz - 20KHz)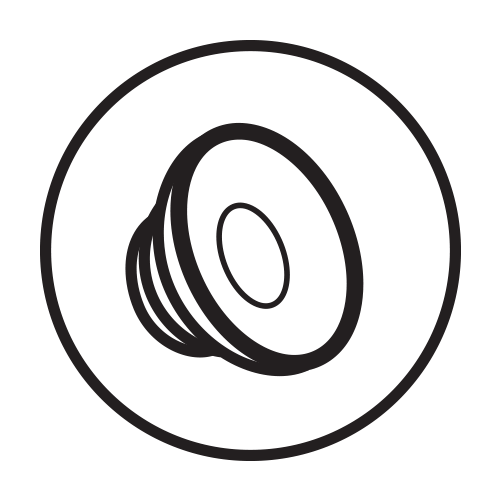 OPTIMIZED CROSSOVER FOR SUPERIOR SOUND
Utilizing high performance components improving phase coherence, frequency response balance and timing
Overview
Specifications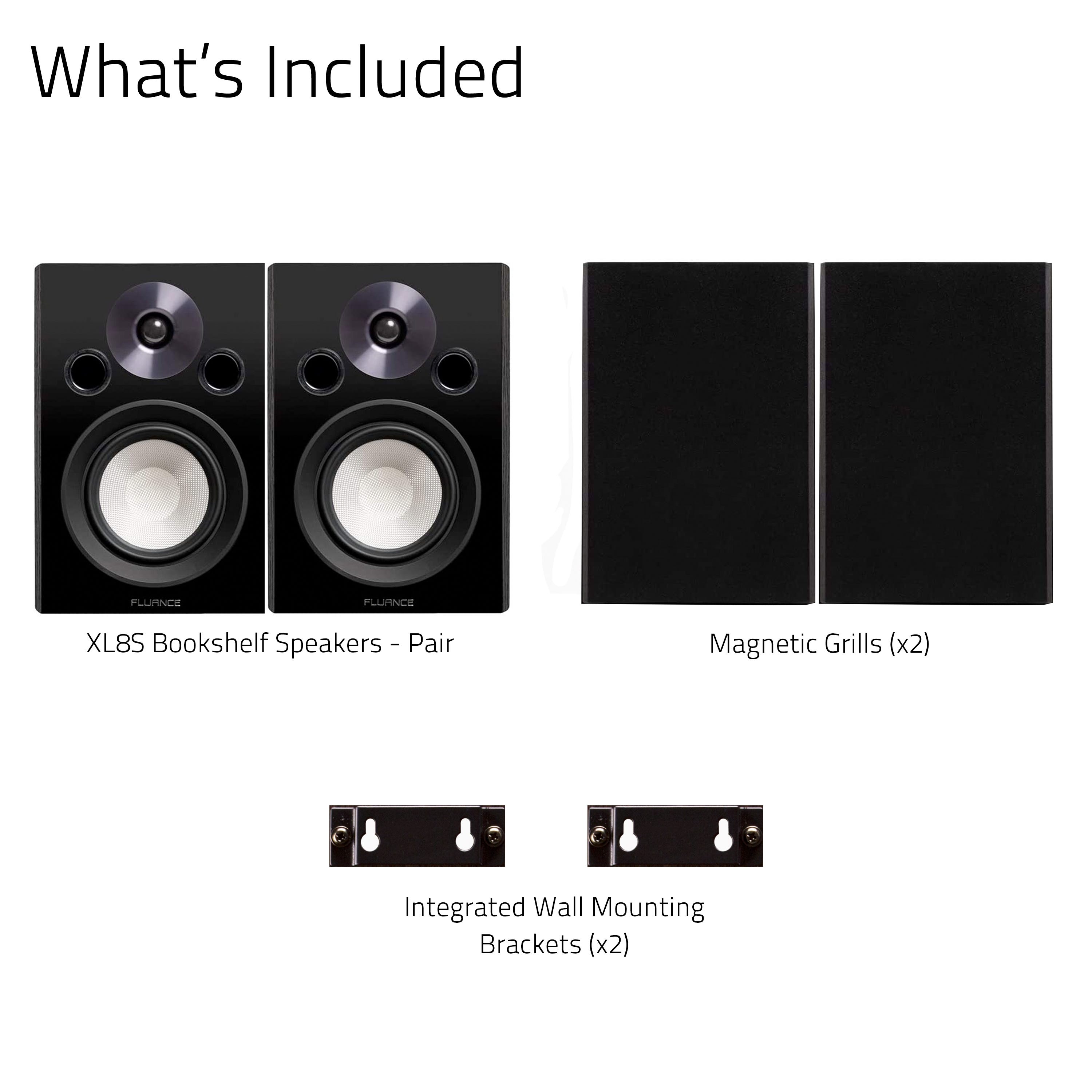 Speaker Configuration
2 Way - 2 Driver Surround Speakers (Wall Mountable)
Tweeter
1 inch Neodymium Balanced Silk Dome Ferrofluid Cooled
Woofer
5.25 inch Woven Glass Fiber Composite Drivers with Butyl Rubber Surrounds
Power Handling
40 - 80 Watts RMS
Frequency Response
50Hz - 20KHz
Sensitivity
85dB @ 1W / 1m
Crossover Frequency
3100 Hz Phase Coherent - PCB Mounted Circuitry
Impedance
8 Ohm Compatible
Enclosure
Vented Bass-reflex Design
Dimensions
11.4 x 8.1 x 9.0 inches (HxWxD)
Speaker Weight
11.35 pounds/speaker
Series
REFERENCE
Certifications
CE Certified
DOLBY ATMOS
Ideal for use as surround sound speakers in a Dolby Atmos Surround Sound
Frequency Response Graph

Click to Expand

Fluance Speaker Size Comparison Chart

UPC
61783269749
What's Included

Two Bookshelf Surround Sound Speakers with Integrated Wall Mounting Brackets (keyhole slots)
Two Magnetic Front Grills
Instruction Manual
Lifetime Customer Support
Lifetime Parts and Labor Manufacturer's Direct Warranty
Press

"CRAZY GOOD SPEAKERS' - XL8S REFERENCE BOOKSHELF SPEAKER REVIEW"
"Virtually everything I played through the XL8S speakers didn't just sound good, they sounded great."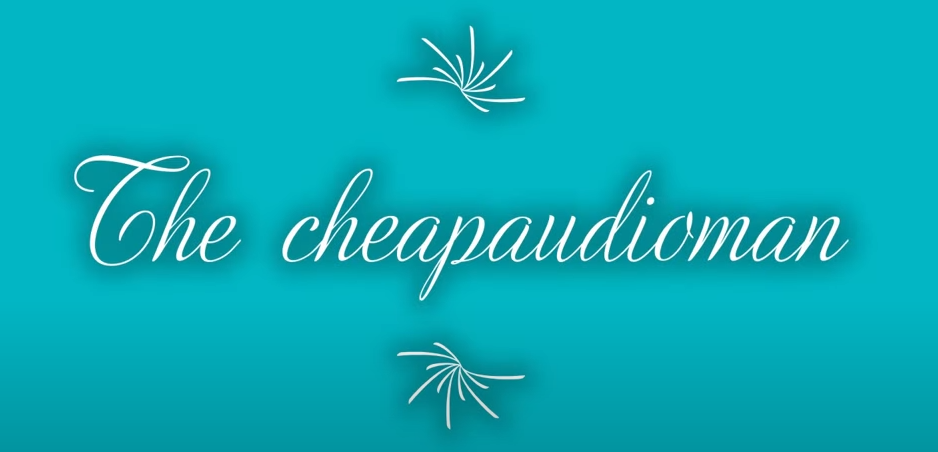 Fluance Reference XL8S Review
" Great speaker, absolutely perfect, does everything it says it's going to do for surround sound. "




Customer Reviews
Karl S

April 26, 2023

California, United States

The build and sound quality are amazing along with crisp highs and plenty of lows. Very reasonable price too. I highly recommend.

Karl S

5

Tim S.

March 27, 2023

California, United States

So far I'm really enjoying speakers. I had a bit of a problem connecting to an older receiver but I finally got it working and they sounds great. The build quality is excellent and I love the walnut wood finish. So far I'm very happy.

Tim S.

4

edmund b.

March 5, 2023

New Jersey, United States

at first i wasn't sure i wound up using as surrounds instead of sssc5 speakers with retro sansui sp-6 4 channel . the combo is beautiful. i bought another pair used from flaunce and wasn't disappointed. used second pair in 2 channel setup as b speakers or in conjunction with with kef 150 a speakers again sounds great. i'm hooked on flaunce sound

edmund b.

5

Stanley W

January 4, 2023

North Carolina, United States

I purchased these after reading a recommendation on an audiophile board. I am using them with two Tinysine 50W amplified bluetooth boards for true wireless stereo. I installed Equalizer APO on my computer to adjust the sound the way I wanted it. I get amazing bass for the size of the speakers. Frequencies below 63hz are boosted 20db in the software. The EQ boost eliminated the need for a subwoofer in my case. Bluetooth does not give true audiophile quality sound, but it is good enough for my purposes. Everything I had hoped for from a bookshelf size speaker. If you want to shake the walls, you will still need a subwoofer.

Stanley W

5

RIGOBERTO J

December 25, 2022

Excelentes monitores de entrada para audiofilos. Gran nitidez de agudos y graves con gran potencia. Muy buena manufactura. Después de 2 aos los sigo disfrutando, lo mismo en rock que en clasica

RIGOBERTO J

5

skd

December 20, 2022

Don't do months of research like I did. Save yourself the time and buy these bad boys.

skd

5

Corn F

December 6, 2022

Fluance seems to know what they're doing. These speakers sound good, nothing like Triangle Borea BR02 good, but ok for background music. The XL8S's do, however, sound much better than Polk ES15's. The good enough XL8S sound is a definite "Win." Took a chance on an open box set direct from Fluance. Like new condition for a bit of a discount. Another "Win." The speakers deliver a broad and full sound stage even if they're a bit bass light. Suits my "kitchen system" just fine. Give them a try. You might like them too.

Corn F

5

Robert G

December 2, 2022

These sound great. You will not be disappointed.Bob

Robert G

5

Dave P

November 23, 2022

....to some Debussy, orchestrated 24 preludes, terrific sound for the price.

Dave P

5

Boyd B.

November 15, 2022

Michigan, United States

This is my second pair of Reference bookshelf's. My first pair I'm using as my front left and right and they perform fantastically, and the second pair I'm using as my Atmos height speakers. Adding the second pair has brought Atmos effects up to another level. I can't recommend Fluance enough. High quality speakers at an extremely affordable price!

Boyd B.

5

Sean

October 11, 2022

Replaced some old speakers (they were $350 each retail) with these Fluance speakers. I have an amp pumping 50W to each and they sound great. They definitely need a subwoofer though.

Sean

5

H.N.

September 24, 2022

Virginia, United States

Outstanding speakers right out of the box. Can't wait for them to get broken in. These sound and look better than more expensive speakers I have owned. The walnut finish with the black glossy class up my mostly black components.

H.N.

5

Michael M

September 7, 2022

I wanted tower speakers to go in our 20 X 24 great room but I compromised and for the WAF these are a great option. I honestly can not crank these over half volume and for music they are superb! I paired with the Elite series bipolars and watching Movies is fantastic. Of course you'll want a good sub, the one we got is the Jamo c910 which pairs great with this set. Now to get that 75 inch TV

Michael M

5

Eddie K

August 25, 2022

For the price I don't think the speakers can be beat. I replaced my old rear channel LG speakers & these are noticeably better. Louder....clearer...more immersive.

Eddie K

5

maria a

July 20, 2022

The parcel was shipped before time, pristine condition and ratio sound quality/price hard to beat.

See all reviews

maria a

5
Resources
Manual
FAQs
What is different from the XL7 Reference Speakers?
While they follow the same form factor, the XL8 Reference Series feature improved components such as woven glass fiber composite drivers. We've also redesigned the crossover, drivers and cabinet to improve the overall performance of the entire series.
Can I connect these XL8S speakers to my turntable?
The Reference Series XL8S Bookshelf Surround Speakers are an excellent addition to a turntable setup. To use these speakers a receiver or amplifier with an output of 40 to 80 Watts RMS per channel will be required to power the speakers.
Articles from our experts