 RT81 Elite High Fidelity Vinyl Turntable with Ai41 Powered 5" Stereo Bookshelf Speakers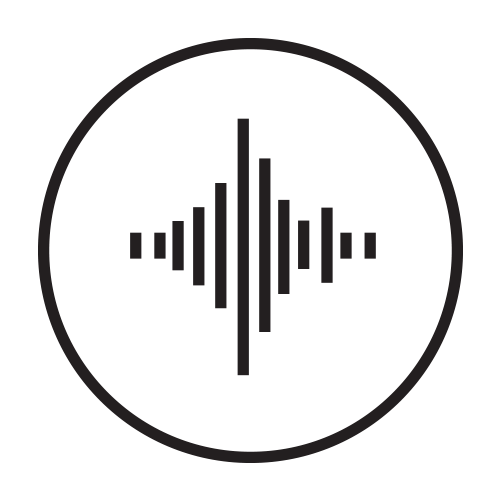 UNPARALLELED PERFORMANCE
With an integrated 90W amplifier, these active speakers deliver a balanced sound with refined detail and clean, room-filling stereo sound that elevates your musical experience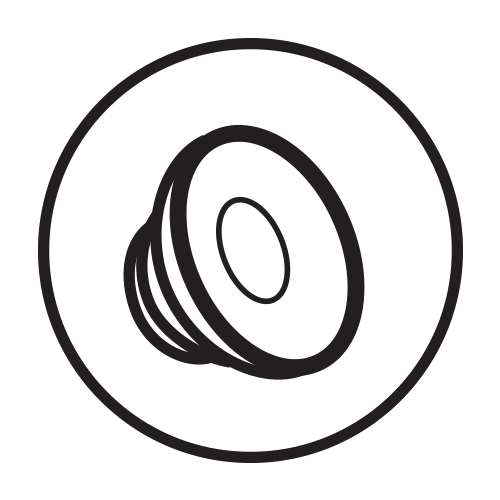 PREMIUM TURNTABLE COMPONENTS
Packed with high performance components including an Audio Technica ATN95E diamond tipped stylus, rubber mat, S-type precision tone arm, Texas Instruments preamp, recreating the performance the way the artist intended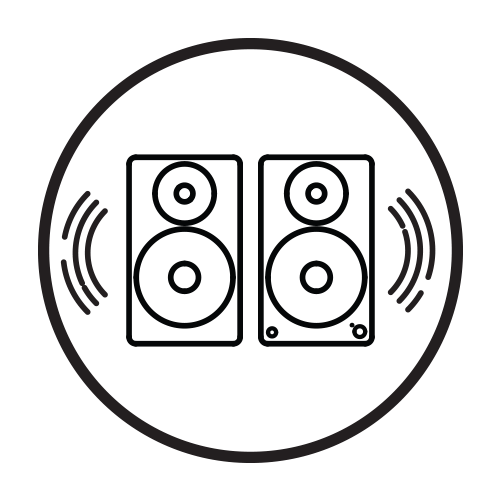 POWERFUL SPEAKERS
Light and rigid 5-inch woven glass fiber drivers produce detailed midrange frequencies and clean undistorted bass with stunning acoustic accuracy

PRECISION CRAFTED WOOD CABINETS
Enjoy warm sound from the internally braced MDF wood cabinets, meticulously engineered to remove unwanted resonances with a rear bass port for full and natural bass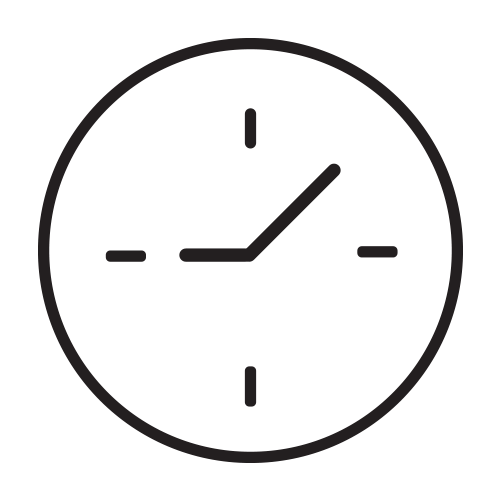 SIMPLE AUDIO SETUP
Easily switch between your vinyl records and streaming your favorite music apps through Bluetooth with this simple plug and play setup – no separate amp required
Overview
Specifications
RT81 High Fidelity Vinyl Turntable Record Player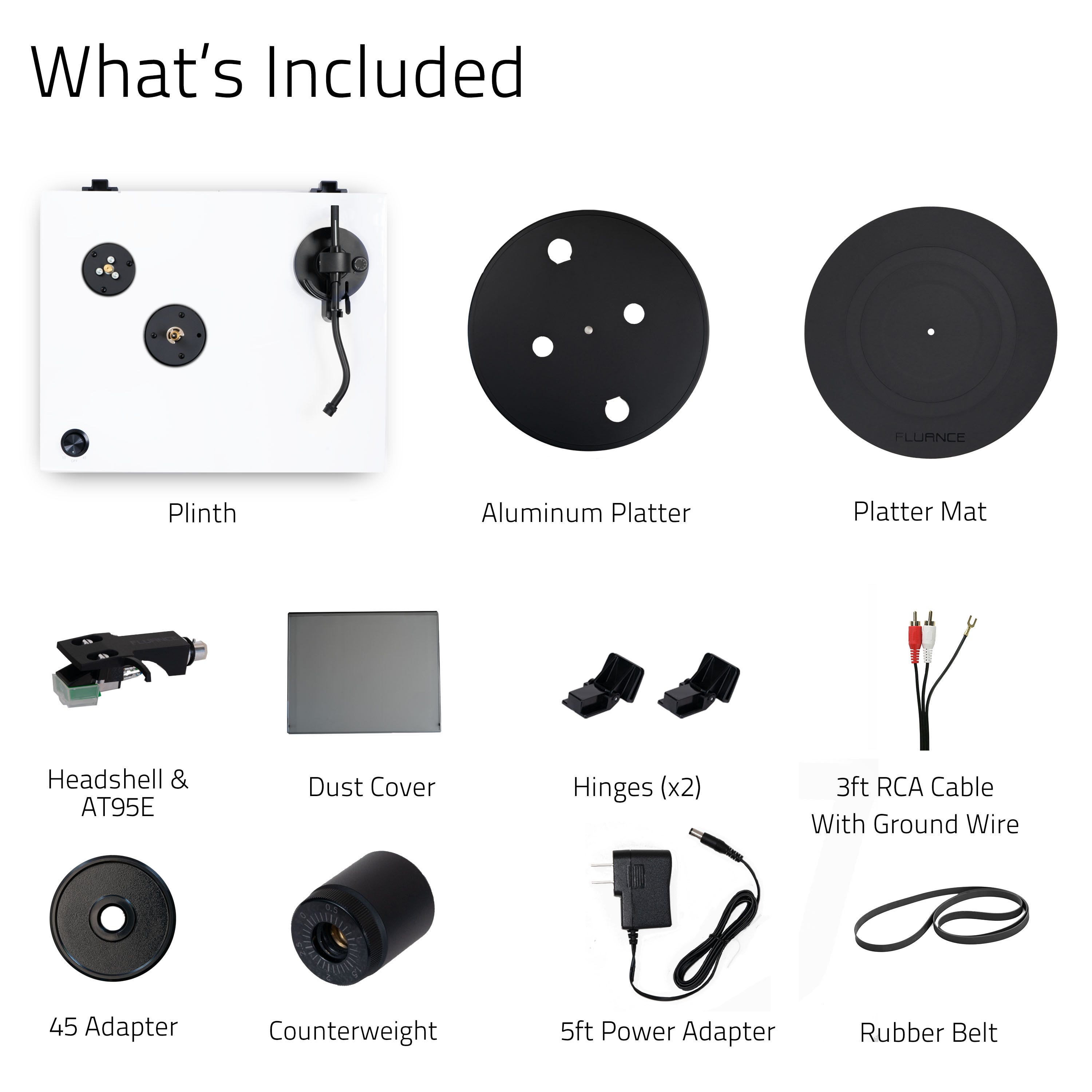 Cabinet Specifications
▼
Cabinet Material
MDF
Finish
High Gloss Walnut
Dust Cover
Yes - Tinted
Turntable Specifications
▼
Drive System
Belt Drive
Motor
DC Motor
Motor Isolation
Three Point Rubber Isolation
Speed
33 1/3 RPM, 45 RPM
Speed Variation
+/-1.00% - Speed Adjustment Guide
Wow and Flutter
0.2%
Signal-to-Noise Ratio (Weighted)
67dB or higher (A-weighted, 20kHz LPF)
Signal-to-Noise Ratio (Unweighted)
60dB or higher (unweighted, 20kHz LPF)
Platter
Aluminum
Diameter of Platter
12", 30cm
Weight of Platter
1.22 lbs (553 g)
Height of Platter
0.62 inches (16 mm)
Auto-Stop
Yes
Turntable Mat
Rubber
Tonearm Specifications
▼
Tonearm Type
Static Balanced, S-Type
Supported Cartridge Weight
3.5 to 6.5g
Counterweight
Yes – 3.53 oz (100 g) - Adjustable
Anti-skating Adjustment
Yes
Pivot Bearing
Yes
Cueing Lever
Yes
Tonearm Material
Aluminum
Tonearm Wire
36 AWG Litz Cable / 7 Strand
Effective Tonearm Mass
28.2 grams
Overhang
19.2mm
Effective Tonearm Length
224mm
Headshell Mount
H-4 Bayonet Mount
Tonearm Height
17mm
Cartridge Specifications
▼
Cartridge Type
Dual Moving Magnet (MM)
Cartridge Model
Audio Technica: AT95E
Replacement Stylus
ATN95E
Stylus
0.4 × 0.7mil Bonded Elliptical (Diamond)
Cantilever
Aluminum
Mount
Half inch
Frequency Response
20-20,000Hz
Channel Separation
20dB at 1kHz
Channel Balance
2.0dB or less at 1kHz
Load Impedance/Capacitance
47k Ohms/100pF
Output Voltage
2.5mV +/–3dB
Cartridge Weight
5.7g (+/- 0.5g)
Headshell Weight
10.7g
Cartridge Height
0.67 inches (17 mm)
Recommended Tracking Force
2.0g +/–0.5g
Vertical Tracking Angle
20 degrees
Rubber Belt Specifications
▼
Rubber Belt Design
Continuous loop (joint-less)
Width
4.5mm
Length
534.07mm
Thickness
0.6mm
Output Specifications
▼
Connector
RCA (Gold-plated)
Preamp
Yes, PHONO/LINE Switchable
Phono Output
2.5mV +/–3dB
Phono Bypass
Yes, all electronics bypassed when using external preamp
Line Output
140mV (–17dBV)
Ground Terminal
Yes
Power Specification
▼
Input
100V - 240V AC (50/60Hz)
Output
12V / 500mA
Consumption
1.5W
General Specifications
▼
Dimensions
16.5" x 5.5" x 13.75"
Certifications
FCC Certified
CE Certified
RoHS
CUL/UL

Unit Weight
6.4 kg or 14.1 lbs
Operating Temperature
20°C
Wireless Playback
No (Requires Bluetooth or WiFi transmitter connected via RCA connection to transmit audio wirelessly)
Fluance Speaker Size Comparison Chart

UPC
061783264362
What's Included
RT81 Turntable
Dust Cover
45 Adapter
Rubber Slip Mat
6ft RCA Cable With Ground Wire
100V - 240V (50/60Hz) AC Power Adapter
Quick Start Guide
Lifetime Customer Support
2 Year Manufacturer's Warranty
Ai41 Powered 5" Stereo Bookshelf Speakers Speaker Configuration
2 Way – 2 Driver Bookshelf Speaker System with Integrated Amplifier (Pair)
Bluetooth
Yes, Bluetooth 5.0
Inputs
RCA L/R, Bluetooth, & Optical TOSLINK
Tweeter
1 inch Silk Soft Dome Neodymium Ferrofluid Cooled
Woofer
5 inch Woven, Glass Fiber Composite Driver with Butyl Rubber Surrounds
Amplifier Power
Class D 90 Watts Continuous Average Output (2x 45 watts RMS)
Frequency Response
35Hz – 20KHz (DSP Enhanced)
Internal DAC
Yes
Internal Lead Wire
18 gauge Internal Lead Wire to Reduce Signal Degradation
Power
Input: 100-240V AC (50/60Hz)
Output: 19V 3.15A
Crossover Frequency
2800Hz Phase Coherent 12dB/Oct – PCB Mounted Circuitry
Enclosure
Tuned Rear Port Bass Reflex Design Dampened
Dimensions
10.9 x 6.5 x 7.6 inches / 27.7 x 16.5 x 19.3 cm (HxWxD)
Speaker Weight
Active Speaker: 8.52 lbs (3.86 kg)
Passive Speaker: 7.44 lbs (3.37 kg)
Speaker Type
Bookshelf
Certifications
cTUVus+CB
ICES
FCC Certified

Sub Out
Yes, 80 Hz Low-pass Frequency Cutoff
Total Harmonic Distortion (THD)
<0.3% (THD+N 1%)
WiFi Casting
Pairs via Bluetooth with Google Home, Amazon Echo, and AppleTV (Ai41 is not a WiFi speaker)
Fluance Speaker Size Comparison Chart

UPC
061783272787
What's Included

Ai41 SPEAKER LINE OUT

Ai41 Powered Bookshelf Speakers (pair)
Remote Control
2x AAA Batteries
6ft Power Cable
8ft 18 Gauge Speaker Wire
Quick Start Guide
Fluance Catalog
Lifetime Customer Support
2 Year Manufacturer's Warranty
Customer Reviews
Mellinda W

January 17, 2022

Texas, United States

Solid sound quality ! It was everything I had read in reviews. With so much digital sound it was amazing to here real depth in the music again and at a price that doesn't make you cry ! If you never owned a real record player or any vinyl then you owe yourself this ! ! !

Mellinda W

5

Thomas

December 22, 2021

Massachusetts, United States

Upgrading to this from a standard, $100 turntable rendered me almost speechless. I truly did not know vinyl records could sound this great. This turntable was easy to set up, the speakers connected easily to the table, and the sound quality is amazing. Shipping to boston took only about 2 days as well. Great experience overall from purchase to usage.

Thomas

5

Janelle A

September 24, 2021

Washington, United States

Beautiful machine! Super easy setup. Sound is above average for the price.

Janelle A

5

Nan K

August 18, 2021

Colorado, United States

I'm so happy! waiting 24 hrs while the turntable spun, and the speakers got broken in was a test of patience . And then viola, sound, really really good sound. thank you. I love my new machine!


Nan K

5

Cam

August 9, 2021

British Columbia, Canada

Excellent sound. Very well made. Looks great too.

Cam

5

Gabe G

July 21, 2021

California, United States

This is a well made high quality system. I grew up listening to vinyl records and do not remember them sounding this good. It feels like they are there with you.
This is an outstanding value for the money. I highly recommend Fluance systems.

Gabe G

5

Fran B.

July 13, 2021

British Columbia, Canada

I love my new player. It looks and sounds amazing. I'm very happy with my purchase. I recommend this product.

Fran B.

5

Kelly L

July 5, 2021

Nova Scotia, Canada

I bought this for my wife, to replace a cheap $100 briefcase turntable. The difference between that old turntable and the new RT-81 is night and day. The AI41 speakers sound great, as well. Highly recommended!

Kelly L

5

Rene C

July 3, 2021

California, United States

It's everything I expected and more. Looks great sounds great all around great product.

Rene C

5
Resources
FAQs
Do I need a receiver or amplifier with this bundle?
No! Everything you need to enjoy your favourite albums is included in this bundle.
The Ai41 speakers are powered and the RT80 Turntable includes an internal preamp so no additional equipment is required!


Can I install a different cartridge on this turntable?
The tonearm of the RT80 and RT81 model turntables is compatible with cartridges from 3.5 grams to 6.5 grams in weight. For a video walkthrough, click the link below.
Can I buy the turntable without a cartridge?

All Fluance Reference turntables are sold with an Orotfon cartridge included.

That being said, our Reference series have excellent upgrade options. The Reference tables can easily accept other Ortofon cartridges such as the often requested 2M Bronze and Black.


Articles from our experts