 Reference RT85 High Fidelity Vinyl Turntable with PA10 Phono Preamp and Ai81 Elite Powered 2-Way Floorstanding Tower Speakers Reference RT85 High Fidelity Vinyl Turntable with PA10 Phono Preamp and Ai81 Elite Powered 2-Way Floorstanding Tower Speakers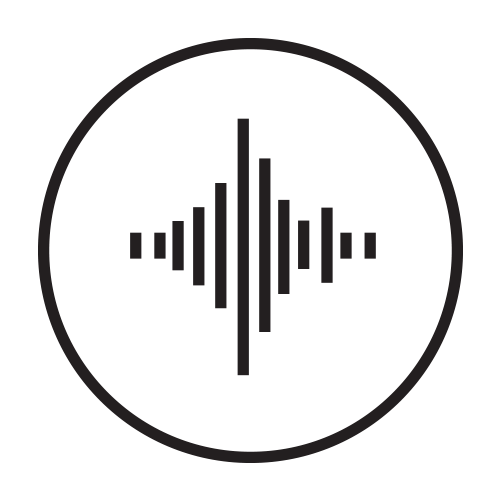 EXHILARATING SOUND PERFORMANCE
Immerse yourself in the ultimate listening experience by pairing a fully loaded high fidelity turntable with endlessly versatile, room-filling 150-watt powered floorstanding speakers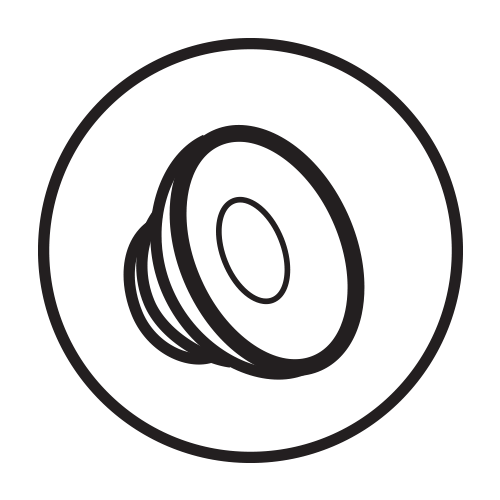 PREMIUM TURNTABLE COMPONENTS
Packed with high performance components including an Ortofon 2M Blue Cartridge, acrylic platter, servo motor, high mass MDF wood plinth, 3-point vibration isolation feet, S-type precision tonearm to provide a pure analog sound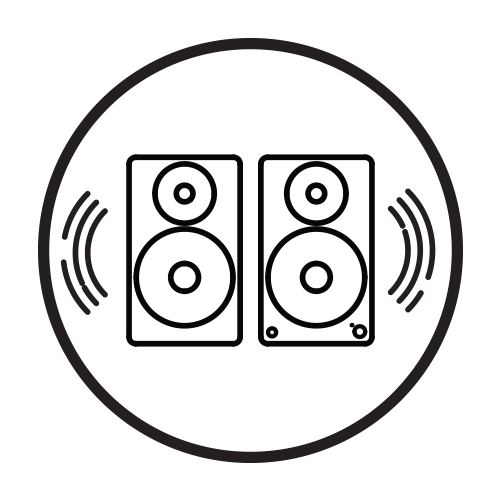 RAW POWER & NATURAL PLAYBACK
These active speakers produce a full range of sound with breathtaking imaging, refined detail, exceptionally accurate midrange and deep bass for an immersive audio experience

UNCOMPROMISED PHONO AMPLIFICATION & EQUALIZATION
Precisely converts the turntable phono signal to line level, featuring an ultra high-accuracy frequency response to faithfully reproduce the original recording to the RIAA standard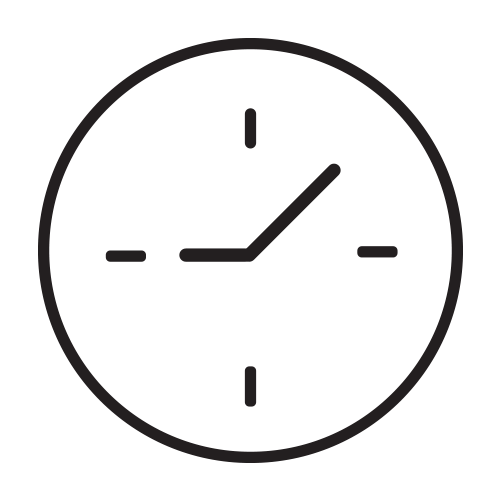 SIMPLE AUDIO SETUP
Easily switch between your vinyl records and streaming your favorite music apps through Bluetooth with this simple plug and play setup – no separate amp required
Overview
Specifications
RT85 Reference High Fidelity Vinyl Turntable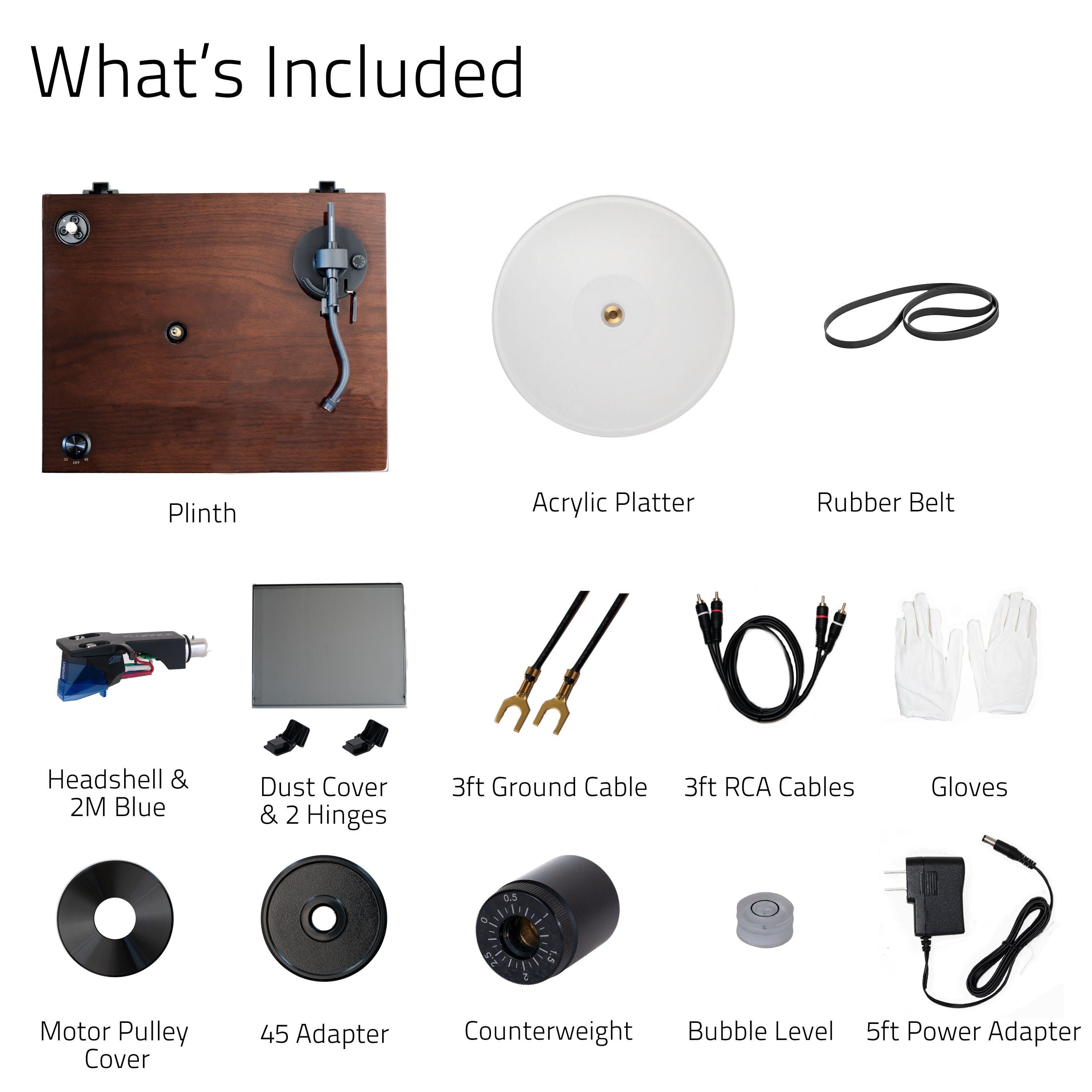 Cabinet Specifications
▼
Cabinet Material
MDF
Finish
High Gloss Walnut Real Wood Veneer
Dust Cover
Yes - Tinted
Turntable Specifications
▼
Drive System
Belt Drive
Motor
DC Motor with Servo Controller Analyzes motor speed 500 times/sec
Motor Isolation
Under-mounted 7-point silicone isolation with decoupling isolation ring
Speed
33 1/3 RPM, 45 RPM (78 RPM - No)
Speed Variation
0.10%
Wow and Flutter
0.07%
Signal-to-Noise Ratio (Weighted)
76 dB
Signal-to-Noise Ratio (Unweighted)
65 dB
Platter
Acrylic
Diameter of Platter
12 inches (30 cm)
Weight of Platter
3 lbs (1.5 kg)
Height of Platter
0.62 inches (16 mm)
Auto-Stop
Yes
Turntable Mat
Not Required
Tonearm Specifications
▼
Tonearm Type
Static Balanced, S-Type
Supported Cartridge Weight
0.18 – 0.25 oz (5.0 – 7.5 g)
Counterweight
Yes – 3.60 oz (102 g) - Adjustable
Anti-skating Adjustment
Yes – Adjustable
Pivot Bearing
Yes
Cueing Lever
Yes
Tonearm Material
Aluminum
Tonearm Wire
36 AWG Litz Cable / 7 Strand
Effective Tonearm Mass
0.97 oz (27.5 g)
Overhang
0.76 inches (19.2 mm)
Effective Tonearm Length
8.82 inches (224 mm)
Headshell Mount
H-4 Bayonet Mount
Cartridge Specifications
▼
Cartridge Type
Moving Magnet (MM)
Cartridge Model
Ortofon: 2M Blue
Replacement Stylus
2M Blue
Stylus
0.3 x 0.7 mil
Cantilever
Aluminum
Mount
Half-inch
Frequency Response
20 - 20,000 Hz (+2/-1 dB)
Frequency Range
20 - 25,000 Hz (-3 dB)
Channel Separation
25 dB at 1 kHz
Channel Balance
< 1.5 dB @ 1 kHz
Load Impedance/Capacitance
47k Ohms/150 - 300 pF
Output Voltage
5.5 mV
Cartridge Weight
0.25 oz (7.2g)
Headshell Weight
0.35 oz (9g)
Cartridge Height
0.71 inches (18 mm)
Recommended Tracking Force
0.06 - 0.07 oz (1.6 - 2.0 g)
Vertical Tracking Angle
20° (Non-Adjustable)
Rubber Belt Specifications
▼
Rubber Belt Design
Continuous loop (joint-less)
Width
0.17 inches (4.5 mm)
Length
36.02 inches (915 mm)
Thickness
0.02 inches (0.6 mm)
Output Specifications
▼
Connector
RCA (Gold-plated)
Preamp
No - Separate Phono Preamp Required
Phono Output
5.5 mV
Ground Terminal
Yes
Power Specification
▼
Input
100 – 240 V AC (50/60 Hz)
Output
12 V / 500 mA
Consumption
1.5 W
General Specifications
▼
Dimensions
5.5 x 16.5 x 13.75 inches / 14.0 x 41.9 x 34.9 cm (HxWxD)
Certifications
FCC Certified, RoHS, CUL/UL
Unit Weight
16.76 lb (7.6 kg)
Operating Temperature
41°F to 95°F (5°C to 35°C)
Wireless Playback
No (Requires Bluetooth or WiFi transmitter connected via RCA connection to transmit audio wirelessly)
Fluance Speaker Size Comparison Chart

UPC
061783270523
What's Included

RT85 Reference Turntable Line Out

Click to Expand



RT85W Turntable
Dust Cover + Hinges
Bubble Level
Headshell with Ortofon 2M Blue Cartridge
Counterweight (CW02)
Acrylic Platter (AP03) with Belt (RB35)
5ft 100 - 240 V (50/60Hz) AC Power Adapter
3ft 90pF RCA Cable (CA02)
3ft Ground Wire (GW03)
45 Adaptor
Motor Pulley Cap
Cotton Gloves
User Manual
Lifetime Customer Support
2 Year Manufacturer's Direct Warranty
Ai81 Elite Powered Floorstanding Tower Speakers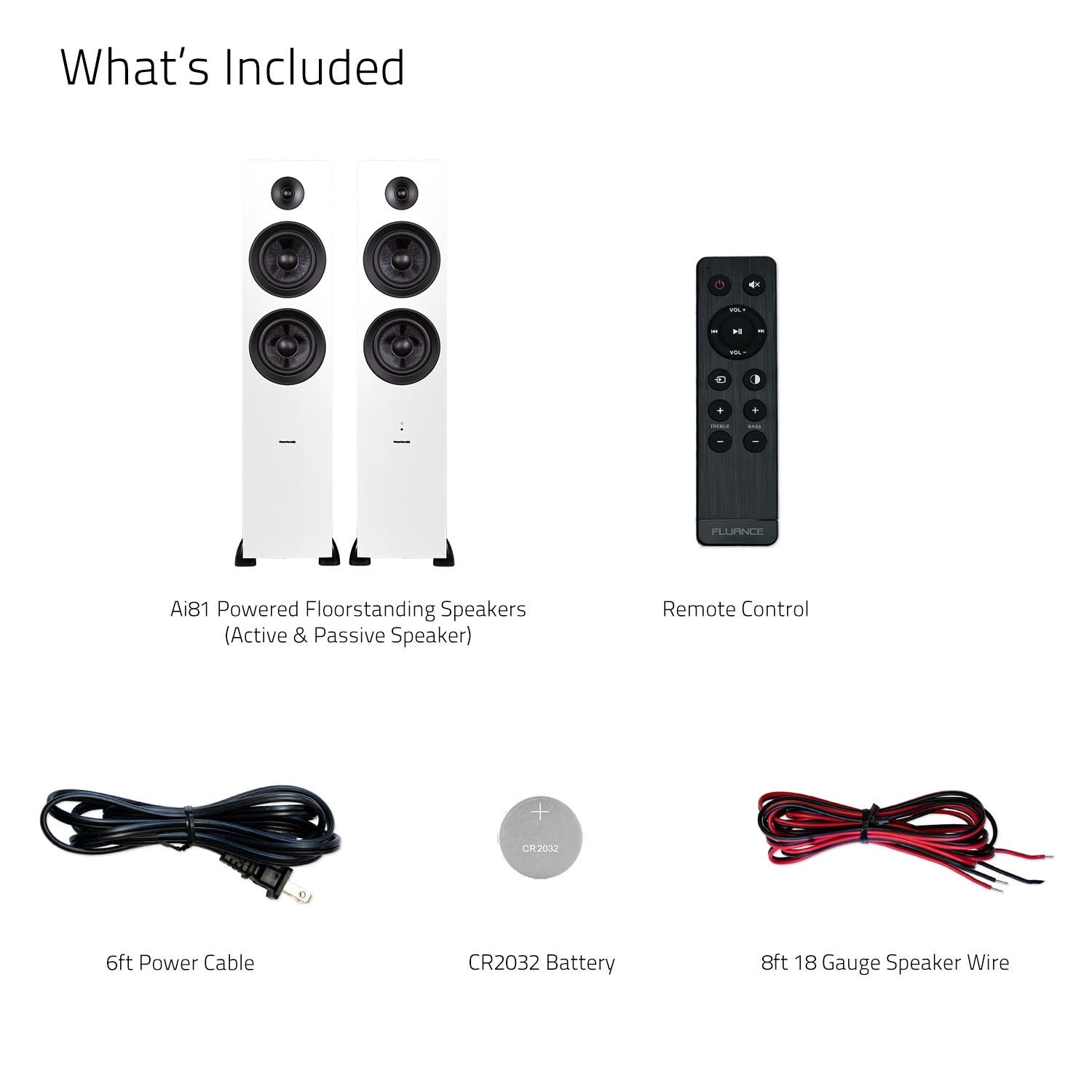 Speaker Configuration
2 Way – 3 Driver Powered Floorstanding Speaker System with Integrated Amplifier (Pair – 1x Active 1x Passive)
Bluetooth
Yes, Bluetooth 5.0
Inputs
2x RCA L/R, Bluetooth, & Digital Optical TOSLINK
Tweeter
1 inch Silk Soft Dome Neodymium Ferrofluid Cooled
Woofer
Dual 6.5 inch Woven, Glass Fiber Composite Drivers with Butyl Rubber Surrounds
Amplifier Power
Class D 150 Watts Continuous Average Output (2x 75 Watts RMS)
Frequency Response
30Hz-20kHz (DSP Enhanced) 
Internal DAC
Yes
Internal Lead Wire
18 gauge Internal Lead Wire to Reduce Signal Degradation
Power
Input: 100-240V AC (50Hz/60Hz)
Crossover Frequency
2200Hz Phase Coherent 12dB/Oct – PCB Mounted Circuitry
Enclosure
Tuned Down-Firing Port Bass Reflex Design Dampened
Dimensions
37.8 x 8.50 x 10.24 inches / 96 x 21.6 x 26 cm (HxWxD) feet installed
Speaker Weight
Active Speaker: 30.61 lbs (13.88 kg)
Passive Speaker: 29.02 lbs (13.16 kg)
Speaker Type
Floorstanding
Phono Preamp
No
Certifications
cTUVus+CB, ICES, FCC Certified
Total Harmonic Distortion (THD)
<0.1% (THD+ N)
WiFi Casting
Pairs via Bluetooth with Google Home, Amazon Echo, and AppleTV (Ai81 is not a WiFi speaker)
Fluance Speaker Size Comparison Chart

UPC
061783275573
What's Included

Ai81 Powered Floorstanding Speakers (pair)
Remote Control
1x CR2032 Batteries
6ft Power Cable
8ft 18 Gauge Speaker Wire
Quick Start Guide
Fluance Catalog
Lifetime Customer Support
2 Year Manufacturer's Warranty
Ai81 Elite Powered Floorstanding Tower Speakers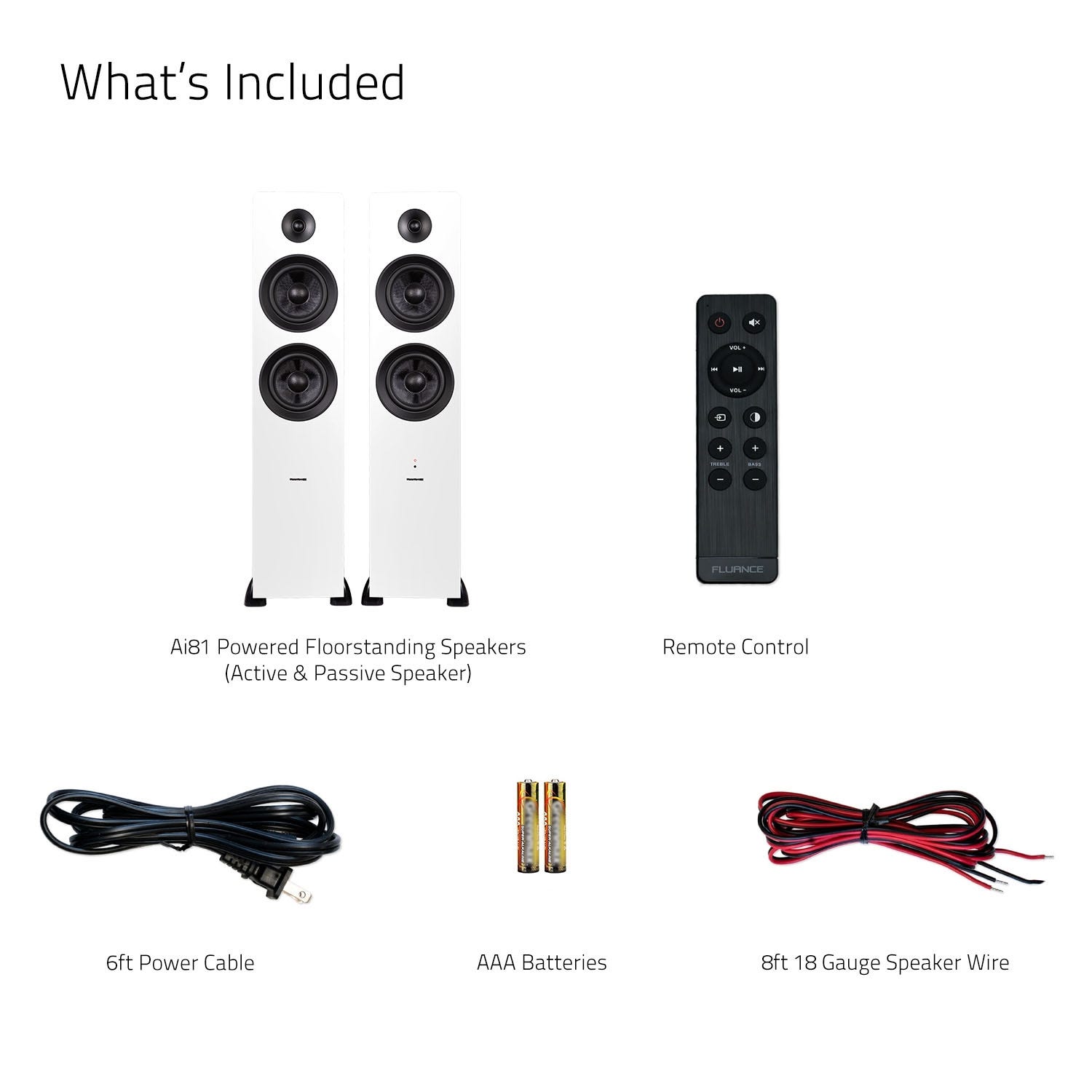 Speaker Configuration
2 Way – 3 Driver Powered Floorstanding Speaker System with Integrated Amplifier (Pair – 1x Active, 1x Passive)
Bluetooth
Yes, Bluetooth 5.0
Inputs
2x RCA L/R, Bluetooth, & Digital Optical TOSLINK
Tweeter
1 inch Silk Soft Dome Neodymium Ferrofluid Cooled
Woofer
Dual 6.5 inch Woven, Glass Fiber Composite Drivers with Butyl Rubber Surrounds
Amplifier Power
Class D 150 Watts Continuous Average Output (2x 75 Watts RMS)
Frequency Response
30Hz-20kHz (DSP Enhanced) 
Internal DAC
Yes
Internal Lead Wire
18 gauge Internal Lead Wire to Reduce Signal Degradation
Power
Input: 100-240V AC (50Hz/60Hz)
Crossover Frequency
2200Hz Phase Coherent 12dB/Oct – PCB Mounted Circuitry
Enclosure
Tuned Down-Firing Port Bass Reflex Design Dampened
Dimensions
37.8 x 8.50 x 10.24 inches / 96 x 21.6 x 26 cm (HxWxD) feet installed
Speaker Weight
Active Speaker: 30.61 lbs (13.88 kg)
Passive Speaker: 29.02 lbs (13.16 kg)
Speaker Type
Floorstanding
Phono Preamp
No
Certifications
cTUVus+CB, ICES, FCC Certified
Subwoofer Output
Yes, 80 Hz Low-pass Frequency Cutoff
Total Harmonic Distortion (THD)
<0.1% (THD+ N)
WiFi Casting
Pairs via Bluetooth with Google Home, Amazon Echo, and AppleTV (Ai81 is not a WiFi speaker)
Fluance Speaker Size Comparison Chart

UPC
061783275566
What's Included

Ai81 Powered Floorstanding Speakers (pair)
Remote Control
2x AAA Batteries
6ft Power Cable
8ft 18 Gauge Speaker Wire
Quick Start Guide
Fluance Catalog
Lifetime Customer Support
2 Year Manufacturer's Warranty
PA10 High Fidelity Phono Preamp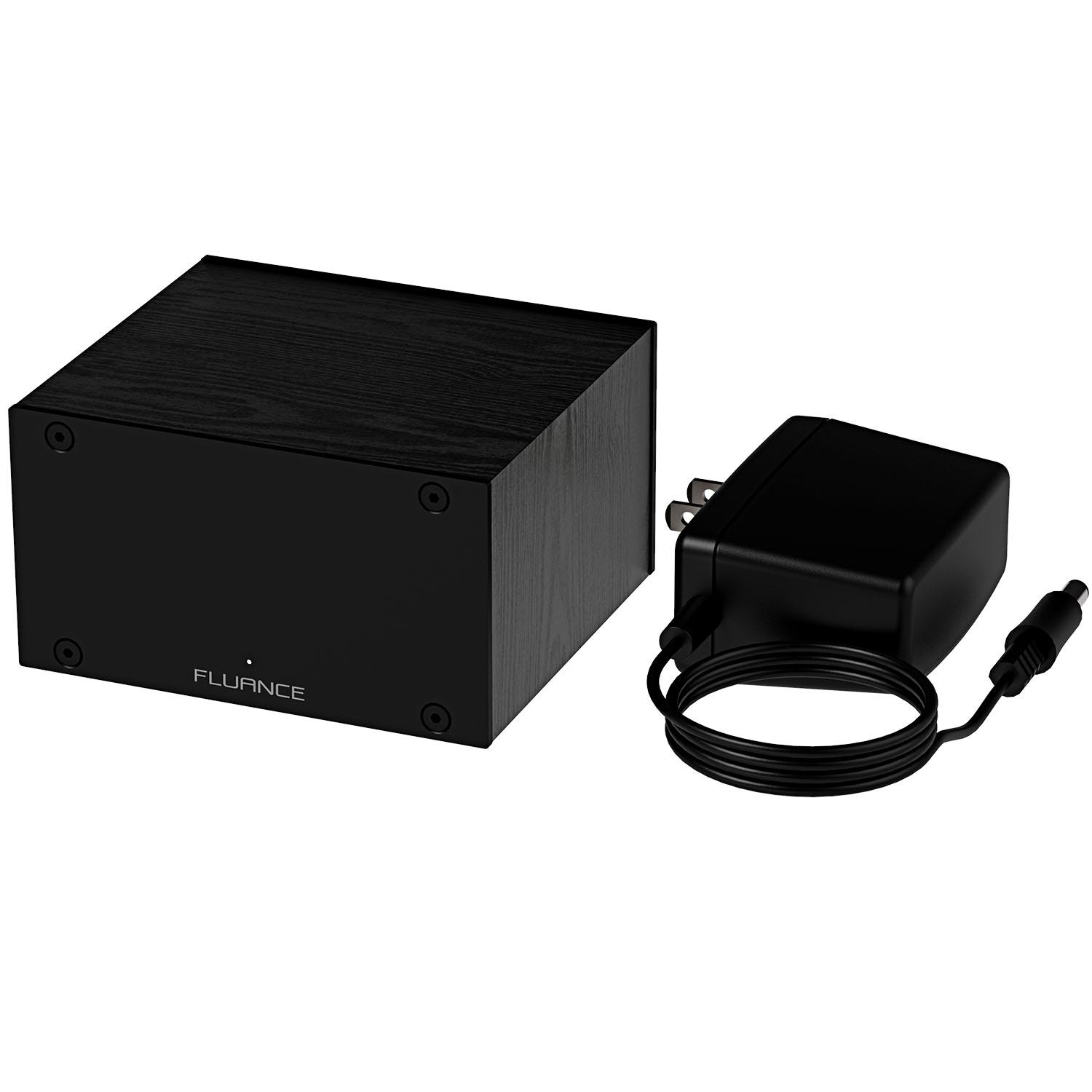 Audio Specifications
▼
Audio Circuit Type
Passively Equalized RIAA
Compatible Stylus
MM
Gain
38 dB
Phono Input Sensitivity
30 mV
Total Harmonic Distortion (THD)
0.004%
RIAA Equalization Accuracy (deviation)
20 Hz - 20 kHz +/- 0.5 dB
Signal/Noise (S/N) Ratio
> 90 dB
Crosstalk
> -86 dB
Input Impedance
47 kohm
Input Load Capacitance
100 pF
Output Impedance
100 ohm
Output Voltage
2.2 V
Maximum Input @ 1 kHz
100 mV
Maximum Phono Stage Output
125 mV
High Pass Filter Cutoff
20 Hz
Dynamic Range
> 85 dB
Input/Output Specifications
▼
Input
RCA L/R (Gold Plated)
Output
RCA L/R (Gold Plated)
Ground Terminal
Yes
Cabinet Specifications
▼
Cabinet Material
MDF
Finish
PVC Wood - Black
Power Specification
▼
Power Input
110 V - 240 V ~ 50/60 Hz 0.5 A
Power Adapter Output
24 V, 500 mA
Power Consumption
0.4 W
General Specifications
▼
Dimensions
4(L) x 2.25(H) x 3.6(D) inches (101.5 x 57.1 x 91.5 mm)
Weight
11.5 oz (325 g)
Operating Temperature
-5°C - 45°C
NOISE FLOOR (UNWEIGHTED)
< 220 uV
Compatible With
Fluance RT80, RT81, RT82, RT83, RT84, and RT85 turntables as well as any turntables that are equipped with a Moving Magnet cartridge
What's Included

PA10 Preamplifier Lineout

Click to Expand

PA10 Unit
Power Adapter
User Manual
Fluance Catalog
Lifetime Customer Support
2 Year Manufacturer's Warranty
UPC
061783269794
Premium Grade Low Capacitance RCA Audio Cable (3 Feet)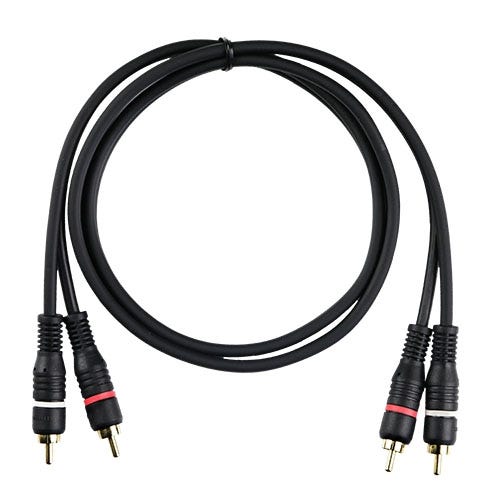 Length
3'
Compatible With
RT80, RT81, RT82, RT83, RT84, RT85, PA10
UPC
061783269053
What's Included
3 Foot Premium Grade RCA Audio Cable
Lifetime Customer Support
2 Year Manufacturer's Warranty
Customer Reviews
Kris A. H.

January 13, 2023

Oregon, United States

Great turntable and speaker setup. A little light on bass sound, but sounds good.

Kris A. H.

4
Resources
Manual
FAQs
Can I connect Ai81 to a amplifier or A/V receiver?
No, the Ai81 Powered Floorstanding speakers have their own internal power source and cannot be connected to an amplifier or A/V Receiver for surround sound use.
Do I need a preamp to connect a turntable to Ai81?
You will need a preamp to boost the turntable signal to a listenable level. Some turntables such as our RT80 and RT81 have built-in preamps while others do not.
Can Ai81 be connected to a turntable?
Yes! You can connect your turntable to the Ai81 speakers using either RCA input. The speakers do not have a built-in preamp. You will need to confirm if your turntable will require an external preamp.
What Bluetooth Codec does Ai81 use?
The Fluance Ai81 speakers use the AAC codec.
What connections does Ai81 have?
2x RCA L/R Bluetooth 5.0 Digital Optical TOSLINK
Articles from our experts