Overview

Is your 30-pin speaker dock sitting around collecting dust now that the latest generation iPhone, iPod, and iPad are no longer compatible? The Songo Link instantly transforms your speaker dock into a Bluetooth music system. Don't be restricted by connections, wirelessly stream your music in high fidelity audio from any smartphone, tablet, or laptop with Bluetooth capability. This is a perfect plug n' play solution that delivers a superior listening experience.


Superior Sound Performance
The Songo Link's superior streaming technology ensures that it delivers crystal clear, high fidelity music to your stereo system up to 33 feet. Bluetooth 3.0 with EDR (Enhanced Data Rate) ensures that you hear the music the way that your favorite artist intended. Songo Link is designed to deliver the fullest frequency range of your favorite tunes without any interference, unlike other Bluetooth devices that over-compress audio and can lose connection with your device.

Reclaim your Speaker Dock
Get back to enjoying your 30-pin speaker dock without the inconvenience of having to keep your smartphone or tablet anchored to your dock. Keep your phone in your hand and wirelessly stream your music playlist to your speaker dock. This is a convenient and innovative solution to get continued use from your 30-pin docking system.

Start Streaming Instantly
The Songo Link allows you to enjoy the music you have stored on any Bluetooth audio device - without the hassle of having to connect wires, plugs, or cables. Compatible with Samsung, Android, iPhone, iPad, iPod, HTC, Blackberry, and virtually any of the other 900 million Bluetooth audio devices to your speaker dock.

Keeping Things Simple with Auto-Pairing
Forget about having to manually set up your Bluetooth connection every time you boot up your smartphone, tablet, or laptop. The Songo Link automatically pairs Bluetooth to your docking system every time your smartphone, tablet, or laptop is within range. Spend more time enjoying your music and less time with manual setup.

Let's Dock n' Roll
Setup is extremely simple. No software, app, or batteries required. No power adapter or audio cables to keep you tethered. Simply dock Songo Link, pair to your audio device, and you're set. *May not be compatible with specific docking stations with digital audio. See specifications for compatibility.
Specifications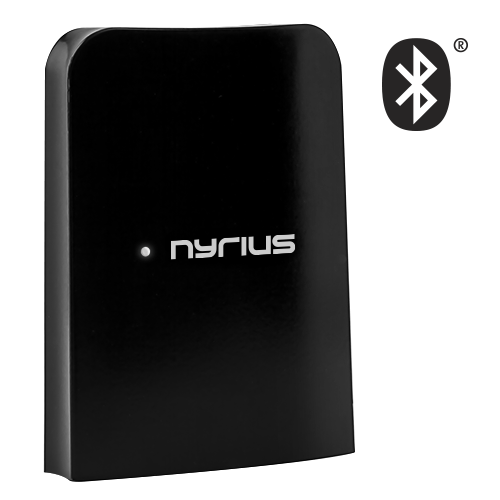 | | |
| --- | --- |
| Bluetooth | v3.0 A2DP EDR (Enhanced Data Rate) |
| Codec | SBC |
| Output Specifications | Female 30pin |
| Range | 33 feet (line of sight) |
| Transmission Frequency | 2,402~2,480MHz |
| AUTOPAIRING | Yes |
| COMPATIBLE DEVICES | Analog Docking Systems such as Sony ICFCS15IP 30-Pin iPod/iPhone Speaker Dock, Edifier IF500ENCORE, Altec Lansing InMotion Portable Speaker System, Sony ICF-C1iPMK2, Sharp Slim Micro System DK-KP80, Canadian Tire 4-in-1 Auto FM Transmitter & Hands-free Ho |
| INCOMPATIBLE DEVICES | Digital audio Docking Systems such as SoundDock I, Sony RDP-X500iP and Philips Fidelio DS9000, Yamaha ISX-800 Panasonic SCHC57, Sony TDM-Ip30, iHome ia91, Skullcandy Vandal, Craig Alarm Clock/Dock CMB3227, Coby CSMP121,Marley EM-FA000-MI |
| Dimensions | 1.4x0.5x1.9inches, 36x12x48.5mm |
| Weight | 0.03 lbs |
| UPC | 061783259641 |
| What's Included | Bluetooth Music Receiver, Quick Start Guide, 1 Year Warranty, Lifetime Customer Support |
Customer Reviews
RMIves

November 2, 2015

Works great with my Ilive sound bar. Easy to set up and sounds no different than having a

dedicated Ipod plugged into the 30 pin connector.
- Verified purchase from Nyrius trusted store. -


RMIves

5

Robert L. Sprowls

November 2, 2015

As advertised. This linked to my iPhone 5 immediately playing music. Be aware that phone

calls, etc, will also run through your speakers.
- Verified purchase from Nyrius trusted store. -


Robert L. Sprowls

5

J. G.

November 2, 2015

Adapter works great! Pop it in and you now turned yor old iHome into a new-age wireless

audio unit :) range and connectivity are superb.
- Verified purchase from Nyrius trusted store. -

J. G.

5

TP

November 2, 2015

work like a charm :) got my old bose speaker with ipod docking and with this Bluetooth

link, my cell phone and ipad connected just fine
- Verified purchase from Nyrius trusted store. -

TP

5

Diana Moll

November 2, 2015

Works great! I can choose my music pretty much anywhere in my house. Works just as

expected, no connectivity issues at all.
- Verified purchase from Nyrius trusted store. -

Diana Moll

5

Randall J. Soma

November 2, 2015

My Ion Block Rocker collects dust no more thanks to this product. Perfect & easy Bluetooth

connection with the Nyrius BR30.
- Verified purchase from Nyrius trusted store. -


Randall J. Soma

5

Kirita87

November 2, 2015

Works really well! Connects to my cel! Honestly no reason to buy a new sound system when

you can use this and modernize it.
- Verified purchase from Nyrius trusted store. -


Kirita87

5

Maison Holzer

November 2, 2015

If you are looking for a quality Bluetooth receiver to convert a 30-pin speaker to

Bluetooth, the Nyrius Songo Link will do the job! My mom uses this in her classroom and it

works well.

Pros: Keeps high-quality music, stays connected from across a small room, compact and

should fit to most speakers.

Cons: Feels cheaply made
- Verified purchase from Nyrius trusted store. -


Maison Holzer

4

G Lawrence Edwards

November 2, 2015

Forget about wires. This is great for the money. Bluetooth protocol is 3.0 --- For

critical listening use the newer 4.0.
- Verified purchase from Nyrius trusted store. -


G Lawrence Edwards

5

Charles Goodan

November 2, 2015

I love this little tiny box. My old Bose Sound Dock is back to life. Also works great with

the Apple iPhone/iPod dock.
- Verified purchase from Nyrius trusted store. -

Charles Goodan

5

PDS

November 2, 2015

After a very simple installation it works just as advertised. Now my old iphone works with

my Bose system wirelessly.
- Verified purchase from Nyrius trusted store. -

PDS

5

XJTexas

November 2, 2015

Ingenious idea. My Bose dock has a new life! It's so easy to use. It was running minutes

after I opened the box.
- Verified purchase from Nyrius trusted store. -

XJTexas

5

Joseph Mc Cann

November 2, 2015

Could not have been easier to use. I thought my Bose would become a doorstop. This makes

it worthwhile again!
- Verified purchase from Nyrius trusted store. -

Joseph Mc Cann

5

stacie

November 2, 2015

This little thing turns tour Bose sound dock into a lick butt steroe that any bluetooth

device can connect to.
- Verified purchase from Nyrius trusted store. -

stacie

5

Jeannie Campbell

November 2, 2015

Super easy. Just plug and play. Really thought it might not be great quality but surpassed

my expectations.
- Verified purchase from Nyrius trusted store. -


See all reviews

Jeannie Campbell

5
Articles from our experts