Overview
The next generation of lighting has arrived with the Smart Bulb from Nyrius. See your home in a brilliant new light by easily upgrading your lighting with LED bulbs that can be controlled by your smartphone or tablet. Reduced energy consumption, true convenience, and added safety make these bulbs the perfect addition to a home or business. Now you can wirelessly turn on & off, dim, & schedule timers, for your lighting from the palm of your hand.
Color Your World
Step into the light with LED bulbs that can be brightened, dimmed, or adjusted to a variety of colors and hues. Try purple to relax, orange to encourage exercise, or blue to help increase concentration. Control a bulb independently or add up to 7 smart bulbs to create zones so you can control specific areas in your home.

Set a Daily Lighting Schedule
Preset lights to turn on or off at certain times to discourage theft when you're away, or set a gradual wake-to-light timer to ease into your morning. Even when your smartphone is outside of the Bluetooth range, the scheduled timers will still activate. Use this feature to reduce your energy bills.

Sync Music & Lights for an Instant Party
Party on! You can set your LED bulbs to flash in time with your music, setting the atmosphere for an amazing party with friends. You can even have the lights in the room flash green when you receive a call.
Get Setup in Just Minutes
Setting up your smart bulb is simple. Just screw into any standard socket and download the free Nyrius App. Your wall switch will still function even when your smartphone is unavailable.

Applications
Convenience: change the lighting in the room to fit your desired mood such as a romantic dinner or a relaxing bubble bath without hardwiring switches.
Energy Savings: program your lights to turn off when you leave for work in the morning.
*The connectivity or number of bulbs able to connect will be device dependant
Specifications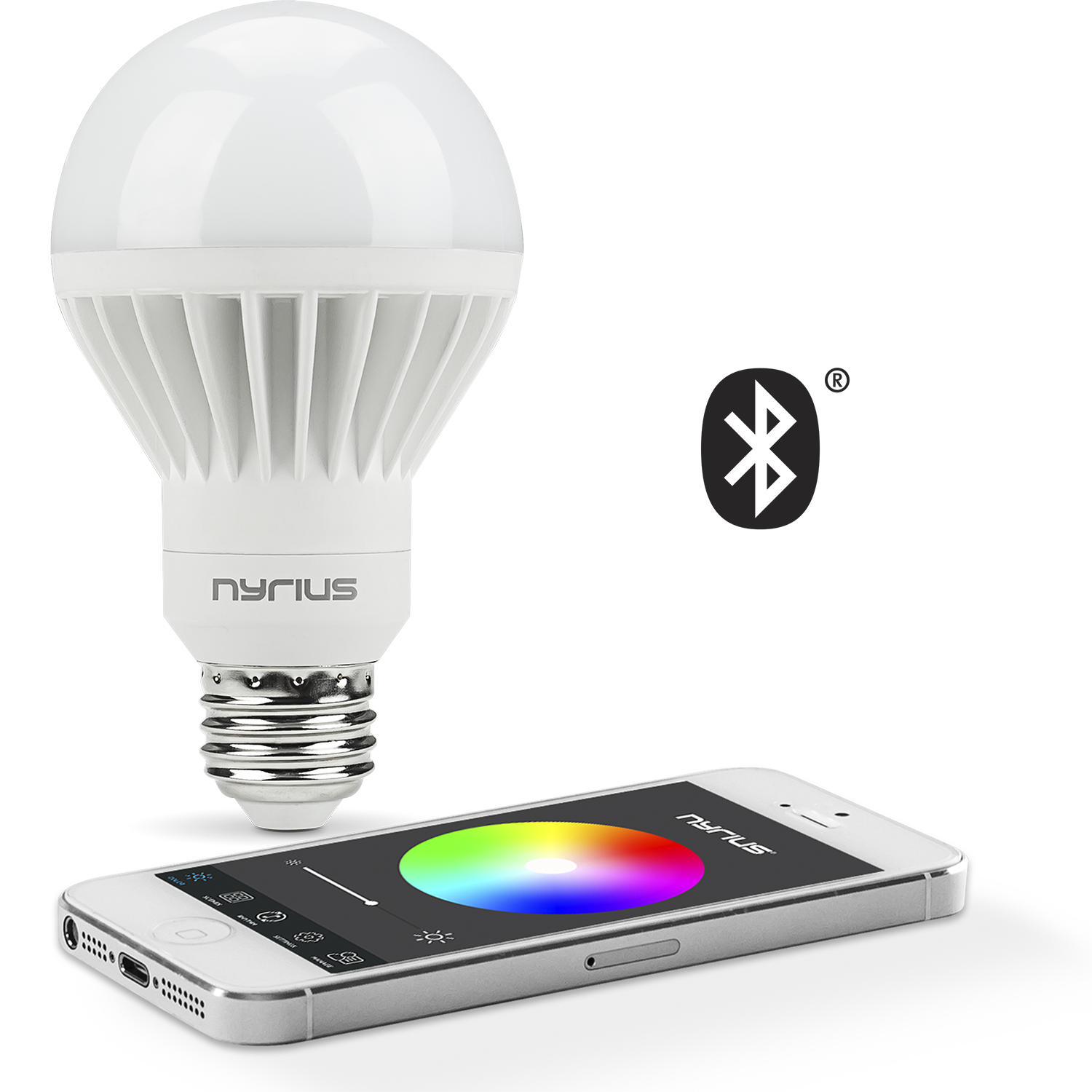 | | |
| --- | --- |
| Bluetooth | 4.0 Low Energy |
| Wireless Range | 33ft |
| SMARTPHONE COMPATIBILITY | Android 4.3 devices or higher iOS 7.0 including iPhone 4S or above and iPad 3 or above |
| Socket Compatibility | Standard sockets (E26/E27) |
| Lumens | 490±10Lm |
| Service Life | 25,000 hours |
| Color Temperature (CCT) | 5000±200K |
| Power | 7W±10% (comparable to 40W incandescent bulb) |
| Lumens per Watt (Efficacy) | 100 |
| Color Rendering Index (CRI) | 75 |
| Beam Angle | Omnidirectional |
| Dimensions | 2.7x5 inches |
| Weight | 0.3 lbs |
| Voltage | Supports 110-240V |
| Compatibility | Compatible with dimmable wall switches set at maximum brightness. Dimmable via App only |
| Type of Bulb | LED |
| UPC | 061783259665 |
Customer Reviews
Darcy B

December 30, 2015

Gives the room some flair. Simple to install and operate

Darcy B

5

Darcy B

December 30, 2015

Adds interesting flair to a room. Simple to install and operate.

Darcy B

5

Holli Bonacquisti

November 16, 2015

My husband loves the lights. They are really easy to control

Holli Bonacquisti

5

Van Cao

October 19, 2015

Works great! Wife was very surprised with the different lighting options for the seasons to come.

Van Cao

5

M Obad

April 12, 2015

It works well for what it is (bluetooth/40W) and is fun to play with.
I would be nice if the app had more notification support or maybe Tasker support.

M Obad

4

Louis Muliadi

April 12, 2015

I only have one Smart Bulb and I am impressed by the user friendliness of the GUI and the ease of controlling the bulb color. I have no problem with connectivity with the bulb with my smartphone and ipad from 7 meters away. However, it would be really nice if the bulb's max brightness is higher (brighter). I think the rhythm function still needs a bit more work i.e. to be able to run in the backround. In overall, I am very satisfied with the smart bulb.

Louis Muliadi

5

Jordan Dubuc

April 8, 2015

Good product, great value for money!

Jordan Dubuc

5

Kevin Smetana

April 7, 2015

This would be the first time I used a smart bulb. After looking at the Phillips Hue models, it seemed as an expensive luxury item. This bulb does nearly everything the Phillps hue bulb does, if not more for half the price. It changes Color to music, you have a full RGB spectrum of colors and it has options to turn off when leaving the room. The apple app is super easy to use and may need some adjusting. Sometimes the app isn't responsive to my touch. I personally think the touch/hit boxes are possibly too small but it isn't a deal breaker. I also enjoy being able to schedule my light too. The only problem I can see is the light isn't very bright. To really get the full experience of these Nyrius smart bulbs, is to own more then one. So far I'm really enjoying my purchase and would buy another Nyrius smart bulb in a Flash :)

Kevin Smetana

5

William Vien

April 7, 2015

Could not get the timer to work correctly. Bulb works well otherwise.

William Vien

5

M Obad

April 7, 2015

It works pretty well for what it is but the app could be improved with things like all types of notification lighting or maybe Tasker support.

M Obad

4

Jordan Dubuc

April 7, 2015

Interesting product! Good value!

Jordan Dubuc

5

Jay Singh

April 7, 2015

The app interface needs a lot of polishing.

Would love to see the ability to control the bulb via internet in future.


Jay Singh

4

Jason Ip

April 6, 2015

The app needs more work on it. I was impressed with all the colors it could display. I have several devices and could only connect one device to control it and not several. I would like to see internet connectivity as it seems pretty common these days. Would like to make it switch and alternate between two colors, like blues and reds. Overall I found it an okay product.

Jason Ip

4

Jason Costabile

April 6, 2015

The smart features work well but the max brightness isn't super bright. App is intuitive and easy to use.

Jason Costabile

5

Harshit Sanghvi

April 6, 2015

I got to try a smart bulb for the first time, so I don't know what to compare it with. Overall, I am satisfied for the price I paid for this. But I have to say it feels slow to respond. Also, the app needs a lot of work. Also, no app for Android tablet. The proximity sensor and timers never work (i.e. doesn't switch off/on when leaving/entering room) using iphone.

See all reviews

Harshit Sanghvi

4