Overview

What do you expect from your speakers?
How about the emotion and intensity of a cinematic experience in the comfort of your own home? The Fluance XLBP Bipolar Wide Dispersion Surround Sound Speakers are engineered with premium components that skillfully cater to your audio needs. The powerful velocity of helicopter blades and rolling thunderclaps will encapsulate audiences with the addition of the XLBP bipolar speakers to your home theater.

Bipolar Wide Dispersion Design
The unique configuration of the bipolar speakers creates a 3D soundstage. This is achieved by having two complete full-range speaker systems on opposing sides of the cabinet. The results are widespread, enveloping surround sound throughout your room. The XLBP are designed for placement beside or behind the listeners for an extremely convincing 5.1/6.1/7.1 surround ambiance.

Thrilling Highs
Your ticket into a flowing symphonic score is available through the neodymium tweeters of the XL Series bipolar speakers. Bullets flying and spine-tingling screams will be heard as the superior tweeters reproduce high frequencies that will engage you in any movie.

Richness in the middle
The highly defined sound effects Hollywood intended you to hear will always be experienced with the XLBP Bipolar Surround Sound Speakers. These powerful speakers are complete with high performance dual 5-inch midrange drivers with butyl rubber surrounds. The components enhance the home theater experience by replicating the soundstage, tones and notes of your favorite feature films and concerts.

Made for you
The trapezoidal configuration of the bipolar speakers is the right choice in fully experiencing amazing cinema-quality surround sound. Made with engineered MDF wood cabinetry for reduced resonance, the XLBPs provide crystal clear, full-range sound performances. Designed with a rich mahogany finish, and glossy piano-black baffles, these speakers are excellent additions for enjoying blockbuster classics again and again.

The perfect complement to an audiophile's lifestyle, you'll be enjoying cinematic performances in your home for years to come.
Specifications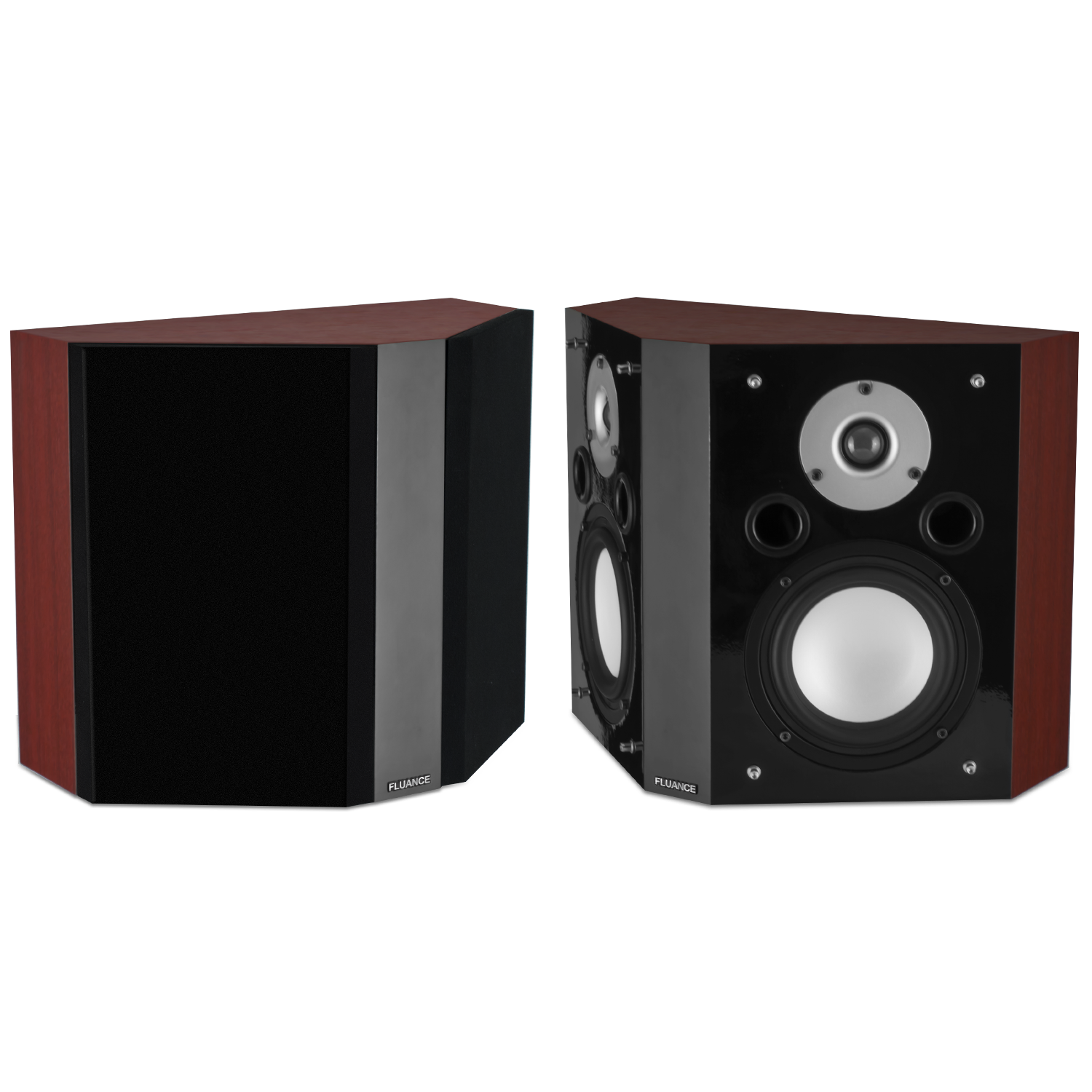 Speaker Configuration
2 Way - 4 Driver Bipolar Surround Speakers (Wall Mountable)
Tweeter
Dual 1 inch Neodymium Balanced Dome Ferrofluid Cooled For Longer Life
Woofer
Dual 5 inch Polymer Treated with Butyl Rubber Surrounds
Power Handling
60 - 120 Watts
Frequency Response
60Hz - 20KHz
Sensitivity
88dB @ 2.83V / 1m
Crossover Frequency
3500 Hz Phase Coherent - PCB Mounted Circuitry
Impedance
8 Ohms
Enclosure
Ported Bass Reflex
Dimensions
11.4 x 7.6 x 13.8 inch
Speaker Weight
11.5 pounds/speaker
Series
REFERENCE
Speaker Type
Bipolar
Certifications
CE Certified, RoHS
DOLBY ATMOS
Ideal for use as surround sound speakers in a Dolby Atmos™ Surround Sound System
Frequency Response Graph

Click to Expand

Fluance Speaker Size Comparison Chart

UPC
061783265116
What's Included
Two Bipolar Surround Sound Speakers with Integrated Wall Mounting Brackets (keyhole slots)
Instruction Manual
Full Lifetime Parts and Labor Manufacturer's Direct Warranty
Lifetime Customer Support
Press
A/V TECH REVIEWS feature on the Fluance XLBP
"I don't think you'll be able to find a better bipolar speaker on the market at this price"
Read the Full Review
Lifewire Reviews the XLBP
"if you desire more room filling surround surround sound (especially from a 5.1 channel speaker setup), definitely give the Fluance XLBPs a try"
Read the Full Review
Customer Reviews
Jason M

January 2, 2019

Texas, United States

Great speaker. I was really impressed for the money. So glad I heard of this brand on YouTube. These speakers completed my system. Don't spend $500-600, not worth it. The speaker mounts make things really difficult. I used these. They worked perfect.

https://www.amazon.com/gp/aw/d/B005SEN20S?psc=1&ref=yo_pop_mb_pd_title

Jason M

5

tigeraki

June 4, 2018

Best Bipolar speaker in these prices. - Verified Store

tigeraki

5

Amazon Customer

April 1, 2018

They sound ok. Not what I was expecting. No multi directional sound they claim. - Verified Store

Amazon Customer

3

SMorefield

March 24, 2018

Sounds great with my definitive 600 pro - Verified Store

SMorefield

5

ed b

February 14, 2018

works as advetised - Verified Store

ed b

4

Ryan

February 7, 2018

This has been quite the substantial upgrade to my home theater setup. I've been using KLH satellite speakers for years and years that I originally had bought in high school. After taking a serious look at the speakers I currently had I wanted to make some moves and upgrade. Through lots of research on AVS forums and other online sources I ended up among these.

I currently have a two row seating situation in a finished basement setting so I wanted to accommodate for both rows. This ended up with me looking into the bipolar surround speakers. With the bipolar speakers and the wide dispersion this enabled me to be able to provide a surround sound experience in both the back and the front row.

I got the package and couldn't believe how large and decently heavy they were. The build and construction was definitely impressive right out of the box. I was excited to get these hooked up. I found the perfect area to mount given the correct measurements where you want to hang them up in your sound stage. Which during mounting I had noticed that they suggest you to hang four dry wall anchors PER speaker. I ended up just hanging two dry wall anchors on the outside holes and they've been up for months and months since then.

After hooking it all up and hanging them on the wall I've been blown away by the performance of these ever since. I had a Lord of The Rings marathon with these soon thereafter and they performed quite well in both rows. Just the other day however I tuned in my setup even more (Relying on YPAO on my Yamaha receiver wasn't cutting it well) and increased the volume levels all around on the speakers to a more matched dB level in the main listening position. I've watched a good 5-6 movies since then and WOW even more blown away than what I've been missing out on for months since installing them! Surround sound effects have been awesome.

At $199 the price point is pretty solid for this pair. I have nothing but good things to say about them. I haven't had a lot of experiences with higher quality surround sound driven speakers but they blew those dinky KLH satellites out of the water. (Picture for comparison before hooking up the new Fluance XLBP's) - Verified Store

Ryan

5

Amazon Customer

January 25, 2018

look good sound good blend well with my other speakers (infinity) nice speakers. - Verified Store

Amazon Customer

5

Atul O

August 5, 2017

I got these speakers for my Desktop, Yea I know they are not meant for it but I just wanted to experiment and was getting them at good price. I also got SMSL SA50 (50 Watts per channel x 2) amplifier. As soon as I plugged in I have been blown away with the quality of these. I m hearing on 25% amp power and volume turned 30% on laptop. - Verified Store

Atul O

5

Tein C

March 17, 2017

Great price for the sound... replaced my old more expensive brand definitive Mythos and actually sound better than them. - Verified Store

Tein C

5

Var

February 19, 2017

one of the best for movies - Verified Store

Var

5

Fletch

February 6, 2017

Huge pair of surrounds tough to beat at $99 a pair. Sound great in my humble man cave/theater. - Verified Store

Fletch

5

JoeSixPack

January 30, 2017

Fluance must be planning some upgrades because these are a steal at the sub hundred price tag... for me these serve to supplement some very high quality speakers... is there a difference between $1000 speakers and $100 speakers? Of course. The highs are higher and lows lower in more expensive ones.But these do exactly what the frequency range says they should - their sound is clear, but rich and full are really the adjectives that come to mind when listening to them as stand alones (I recommend these as a bookshelf speaker - in my case they bridge sound between two rooms sitting on a half wall) - and I haven't yet reached the break in period so the sound will be getting better.The components here are quality so you're getting a speaker that will last for awhile - and at the very least if one upgrades these will always have great value in any surround sound system.Special thanks to Fluance and all the various distributors that work with them for high quality customer service... knowing that anyone on the fence about these or Fluance should take a chance on these, or anything else the company sells. - Verified Store

JoeSixPack

5

Diane E

December 17, 2016

Great sound! - Verified Store

Diane E

5

Christian Fahel

September 14, 2016

Their much bigger then my other set of bipolar surrounds which are made by jamo. The quality and performance is very good for the money probably the best bang for your buck that you can find. Free shipping i ordered yesterdat and it arrived super fast overnight 1 day shipping cant be beat. The 4 star is because the vinyl veneer isnt the best and looks very thin. The gloss black paint looks super cheap and get fingerprints all over it but honestly on eog the worst gloss black paimt jobs i have seen on a speaker. My kanto bluetooth speaker black gloss finish is much nicer and more refined. The other annoyance was the mounting brackets on the back they didnt supply any screws and was pretty hard to install ended up scratching the black bracket becausr the screws i were using were to big. But to sum it up pretty good experience the price was affordable the quality is good the shipping in my experience was lightning fast and the trial period give you the confidence to take thr plunge to order. Dont hesistate best price to performance ratio for surrounds in my oppinion.

Christian Fahel

4

Jesse Platts

July 13, 2016

These are very good speakers, a large upgrade from the rear speakers I was using on my 9.2 system.
The customer service from this company is very responsive. I contacted them because I really wanted to mount the speakers such that one was up firing off the ceiling and the other down firing.
I wasn't able to do this, as I would have had to re drill the cabinet. If I had a drill press I would have felt more comfortable with the task, but not with a hand drill.

The only reason for the four is that I would have wanted the cabinet to come with speaker mounts that would have allowed me to mount them in the orientation I wanted.

These really fill out the rear of the sound environment, just using them as designed.

Excellent deal, great build, good looks, improved sound environment.

See all reviews

Jesse Platts

4
Resources
Manual
FAQs
Do I need a receiver/amplifier for these speakers?
All Fluance passive speakers (unpowered) require a receiver or amplifier to provide them power and a connection to your home theater or media setup.

For more information on how to match your speakers and amplifier, please see our video:
Where should I put Bipolar Speakers?
Bipolar speakers are best used as surround speakers. Sometimes placed at the rear of a 5 speaker setup, they are most at home in a 7 speakers setup placed at the sides of the listening area.

They're designed to output sound is multiple directions so wherever you are in the room, you get the same experience.

For more information, see our video: How to install and position your Fluance bipolar speakers.