 Ai81 Elite Powered Floorstanding Tower Speakers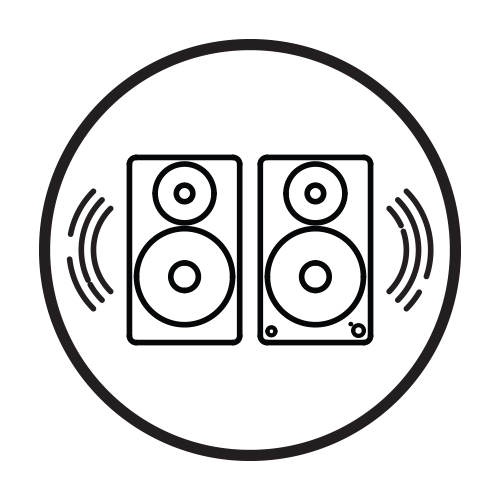 RAW POWER FOR AN EXHILARATING PERFORMANCE
Powered by an integrated 150W amplifier, these active Floorstanding Speakers deliver breathtaking imaging with refined detail and impressive bass for an immersive audio experience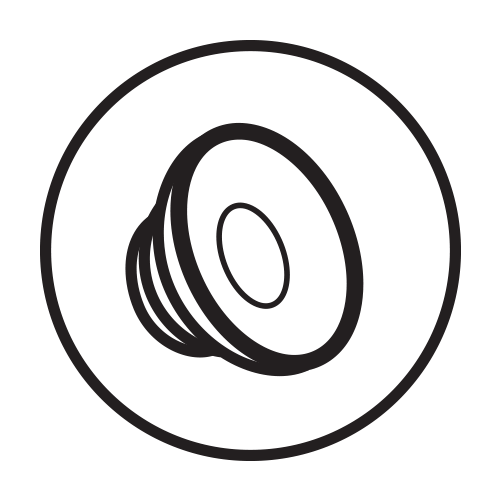 PREMIUM NEODYMIUM TWEETERS
High-performance tweeters produce a captivating stereo soundstage while providing spacious off axis dispersion allowing you to hear beautifully expressed highs

NATURAL MIDRANGE & DEEP BASS
Dual 6.5-inch woven glass fiber drivers for exceptionally accurate midrange with stunning acoustic playback and undistorted, powerful, low-frequency performance

METICULOUSLY ENGINEERED SPEAKER CABINETS
Expertly tuned, internally braced MDF wood cabinets produce a full range of sound and feature down-firing bass ports for deep and natural omnidirectional bass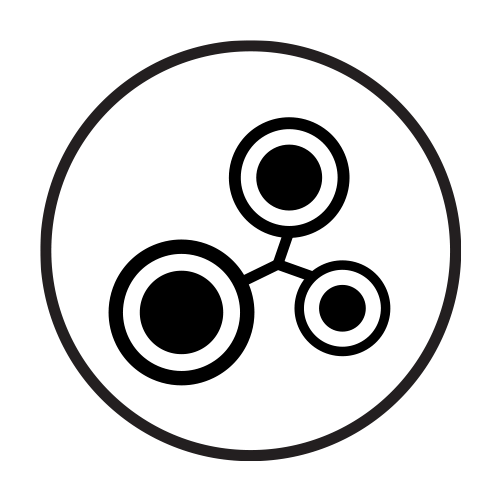 YOUR ENTIRE HOME THEATER SYSTEM SIMPLIFIED
Easily connect to your favorite audio source through RCA and Optical inputs or Bluetooth 5 for wireless streaming without the need for a separate amplifier or receiver, and add more bass with the subwoofer out
Overview
Specifications
Ai81 Elite Powered Floorstanding Tower Speakers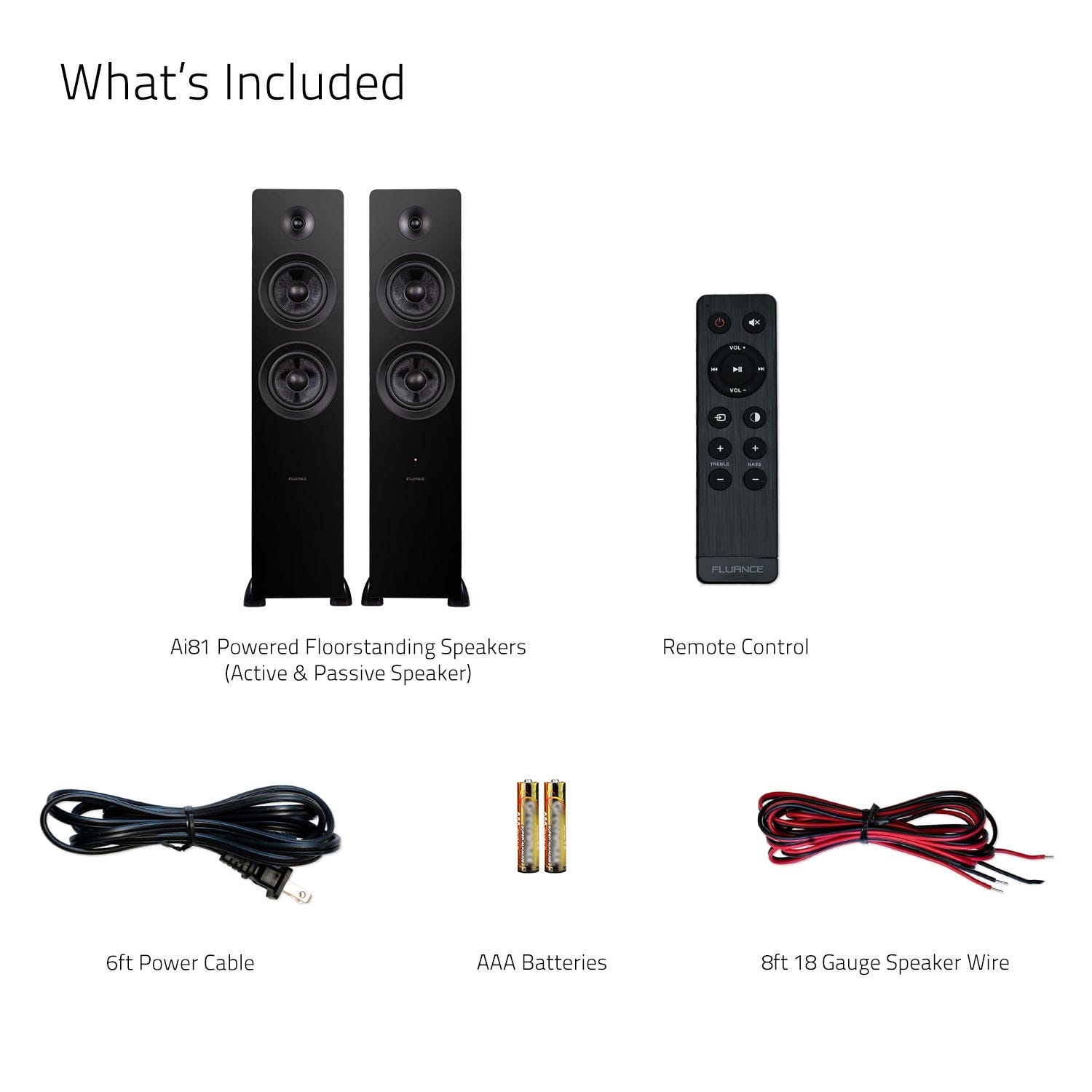 Speaker Configuration
2 Way – 3 Driver Powered Floorstanding Speaker System with Integrated Amplifier (Pair – 1x Active, 1x Passive)
Bluetooth
Yes; Bluetooth 5.0
Inputs
2x RCA L/R, Bluetooth, & Digital Optical TOSLINK
Tweeter
1 inch Silk Soft Dome Neodymium Ferrofluid Cooled
Woofer
Dual 6.5 inch Woven, Glass Fiber Composite Drivers with Butyl Rubber Surrounds
Amplifier Power
Class D 150 Watts Continuous Average Output (2x 75 Watts RMS)
Frequency Response
30Hz-20kHz (DSP Enhanced) 
Internal DAC
Yes
Internal Lead Wire
18 gauge Internal Lead Wire to Reduce Signal Degradation
Power
Input: 100-240V AC (50Hz/60Hz)
Crossover Frequency
2200Hz Phase Coherent 12dB/Oct – PCB Mounted Circuitry
Enclosure
Tuned Down-Firing Port Bass Reflex Design Dampened
Dimensions
37.8 x 8.50 x 10.24 inches / 96 x 21.6 x 26 cm (HxWxD) feet installed
Speaker Weight
Active Speaker: 30.61 lbs (13.88 kg)
Passive Speaker: 29.02 lbs (13.16 kg)
Speaker Type
Floorstanding
Phono Preamp
No
Certifications
cTUVus+CB, ICES, FCC Certified
Subwoofer Output
Yes, 80 Hz Low-pass Frequency Cutoff 
Total Harmonic Distortion (THD)
<0.1% (THD+ N)
WiFi Casting
Pairs via Bluetooth with Google Home, Amazon Echo, and AppleTV (Ai81 is not a WiFi speaker)
Fluance Speaker Size Comparison Chart

UPC
061783275443
What's Included

Ai81 Powered Floorstanding Speakers (pair)
Remote Control
2x AAA Batteries
6ft Power Cable
8ft 18 Gauge Speaker Wire
Quick Start Guide
Fluance Catalog
Lifetime Customer Support
2 Year Manufacturer's Warranty
Ai81 Elite Powered Floorstanding Tower Speakers
Speaker Configuration
2 Way – 3 Driver Powered Floorstanding Speaker System with Integrated Amplifier (Pair – 1x Active, 1x Passive)
Bluetooth
Yes, Bluetooth 5.0
Inputs
2x RCA L/R, Bluetooth, & Digital Optical TOSLINK
Tweeter
1 inch Silk Soft Dome Neodymium Ferrofluid Cooled
Woofer
Dual 6.5 inch Woven, Glass Fiber Composite Drivers with Butyl Rubber Surrounds
Amplifier Power
Class D 150 Watts Continuous Average Output (2x 75 Watts RMS)
Frequency Response
30Hz-20kHz (DSP Enhanced) 
Internal DAC
Yes
Internal Lead Wire
18 gauge Internal Lead Wire to Reduce Signal Degradation
Power
Input: 100-240V AC (50Hz/60Hz)
Crossover Frequency
2200Hz Phase Coherent 12dB/Oct – PCB Mounted Circuitry
Enclosure
Tuned Down-Firing Port Bass Reflex Design Dampened
Dimensions
37.8 x 8.50 x 10.24 inches / 96 x 21.6 x 26 cm (HxWxD) feet installed
Speaker Weight
Active Speaker: 30.61 lbs (13.88 kg)
Passive Speaker: 29.02 lbs (13.16 kg)
Speaker Type
Floorstanding
Phono Preamp
No
Certifications
cTUVus+CB, ICES, FCC Certified
Subwoofer Output
Yes, 80 Hz Low-pass Frequency Cutoff 
Total Harmonic Distortion (THD)
<0.1% (THD+ N)
WiFi Casting
Pairs via Bluetooth with Google Home, Amazon Echo, and AppleTV (Ai81 is not a WiFi speaker)
Fluance Speaker Size Comparison Chart

What's Included

Ai81 Powered Floorstanding Speakers (pair)
Remote Control
1x CR2032 Batteries
6ft Power Cable
8ft 18 Gauge Speaker Wire
Quick Start Guide
Fluance Catalog
Lifetime Customer Support
2 Year Manufacturer's Warranty
Press

Kris Wouk of How-To-Geek;
"I've tested a fair number of speakers and headphones in my time. Every once in a while, I encounter a product that is just so fun to listen to that I can't stop listening. The Fluance Ai81s are, without a doubt, those types of speakers"

Read Full Review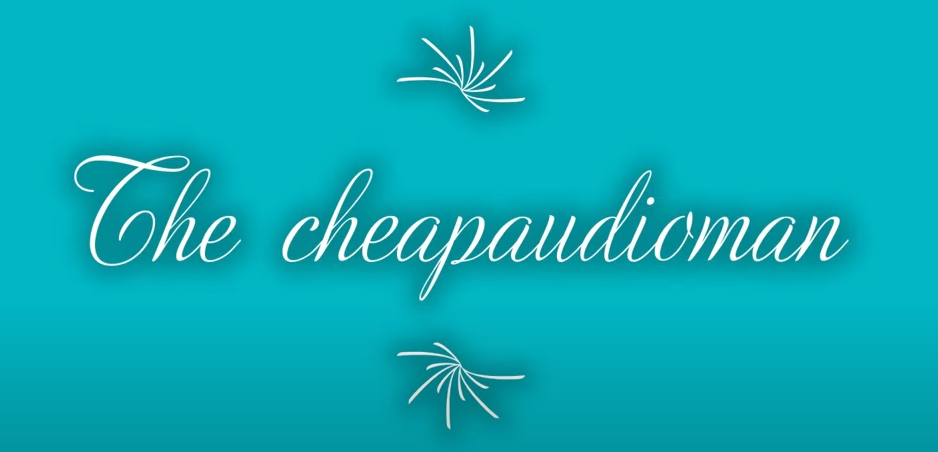 Cheap Audio Man reviews Ai81
"If you're after convenience, big sound, great Bluetooth and a remote control, this is your speaker."



Mark Sparrow of Forbes
"These floorstanding loudspeakers have an advanced passive crossover and an enhanced DSP to produce a balanced frequency response"

Read Full Review
Customer Reviews
natalie r

May 11, 2023

Ontario, Canada

super happy with this purchase. they look and sound great. the white vibes well with my living room. connection to blue tooth is easy. only wish i could link more speakers in different rooms.

natalie r

5

Andrew M

April 22, 2023

Nova Scotia, Canada

Easy out of the box set up with great sound for the price point. If you are looking for great listening with little trouble these are for you!

Andrew M

5

Mathieu L

February 21, 2023

Quebec, Canada

Amazing quality for the price. They look beautiful, easy to use, the base is good and overall volume is definitely high enough for a normal house. The blue-tooth is a great asset too. I'm just loving them. :)

Mathieu L

5

David P

January 16, 2023

New York, United States

I bought the speakers because I wanted affordable powered tower speakers with bluetooth, subwoofer connections, and the ability to connect multiple devices. It fit my requirements plus the sound was very good . the 75 watts per channel provided more than enough power. Using thee controls and remote were tricky at first but within a short time I was able to switch sources seamlessly

David P

5

Ron L

December 11, 2022

Alberta, Canada

Sound reproduction fidelity is quite good especially at this price point. I would caution against planning them for a larger room. Mine is only 10 x 14 feet and the max volume is barely acceptable. I may try adding a subwoofer as well. Customer service: no response for nearly 10 days now to my questions. Really disappointing.

Ron L

4

Peter H

September 28, 2022

Indiana, United States

Let me start by saying that I have a very critical hearing. I can't stand non-natural-sounding speakers. There isn't a soundbar, HTIB, or any shelf system that even comes close to the sound quality, staging, and mid-bass response of this system. Pair this with any 150+W subwoofer and you a 2.1 system that will rival systems costing $2-3k.

How do I know? My main 7.1 HT system has $1500 each main front speakers and $500 surround speakers matched to a 1000W dual 12" sub all powered by top-of-the-line Marantz AVR.

And for stereo content at moderate volume; I can hear very subtle differences between both setups. I honestly cannot justify the difference between both setups given the cost. And these towers do get plenty loud to fill most living rooms so the output is not an issue and they don't distort either.

Lastly, the customer service by Fluance has been top-notch; Julie in particular has been very understanding and patient and resolved all my concerns (small shipping damage; damaged leg --> send a new one-- no questions asked)

Peter H

5

Alec, F

September 7, 2022

Kansas, United States

I'm very happy with the Ai81 speakers so far. I've got about 15 hours of listening and they aren't quite broken in fully. They sound great in the high and mid frequencies and have surprisingly good bass response for 6 inch speakers. They are lacking in the lower frequencies but paired with my two Fi70's it sounds incredible and the full range is well represented. I was looking to fill in the middle and higher range to let the four 8 inch subs really shine while maintaining a balanced sound and I got exactly what I was looking for. Great sounding product and beautifully constructed.

Alec, F

5

Pascal

August 28, 2022

Quebec, Canada

simple to use, deep bass from 6inch speaker.
enough power...

Pascal

5

Greg S.

July 27, 2022

California, United States

I have been living with these speakers for a few months now. They feature a rich, full sound. Paired with a Sony HAPZ1ES Hi Res player, with each CD downloaded as a Wave file rather than compressed MP3, the music and vocals always feel fully accurate, with all the instruments and voices revealing their contributions in every song as intended.

Greg S.

5
Resources
Manual
FAQs
Can I connect Ai81 to a amplifier or A/V receiver?
No, the Ai81 Powered Floorstanding speakers have their own internal power source and cannot be connected to an amplifier or A/V Receiver for surround sound use.
Do I need a preamp to connect a turntable to Ai81?
You will need a preamp to boost the turntable signal to a listenable level. Some turntables such as our RT80 and RT81 have built-in preamps while others do not.
Can Ai81 be connected to a turntable?
Yes! You can connect your turntable to the Ai81 speakers using either RCA input. The speakers do not have a built-in preamp. You will need to confirm if your turntable will require an external preamp.
What Bluetooth Codec does Ai81 use?
The Fluance Ai81 speakers use the AAC codec.
What connections does Ai81 have?
2x RCA L/R Bluetooth 5.0 Digital Optical TOSLINK
Articles from our experts