Overview

Alarm Clock Radio with USB Charging
Start your morning right with the Magnasonic USB Charging Alarm Clock Radio.

Start Everyday with Simplicity
We developed the world's easiest to use alarm clock and packed it with innovative & useful features. Plug it in, select your time zone and it automatically sets the time. It even adjusts itself for Daylight Savings Time. Set it once and don't worry about it again.

Charge Your USB Devices as You Sleep
Our smartphones and tablets get a lot of facetime throughout the day leaving brave risk-takers with perilously low levels of power. Rather than moving your furniture frantically, hoping that final 1% lasts while diving for a concealed power outlet; simply plug your phone into your easily accessible bedside clock USB charging port.

Automatically Adjusting Day & Night Display Brightness
This clock radio intuitively adjusts the display's brightness based on your room's lighting. Never be blinded at night by overly bright alarm clocks again or squint in the middle of the day to read a dim display. Easily read the time day or night.

Dual Alarm for Separate Wake Times
This smart clock lets you set individual alarm schedules for the week, weekdays, and weekends for you and your partner.
Rest Assured Your Alarm Will Still Sound During a Power Outage
Never worry about missing an early appointment or waking up on time for that important job interview due to a power failure. The battery backup automatically restores your time and alarm settings and will activate your alarm at the scheduled time in the event of a power loss.

Brimming with Additional Innovative Features
Automatic time set, date display, digital FM tuner, sleep timer, wake to radio or gradual wake buzzer, radio presets.
Get the quality sleep you need and deserve.
Specifications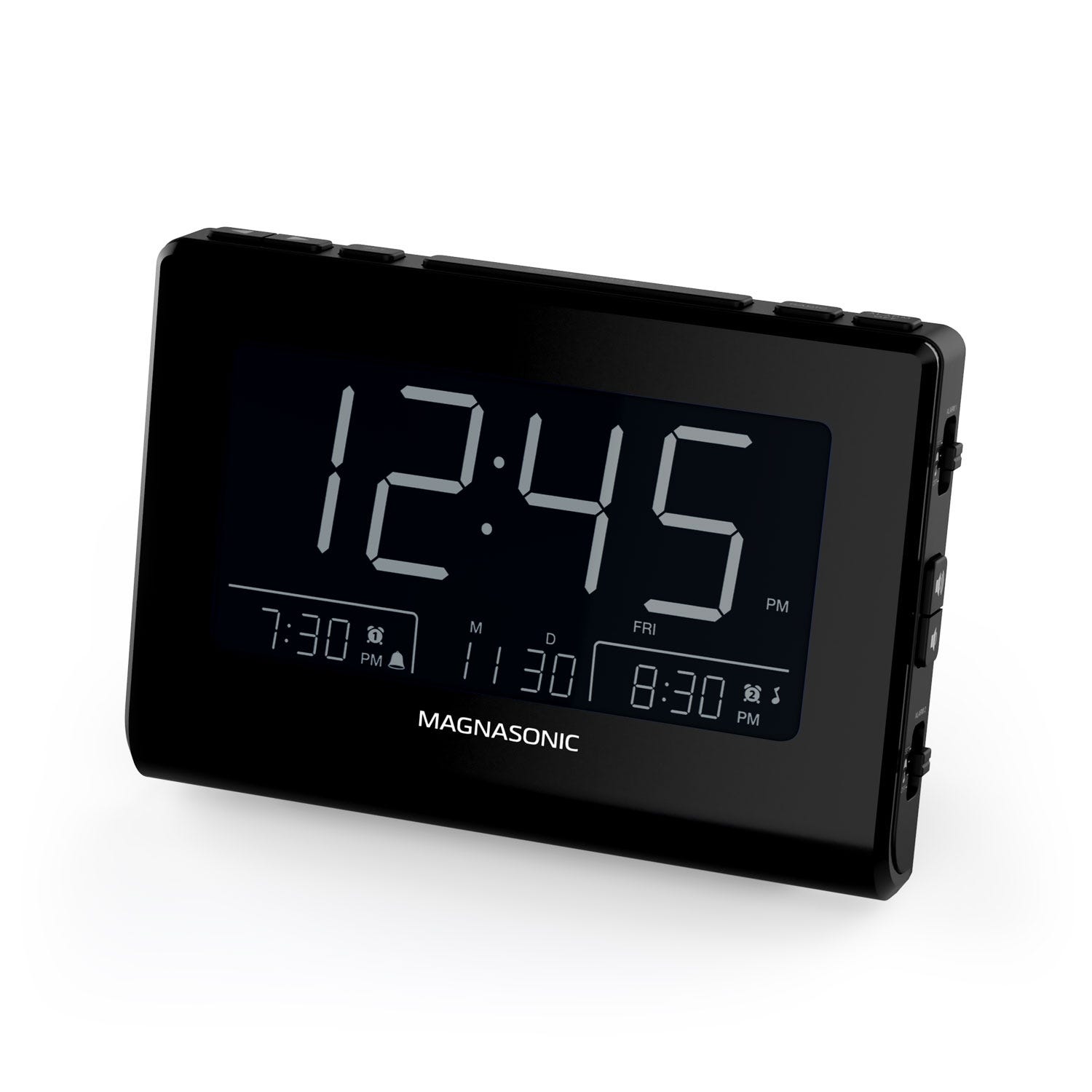 Display Size
4.8" LCD, White/Black
Display Colour
Black
Automatic Time Set
Yes
Daylight Savings
Yes
Time Zones
8 (Newfoundland - Hawaii-Aleutian)
Sure Alarm
Yes
Wake Up
Yes
Battery Back-up for Time
Yes
USB Charging
Yes
PLL Digital Radio Tuner
FM
Radio Station Pre-sets
10 FM
Dual Alarm
Yes
Calendar Display
Yes
Indoor Temperature Reading
No
Adjustable Brightness
High, Low, Off, Auto
Sleep Timer
No
Battery Required
1 x 3V, CR2032 Flat Lithium Battery (included)
USB Charging Power
Single, 1.0A (5.0W)
Speaker Size
2" 1.5W, 8 Ohms
Volume Indicator LED
Numerical display of volume value
Power Input
100-240 V, 50/60 Hz
Audio Inputs
None
Frequency Range (FM)
FM - 87.5-107.9 MHz
Power
DC 5.0 V, 1.5 A
Battery Backup
Yes
Projection
None
Projection Swivel Tilt
None
Number of Alarms
2 (week, weekend, weekday)
LCD Screen Size
4.8"
Alarm Options
Radio, Buzzer
Projection Flip
No
Projection Focus
No
Time/Date Restore
Yes
Dimensions
2.9 x 5.9 x 4.1 inches / 7.37 x 15.0 x 10.4 cm (HxWxD)
Unit Weight
0.92 lbs
Unit Color
Black
Certifications
FCC Certified, NRCan
UPC
061783263679
What's Included
CR63 Clock Radio
Instruction Manual
1 x 3V, CR2032 Flat Lithium Battery (installed)
5ft 100V-240V (50/60Hz) AC Power Adapter
Lifetime Customer Support
1 Year Manufacturer's Warranty
Customer Reviews
Ed

December 24, 2021

Ontario, Canada

I like nearly all the features of this clock except the display is way too dark. At it's brightest setting it can be seen at night but not in a brightly lit room in the daytime.

Ed

2

Linda B

July 29, 2021

It took me two times with the alarm clock to learn how to set it. You also have to pick a day for the alarm to work, like Mon, Tues, Wed, etc. Now I'm happy with it. It also has a unique dimmer. You can choose high light, low light or no light. That's right, nothing at all will shine if you don't want to see the time at all. I kiinda want to know what time I wake up during the night sometimes. It's also smaller than all the clocks I've used, so it takes up a small space on the night stand.

Linda B

5

betty

July 25, 2021

works amazing,,,,,,,, just right

betty

5

P. M

July 10, 2021

Even set to the highest brightness level, the display is dim and not visible at all when viewing from some angles. I liked the features of this device, but the visibility issues render it effectively useless.

P. M

2

KC

June 29, 2021

Great clock radio

KC

5

Rachel D

June 16, 2021

Michigan, United States

This is a great alarm clock. I really like the display and not have glaring red, green or blue colors staring at me in the face. I also like that the internal battery can be replaced. This wasn't so in a previous brand I used as time was being lost almost immediately after purchasing a different brand. I appreciate being able to adjust the starting volume of the alarm clock. I can't stand the ones that punch you in the face upon wake up (LOUD). I can set the alarm for just the weekdays which is convenient. Very happy with this purchase and I'm glad I went direct to manufacturer for purchasing. Very nice people at Magnasonic.

Rachel D

5

Myrddin R

June 13, 2021

I'm a fan of the design aesthetic of this clock and will probably use it for a long time.I don't expect super audio from a small radio alarm clock or I'd have purchased something more along those considerations. This may only be the one I have but, it does not get very bright. Mine's not even as bright as the one pictured but, I can see it in a darkened room and unlike the last couple I've had.. I don't have to put something over it because it's dimmest is too bright to sleep by. The design is very clean and has a modern retro Black & White CRT feel to it though it's LCD. I had hoped for more dynamic dimming range from somewhat brighter down to maybe as dim as the one I have's brightest. Still, it does the job and looks good doing it. I have no real complaints with it as a bedside alarm clock radio.And, it's still pretty slick with it's clean lines and design.

Myrddin R

4

Larry h

May 18, 2021

Easy to read

Larry h

5

Аmazon C

May 14, 2021

This item is elegant, of excellent quality, price point, workmanship and is functional as described. I am very happy with my purchase.

Аmazon C

4

WayLin

April 16, 2021

I bought this clock 4 months ago, now the display is so dim you cannot see it in the daytime and can barely see it at night, even with the display set to 'Hi' Disappointed because I have missed the return window by less than a month.

WayLin

1

B

April 15, 2021

I purchased the CR63 version of the alarm clock with the black background.Mangnasonic claims the clock has automatic time set - it does not. It is set from the factory to something close to the correct time, but not the actual correct time. I assume in China they use the 'the sun is approx. overhead, so it must be noon' time standard. There is no automatic time setting feature.Frustration-free operation - Not even close. You must make sure you watch the display when turning on the alarm. It is way too easy for the slide button that turns on the alarm to go too far and go into set mode. Set mode should have been the first click on the slide button not the last.Ideal visibility - Nope, they fail on this one too. The display is tilted back. If you look at the display at an angle perpendicular to the display or above it appears okay. But when lying in bed and because the display is tilted back, the display appears to be blank.The alarm is stupid. Instead of having an assenting volume alarm, the start with a beep followed by a longer pause. About 10 seconds later it turns to beep beep followed by a shorter pause. They keep adding a beep unit there is no pause. The volume of the alarm stays constant. The alarm disable button is on top with the snooze button, so it is easy to disable the alarm instead of snooze. When setting the alarm, it defaults to M-F instead of everyday. If you aren't paying attention when setting an alarm, you may wake up late on a weekend.Radio reception is poor even with the wire antenna stretched out.The only thing I like about this alarm clock is way the information is displayed. I really like seeing the time the alarm is set without having to push a button.With so many bad decisions in the design of this alarm clock and the dishonest claims, I would recommend never buying anything with the Mangnasonic name on it.

B

1

Peter M

April 14, 2021

Love the clock, however setting the alarm and having to do it every day by changing the calendar day is a bit of a nuisance. Would not purchase again.

Peter M

3

Amazon Customer

April 2, 2021

I like that it is small and doesn't take up much room. Numbers are bright and easy to readLove the day light savings option .

Amazon Customer

5

Tom

March 23, 2021

Very happy with the auto-dim feature that dims the display when ambient lighting is low and brightens the display when ambient lighting is bright. The only reason I gave it 4 stars instead of 5 is that the viewing angle is such that it is difficult to see the display if you are even slightly lower than the clock, such as when lying in bed with the clock on a night stand that is higher than the bed.

Tom

4

Spencer G

March 23, 2021

My new phone didn't have 3rd party options and the ringers were not abrupt enough to wake me. This clock was an awesome solution. Very typical loud 'beep' noise which will wake anyone, as well as radio option. I use the radio as a soft wake up, and the loud beep as a failover. Comes with a battery pre-installed and works without the need of thinking. So all of your timezone settings and alarms stay set as you move the clock from power outlet to power outlet. Setting the timezone is not user friendly, but a relatively small hurdle. So it will do daylight savings for you, and you'll never sleep in.The Only con: The Auto-Dimming is completely useless on mine. Way too dark unless you are in pitch black. So you have to keep it at a medium setting or so. If you need something that dims at night via a sensor this isn't a purchase for you.

See all reviews

Spencer G

4