Overview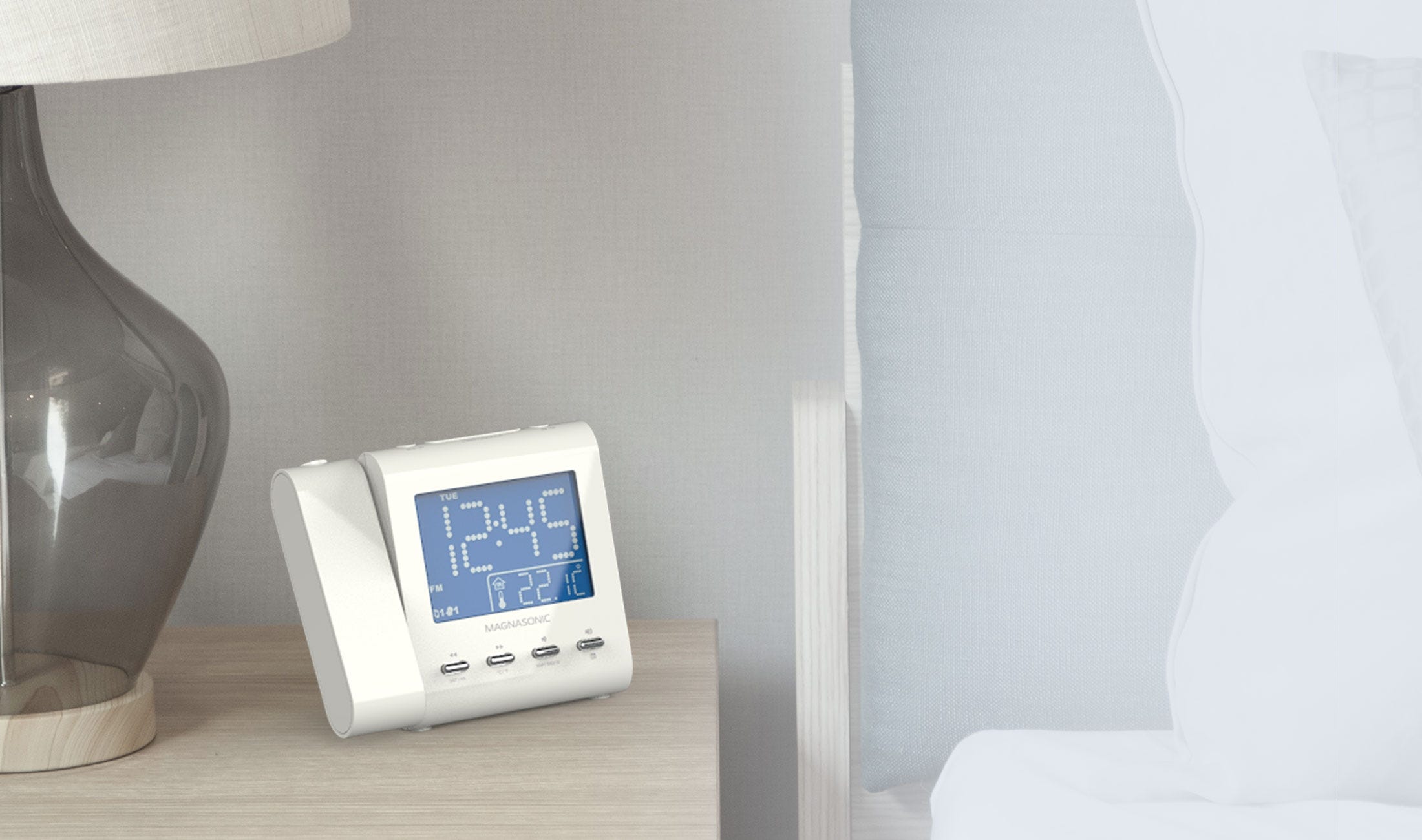 Projection Alarm Clock Radio
Convenience, reliability, & modern design come in the form of the EAAC601 Projection Alarm clock by Magnasonic. This advanced clock radio automatically sets the time and date and saves all your alarm settings when the power goes out. Plus, with time projection display, dual alarms, temperature display, a large backlit LCD with dimming options, and the ability to play your smartphone, tablet, or MP3 player music, this is the only alarm clock you'll ever need.
Large 3.6" Blue Display
View the time/date & temperature clearly on the large 3.6" blue display. The dimmer options (high, low, off) let you reduce the screen's brightness for those sensitive to light. This alarm clock also displays the indoor temperature (C/F) and the current day/month/year.
Project the time on your ceiling or wall
It will always be in full view from anywhere in the room even when you are lying in bed. This feature also allows you to tilt a full 180 degrees, so you can project the time or even the temperature. The adjustable focus allows the projected time to always remain crystal clear.
Always On Time
This smart alarm clock is preconfigured with the correct time. All you need to do is specify your time zone and it will always be accurate, even after a power outage.
Long lasting battery backup
Restores your alarm settings and automatically adjusts for daylight savings time.
Dual alarms for you and your partner
Set two separate wake times with the dual alarm feature for you and your partner.You can also choose to automatically disable the alarms on weekends, allowing both of you to set your alarm schedule once! and forget it!
Listen to your favorite music
Listen to your favorite music using your iPhone, iPad, or Android device through the 3.5mm AUX audio input or using the built-in digital AM/FM radio with 20 station memory.
Wake to what you want to hear
Wake to your favorite radio station, or the built-in buzzer. This unit also has snooze, sleep, and nap functions.
Specifications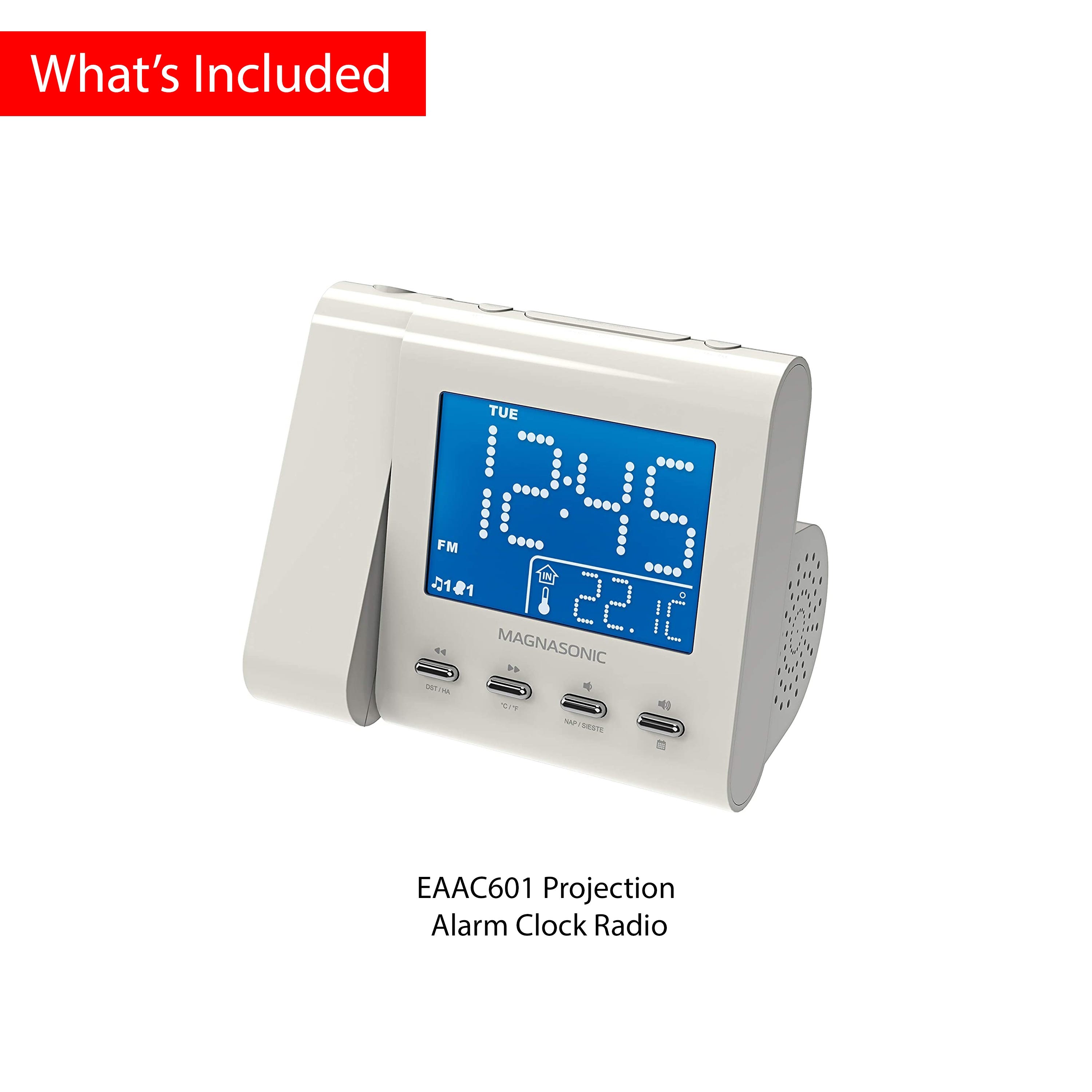 Display Size
3.6"
Display Colour
White LCD (with blue backlight)
Automatic Time Set
YES
Sure Alarm
No
Wake Up
No
Battery Back-up for Time
Yes
USB Charging
No
Radio Station Pre-sets
20
Dual Alarm
Yes
Calendar Display
Yes
Indoor Temperature Reading
Yes
Adjustable Brightness
High/low/ off
Sleep Timer
Yes
Battery Required
1 x 3V, CR2032 Flat Lithium battery (installed)
Speaker Size
2.0" 0.5W, 8 Ohms
Power Input
AC power cord
Audio Inputs
3.5mm auxiliary input jack
Frequency Range (AM)
520 - 1710 kHz
Frequency Range (FM)
88.0 – 108.0 MHz
Power
AC120V 60Hz, 5W
Battery Backup
1 x 3V, CR2032 Flat Lithium battery (installed)
Projection Swivel Tilt
Yes – 180 degree swivel
Number of Alarms
2 – buzzer, radio
LCD Screen Size
3.6"
Alarm Options
Radio / Buzzer
Projection Flip
Yes
Projection Focus
Yes
Time/Date Restore
Yes
Dimensions
4.76 x 5.5 x 3.5 inches / 120.9 x 139.7 x 89.9 mm (HxWxD)
Unit Weight
1.23 lbs
Unit Color
White
UPC
061783037591
What's Included
EAAC601W Alarm Clock Radio
Instructional Manual
Quick Start Guide
5ft Power Cable
1 x 3V, CR2032 Flat Lithium battery (Installed)
1 Year Manufacturer Warranty
Lifetime Customer Support
Customer Reviews
D. P

December 23, 2022

I've had this clock for 7 years. The projector just died on it. Time for a new one. Going to try a different brand.

D. P

4

Bill P

December 15, 2022

Works as should

Bill P

5

rivka g

December 14, 2022

The clock is bright so I can see the time and the radio is clear. All I need in a little clock radio

rivka g

5

Barnett W

December 2, 2022

Awesome

Barnett W

5

Penny P

November 30, 2022

You can adjust the light so it doesn't beam in your face. Also the temperature is a great feature. This is my third clock. All three are the brand. Kids each have one and I have one.

Penny P

5

Matthew737

November 25, 2022

I love this clock! It is my second one. The first one I had for 6 years and then the other day the laser didn't work anymore. So I bought a new one! It's the perfect brightness, once you have the clock on the ceiling there is no going back! Great product!

Matthew737

5

Marinemom

November 24, 2022

Was needing a new alarm clock since my old one was out dated. This one has been a great replacement. Still getting use to how to set the alarm but like the features of it!

Marinemom

4

JHiatt

November 18, 2022

Clear large time on ceilings

JHiatt

5

Mary A

November 14, 2022

Does what it is designed for. Will do much more than I would ever need.

Mary A

5

Patches

November 9, 2022

It was fine for 6 months when the radio stopped working. The clock started flashing after about 9 months.

Patches

1

Ray

November 6, 2022

The hour sets itself but the minutes are wrong and there seems to be no way to fix it

Ray

3

Kbalceniuk

November 6, 2022

I constantly need to readjust the time as it runs fast

Kbalceniuk

2

Zuzana M

November 4, 2022

I am very satisfied wit it, I recommend it .

Zuzana M

5

Karen P

October 26, 2022

A buzzer goes off at 5:59am every single day without any alarms being set! I thought I had done something wrong with setting an alarm, but I did a hard reset several times (taking out battery) and after setting the year and date, I set NO alarms and it still buzzed at 5:59AM!!! It buzzes for a full minute and it can't be shut off!!Amazon credited me my purchase price even after it was past the return window (bought it early for a birthday present). So I'll find another brand clock which won't act possessed.

Karen P

1

Mr C

October 24, 2022

For the price, this Alarm clock radio is packed full of features. Sound is good. projection clear. It's got everything. I like it..

See all reviews

Mr C

5