Specifications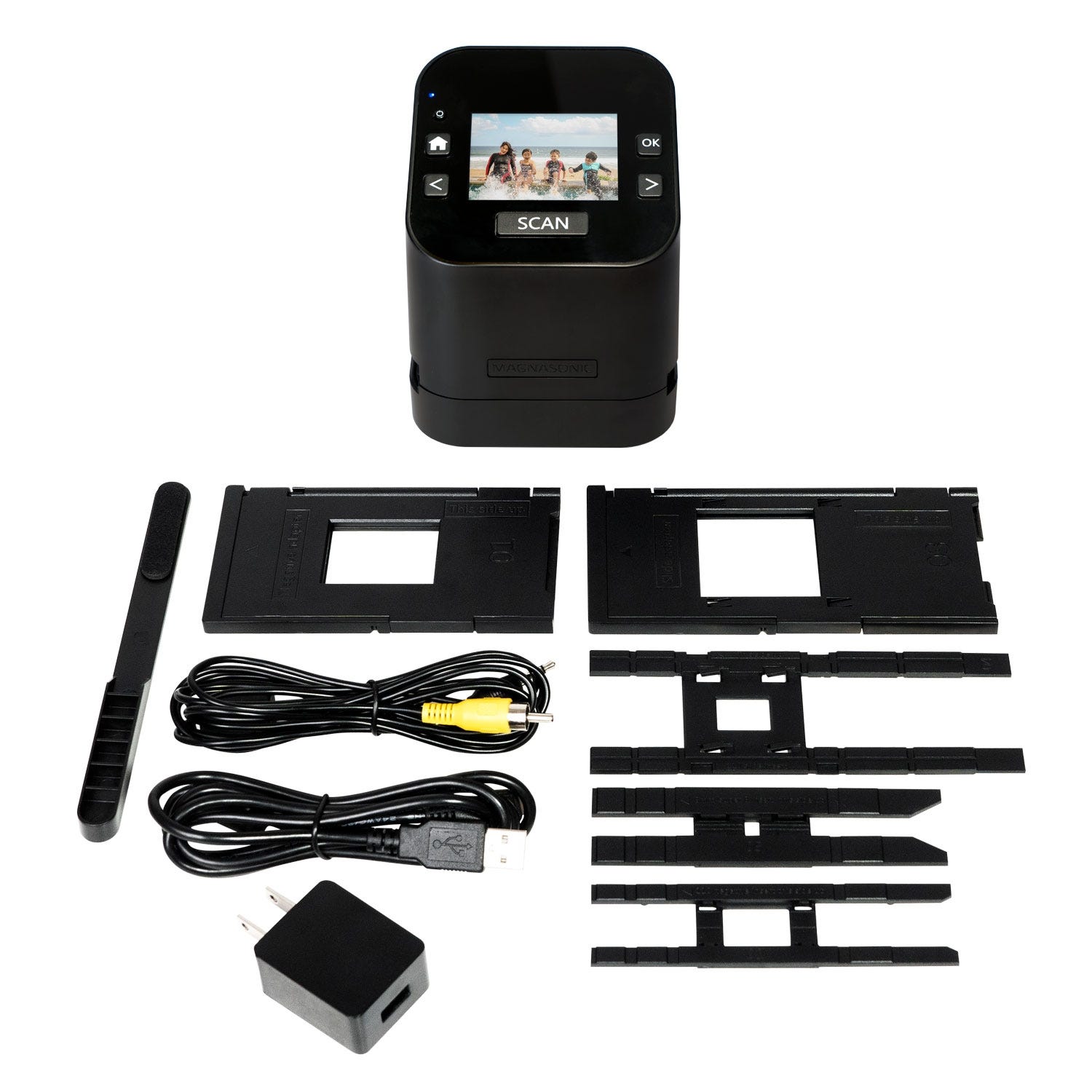 | | |
| --- | --- |
| Display | 2.36" Color TFT Display |
| Focus Range | Fixed |
| Exposure Control | Automatic & Manual Adjustment |
| Recording Resolution | 22 Mega Pixels Scanned Resolution |
| Scan Quality | 4100 dpi for 35mm |
| Scan Method | Single Pass |
| Film Type | Negatives: 35mm, 110, 126, Super 8, 8mm / Slides: 135, 110, 126 |
| Light Source | Panel Backlight (with 3 white LEDs) |
| File Format | JPEG /still image |
| Image Playback | Single |
| TV Out Type | NTSC/PAL |
| Built-In Memory | 64MB |
| External Memory Card | SD card up to 128GB |
| Scan Speed | 3-5 seconds |
| Language | English/French/German/Spanish/Japanese/Chinese |
| Dimensions | 3.4 x 3.5 x 4.2 inches (86.2 x 88.9 x 106mm) |
| Weight | 0.46 lbs |
| Power Supply | AC/DC (USB), Input: 100~240V, 50/60 Hz 0.5A. Output: 5V, 1A |
| Certifications | FCC, cETL/ETL, ICES, cUL/UL |
| UPC | 061783271841 |
Customer Reviews
Julie

November 16, 2020

Minnesota, United States

This scanner is quite easy to use, but unfortunately. if you are planning to scan negatives so you can later turn into quality prints, you will be very disappointed. I have super sharp negatives shot on a very high quality Canon camera and I was so disappointed in the low resolution output. The only reason I purchased this was to scan negatives and have the photos printed. Super bummed.

Julie

2

A. Y

August 25, 2020

In general a good device for its price, easy to use and very high digital resolution.Unfortunately, my scanner had a background light problem: it appeared to be greenish on the left and reddish on the right. As a matter of that it was impossible to select a proper color balance for the whole picture.The declaration that it can digitize the 8mm films looks like a joke -- there is no optical zoom to adjust to the smaller size of the 8mm frame, so the scanning resolution remains the same as for 35mm film, whereas the frame is 4.8×3.5mm comparing to 36x24mm.

A. Y

3

darryl b

August 13, 2020

I purchased hoping to scan 100's of slides I have from 30 years back. The quality of the kodachrome slides are as expected. Kodachrome back in the 80's and 90's was top of the line. After scanning a few slides, I packed the scanner back up in the box and asked for a refund. The quality is absolute crap compared to the original slide. Really disappointed. The clarity is terrible. The picture of the forest is just green. No detail. Anybody who says the quality is good or somehow 'great' are out of their mind. I wish I could post a picture of a resulting scan. a joke... not even worth the 110 bucks it cost. I managed to upload some of the scanned slides. they are so blahhh. No detail. no where near as sharp as the slides. Now, to send it back, I have to pay the postage. Never again.

darryl b

1

Prince o

August 1, 2020

I wasn't expecting much at this price, I just wanted something to preserve memories. I was not looking to, most likely, even have these printed I just wanted to quickly and easily save some of our past that I had laying around for years. The Black & White pictures attached were from the late '70s (I think that's a '78 Lincoln Mark V) and the color pictures are from the mid-'70s. None were stored correctly and I made no attempt to clean them up or correct the color/brightness, etc. These pictures were slipped into the slide holder, the only actions I took were to specify the film type (B&W 35mm and Color 35mm) and press scan. That was it, I am showing the photos to you so that you can see how good these might be with just a little touching up. For most people, this will suffice to have saved for future generations. I color corrected the last picture with the 2 cats (not shown, this picture is before correction), simply by clicking on 'Auto Color Correct' when I viewed it in my photo viewing program. It looks far better than the picture shown here.A few things about this scanner. It's easy to use once you get used to it. The instructions are clearly written but the interface is a bit awkward since it's small and some of the buttons serve different functions when used for different menu items. In general, I would not use this much for photo correction. I would just, as above, scan and use another software program to make adjustments. I use a free software called FastStone, it's just a photo viewer but it has editing capabilities that are not complicated and, although limited, probably all that most people will need.You cannot scan directly onto the computer. This means you will need to use the scanner memory and then transfer from there onto the computer or add an SD card and scan that into the computer. An SD card is necessary in my opinion if you want to scan more than a few photos. The problem here is that the scanner comes with 64MB of memory but the most photos I have been able to save in the internal memory were 5 (about 20MB) before it was full. I don't quite understand it because when I look at the memory it shows 37.3 MB of memory (I'm assuming that the rest of the 64MB is used by the scanners software), 20.1 MB of memory used (the 5 photos), and 17.2MB remaining. However, when I attempt to scan, I get an 'Error, Memory Full' message.The good news is that the instructions specify that it will accept an external SD card up to 128MB. At 4 MB per scan, that's 32 photos before you have to transfer to your computer. Better yet, I did not have a 128MB Sd card and so I put in a 256MB card and it works just fine. I can't guarantee that and I don't know if it will stop storing at 128MB, but I've had no issues so far and if it works, that means I can get up to 64 photos scanned before I need to transfer.As for the picture quality: this scans in at 22 MP, which is much higher than I expected, a 10 MP scan would have sufficed. It will typically scan at 1/125 second at f 2.8 but that will change if you adjust the brightness, etc. The bottom line is that for a typical 35 scan, the end results were a 4.n MB jpg which would mean that if I blew it up to an 8' x 10' picture, it would have a resolution of 716 x 383 DPI. Most professional work that needs to be blown up uses 300 DPI as the standard for 8x10 and below. This also means that on a smaller picture, your resolution will be even better. And if you're not going to print, it shows up just fine on the screen (older screens are 72x72 DPI as an example).Transfer to the computer is easy, just choose the USB upload feature on the scanner and it loads the pictures onto your hard drive in seconds.The one thing that threw me was the display. When you pop in a negative to be scanned, it won't look great on the unit's display which is only a 2.36' color TFT display. It'll look fuzzy, colors won't be true and you may think the picture will scan poorly. This is one reason that I say just scan and use the display for controls and position only, and then use a program on your computer to adjust after transferring onto the computers hard drive.Overall I would say that I am extremely satisfied with this unit. I'd deduct a few points due to the lack of storage on the unit's internal memory, however, you can buy a 256MB SD card (it slips into the back of the scanner) for as little as $10 here on Amazon so it's not a major issue. I'd also like to see a better display but, of course, that's probably the most expensive part of building the scanner and it would be much higher priced if a better display was used.BTW, this comes with a USB power plug and an AC adapter. You do not have to plug this into the AC plug, you can just attach the USB to your computer and use the computer's USB power. This will save you the hassle of unplugging it from the wall socket and attaching it to the computer to transfer the photos.

Prince o

5
Resources
Manual
FAQs
What type of film can I scan in the FS52?
The Magnasonic FS52 film scanner can scan a number of different film formats including: 35mm film strips, 35mm slides, 110 film/slides, 126 film/slides and 8mm/Super 8 (still images only). It can also scan in black and white, or in full color!
Do I need a computer to use the FS52?
While a computer is not necessary, it is highly recommended. The FS52 scans directly to the built-in memory or an SD card inserted in the scanner. To view the scanned images, insert the SD card into a TV or computer with an SD card slot or connect the scanner to the PC with the included USB cable.
What's the biggest SD card I can put in the FS52?
The FS52 includes 64MB of built-in memory and will accept SD cards up to 128GB.
Will the FS52 fix scratches or fading?
The FS52 is able to make minor adjustments to colour and brightness but cannot fill in scratches or fading that may happen over time.
Can I scan undeveloped film in the FS52?
No, the FS52 cannot scan undeveloped film. It is important to never expose undeveloped film to light as it will over expose and damage the film which cannot be recovered. Although most retailers don't offer the option of developing film, some specialty photography shops offer the service.
Can I use the FS52 on an Apple computer?
Absolutely! FS52 is compatible with MacOS 10.5 and up!