Specifications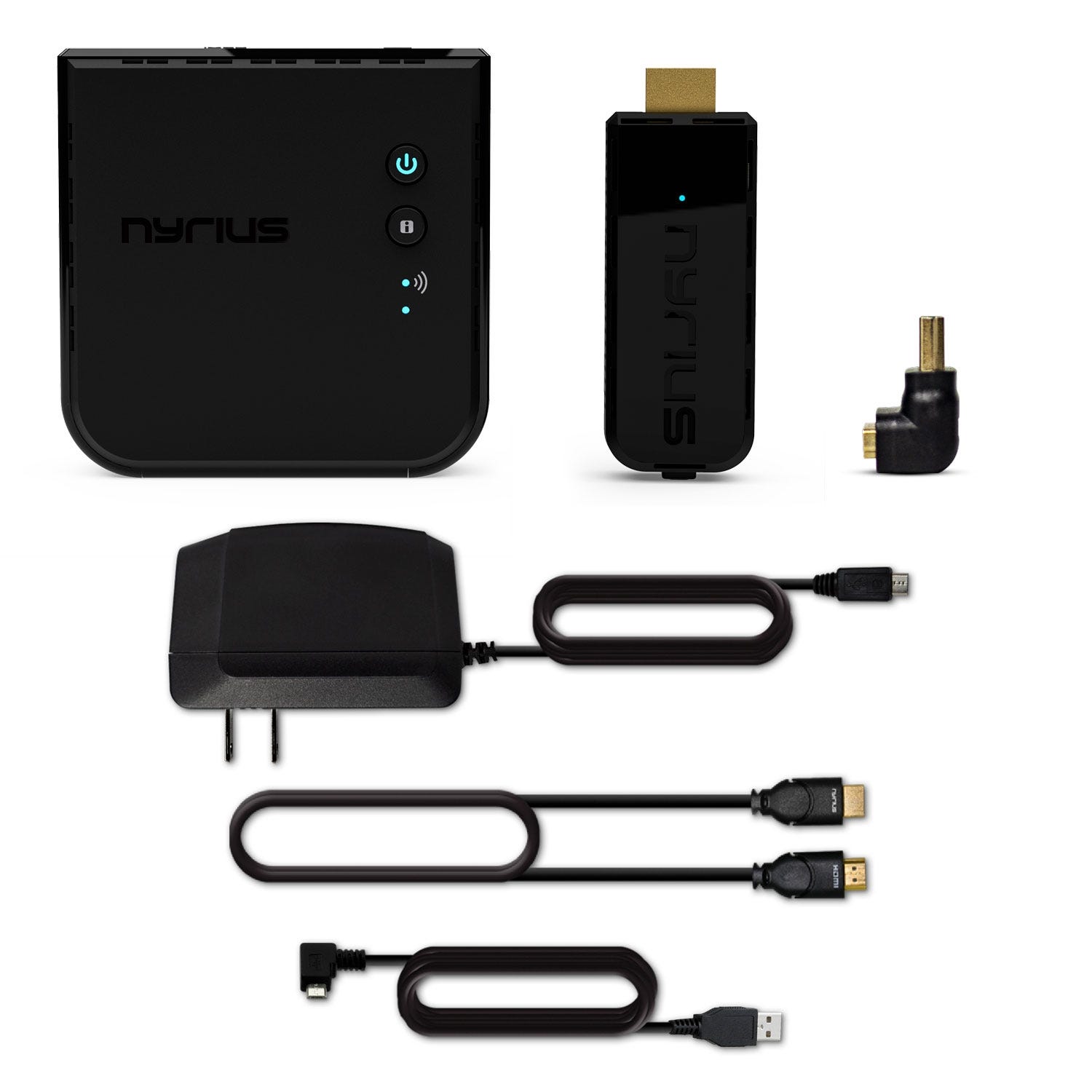 Supported Video Resolution
TV: 1080p, 1080i,720p, 576p, 480p PC : 1024x768, 1280x1024, 640x480, 800x600
3D COMPATIBLE
Yes
Audio Formats Supported
Uncompressed 7.1 PCM , DTS , Dolby Digital Surround Sound
Video Formats Supported
TV: 1080p, 1080i,720p, 576p, 480p PC : 1024x768, 1280x1024, 640x480, 800x600
Ports & Interfaces
HDMI, Mini-USB
Wireless Range
30 feet open space (clear line of sight)
Transmission Frequency
4.9~ 5.9GHz (with Dynamic Frequency Selecting (DFS))
System Latency
≤1 ms
Wireless Technology
GigaXtreme Technology
Environmental Requirements
Operating temperature: 0° to 40° C Storage temperature -10 ℃ ~ +55° C Relative humidity: 15 ~ 80% RH
Display Compatibility
TV: 1080p, 1080i,720p, 576p, 480p PC : 1024x768, 1280x1024, 640x480, 800x600
Wall Mountable
Receiver Yes
Remote Control
No
Power Supply
Receiver: 100-240VAC/50-60Hz (Wall Adapter)
Transmitter: USB
Power Output (at 10% THD)
Receiver: 5VDC, 1.5A
Transmitter: 5VDC, 1.5A
Transmitter Dimensions
3.24 x 1.18 x 0.69 inches (LxWxH)
Multiple Transmitters
No
Receiver Dimensions
5.8 x 7.69 x 1.22 inches (LxWxH)
Multiple Receivers
No
Adapter Compatibility
Nyrius does not recommend using Digital to Analog Adapters with our ARIES Products, however HDMI to miniHDMI/microHDMI adapters are compatible
System Requirements
Any laptop or desktop system containing an HDMI port including popular models from these manufacturers: Alienware, Lenovo, Dell, HP, Acer, Apple (Display Port cable not included)
Standard Protocol
HDMI 1.3, HDCP 1.2
Bandwidth
40 MHz
TX/RX Channel
1 RX / 1 TX
Certifications
FCC/ICE, CUL/UL
UPC
871363023865
What's Included
Wireless HDMI Transmitter
Wireless HDMI Receiver
100-240V AC Power Adapter for Receiver
MiniUSB Power Cable for Transmitter
5 ft HDMI Cable
Right Angle Adapter
Quick Start Guide
Instruction Manual
1 Year Warranty
Lifetime Customer Support
Press

Techaeris Reviews the Nyrius Aries Prime Wireless HDMI Transmitter
"From my tests, the Aries Prime Wireless HD Transmitter/Receiver works great. I had no issues with streaming full HD content from my laptop to my LG HDTV, an ASUS HDMI monitor, and even my Epson projector through my AV receiver. There was no lag that I noticed while testing out gaming either – including streaming my Xbox One to my Windows 10 laptop and transmitting the signal through the Aries Prime to a TV."
Read the Full Review

Home Theater Shack Reviews the Nyrius Aries Prime Wireless HDMI Transmitter
"I find the ARIES Prime to be a very good balance of convenience and performance. For anyone in search of a simple solution to a potential wiring nightmare, I can recommend the Nyrius thanks to its ease of use and reliability."
Read the Full Review
Customer Reviews
Tom K

December 17, 2020

Missouri, United States

Works great and the delivery was super fast ! Thank you !!!

Tom K

5

John

October 1, 2020

Alabama, United States

I would absolutely recommend this. I purchased it because I'm one of those weird people that likes to buy physical game cartridges instead of digital downloads, but I got sick of having to get up and go to the other side of the room whenever I wanted to swap games. And now life is so much more convenient.

While I did run into some technical difficulties at first, Nyrius's customer support team was fantastic. They were patient with me, and made everything right, and I couldn't be more pleased with both their product and their support.

Definitely a 5 star product!

John

5

Gert G

September 30, 2020

Arkansas, United States

Works perfectly as expected. Only problem was the delivery of a US power connection that does not work in Australia.

Gert G

5

Sergio B.

September 26, 2020

Alabama, United States

great product, works as described. would have loved to see a more solid construction (i may be wrong) it feels cheap, but it does what it's intended to do, so i'm happy. Does appear to have very very slight lag when streaming. Overall a good product. i appreciate you want to keep prices competetive.

Sergio B.

4

Justin B

September 8, 2020

This is the second product i have purchased the first one overheated the aries pro plus the best model i thought almost caused a fire in my home, after doing research i purchased this one. Worked a few times now out of return date i am stuck with a broken product.

Justin B

1

Amazon Customer

September 5, 2020

It advertises 30ft, but it went about half the distance and got pixalated and lost audio. Buyer beware.

Amazon Customer

1

richard w

August 31, 2020

from DISH box to TV. you should let me talk to you by phone

richard w

1

Bru K

August 29, 2020

These are terrible. They work sometimes, but often take 15-20 minutes to connect from 15 feet apart. I [put them where they are no where near any other transmittable type items and in direct line with each other and they are horrible. I would actually prefer a wire hanging across my room to these horrible items. I bought two of them and they are both the same.

Bru K

1

Teresa J

August 29, 2020

like it

Teresa J

5

kah-jeer-stin

August 20, 2020

This product works, it gives a nice picture and no lag. HOWEVER!!! They advertise this product as having a 30ft signal range, but what they don't tell you up front is that the receiver and the transmitter should be at least 6ft away from each other if there are OTHER WIRELESS SIGNALS. That includes your WIFI router. Which LITERALLY EVERYONE HAS!! So basically, I just bought a $200 wireless 6ft HDMI cable...not a 30ft. VERY MISLEADING!!!! Product is not anywhere near worth $200, more like $20, cause that is the price range it performs. $20 is even pushing it. Don't believe any of the positive reviews. You can look up the Nyrius website reviews and you'll get a better idea of what I mean. Avoid this product!

kah-jeer-stin

1

Stu

June 9, 2020

Was given tis as a gift around christmas (ordered december 2nd)..worked well for about 2 days with a pc. As soon as i hooked it up to my cable box realized the dongle didn't turn off when no HDMI signal was broadcast to it. Heat is a major issue! Moving graphics were terrible. One day I heard a pop, since then It completely doesn't work. Hooked it back to a pc and it wasn't detected as a display just "TEST DEVICE" and is now completely unresponsive. Confused my television's HDMI detection. Be Careful With this one!!!!

Stu

2

MP

June 3, 2020

Clear line of sight of 114" fail!I reconfigured my den such that my TV would hang on the wall on one side of room and DVD and Directv reciever would be on NINE and a HALF feet opposite wall. So I purchased two of these units. We are talking 114" clear line of sight with about 25 degrees off axis. ABSOLUTELY nothing between the xmtr and rcvr except air. Yeah, you get a picture. But it is miserably unstable. Video would stutter or pixelate at various intervals. Tried both units with similar results. Purchased JTECH-WEX200. Solid thus far.

MP

1

dawnda d

May 22, 2020

Easy setup. Worked fine for a couple of days, then the picture and sound started glitching and occasionally went back. I moved the receiver closer to the transmitter to achieve line-of-sight but it didn't help. Disappointing because the TV looked great with no cables showing.

dawnda d

2

Brantly C

May 8, 2020

Couldn't get to connect. Returned back

Brantly C

1

Nunya971596

April 22, 2020

Absolute waste of money. Only connects 33% of the time.can sometimes spend a whole day with no luck at a connection only 8 feet away!! I hate this thing

See all reviews

Nunya971596

1
Resources
Guides
FAQs
Can I use this with more than one TV or Monitor? ▼

Aries Prime is designed primarily for use with a computer. If you have another monitor connected already, this can be used with the extend feature to act as a wireless second monitor. It can also be used to duplicate the display of that display on another monitor or TV or make your main display wireless.

 Aries Prime does not offer the option of multiple receivers for sending video to multiple displays.


What can I use Aries Prime with? ▼

Aries Prime makes a great same room wireless HD solution. You can send video from sources such as Laptops, PCs and gaming consoles up to 30 feet away, with zero latency!


What is Latency? ▼

Also known as input lag, Nyrius Aries Wireless HD transmitters and receivers are considered Zero Latency. This means if you're using a computer and move your mouse, there is no delay. This makes Aries product great for presentations and gaming!


How does the Aries Prime transmitter get power? ▼

Aries Prime includes a transmitter and receiver. The receiver includes a power adapter to be connected to a wall outlet. To keep your transmitter portable, it's powered by USB from the source device or in some cases an external power pack may be necessary if a USB power connection is not available. The transmitter must be connected to both USB and HDMI to transmit.


Does the transmitter connect to USB or HDMI? ▼

Nyrius Aries Prime requires both a USB and HDMI connection, USB for power and HDMI for video. This allows the transmitter to act as an invisible HDMI cable with no USB drivers required!


Articles from our experts