Specifications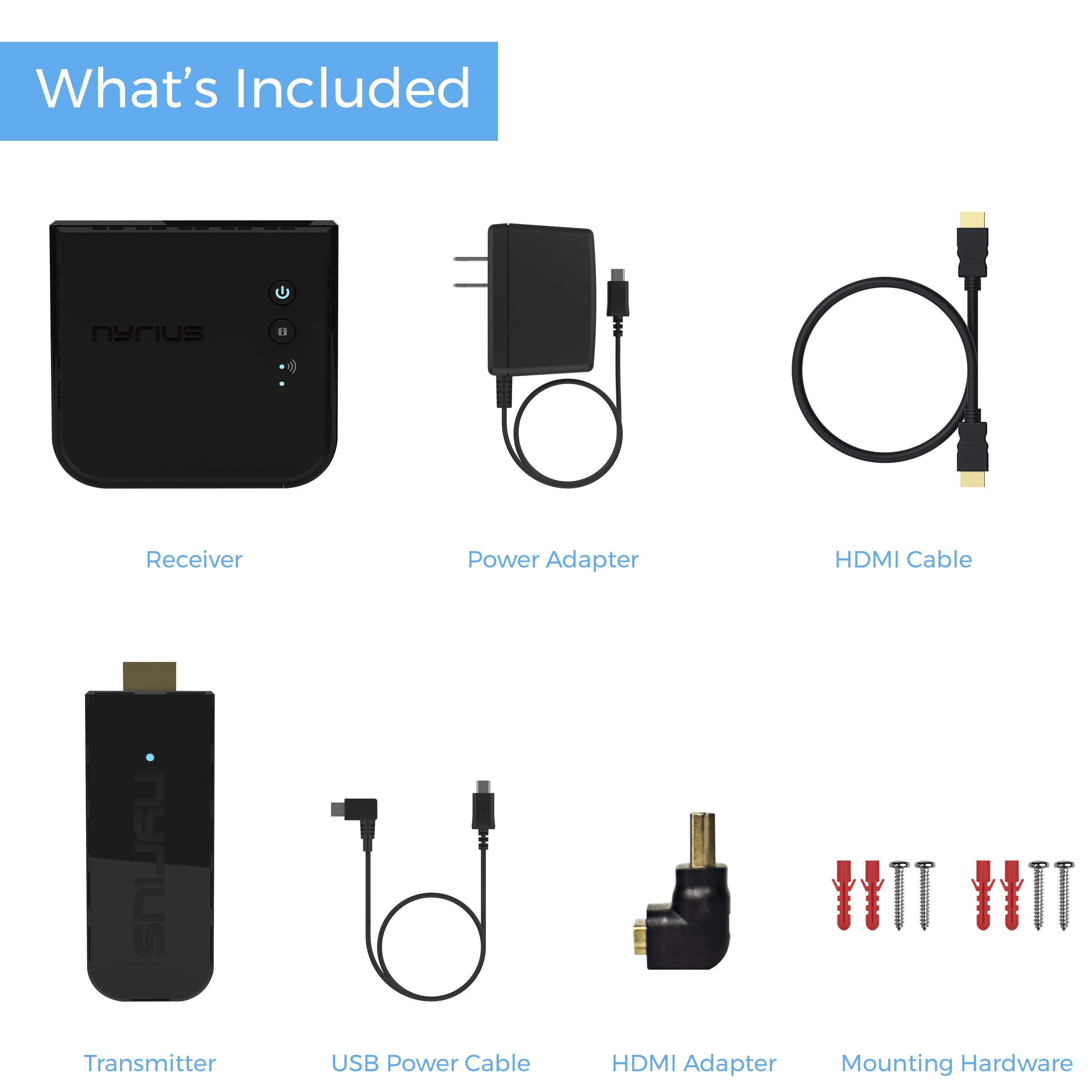 Supported Video Resolution
TV: 1080p, 1080i,720p, 576p, 480p PC : 1024x768, 1280x1024, 640x480, 800x600
3D COMPATIBLE
Yes
Audio Formats Supported
Uncompressed 7.1 PCM , DTS , Dolby Digital Surround Sound
Video Formats Supported
TV: 1080p, 1080i,720p, 576p, 480p PC : 1024x768, 1280x1024, 640x480, 800x600
Ports & Interfaces
HDMI, Mini-USB
Wireless Range
30 feet open space (clear line of sight)
Transmission Frequency
4.9~ 5.9GHz (with Dynamic Frequency Selecting (DFS))
System Latency
≤1 ms
Wireless Technology
GigaXtreme Technology
Environmental Requirements
Operating temperature: 0° to 40° C Storage temperature -10 ℃ ~ +55° C Relative humidity: 15 ~ 80% RH
Display Compatibility
TV: 1080p, 1080i,720p, 576p, 480p PC : 1024x768, 1280x1024, 640x480, 800x600
Wall Mountable
Receiver Yes
Remote Control
No
Power Supply
Receiver: 100-240VAC/50-60Hz (Wall Adapter)
Transmitter: USB
Power Output (at 10% THD)
Receiver: 5VDC, 1.5A
Transmitter: 5VDC, 1.5A
Transmitter Dimensions
3.24 x 1.18 x 0.69 inches (LxWxH)
Multiple Transmitters
No
Receiver Dimensions
5.8 x 7.69 x 1.22 inches (LxWxH)
Multiple Receivers
No
Adapter Compatibility
Nyrius does not recommend using Digital to Analog Adapters with our ARIES Products, however HDMI to miniHDMI/microHDMI adapters are compatible
System Requirements
Any laptop or desktop system containing an HDMI port including popular models from these manufacturers: Alienware, Lenovo, Dell, HP, Acer, Apple (Display Port cable not included)
Standard Protocol
HDMI 1.3, HDCP 1.2
Bandwidth
40 MHz
TX/RX Channel
1 RX / 1 TX
Certifications
FCC/ICE, CUL/UL
UPC
871363023865
What's Included
Wireless HDMI Transmitter
Wireless HDMI Receiver
100-240V AC Power Adapter for Receiver
MiniUSB Power Cable for Transmitter
5 ft HDMI Cable
Right Angle Adapter
Quick Start Guide
Instruction Manual
1 Year Warranty
Lifetime Customer Support
Press

Techaeris Reviews the Nyrius Aries Prime Wireless HDMI Transmitter
"From my tests, the Aries Prime Wireless HD Transmitter/Receiver works great. I had no issues with streaming full HD content from my laptop to my LG HDTV, an ASUS HDMI monitor, and even my Epson projector through my AV receiver. There was no lag that I noticed while testing out gaming either – including streaming my Xbox One to my Windows 10 laptop and transmitting the signal through the Aries Prime to a TV."
Read the Full Review

Home Theater Shack Reviews the Nyrius Aries Prime Wireless HDMI Transmitter
"I find the ARIES Prime to be a very good balance of convenience and performance. For anyone in search of a simple solution to a potential wiring nightmare, I can recommend the Nyrius thanks to its ease of use and reliability."
Read the Full Review
Customer Reviews
Brett E.

August 12, 2021

Delaware, United States

Works as advertised! Super easy set-up and no latency whatsoever.

Brett E.

5

MIchael C

June 17, 2021

This product doesn't work unless you have perfect conditions and the transmitter is only a few feet away from the receiver. Don't waste your time with this product.

MIchael C

1

Demartini R

June 1, 2021

got 'em, thanks

Demartini R

5

Kyle T

May 20, 2021

Easy to set up and configure. Includes a handy right angle HDMI adapter which was necessary to plug in the USB power. Tested in a tv less than 6ft away and video and audio were clear, however the signal dropped every 30 seconds or so for less than a second, but it was definitely noticeable. Move the tv across the room (15 ft unobstructed) to where it would be placed and the video showed white dots all over the screens NDA the audio was choppy. Returning for a stronger unit.

Kyle T

1

Amazon Customer

April 25, 2021

Have had this product for a few years now. Has never really worked consistently and it's only about 4 feet apart with no obstructions between to interfere. Sometimes you will get a pretty clear picture but most of the time it's pixelated, interrupted or just flat out not working. Hasn't really been worth the money.

Amazon Customer

2

Tm R

April 8, 2021

Just a completely useless product. Loses connection between the transmitter and receiver each use. Horrible and just a waste of money.

Tm R

1

Geoffrey S

February 25, 2021

I have been trying to cast from my Laptop which is NOT Miracast capable.to my Smart TV , for a long time.. I have tried many adapter which were supposed to work but did not. This item arrived in a couple of days, took less than five minutes to install, works as described. Would recommend this to anyone trying to cast from a Non Miracast capable Laptop to a TV. There are other item out there that may work but they are not HDMI capable.

Geoffrey S

5

Chrispy2021

February 20, 2021

The product worked flawlessly for 3 months and then the receiver would not connect with the transmitter. Tried different remedies. None worked.

Chrispy2021

1

Chun K

February 20, 2021

Great product and worked as promised. "Cut the cord" and enjoying the freedom of a "floating" TV console.

Chun K

4

Tim L

February 15, 2021

Really difficult to set up as my product didn't appear to come paired to it's own receiver. I attempted to plug the transmitter into my Nintendo Switch dock, but the transmitter is very bulky, and frankly, old fashioned which for a product of this price is unacceptable. It refuses to transmit a signal to the receiver unless there is a perfect line of sight, and even then the connection is unstable. It did not work with my Switch, and only occasionally works with a laptop. Would not recommend.

Tim L

1

Robert M

January 31, 2021

Firstly, I am professional film director and cinematographer with experience on major motion pictures and tv. I have extensive experience with wireless audio/video and, respectfully, likely more technical expertise with video equipment that 99.99% of people. That said I was not able to get this to transmit a stable picture for more than a few minutes at a time. I bought this to transmit video from our Facebook Portal TV to our AV receiver to get around the problem of not being able to send video through a one-way fiberoptic HDMI cable from our TV to our AV Receiver. As I said, it's just to get a Facebook Portal to work with and stay in sync with our AV Reciever - we don't need something super high-end for job. We just need it to work with an acceptable and stable picture. Picture was pixelated at best with full blackouts every few minutes, at a distance of approx 10 feet. The only obstructions were our LG OLED TV and an Onkyo AV Receiver. Yes, there was likely interference from a nearby WIFI router and various other electrical equipment, but that is normal stuff to have in the environment in which this should operate flawlessly. It's simply not fit for purpose and I shall be returning it in search of a better option.

Robert M

1

nicholas w

January 12, 2021

Device unpaired and won't repair. No trouble shooting options. No replacement. Now it's just useless junk.

nicholas w

1

Tom K

December 17, 2020

Missouri, United States

Works great and the delivery was super fast ! Thank you !!!

Tom K

5

Zachery N

November 12, 2020

I don't leave reviews often but I have to for this!!! Seller was great! Shipped quickly. Wireless HDMI is exceptional!!! Blew my expectations out of the water. Wasn't sure if it would have lag when I used it for gaming from my PC to my TV but there has been none so far. It was extremely easy to set up. Took only a minute or two and it was up and running. Highly recommend!!!!

Zachery N

5

Joshua S

November 4, 2020

Terrible quality picture

See all reviews

Joshua S

1
Resources
Guides
FAQs
Can I use this with more than one TV or Monitor?

Aries Prime is designed primarily for use with a computer. If you have another monitor connected already, this can be used with the extend feature to act as a wireless second monitor. It can also be used to duplicate the display of that display on another monitor or TV or make your main display wireless.

 Aries Prime does not offer the option of multiple receivers for sending video to multiple displays.


What can I use Aries Prime with?

Aries Prime makes a great same room wireless HD solution. You can send video from sources such as Laptops, PCs and gaming consoles up to 30 feet away, with zero latency!


What is Latency?

Also known as input lag, Nyrius Aries Wireless HD transmitters and receivers are considered Zero Latency. This means if you're using a computer and move your mouse, there is no delay. This makes Aries product great for presentations and gaming!


How does the Aries Prime transmitter get power?

Aries Prime includes a transmitter and receiver. The receiver includes a power adapter to be connected to a wall outlet. To keep your transmitter portable, it's powered by USB from the source device or in some cases an external power pack may be necessary if a USB power connection is not available. The transmitter must be connected to both USB and HDMI to transmit.


Does the transmitter connect to USB or HDMI?

Nyrius Aries Prime requires both a USB and HDMI connection, USB for power and HDMI for video. This allows the transmitter to act as an invisible HDMI cable with no USB drivers required!


Articles from our experts