Specifications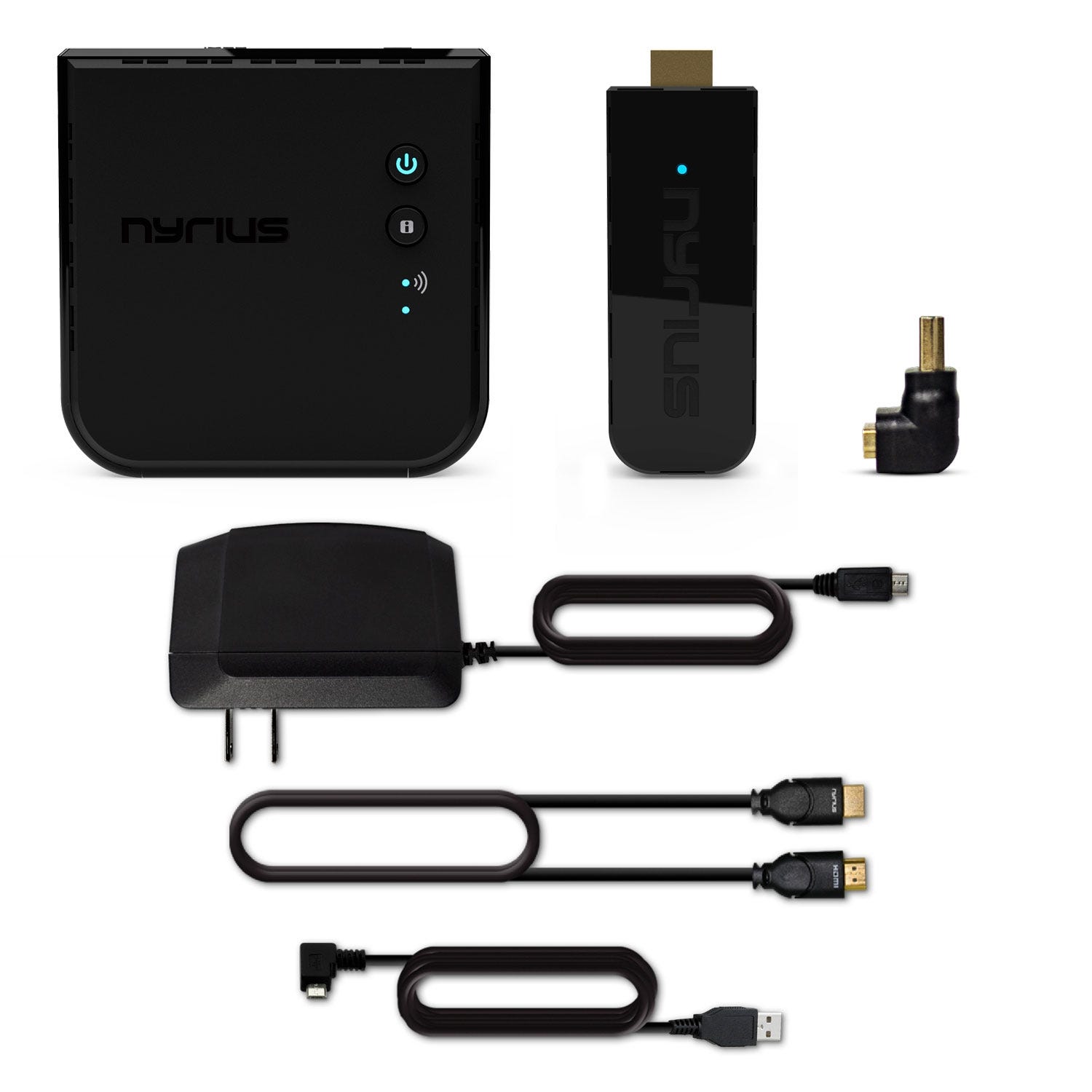 Supported Video Resolution
TV: 1080p, 1080i,720p, 576p, 480p PC : 1024x768, 1280x1024, 640x480, 800x600
3D COMPATIBLE
Yes
Audio Formats Supported
Uncompressed 7.1 PCM , DTS , Dolby Digital Surround Sound
Video Formats Supported
TV: 1080p, 1080i,720p, 576p, 480p PC : 1024x768, 1280x1024, 640x480, 800x600
Ports & Interfaces
HDMI, Mini-USB
Wireless Range
100 ft (streaming line of sight results in maximum range)
Transmission Frequency
Transmission Frequency 4.9~ 5.9GHz with Dynamic Frequency Selecting (DFS)
System Latency
≤1 ms
Wireless Technology
GigaXtreme Technology
Environmental Requirements
Operating temperature: 0° to 40° C, Storage temperature -10 ℃ ~ +55° C, Relative humidity: 15 ~ 80% RH
Source Compatibility
Any laptop or desktop system containing an HDMI port including popular models from these manufacturers: Alienware, Asus, Lenovo, Dell, HP, Acer, Apple (Display Port cable not included)
Display Compatibility
Any high-definition television including 3D TVs containing an HDMI port, including popular models from these manufacturers: Hitachi, JVC, LG, Mitsubishi, NEC, Panasonic, Philips, Pioneer, Samsung, Sony, Sharp, Toshiba, Vizio, Westinghouse
Wall Mountable
YES
Remote Control
No
Power Supply
Receiver: 100-240VAC/50-60Hz (Wall Adapter)
Transmitter: USB
Power Output (at 10% THD)
Receiver: 5VDC, 2A
Transmitter: 5VDC, 1A
Transmitter Dimensions
3.4 x 1.3 inches
Multiple Transmitters
No
Receiver Dimensions
3.7 x 3.8 x 1.1 inches
Multiple Receivers
No
Adapter Compatibility
Nyrius does not recommend using Digital to Analog Adapters with our ARIES Products, however HDMI to miniHDMI/microHDMI adapters are compatible
System Requirements
Any laptop or desktop system containing an HDMI port including popular models from these manufacturers: Alienware, Asus, Lenovo, Dell, HP, Acer, Apple (Display Port cable not included)
Bandwidth
40Mhz
TX/RX Channel
1 RX / 1 TX
Certifications
FCC Certified, CUL/UL
UPC
871363021793
What's Included
Digital Wireless HD Transmitter
Digital Wireless HD Receiver
1x 100-240V AC Power Adapter
5ft. HDMI Cable
1x USB Power Cable
Right Angle Adapter
2x Screws/Screw Anchors
Quick Start Guide
Lifetime Customer Support
1 Year Manufacturer's Warranty
Press

Unbox Therapy Reviews The Aries Pro with the Nintendo Switch
"It's the real deal, it's magical"
Watch Full Video
Customer Reviews
Frank B

May 18, 2020

Arizona, United States

Easy set up for Aries Pro. All components in box, nothing missing. Setup with bluray player as transmitter and works great at 1080p. Takes a few minutes at boot up but runs perfect after that! Transmitter and receiver gets hot but that is normal. Overall i recommend.

Frank B

5

Brad S

January 31, 2020

Vermont, United States

Terrible product.Poor transmigration and reception, terrible latency. Definitely sends poor signal and what use interface there is is silly. You may as well just burn your money cause this is worthless.

Tried calling the company and waited 30 minutes on hold for a customer service tech that sounded high and could not help me at all.



Brad S

1

Sheila E.

December 8, 2019

Washington, United States

Easy setup, works right out of the box.
We measured about 100ms of latency (1/10 second).
We are using this in our church with a 50ft line-of-sight to the receiver and a 50ft HDMI cable from the receiver to a projector. This creates a "teleprompter" screen for the presenter to read his notes from his laptop or from the projector screen in the back.

Sheila E.

5

Ray

September 8, 2019

California, United States

It doesn't have delay when it works, but most of the time signal was lost or flicker even on 2ft away. It's not reliable product.

Ray

1

Matt A

August 19, 2019

I'm loving this thing! Using it for a roaming digital camera being streamed to a screen on stage. It's working great. Very pleased.

Matt A

5

Howard L

August 12, 2019

Worked right away on devices that I could not get to work with other HDMI wireless transmitters. However, the range is far less than 100' even with a uninterrupted line of site.

Howard L

4

Romeo

August 11, 2019

Liked the function with great connection

Romeo

5

Affordable N

August 9, 2019

No attic space in my house, so I couldn't drop any line to the other side of my living room. Bought this device to wirelessly connect my devices to my wall mounted tv on the other side of the room. I've tried other devices like this and been very disappointed. This one on the other hand, I can't say enough how awesome it is. Other devices worked well with tv video, but failed when it came to response time with video games. This one on the other hand works flawlessly. 0 lag, that's a big claim. Yet, it literally has ZERO lag. Well worth the price tag in my opinion.

Affordable N

5

Alimamy T

July 30, 2019

I used it for church program, to transmit from video camera to video mixer during live broadcast. Be careful, not every charger can power the transmitter

Alimamy T

5

nat

July 29, 2019

good pic

nat

5

Jonathan

July 19, 2019

Using this to create a simple client monitor for our video shoots. Works perfectly

Jonathan

5

Brian

July 16, 2019

It is hit or miss with connecting!

Brian

2

Amazon Customer

July 9, 2019

I like it works great, I can watch movies from my Laptop wireless, not having to mess with long HDMI cable, one of the best investments I've made in long time, easy to set up light weight, easy to transport in your computer bag.

Amazon Customer

5

Scott

June 29, 2019

I have this hooked up 24x7 in an operating room for transmitting video from an Ophthalmology camera to a TV across the room (35~50 feet) and it works flawlessly, and the staff love it. I have the receiver strapped behind the TV plugged into the wall, and the provided USB cable powers the smaller transmitter from a USB port on my surgical camera. Love it!

Scott

5

josh p

June 4, 2019

bought this for a conference room. reliability is so sketchy that no one bothers to use it.

See all reviews

josh p

1
Resources
Manual
Guides
FAQs
What can I use Aries Pro with? ▼

Aries Pro makes a fantastic wireless HD solution. You can send video from sources such as Laptops, PCs and gaming consoles up to 100 feet away, with zero latency!


What is Latency? ▼

Also known as input lag, Nyrius Aries Wireless HD transmitters and receivers are considered Zero Latency. This means if you're using a computer and move your mouse, there is no delay. This makes Aries product great for presentations and gaming!


How does the Aries Pro transmitter get power? ▼

Aries Pro includes a transmitter and receiver. The receiver includes a power adapter to be connected to a wall outlet. To keep your transmitter portable, it's powered by USB from the source device or in some cases an external power pack may be necessary if a USB power connection is not available. The transmitter must be connected to both USB and HDMI to transmit.


Does the transmitter connect to USB or HDMI? ▼

Nyrius Aries Pro requires both a USB and HDMI connection, USB for power and HDMI for video. This allows the transmitter to act as an invisible HDMI cable with no USB drivers required!


Can I use this with more than one TV or Monitor? ▼

Aries Pro is designed primarily for use with a computer. If you have another monitor connected already, this can be used with the extend feature to act as a wireless second monitor. It can also be used to duplicate the display of that display on another monitor or TV or make your main display wireless.

 Aries Pro does not offer the option of multiple receivers for sending video to multiple displays.


Articles from our experts