Specifications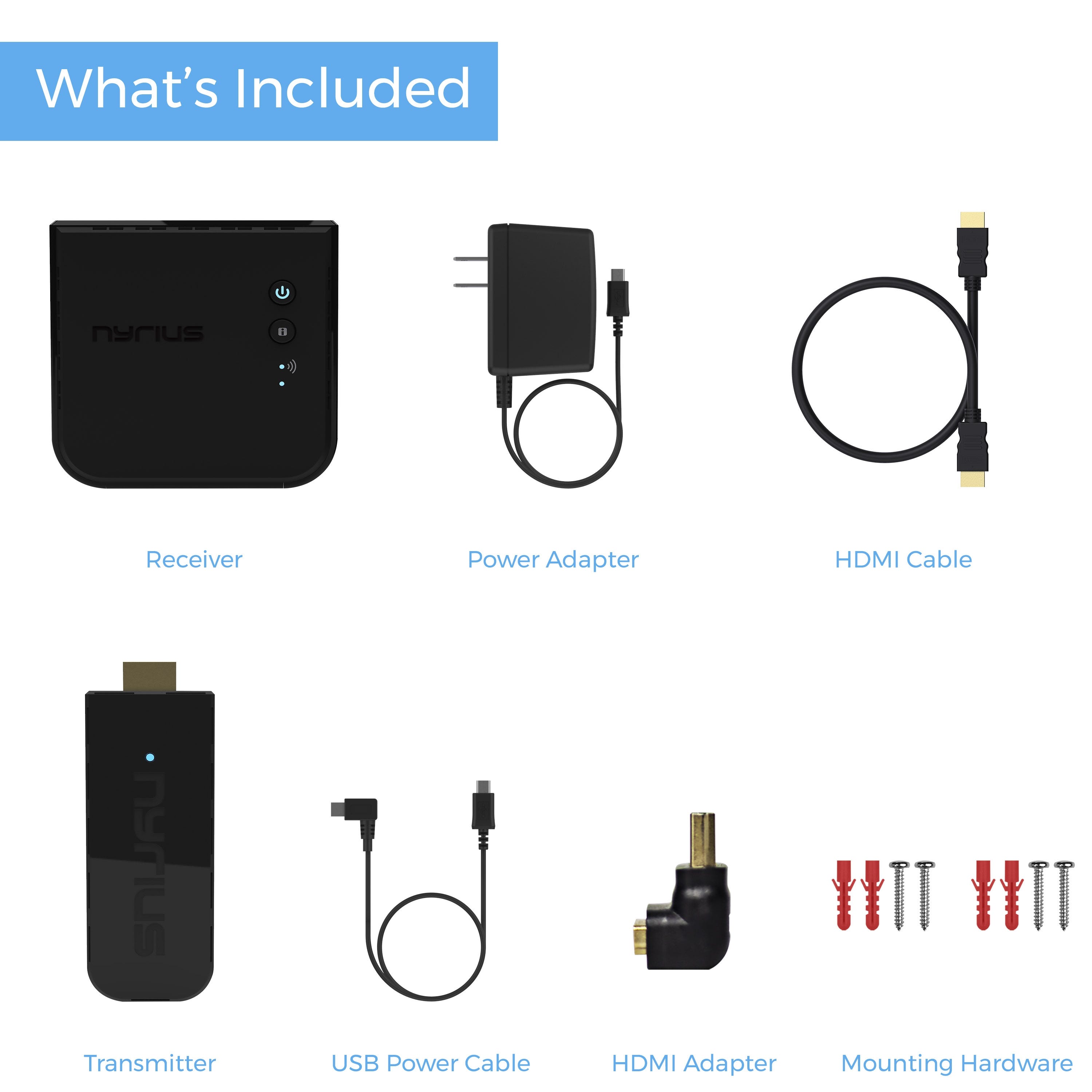 Supported Video Resolution
TV: 1080p, 1080i,720p, 576p, 480p PC : 1024x768, 1280x1024, 640x480, 800x600
3D COMPATIBLE
Yes
Audio Formats Supported
Uncompressed 7.1 PCM , DTS , Dolby Digital Surround Sound
Video Formats Supported
TV: 1080p, 1080i,720p, 576p, 480p PC : 1024x768, 1280x1024, 640x480, 800x600
Ports & Interfaces
HDMI, Mini-USB
Wireless Range
100 ft (streaming line of sight results in maximum range)
Transmission Frequency
Transmission Frequency 4.9~ 5.9GHz with Dynamic Frequency Selecting (DFS)
System Latency
≤1 ms
Wireless Technology
GigaXtreme Technology
Environmental Requirements
Operating temperature: 0° to 40° C, Storage temperature -10 ℃ ~ +55° C, Relative humidity: 15 ~ 80% RH
Source Compatibility
Any laptop or desktop system containing an HDMI port including popular models from these manufacturers: Alienware, Asus, Lenovo, Dell, HP, Acer, Apple (Display Port cable not included)
Display Compatibility
Any high-definition television including 3D TVs containing an HDMI port, including popular models from these manufacturers: Hitachi, JVC, LG, Mitsubishi, NEC, Panasonic, Philips, Pioneer, Samsung, Sony, Sharp, Toshiba, Vizio, Westinghouse
Wall Mountable
YES
Remote Control
No
Power Supply
Receiver: 100-240VAC/50-60Hz (Wall Adapter)
Transmitter: USB
Power Output (at 10% THD)
Receiver: 5VDC, 2A
Transmitter: 5VDC, 1A
Transmitter Dimensions
3.4 x 1.3 inches
Multiple Transmitters
No
Receiver Dimensions
3.7 x 3.8 x 1.1 inches
Multiple Receivers
No
Adapter Compatibility
Nyrius does not recommend using Digital to Analog Adapters with our ARIES Products, however HDMI to miniHDMI/microHDMI adapters are compatible
System Requirements
Any laptop or desktop system containing an HDMI port including popular models from these manufacturers: Alienware, Asus, Lenovo, Dell, HP, Acer, Apple (Display Port cable not included)
Bandwidth
40Mhz
TX/RX Channel
1 RX / 1 TX
Certifications
FCC Certified, CUL/UL
UPC
871363021793
What's Included
Digital Wireless HD Transmitter
Digital Wireless HD Receiver
1x 100-240V AC Power Adapter
5ft. HDMI Cable
1x USB Power Cable
Right Angle Adapter
2x Screws/Screw Anchors
Quick Start Guide
Lifetime Customer Support
1 Year Manufacturer's Warranty
Press

Unbox Therapy Reviews The Aries Pro with the Nintendo Switch
"It's the real deal, it's magical"
Watch Full Video
Customer Reviews
Anthony H

July 12, 2021

Works great with any buffering

Anthony H

5

Dc

June 28, 2021

Great

Dc

5

Tracy B

June 10, 2021

Product lasted one year then just quit working for no reason. It was kept in a controlled environment.

Tracy B

1

Reginald H

June 6, 2021

About a week after getting the Nyrius Aries Pro, it broke.I tried to get customer support but e-mail support took more than 24 hours for each e-mail.Amazon finally had to return the product for Nyrius.I then bought the IOGEAR GWHD11, which looks like it actually uses the same Firmware as the Nyrius Aries Pro.The new product has worked, so I have nothing more to add at this time.

Reginald H

1

Jose E

June 1, 2021

Is amazing for wireless signals to eliminate cables to my projector, no lag, no signal loss. I use it for the tv signal and bluray using a HDMI switch and for 4k UHD I use directly to my projector a fire tv 4k UHD at his port 2 Optoma UHZ65.Sincerily are amazing item.

Jose E

5

Carol M

May 28, 2021

Bought in 2019 - it really worked well. However it died after about 16 months, so product life is not so great. Looking once again for a replacement that will hopefully last longer.

Carol M

2

Amazon Customer

March 21, 2021

Worked great at first but now won't work after only owning 5 months.

Amazon Customer

1

Matthew A

February 20, 2021

I bought this and paid the higher price for the reliability of zero latency wireless HDMI. I was not disappointed. We use two PTZ cameras each with wireless HDMI transmitters and they each work perfectly together with zero latency. We are using a Blackmagic ATEM Mini and vMix and live-streamed Sunday worship service with no issues. The one thing I learned during setup is make sure you keep the receivers at least 4 feet apart, or you will probably get interference. Very satisfied with this product.

Matthew A

5

Steve

December 18, 2020

This is a second Nyrius device for us, to replace our previous device. Because the Nyrius Aries Pro Wireless HDMI Transmitter and Receiver to Stream HD 1080p 3D was still the more highly rated and recommended device, we went with it again. Set up was easy and quick, and the picture is great. Tech support in the past was good. The device has no remote control, works wirelessly, so rated that high because of the very good picture.

Steve

5

mike m

November 23, 2020

I have purchased 5 of these for various departments conference rooms to display content on a tv on a cart. We love the quality of the picture and lack of lag that I have seen with other wireless gateways.

mike m

5

Amazon Customer

November 20, 2020

Delivered on time and in good condition. Works as described. Can receive tv signals wirelessly from my living room tv to my bedroom which is about 45 feet away. Saved me the trouble of running HDMI cables around the house.

Amazon Customer

4

Amazon Customer

November 18, 2020

Great solution to have in my conference room. Works great!

Amazon Customer

5

Amazon Customer

November 5, 2020

Used this device on my Xbox. It is about 8 feet from the TV. It worked great the first couple of times, but has become so bad now I have to do without. It loses connection about every 20 seconds and the entire screen will go black until it reconnects. Device gets extemely hot. It really is an awful piece of equipment. If it is going to be disigned properly and cost $200, why so many 1 star reviews with the same problem??

Amazon Customer

1

Darrell m

October 18, 2020

Bought this and am very happy with it. Almost 0 latency. I have no complaints, you plug it up and it pops up on screen a second later. Nice tech. Highly recommend

Darrell m

5

Daniel W

October 13, 2020

Severe pixelation at 10 feet with clear line of sight. Much better products out there.

See all reviews

Daniel W

1
Resources
Manual
Guides
FAQs
What can I use Aries Pro with?

Aries Pro makes a fantastic wireless HD solution. You can send video from sources such as Laptops, PCs and gaming consoles up to 100 feet away, with zero latency!


What is Latency?

Also known as input lag, Nyrius Aries Wireless HD transmitters and receivers are considered Zero Latency. This means if you're using a computer and move your mouse, there is no delay. This makes Aries product great for presentations and gaming!


How does the Aries Pro transmitter get power?

Aries Pro includes a transmitter and receiver. The receiver includes a power adapter to be connected to a wall outlet. To keep your transmitter portable, it's powered by USB from the source device or in some cases an external power pack may be necessary if a USB power connection is not available. The transmitter must be connected to both USB and HDMI to transmit.


Does the transmitter connect to USB or HDMI?

Nyrius Aries Pro requires both a USB and HDMI connection, USB for power and HDMI for video. This allows the transmitter to act as an invisible HDMI cable with no USB drivers required!


Can I use this with more than one TV or Monitor?

Aries Pro is designed primarily for use with a computer. If you have another monitor connected already, this can be used with the extend feature to act as a wireless second monitor. It can also be used to duplicate the display of that display on another monitor or TV or make your main display wireless.

 Aries Pro does not offer the option of multiple receivers for sending video to multiple displays.


Articles from our experts