Specifications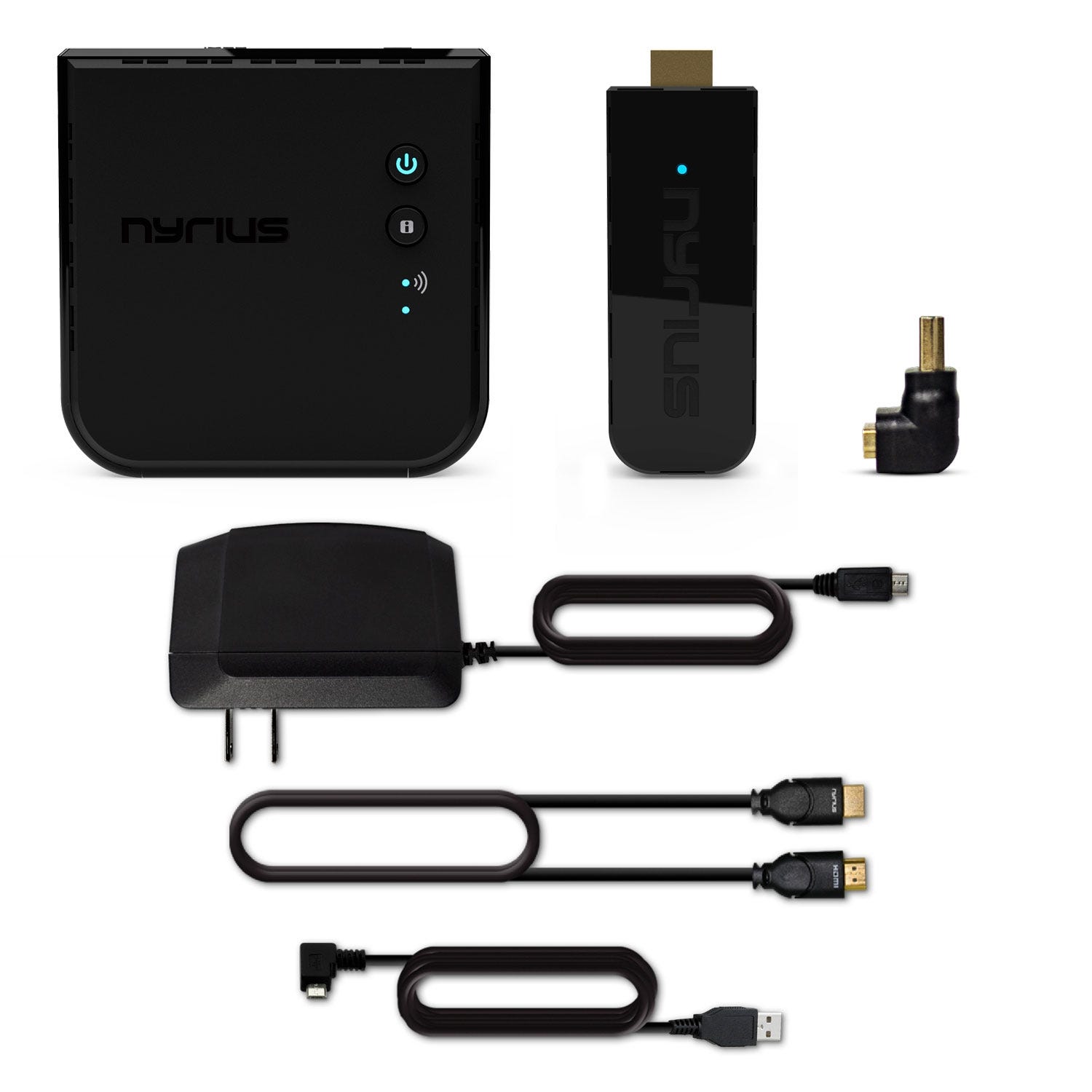 Supported Video Resolution
TV: 1080p, 1080i,720p, 576p, 480p PC : 1024x768, 1280x1024, 640x480, 800x600
3D COMPATIBLE
Yes
Audio Formats Supported
Uncompressed 7.1 PCM , DTS , Dolby Digital Surround Sound
Video Formats Supported
TV: 1080p, 1080i,720p, 576p, 480p PC : 1024x768, 1280x1024, 640x480, 800x600
Ports & Interfaces
HDMI, Mini-USB
Wireless Range
100 ft (streaming line of sight results in maximum range)
Transmission Frequency
Transmission Frequency 4.9~ 5.9GHz with Dynamic Frequency Selecting (DFS)
System Latency
≤1 ms
Wireless Technology
GigaXtreme Technology
Environmental Requirements
Operating temperature: 0° to 40° C, Storage temperature -10 ℃ ~ +55° C, Relative humidity: 15 ~ 80% RH
Source Compatibility
Any laptop or desktop system containing an HDMI port including popular models from these manufacturers: Alienware, Asus, Lenovo, Dell, HP, Acer, Apple (Display Port cable not included)
Display Compatibility
Any high-definition television including 3D TVs containing an HDMI port, including popular models from these manufacturers: Hitachi, JVC, LG, Mitsubishi, NEC, Panasonic, Philips, Pioneer, Samsung, Sony, Sharp, Toshiba, Vizio, Westinghouse
Wall Mountable
YES
Remote Control
No
Power Supply
Receiver: 100-240VAC/50-60Hz (Wall Adapter)
Transmitter: USB
Power Output (at 10% THD)
Receiver: 5VDC, 2A
Transmitter: 5VDC, 1A
Transmitter Dimensions
3.4 x 1.3 inches
Multiple Transmitters
No
Receiver Dimensions
3.7 x 3.8 x 1.1 inches
Multiple Receivers
No
Adapter Compatibility
Nyrius does not recommend using Digital to Analog Adapters with our ARIES Products, however HDMI to miniHDMI/microHDMI adapters are compatible
System Requirements
Any laptop or desktop system containing an HDMI port including popular models from these manufacturers: Alienware, Asus, Lenovo, Dell, HP, Acer, Apple (Display Port cable not included)
Bandwidth
40Mhz
TX/RX Channel
1 RX / 1 TX
Certifications
FCC Certified, CUL/UL
UPC
871363021793
What's Included
Digital Wireless HD Transmitter
Digital Wireless HD Receiver
1x 100-240V AC Power Adapter
5ft. HDMI Cable
1x USB Power Cable
Right Angle Adapter
2x Screws/Screw Anchors
Quick Start Guide
Lifetime Customer Support
1 Year Manufacturer's Warranty
Press

Unbox Therapy Reviews The Aries Pro with the Nintendo Switch
"It's the real deal, it's magical"
Watch Full Video
Customer Reviews
rodger k

October 2, 2020

Texas, United States

works well just not as long as I believe it should but then that's just my thoughts. I am on my 3rd purchase of this type unit. first two worked great for about 2 years each then they just stopped working and had to be replaced. Must be worth my money as I said above, my 3rd one:) Gets very hot as it ages

rodger k

4

Ellen M

August 3, 2020

Information on said it would go through a wall. It would not go through a wall for another TV 50 feet away.

Ellen M

1

Richard O

July 29, 2020

something that people who are tired of squinting at computer screens have been needing for a long time

Richard O

5

J. K

July 26, 2020

This thing seems to overheat very easily and has trouble keeping a stable connection at higher resolutions. Not stable enough to use consistently on my VR setup.

J. K

2

Pipe J

July 24, 2020

since I bought this product it has never worked well and now it doesn't even turn on

Pipe J

1

Birad P

July 13, 2020

I had the non-plus version and it worked well for about 2 years and then the dongle and receiver wouldn't connect. This one worked for about a week and the same issue happened. I am returning it for this very reason. It was picture quality when it worked, but this is the second time it has happened.

Birad P

2

Amazon Customer

July 3, 2020

This is a really great product!! I can't seem to put it down, I use it with Sony A6400 and a gimbal for events. Very reliable

Amazon Customer

5

JJ

July 3, 2020

Great product. Defentify recommend it

JJ

5

ctm

June 24, 2020

We've had a bit of a challenge getting it to link up each time. It seems to take a bit of fiddling. However, once it connects, the picture quality and response time is very good.

ctm

4

Rev. E

June 17, 2020

Pros: Wireless, Great images from HP desktop to 2 projectors using an HDMI Splitter. Win10 compatible.Cons: Signal capability seem to be challenged at a distance of 35 ft. when online. (YouTube streaming for example.) Not as advertised. In fairness, it could be due to local interference, or even the AT&T account? Hard to say.

Rev. E

4

Amazon Customer

June 13, 2020

I was shocked to see the quality of the wireless stream when we set this up. It was very easy to set up and so far works just as advertised! I purchased this for our church stream and am thinking of how I can utilize this product at home as well.

Amazon Customer

5

Birgit W

May 26, 2020

This product would blank out for about 10 seconds every time we turned it on, and also every time we put on a new show or movie. I could never figure out how it knew we were streaming a new event. The technical help didn't understand why this would happen. We bought another product that worked much better.

Birgit W

1

Frank B

May 18, 2020

Arizona, United States

Easy set up for Aries Pro. All components in box, nothing missing. Setup with bluray player as transmitter and works great at 1080p. Takes a few minutes at boot up but runs perfect after that! Transmitter and receiver gets hot but that is normal. Overall i recommend.

Frank B

5

Amazon Customer

May 14, 2020

Easy set up for Aries Pro. All components in box, nothing missing. Setup with bluray player as transmitter and works great at 1080p. Takes a few minutes at boot up but runs perfect after that! Transmitter and receiver gets hot but that is normal. Overall i recommend.

Amazon Customer

5

Javier

April 22, 2020

I ran several test with this unit. I connected my laptop (via USB / HDMI) and the transmitter. The far end was a simple 27" monitor with the receiver / USB power adapter. The results were amazing. Set up was very simple, I literally turn them on and they paired on their own at 1080P. I tested streaming a show from my laptop and gradually started walking out of the room with the monitor in clear site. I was able to walk out away from the receiver about 120' before signal was interrupted. This was more than enough range for me as I installed the units in a room that is only 30' wide X 35' length. I ran a audio synch test from my laptop to visually compare audio latency and there was virtually ZERO lag. Quite impressive! I ended up installing the transmitter inside of a wooden cradenza on an Stereo receiver and installed the receiver on a ceiling projector. The results were amazing. I would def purchase again.

See all reviews

Javier

5
Resources
Manual
Guides
FAQs
What can I use Aries Pro with?

Aries Pro makes a fantastic wireless HD solution. You can send video from sources such as Laptops, PCs and gaming consoles up to 100 feet away, with zero latency!


What is Latency?

Also known as input lag, Nyrius Aries Wireless HD transmitters and receivers are considered Zero Latency. This means if you're using a computer and move your mouse, there is no delay. This makes Aries product great for presentations and gaming!


How does the Aries Pro transmitter get power?

Aries Pro includes a transmitter and receiver. The receiver includes a power adapter to be connected to a wall outlet. To keep your transmitter portable, it's powered by USB from the source device or in some cases an external power pack may be necessary if a USB power connection is not available. The transmitter must be connected to both USB and HDMI to transmit.


Does the transmitter connect to USB or HDMI?

Nyrius Aries Pro requires both a USB and HDMI connection, USB for power and HDMI for video. This allows the transmitter to act as an invisible HDMI cable with no USB drivers required!


Can I use this with more than one TV or Monitor?

Aries Pro is designed primarily for use with a computer. If you have another monitor connected already, this can be used with the extend feature to act as a wireless second monitor. It can also be used to duplicate the display of that display on another monitor or TV or make your main display wireless.

 Aries Pro does not offer the option of multiple receivers for sending video to multiple displays.


Articles from our experts