Overview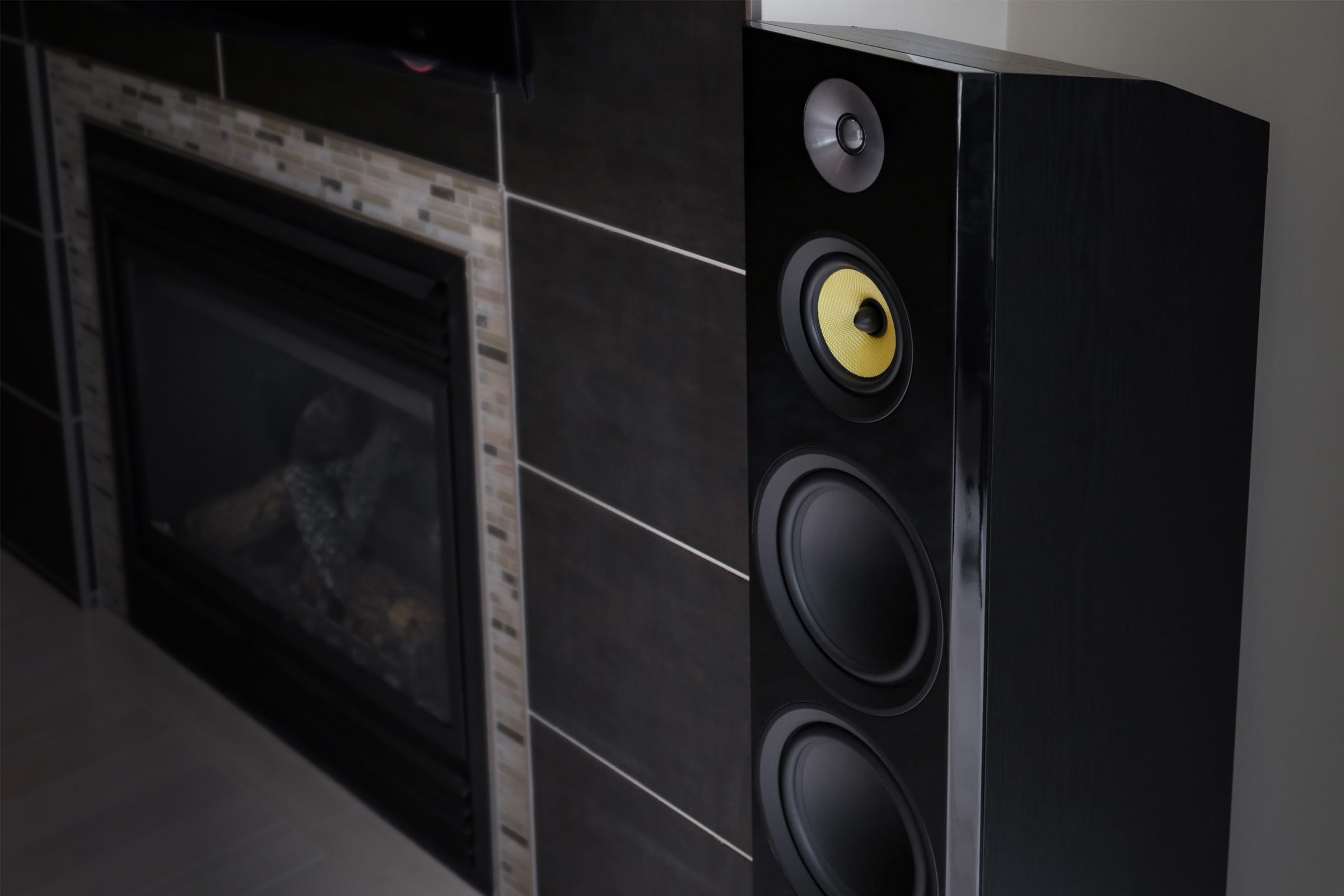 Premium Features
Mastering precision and sonic accuracy, the Signature Series uses only premium components that ensure high fidelity sound transporting the concert into your living room
Powerful dual 8" woofers provide optimal linear movement resulting in a low frequency bass performance that is clean, deep and controlled
Ultra high-end Neodymium tweeters produce high frequencies with captivating clarity
Unique midrange pointed dome allows sound waves to travel directly from the center of the woven glass fiber cone for an enhanced soundstage so every song is indistinguishable from the original recording
Acoustically inert, the cabinets are precision crafted with engineered MDF wood to create a warm, distortion-free sound
A solid 1.4" thick front baffle bears chamfered edges to significantly decrease sound diffraction
Signature Series Hi-Fi Floorstanding Speakers
Open your mind to the possibility of a truly pure listening experience. The Fluance Signature Series Hi-Fi Floorstanding Speakers will transport the concert into your living room. Not for the faint of heart, these speakers can outperform the band themselves. Symmetry, precision and sonic accuracy, the Signature Series produces such defined sound you will feel as if the artist was playing in front of you.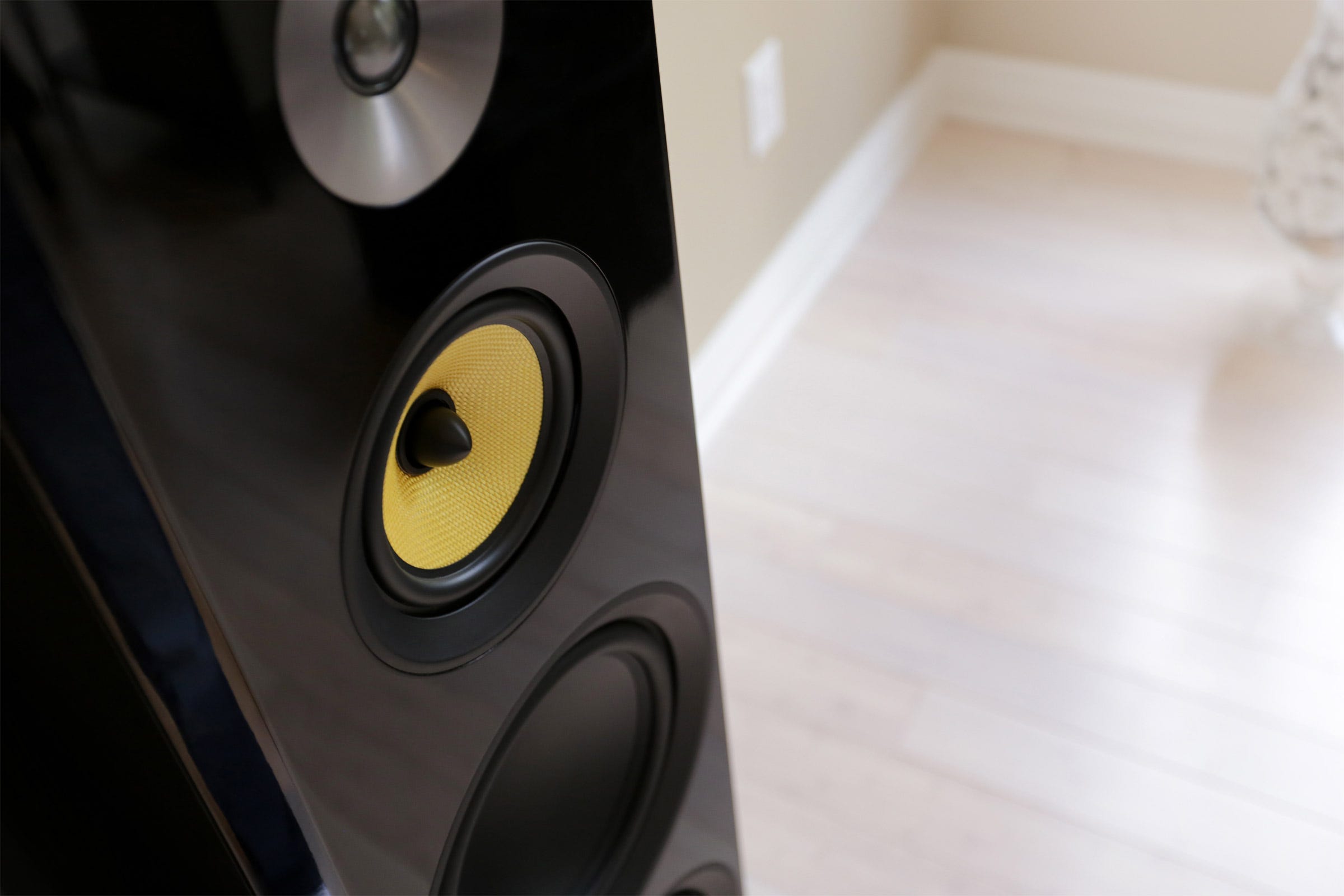 Focus on Sound Excellence
They are authoritative, they are powerful, they are one of a kind. The Signature Series High Fidelity Speakers are a powerhouse in home audio. From the 8" woofers, to the ultra-high end tweeters, to the premium midrange drivers, these speakers are the result of years of meticulous engineering and evaluation. With a focus on sound excellence, every detail has been measured, tested, and perfected to recreate even the finest audio details with crystal clear accuracy.

Woofers that Reproduce Concert Inspired Bass
The Signature Series speakers take the status quo and throw it out the window. Powerful dual 8" woofers ensure the low frequencies are met in every demand. From the lowest, deepest bass beats to the wildest explosions, you will experience every rumble. Lows kick in at 35Hz and hold their own throughout. The long throw woofers' massive bass extension produce deep, clear, undistorted bass performances that will leave you breathless.

Midrange that Accentuates the Vocals
The Signature Series midrange driver was woven with light weight yet rigid glass fiber for optimal linear movement to handle even the highest volume levels and still ensure sonic precision and clarity. The unique pointed dome allows sound waves to travel directly from the center of the cone for an enhanced soundstage. This guarantees every song is indistinguishable from the original recording.

Tweeters that Reproduce the High Notes Perfectly
The Signature Series ultra-high end Neodymium tweeters produce high frequencies with captivating clarity and spacious imaging. Controlled, smooth and never too aggressive, these tweeters will deliver the music's finest details.

Serious Cabinet Engineering
When developing the Signature Series cabinets, Fluance set out to create something that would not compromise on sound quality. Not just for looks, acoustically inert, the cabinets are precision crafted with engineered MDF wood to create a warm, distortion-free sound. The tapered cabinet design reduces standing waves eliminating unwanted cabinet resonance. The cabinet is composed of separate internal enclosures keeping sound waves isolated to eliminate any acoustic interference. A solid 1.4" thick front baffle bears chamfered edges to significantly decrease sound diffraction. The polished piano black and rich woodgrain finish adds elegance to the power that is Fluance. Every fine detail has been engineered for one purpose, superb audio reproduction.

OUTRIGGER SPEAKER STABILIZERS
Outriggers with sound-isolation floor spikes not only create a commanding stance, but functionally eliminate floor reverberation and distortion.
Pro Reviews
CNET Review of the Fluance Signature Series Tower Speakers
"Where the Fluance shone, though, was in intelligibility and open-ness. Big songs sounded even bigger, and male voices sounded especially expressive and natural. And this helped every type of music we played though these speakers."
Read the Full Review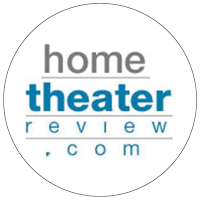 Home Theater Review.com Reviews the Fluance Signature Series Tower Speakers
"I liked the HFF's ability to create a natural, compelling sense of space."
Read the Full Review

Audioholics Review of the Signature Series Tower Speakers
"The Signature Towers deserves special consideration from a range of people: those who want good bass but do not want a subwoofer, those who want a speaker that will sound great for a home theater system that has to share the living room and thus has to look reasonably nice, those who want a party speaker that should look good and cover a broad area with good sound, and those who have a large room and a modest budget."
Read the Full Review
Customer Reviews
Wayne ND

December 10, 2018

Ontario, Canada

Awesome sound for the price range. Bass is deep and balance, midrange is quite clear and trebe is not that bad. I measured the sound across the frequency spectrum and Bass will roll off +- 3dB below 40KHz range (if you have the sub make sure set the sub at @40Hz . As the rule of thumb for me, always set the cutoff freq at the roll off point of the speakers). Trebe will be flat close to 18KHz. Fluance spec showing 35Hz - 20KHz but in reality for flat response I measured 40Hz - 18KHz. Stereo image is very good, I can hear the instruments very clear at different location. Anyway for the price versus performance and sound, I had not seen any manufactures on the market beat these speakers. They look very good too

kevin c

May 4, 2018

It's easy to look past a product because it isn't a household brand name. Where I live no one seems to know brands other than Bose JBL Infinity etc. To put it in perspective I was able to get a full KEF surround sound set (center dipole surrounds front towers) for $400 because nobody around here knew how great a brand KEF is and the owner never got any offers. The seller had paid over $2500 for them new!

So when I had a little money burning a hole in my pocket earlier this year I took a chance on these beasts because I felt like trying something new and the reviews have been very positive. I have been quite pleased with the Fluance Signatures. Anyone having doubts just remember that Fluance will pay to cover return shipping for 30 days. You essentially get a free audition in your home!

It's great that they are bi-ampable; I was able to loop a CD for several hours per day with just the woofers connected to break them in. That paid off beautifully. The bass is very tight and not boomy at all. Even though the specs call for 90-200 watts I have only used a 75WPC Denon receiver and that is enough to shake all the walls in the house. I'm a firm believer in 'no replacement for displacement' so I would not have even bought these if they had only possessed a single 8' woofer. But those dual 8's... impressive! My KEF towers have dual 6.5's and you can hear the bass detail but not feel its presence. A/B testing against the Fluance was a great experience.

The mids and highs are articulated by a kevlar midrange and a soft done tweeter and they are accurate and never fatiguing even at high volume. These are great speakers for female voice jazz and any other music with a certain smoothness to it. But they will also rock when you need them to.

You don't really *need* a sub with these but at lower volumes you won't feel the subtle rumble of bass notes. For all their presence when cranked they are still 8' bass drivers and you can't change physics. Some amps and processors have low-volume bass compensation though so that's a consideration if you possess such equipment. I would suggest getting them broken in over a week or two and then evaluate the bass presence before rushing to pair them with a subwoofer.

The cabinets are solid and beautiful (and HEAVY). I regret not getting the walnut finish though. Glossy black is beautiful but 4 foot tall black speakers have zero 'wife acceptance factor.' They will never take up home in my living room no matter how much I plead. Oh how I miss the 1990's when this was the norm!

I'm not going to deduct points for the slightly annoying connection terminals because once you have the wires connected it's done and you don't worry about it again. But I strongly recommend banana plugs. Amazon sells speaker wire premade with banana plugs and it's not expensive.

In summary no these aren't the best speakers in the world. They aren't perfect and my 5-stars are taking into consideration the price point. For $700 with a completely risk-free 30 days you will have a VERY hard time finding a better deal! - Verified Store

Amazon Customer

February 15, 2018

Well packaged and arrived in good shape. Installed the floor stands very easy and hooked them up. Sound is outstanding! Sound stage presence is as advertised. Mine are about 5 feet apart 4 feet from a side wall and 1 foot from back wall. Music sounds like it's coming from beyond back wall. - Verified Store

Amazon Customer

February 12, 2018

I was a little surprised at the low cost and the great performance theses speakers can attain . To all audiophile consumers best bang for the buck. I have had friends over the listen to these speaker and they always say did those speaker cost a couple grand
and I will tell them $700 00... running theses speakers on a Yamaha 3070 9 2 surround sound LG Dolby Atmos sound bar and 2 subs and in my opinion this sounds better than a movie theater. - Verified Store

Eli

February 4, 2018

Not sure everyone is aware but if you bought the Fluance Signature tower before July 2017 you may have a defective crossover. As posted on the AVS forum about 6 months ago a reviewer found a cross over defect causing inappriate midrange freq and Fluance will correct the defect but only of buyer contact them. Apparently the entire first 6 months or so of shipments went out with this defect
I don't own these speaker but have heard them...likely the defective speaker and it was not very good. - Verified Store

Carlo

November 15, 2017

Ontario, Canada

I just started to set up a home entertainment/theater in my new house. I have been researching speakers for almost three months now. i used to have a Bose Cinemate...well actually i still have it...it was just relocated to the bedroom. Anyway, I just chanced upon Fluance from a youtube reviewer. Aside from the lifetime warranty and great reviews of its other speakers...What caught my attention was it is a Canadian Company. So one morning I just set up an acct and ordered these speakers. After two days of waiting...it arrived and my home entertainment/theater set up has begun. It's almost a month now since that time. And I'm still grinning from ear to ear every time i watch a movie or watch sports on tv. coz i can't believe how great these speakers sound. I don't even have a subwoofer yet and i still think i am not missing anything. I would say this purchase is one of the best i have made. My wife didn't even say a word when she first saw it. (Is this a good or a bad thing?) lol...Next up would probably be a center and/or a subwoofer and the surrounds.

L. A

September 27, 2017

Avoid these speakers completely. First off, these speakers sound great. Really impressed with how smooth they sound and the bass response is excellent. However, if you run these w/o a subwoofer and play movies with bass, apparently Fluance says you must have AT LEAST 180w running to each tower. I have a 100wpc Onkyo TX-NR656 and was told by the Fluance rep that these speakers are not compatible with a 100wpc receiver, despite their rated power handling of 90-200 watts. What I get with movies is the bass has the woofers make loud popping noises. Here is a quote from the chat I had with the Fluance rep, Whitney.Whitney (9/27/2017, 2:50:24 PM): Please keep in mind these towers require upwards of 200 watts per channel, although you'll get sound out of them at 100w, it's not technically sufficient and not suggested for the towers to be run on anything lower than 180wMe (9/27/2017, 2:51:50 PM): Well that would exclude about 90% of all receivers. Hardly any receivers put out 180w per channel other than ones that are very high end.Me (9/27/2017, 2:52:28 PM): So you are saying they aren't compatible with a 100w receiver?Whitney (9/27/2017, 2:53:17 PM): Regrettably noI don't know of any receiver that outputs 180wpc in surround mode, let alone with 2 channels driven. So according to Whitney, the Fluance rep, they are lying about the power handling rating and you really need 180w per channel. Completely disappointed in Fluance and will be sure to never let anybody I know buy their products. - Verified Store

Robert L

September 9, 2017

I was looking for some Floor Standing speakers to replace the surrounds that I have had since the late 1990's (AR's). In those days I was living in a condo and did not need the power. When I built my home in 2004 I used one of the bedrooms as a home theater with a projector and some in wall speakers provided by the builder. I like to keep a separate audio sound system just to listen to my lp's and cd collection. This setup was in my finished basement. I used my Bang and Olufsen (6500 series from mid 2000's) and Bose 901 (mid 2000's) speakers in my audio setup along with the AR surround speakers and sub woofer. The Pioneer Receiver that I bought had a 6 - speaker stereo option which when set up like a surround sound system, as far as placement is concerned, played back audio through all of the speakers. So each speakers best qualities is what you would here prominently. With that setup the B&O's and the Bose dominated the AR's, with the Bose spreading the music through reflection off the walls and the B&O firing the sounds straight at you. Great midrange and brilliant high's. The AR's produced those extra midrange sounds that the setup pushed to them. They were quite small so I decided to replace them with some large floor standing speakers. Thanks to all the reviews from verified purchasers I chose these. I read the reviews from those that had problems and the review from C-Net.com and what I discovered is that this is a company that really tries hard to satisfy its customers. Great customer service. They replaced these speakers that early adapters had purchased but which had problems. When some purchasers mentioned that the documentation was lacking they updated the documentation (there is now documentation for attaching the outriggers). The packaging was double boxed on the towers and triple on the front surround. Fluance even replies to the complaints listed on this site as reviews. And oh yeah, they sound great! I did also purchase some Polks floor standing speakers to add to my set-up and I am still trying to perfect my arrangement to get the best sound. Just wanted to express my appreciation to Fluance and the reviewers who took the time to help me make my decision. By the way these are some well built speakers with a beautiful finish. Sincerely. - Verified Store

John Moritz

August 12, 2017

Paired with my vintage Marantz 2230 and a Yaqin MC13S tube amplifier, these speakers sound absolutely incredible. These speakers can handle all the power you need. They have crisp and detailed highs, formidable midrange, and plenty of deep, powerful bass. I'm very impressed and extremely happy with my decision to purchase these speakers. I'm a Fluance customer for life.

John M

July 10, 2017

After researching for months as to what speakers to buy for my new 2 channel stereo system, I considered some Klipsch and Polk Audio towers with similar specifications and I kept coming back to these Fluance towers. After reading numerous reviews and hearing the praises that people were giving them, I gave them a try. I figured it was a no-brainer, especially considering the price.When they arrived, I was surprised at the sheer weight and size of them. I mean you kind of know what to expect from the product description, but until you have to carry a pair of them up a flight of stairs, you really don't fully realize and appreciate the build quality. These are solid cabinets with high-quality connectors and the sound that resonates from them is just superb. As was mentioned in a previous review, you really don't have to adjust the bass, midrange, and treble with these. They sound very balanced and don't require a separate subwoofer. The two 8 inch woofers provide plenty of deep, tight bass and the highs and midrange are very crisp and detailed. The midrange is resounding but not overbearing.I'm driving these with a 40 watts x 2 channel Yaqin MC-13S amplifier with a Vintage Marantz 2230 receiver as the pre-amp. Through that, I'm listening to a Stanton T92 turntable with an Ortofon headshell and Ortofon 2M Red cartridge. These speakers seem to work very well with a tube amplifier. They produce a warm, rich, detailed sound and a nearly surreal soundstage with good depth and imaging. I have absolutely zero complaints about these speakers. I would definitely recommend these speakers to anyone, including discerning audiophiles.One more thing I'd like to note, is that I ordered on a Wednesday night and they were scheduled to arrive the following week between Tuesday and Thursday. Seeing as they were coming from New York and I live in Illinois,I figured oh well, a few days won't kill me. As it turned out, they arrived in less than 48 hours, on Friday. I was super happy with the quick delivery. - Verified Store

JagdFlanker

June 13, 2017

quality build, amazing sound even on a cheaper amp (Sony STR-K4800P - could be louder but does the job) = very happy customerpaired it up with a Polk PSW-505 subwoofer and the sound detail is jaw-dropping. listen to all my music through my computer and spent the last couple weeks chasing down 24bit FLACs because even the best mp3 files sound thin and un-detailedif you liked music before you bought these speakers you will LOVE music after hooking these babies up - Verified Store

itsmewallyz

May 28, 2017

Let me begin by stating that I own the entire Fluance Signature Series speaker system. These towers completed my home theater, which also include the matching center, bookshelves and bipolar surrounds. I also own their entry level bipolar surrounds (the AVBP2s, used in a different setup) as well as their newly released AB40 soundbase. I've been quite pleased with the Fluance products overall – I've been giving them plenty of business over the past couple of years. And before I get to the meat of this review, I can report that Fluance's customer service (well, really Circus World Displays' customer service – Fluance is just one of their brands) is top-notch. I probably made 10 orders with them over the course of 18 months before I finally ran into a quality control issue, and that was with the AB40 soundbase, which arrived damaged. However, they quickly responded to my e-mail and I received a pristine replacement within days.And with that I'll get my review. Once these arrived, it probably took me close to two hours to get these inside of my house and upstairs to my theater room as they are absolutely massive. But, that's also with me doing all of the work as I didn't have any help. The other setup issue (if you plan to buy these and have a go at these alone like I did), is the installation of the floor spikes. There was no installation documentation included, and while I was able to determine what needed to be done by handling them, it was really difficult – almost impossible for one person. What's worse is, once I got them up and running, one of the speakers was defective, exhibiting loud pops & crackles coming from the midrange woofer even at low volumes. And this was not the crossover issue that plagued these speakers when they were initially released – this midrange speaker was just a lemon. Normally, this wouldn't be that big a deal as long as you've got some experience with the company, but having to re-box one of these and find a way to get it to UPS to send it back was a real chore. But, with that said, once again, their customer service quickly responded to my e-mail, sent me a paid return shipping label (which, I think was nearly $80), and had my replacement on the way within a day or two. The replacement arrived pristine, just like the other one I had waiting in my theater room.The attractiveness of these speakers, given their enormous size, is pretty remarkable. The craftsmanship and build quality are very good – but the rest of the Fluance Signature Series speakers share these qualities, aside from size. You'll definitely need plenty of space if you plan on purchasing these.I've learned to tame my initial expectations when it comes to auditioning Fluance speakers. They really do take some time to break in. I think this is generally true for most speakers, but in my experience, it's more extreme with Fluance speakers. The Signature Series center, bookshelves, and bipolars all took at least 50 hours of airplay before I began to notice sonic improvement and those speakers really didn't fully open up until nearly 100 hours. These floor speakers, however, didn't take quite as long to break in. Initially, they weren't bad, but the two 8-inch woofers were pretty stiff. So, I did what I've always done with their speakers – as I left for work each morning beginning on a Monday, I cued up a song in repeat mode and played it at moderately high volume until I returned home from work, about 10 hours of continuous play per day. By the end of the week, they were really sounding nice, perfect for my taste. I prefer a laid back, warm sounding speaker that can also provide a balanced midrange with some clean, airy highs that aren't overly harsh or fatiguing. That's exactly what these are to my ears.The rest of the Signature Series, in my opinion, is more suited for home theater than for music. However, these towers perform equally well with both and perhaps even better with two-channel music. I use these as my fronts in home theater, but also for my two-channel music (driven by a different amp) and they are definitely full-range speakers that have a nice soundstage. If they're paired with some clean power, I think you'll really enjoy these.The final thing I'll mention is regarding the stock bi-wiring jumper that's included with each speaker. There was nothing about the jumper that screamed "cheap" to me and I had been enjoying the sound of these for weeks with the stock jumpers. But I came across some quality jumpers on Amazon for $30 (for the set of four, two for each of these towers) and thought for that price, I'd take the chance. I hate to even admit that the replacement jumpers made any difference at all, because I never buy into snake oil like that. But…. they really, REALLY did make a considerable difference and this was after the break-in period. If you're considering these Fluance towers and want to know which jumpers I purchased, just post a comment to my review and I'll respond.I was close to giving these towers five stars, but I took away a star due to three factors: 1) The floor spikes are poorly designed, have no installation documentation, and are virtually impossible to install alone, especially if you're anal (like me) when it comes to getting something completely level; 2) despite my praise for the Fluance customer service, the fact that I had endure the return process for a speaker this large was really a big headache; not only do you need help getting the speaker unboxed and then re-boxed, you have to find a way to transport it to a UPS location and you'll need a truck or a van, neither of which I have; 3) the fact that replacing the stock jumpers made as a big a difference as it did makes me wonder about their attention to detail. I'm unsure if the stock jumpers are that bad, or if the replacements are just that good. Only time will tell.I can wholeheartedly recommend these speakers though. Be prepared to do some leg-work and have some patience when it comes to setup and break-in time. In the end, they are definitely worth it. And you can rest assured knowing that Fluance will take care of your concerns should issues arise. - Verified Store

FreeSkyy

May 19, 2017

I paired this with Parasound P5 preamp + Pass Labs X150, that led to really Dull Sound; I paired with Yamaha A-S2000 bi-wired & Yamaha SACD2000; the sound comes to live in 3-D : so detail, so balanced; not where the B&W is, but 9-10 comparable. Amazing Sound for the price. Note: a pair of B&W 805 N with a pair of B&W ASW10CM S2 for L&R Bass. ($5000 for 805N & $3000 for a pair of ASW10CM S2) and about the same sound quality of the $700 of Fluance Signature. Update: It's very weird to say this when a pair of $799 speaker being hooked up with a pair of $500 MIT Terminator series speaker cable, but the Cable can do magic to open the sound stage, the mid-range & the bass. I am bringing home a pair of POLK LISM 705 speakers ($3000/pair) & B&W 802 N to compare and update the review soon. - Verified Store


Joe

April 22, 2017

Wow.i love these speakers .it's the whole package in what I've been looking for in a speaker.i will purchase more ov these speakers down the road.

Christopher Smith

March 6, 2017

Excellent sound quality, awesome looking speaker, lifetime warranty, what else can I say? The more I listen to them the better they get. Do not hesitate you will not regret buying these speakers, the price and performance cannot be matched. Thanks Fluance for an awesome product!

See all reviews