Overview

What do you expect from your speakers?
How about the emotion and intensity of a cinematic experience in the comfort of your own home? The Fluance XLBP Bipolar Wide Dispersion Surround Sound Speakers are engineered with premium components that skillfully cater to your audio needs. The powerful velocity of helicopter blades and rolling thunderclaps will encapsulate audiences with the addition of the XLBP bipolar speakers to your home theater.

Bipolar Wide Dispersion Design
The unique configuration of the bipolar speakers creates a 3D soundstage. This is achieved by having two complete full-range speaker systems on opposing sides of the cabinet. The results are widespread, enveloping surround sound throughout your room. The XLBP are designed for placement beside or behind the listeners for an extremely convincing 5.1/6.1/7.1 surround ambiance.

Thrilling Highs
Your ticket into a flowing symphonic score is available through the neodymium tweeters of the XL Series bipolar speakers. Bullets flying and spine-tingling screams will be heard as the superior tweeters reproduce high frequencies that will engage you in any movie.

Richness in the middle
The highly defined sound effects Hollywood intended you to hear will always be experienced with the XLBP Bipolar Surround Sound Speakers. These powerful speakers are complete with high performance dual 5-inch midrange drivers with butyl rubber surrounds. The components enhance the home theater experience by replicating the soundstage, tones and notes of your favorite feature films and concerts.

Made for you
The trapezoidal configuration of the bipolar speakers is the right choice in fully experiencing amazing cinema-quality surround sound. Made with engineered MDF wood cabinetry for reduced resonance, the XLBPs provide crystal clear, full-range sound performances. Designed with a rich mahogany finish, and glossy piano-black baffles, these speakers are excellent additions for enjoying blockbuster classics again and again.

The perfect complement to an audiophile's lifestyle, you'll be enjoying cinematic performances in your home for years to come.
Specifications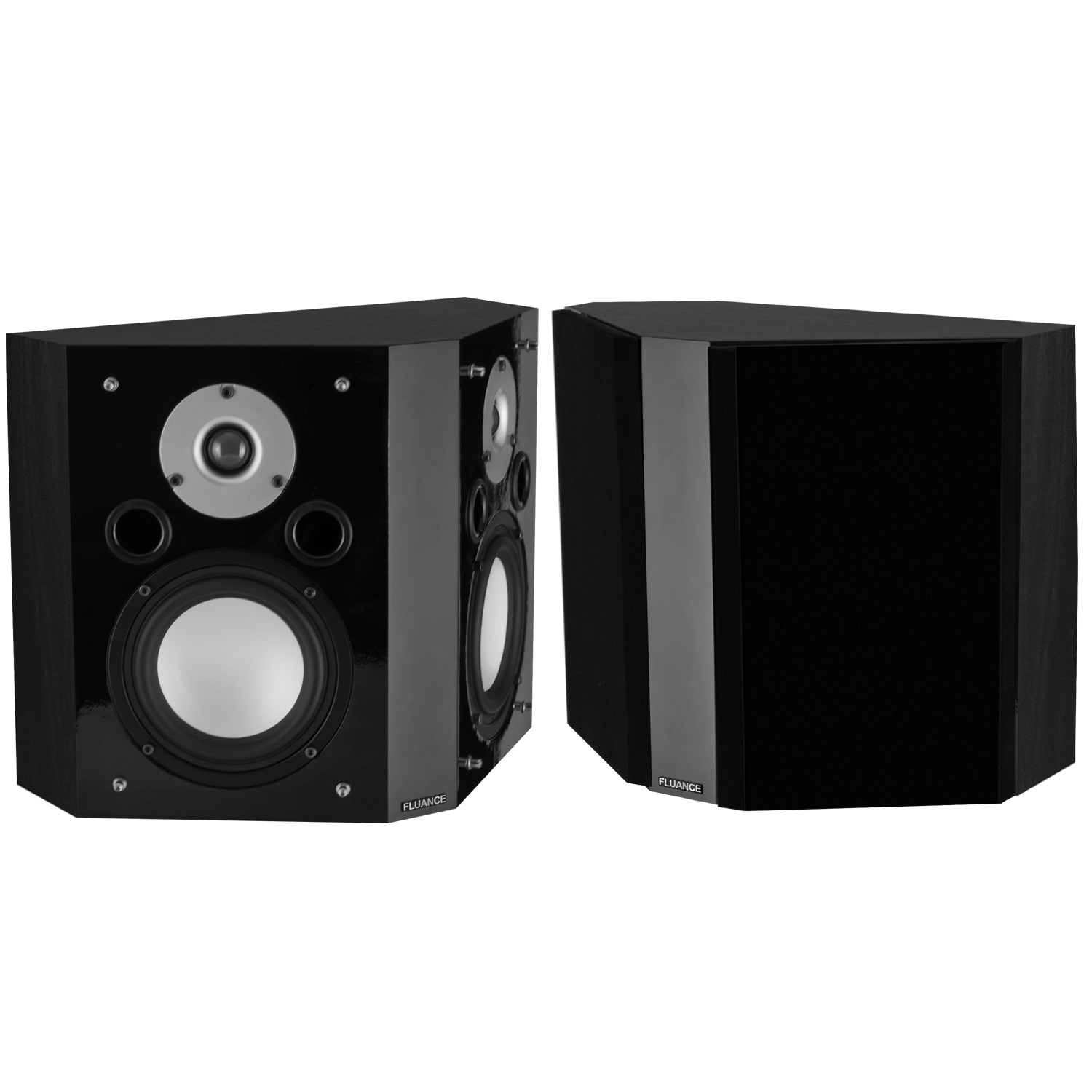 Speaker Configuration
2 Way - 4 Driver Bipolar Surround Speakers (Wall Mountable)
Tweeter
Dual 1 inch Neodymium Balanced Dome Ferrofluid Cooled For Longer Life
Woofer
Dual 5 inch Polymer Treated with Butyl Rubber Surrounds
Power Handling
60 - 120 Watts
Frequency Response
60Hz - 20KHz
Sensitivity
88dB @ 2.83V / 1m
Crossover Frequency
3500 Hz Phase Coherent - PCB Mounted Circuitry
Impedance
8 Ohms
Enclosure
Ported Bass Reflex
Dimensions
11.4 x 7.6 x 13.8 inch
Speaker Weight
11.5 pounds/speaker
Series
REFERENCE
Speaker Type
Bipolar
Certifications
CE Certified, RoHS
DOLBY ATMOS
Ideal for use as surround sound speakers in a Dolby Atmos™ Surround Sound System
Frequency Response Graph

Click to Expand

Fluance Speaker Size Comparison Chart

UPC
061783265772
What's Included
Two Bipolar Surround Sound Speakers with Integrated Wall Mounting Brackets (keyhole slots)
Instruction Manual
Full Lifetime Parts and Labor Manufacturer's Direct Warranty
Lifetime Customer Support
Press
A/V TECH REVIEWS feature on the Fluance XLBP
"I don't think you'll be able to find a better bipolar speaker on the market at this price"
Read the Full Review
Lifewire Reviews the XLBP
"if you desire more room filling surround surround sound (especially from a 5.1 channel speaker setup), definitely give the Fluance XLBPs a try"
Read the Full Review
Customer Reviews
Duane Gosa

March 24, 2017

Again wonderful speakers! I also have the smaller ones of these. Use for front speakers as my other reviews say. Just these on, tube amp, quiet room, mellow Neil Young. Then go on your planet caravan... wonderful for the price!

Duane Gosa

5

Chad

February 1, 2017

under rated brand - Verified Store

Chad

5

Duane G.

December 3, 2016

I bought these about three weeks ago and everything about them is fantastic. I just signed up for my account here. They arrived in perfect condition and are just amazing. I use them as front speakers with my others to get a more diverse sound. Quite frankly I have been just listening to these as I have 16 speakers in my room. For the money these are a steal any one out there looking for the same you better give these a listen and save your wallet. I do not know how this company does it with todays high end speakers costing hundreds or even thousands more! Extremely happy with these and will look no further for my next purchase which I hope is soon. Fluance company has got something here that is great and I hope they continue to expand on products as they grow and keep the quality the same. Please Fluance do not start cutting corners as some other companies do. You have some awesome winners here!
Duane G. Keep up the great work on these products.. thank you..

Duane G.

5

NC7

December 1, 2016

Spkrs work fine, good buy - Verified Store

NC7

5

Duane Gosa

November 29, 2016

I ordered these speakers on the thought how can they do this? For the price and free shipping? I was hoping that they lived up to my expectations for the price. I use these for front speakers with my others to get a more diverse sound to the side. Well these are fantastic !!!! I still say how can they do this? They are amazing ! Now they are not big booming speakers but for me with my other setup they fit perfectly. I enjoy them so much I play these a lot just by themselves. Fluance has got a winner on these for sure! I will be looking at their others for sure if I make any more buys. Right now I have 16 speakers in my listening room all run thru tube amps with NOS tubes and it cant be beat. Great job Fluance. Keep up the good work and quality. Please do not skimp. You have got winners here1
Duane Gosa....take care.

Duane Gosa

5

Duane Gosa

November 26, 2016

These speakers arrived in perfect condition. I am using these with my front speakers to get a more diverse sound and they sound great ! Actually I also like just running these thru my tube amps. 200 dollars worth every penny in my opinion for my setup. Also with a lifetime warranty one cannot go wrong . I really like them a lot for the money. More than I expected out of these. Great stuff !

Duane Gosa

5
Resources
Manual
FAQs
Do I need a receiver/amplifier for these speakers?
All Fluance passive speakers (unpowered) require a receiver or amplifier to provide them power and a connection to your home theater or media setup.

For more information on how to match your speakers and amplifier, please see our video:
Where should I put Bipolar Speakers?
Bipolar speakers are best used as surround speakers. Sometimes placed at the rear of a 5 speaker setup, they are most at home in a 7 speakers setup placed at the sides of the listening area.

They're designed to output sound is multiple directions so wherever you are in the room, you get the same experience.

For more information, see our video: How to install and position your Fluance bipolar speakers.


What size speaker wire do I need?
At Fluance, we recommend using 12 gauge speaker wire to get the best performance from your speakers.