Regular Price: $179.99 USD
Special Price $134.96 USD
Overview

What do you expect from your speakers?
How about the emotion and intensity of a live performance in the comfort of your own home? The Fluance XL7S High Performance Surround Sound Bookshelf Speakers are engineered with premium components that skillfully cater to your audio needs. From the loudest explosions to the spine-chilling cinema effects of a creeping marauder, surround sound speakers utilize your room's acoustics to reflect music and sound effects from behind listeners for multidirectional sound.

As Powerful as Tower Speakers
Not your typical surrounds, these speakers can also be utilized as bookshelves or fronts. They provide superior performance at every volume level with outstanding precision and clarity, allowing you to soak up all the dramatic impact your movies and music can deliver.

Thrilling Highs
Soar to new heights as bullets fly and cymbals clash through the neodymium tweeters of the XL7S Surround Sound Speakers. Our superior tweeters produce high frequencies with captivating clarity at all volume levels. Enhance your home theater system with surround sound effects that are vibrant, controlled and audibly stunning.

Richness in the middle
The essence of all harmonious sound reproductions is the midrange driver. The XL Series surround sound speakers house first-class midrange drivers that pick up the tones and notes most easily recognized by the human ear. Ease on into the velvety nuances of your favorite movies for a truly authentic listening experience.

Made for you
From the engineered MDF wood to the vented bass-reflex design, the Fluance XL7S Surround Sound Speakers have been meticulously-crafted for vivid, distortion-free sound performances. Expertly crafted with a lustrous mahogany finish, as well as a glossy piano-black front baffle, these speakers look as good as they sound.

The perfect complement to an audiophile's lifestyle, you'll be enjoying cinematic performances in your home for years to come.
Specifications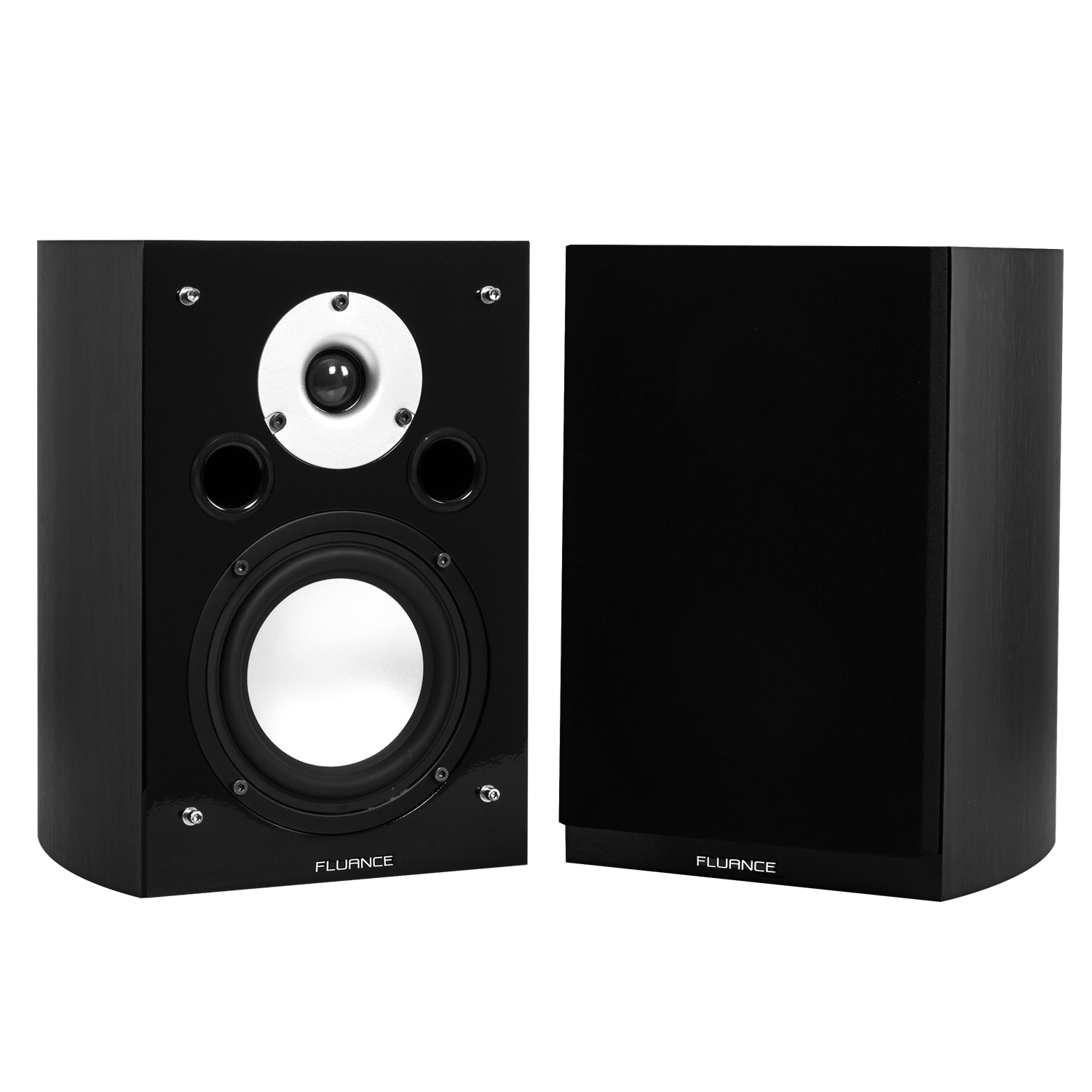 Speaker Configuration
2 Way - 2 Driver Surround Speaker (Wall Mountable)
Tweeter
1 inch Neodymium Balanced Silk Dome Ferrofluid Cooled
Woofer
5 inch Polymer Treated Butyl Rubber Surround
Power Handling
25 - 120 Watts
Frequency Response
60Hz - 20KHz
Sensitivity
84dB @ 2.83V / 1m
Crossover Frequency
6000 Hz Phase Coherent - PCB Mounted Circuitry
Impedance
8 Ohms
Enclosure
Vented Bass Reflex Design
Dimensions
11.4 x 8.1 x 9.0 inch
Speaker Weight
8.6 pounds/speaker
Series
REFERENCE
Speaker Type
Bookshelf
Certifications
CE Certified, RoHS
Frequency Response Graph

Click to Expand

Fluance Speaker Size Comparison Chart

UPC
061783265758
What's Included
Two Rear Surround Sound Speakers with Integrated Wall Mounting Brackets (keyhole slots)
Instruction Manual
Full Lifetime Parts and Labor Manufacturer's Direct Warranty
Lifetime Customer Support
Customer Reviews
Andrew R

June 6, 2020

New York, United States

Brilliant sound from the kit. Excellent compared to my previous speakers which were about the same cost.

Andrew R

5

Amazon Customer

July 19, 2018

I'm pretty sure quite some time ago I wrote a review for this and for whatever reason I'm getting asked again. All I can say is there good mid-range speakers. I'm using them as a 5.1 Channel surround sound. I have huge nuance front Towers and two 12-inch with two tweeters and a horn nuance Center Channel but these fluance speakers are behind my sectional vouy and do just well.. all around they are great speakers they can even pound for a desktop speaker there's a lot of Bass that can go through them. But if you're a person that is losing high-pitched frequencies in your ears I would go with a high range surround sound speaker. All in all good job fluance XL7S - Verified Store

Amazon Customer

5

A. B

October 13, 2017

These sound amazing. The value here is exceptional. I cannot believe the quality of the sound from these little speakers and my old Denon amp. - Verified Store

A. B

5

Daniel A

October 6, 2017

such amazing sound right out of the box! I am using these for bookshelf speakers and am totally impressed with the sound! - Verified Store

Daniel A

5

Simon

August 10, 2017

Both speakers were destroyed internally and dented externally upon reception, despite being in a relatively thick foam casing.This must be a joke or someone banged them prior to packaging them...I'm absolutely floored that such major damage would pass any form of quality inspection.The external package had no visible marks of impact, so I suspect the carrier is at no fault.This is very disappointing. - Verified Store

Simon

1
Resources
Manual
FAQs
Do I need a receiver/amplifier for these speakers?
All Fluance passive speakers (unpowered) require a receiver or amplifier to provide them power and a connection to your home theater or media setup.

For more information on how to match your speakers and amplifier, please see our video:
What size speaker wire do I need?
At Fluance, we recommend using 12 gauge speaker wire to get the best performance from your speakers.