Overview

Premium Features
Bookshelf speaker configuration for full range sound in any application, including front main or home theater surround sound speakers.
Premium components ensure serious performance, natural sound and superior audio reproduction.
Meticulously-crafted engineered MDF wood cabinetry significantly reduces cabinet resonance and distortion; Tuned bass ports for controlled low frequency response and improved efficiency.
High performance soft dome tweeters provide accurate high frequency response; Powerful 5 inch polymer-treated midrange drivers for delivering a rich, clear, room filling experience.
Industry leading full lifetime parts and labor manufacturer's direct warranty with lifetime customer support.
A live rock concert now playing in your home. The Fluance AV5 Bookshelf Speakers accomplish just that. Combining two powerful loudspeakers, this system ensures you are bringing the full experience home. The AV5 is engineered with only premium components that will successfully recreate music as it was meant to be heard. From the crisp, clear vocals, to the deep, smooth bass, the AV5 delivers dynamic sound reproduction to ensure you feel as if the musician was playing in your living room.

Big Speaker Sound, Serious Performance
Fluance believes everyone should experience audio in it truest form. The AV5 takes that vision and develops it into a powerful two speaker system. From the high performance drivers, to the premium tweeters, the AV5 will execute a more accurate and natural sound. The combination of high-quality components and a rich black ash finish result in speakers that look great and sound even better.

Concert Quality Performances
Whether you listen to your music from a CD, smartphone or vinyl record the AV5 Bookshelf Loudspeakers will ensure you are experiencing every note the way the artist intended. From Jimi's guitar slides to Mick's insane vocals, you will feel as if you were sitting front row. The AV5 will encapsulate you with a room filling soundstage you would expect from a much larger system. So crank it up confidently and enjoy your favorite music like never before.

A Passion for Great Audio
Fluance has successfully revolutionized home audio. Utilizing only superior components and expert audio engineering, the AV5 is a testament to the performance that can be achieved when a passion for music takes center stage. The AV5 uses engineered MDF wood for a warmer more natural sound, unlike plastic cabinets which do not create quality audio reproduction. The perfect complement to any audiophile's lifestyle, you'll be enjoying live performances in your home for years to come.
Specifications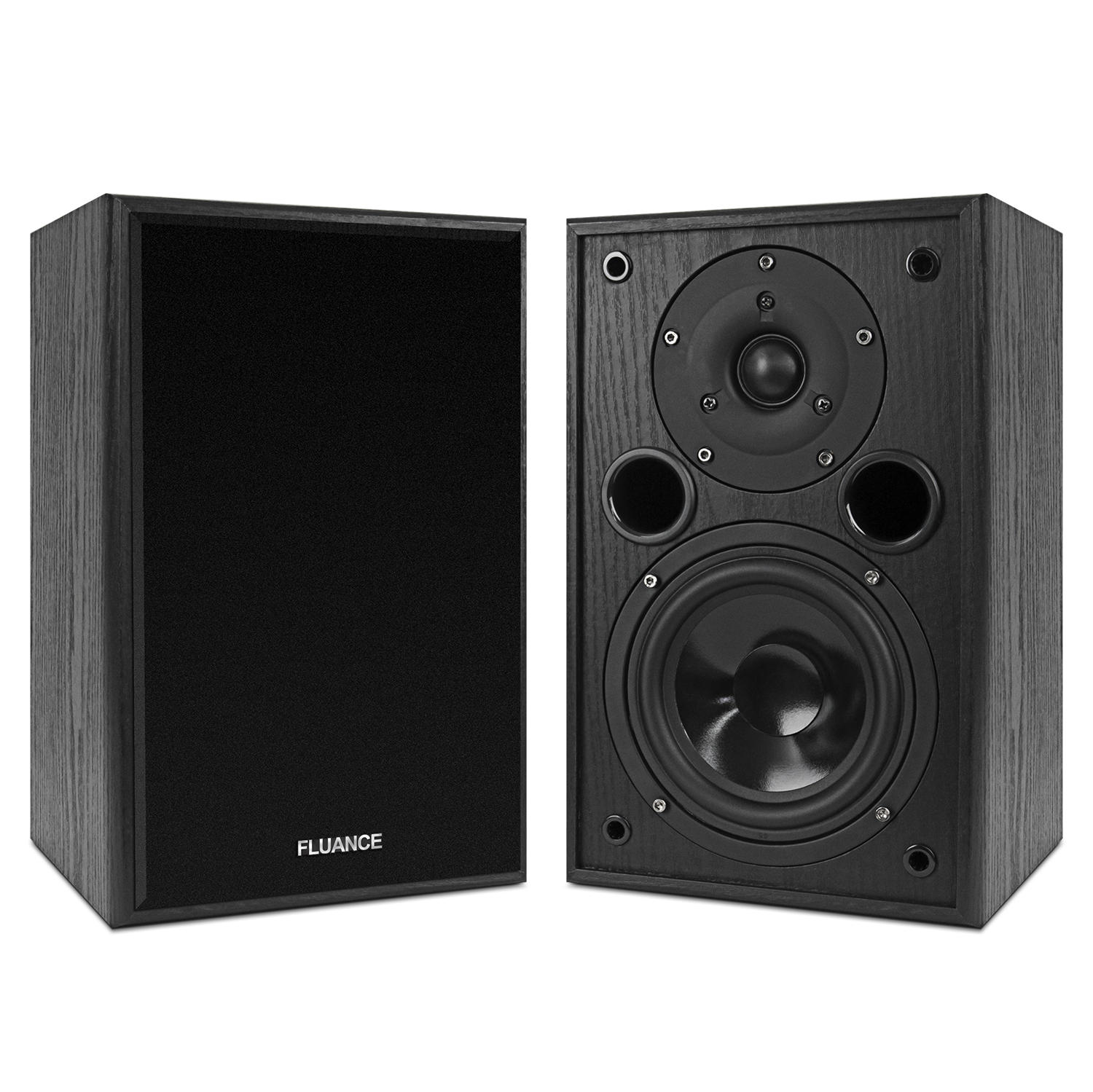 Speaker Configuration
2 Way – 2 Driver Bookshelf Loudspeaker
Tweeter
1 inch Soft Dome Ferrofluid Cooled
Woofer
5 inch Poly-coated Driver with Butyl Rubber
Power Handling
10-100 watts
Frequency Response
70-20KHz
Sensitivity
87dB @ 2.83V / 1m
Impedance
8 Ohms
Enclosure
Tuned Front Port Bass Reflex Bookshelf Design
Dimensions
11 x 7.5 x 8.5 inches
Speaker Weight
9.0 pounds/speaker
Series
CLASSIC
Speaker Type
Bookshelf
DOLBY ATMOS
Ideal for use as front speakers in a Dolby Atmos%E2%84%A2 Surround Sound System
Frequency Response Graph

Click to Expand

Fluance Speaker Size Comparison Chart

UPC
061783263013
What's Included
Two Bookshelf Loudspeakers
Instruction Manual
Full Lifetime Parts and Labor Manufacturer's Direct Warranty
Lifetime Customer Support
Customer Reviews
Chris W

November 29, 2017

Maine, United States

I bought 1 pair and was so blown away with them that I bought a second pair a month later for a 4 channel stereo setup. These speakers sound super clean and clear and they get plenty loud with plenty of bass. They can sound just about however the hell you want with a touch of equalization. The cabinet design with two front facing ports is great and the size of them is pretty big for bookshelf speakers this size. I have mine setup laying horizontally on their side with the woofers and tweeters alternating between the bottom and top set on each side.

Chris W

5

G. M

September 13, 2017

I have a Fluance surround system that I love. For a bookshelf setup in another room I first went with a pair of Micca MB42X Bookshelf Speakers because I liked their smaller size. Had a couple listens and returned them due to poor sound quality. This Fluance pair blows the Miccas out of the water, not even close. They sound amazing - balanced, rich, smooth. Fills a small room with ease. Incredible value. - Verified Store

G. M

5

john s

August 29, 2017

Speakers seem to finally be broken in and the bass has opened up,sound much better now than out of the box.Sound good paired with my 70's Technics receiver and 80's vintage Technics turntable. - Verified Store

john s

5

KenCitadel

July 4, 2017

Great speakers for the $$$. Well made, hard wood, nice sound powered by my Yamaha receiver Have Fluance turntableThey spend time on the basics and construction like connectors, and grills and instructions, etcUnder $ 100, they must be on the short list. Life time warranty, says a lot about their confidence and design - Verified Store

KenCitadel

5

Fred

June 22, 2017

Great speakers for the price range. I'm powering them with a 50w/channel SMSL amp. It's enough to fill the living room with a full rich sound. - Verified Store

Fred

5

Mortimer

February 8, 2017

Okay, let me say first that the 'product dimensions' are very misleading. I don't know if that's the size of the box or what, but the speakers are nowhere near that big. Maybe a foot tall, can't remember exactly what I measured, but much less than the 22-something inches shown in the product dimensions. That said, the speakers sound great. My wife doesn't like loud music, so my 'sound system' (such as it is) is in my 1700 square foot detached garage. The receiver/amp, the turntable and two huge speakers are a 65 watt per channel Pioneer system I bought back in 1978. I also have a much newer Denon CD player. Today I added these Fluances (which are probably 1/8 the physical size of the old Pioneers). I will say they don't have quite the deep bass of the large speakers, but sound crisper everywhere else. The four play well together, and can fill the garage with sound. For the money, they can't be beat. - Verified Store

Mortimer

5

mikeisme

January 27, 2017

I already have a pair of SX-6 Fluance speakers that are a joy to listen to, so I didn't have any second thoughts about buying the AV5 to use in my shop. These are marvelous speakers. Same quality build as the SX-6, just smaller. They come very close to matching in sound quality as well. I'm still doing the 8-12 hour break in and I know they'll sound even better in a couple days. One thing I really like about Fluance speakers is the binding post/banana plug wire connection. Absolutely the best method for speaker hook ups. I thought I had some good, 20 yo speakers I would use on this vintage Optimus receiver/amp, but they had deteriorated with age. These AV 5 sound better than anything I ever had, regardless of how new they ever used to be. What made the deal for me was using my Amazon gift card bucks to lower the price to less than $20.00. I love a good buy! IMHO you can't go wrong with these speakers. - Verified Store

mikeisme

5

KyoKabe

January 14, 2017

Returned, one came DOA bought a different brand. - Verified Store

KyoKabe

1

raul h

December 20, 2016

Has not bass - Verified Store

raul h

3

Amazon Customer

November 29, 2016

These are the real deal. High quality build along with a nice quality finish. Sound wise they are nicely balanced with a natural sound. Look, you can pay a thousand dollars a pair for premium speakers in this same size. But you can't break the laws of physics and even that higher price speaker will have limitations. Understand the limits of smaller speakers (limited deep bass, not intended for high volumes) and you will realize that these reach well above their price. - Verified Store

Amazon Customer

5

Stockader

February 3, 2016

I replaced my 5.1 left and right front speakers with a pair of these. My 15 year old system sounded muddled. These have great clarity and sound much better. How can you beat these for < $100? Trying to decide what to get for surrounds.

Stockader

5

atlascott

February 2, 2016

I bought a pair of these and for the money, I think they are best in class based on sound quality.

atlascott

5

Stuart

December 18, 2015

These speakers sound amazing

Stuart

5

Michael C

November 20, 2015

Just set up my new Fluance AV Series 3.0 Home Theater Speaker System and am completely blown away. I replaced my 3 Pinnacle bookshelf speakers with these and improvement was outstanding. Hooked them to my B&K Ref 30 and B&K 5 channel 105w per amp and cable box. Went with these for the larger center speaker. The bass, mid and treble are perfectly balanced. Sounds is crisp, clear, and full with seamless transitions from loud explosions to soft voice. At $284.99 (no tax, free shipping) this is an absolute no brainer. Seriously stop reading now and buy these. You would need to spend well over $1000 at Best Buy to get anywhere near performance and quality.

Michael C

5