Overview

Elite Series Bipolar Surround Sound Satellite Speakers
The Fluance SXBP2 Bipolar Surround Sound Speakers offer an energetic and enticing performance with superior components that enhance the cinephile experience. From every high speed locomotive to the ferocious jet plane flight, these bipolar speakers will reinforce the movie theater experience you dream about.

Bipolar Surround Sound Design
The unique configuration of the bipolar speakers creates a 3D soundstage. This is achieved by having two complete full-range speaker systems on opposing sides of the cabinet. The results are widespread, enveloping surround sound throughout your room. The SXBP2 are designed for placement beside or behind the listeners for an extremely convincing 5.1/6.1/7.1 surround ambiance.

Thrilling Highs
The enveloping sound design of the SXBP2s will have your heart pumping and your head rotating. The neodymium tweeters of the Classic Series bipolar speakers increase the enjoyment from your favorite cinematic blockbusters. You will feel every spine-tingling scream and rapid stampede from the SXBP2 bipolar speakers.

Richness in the Middle
Experience the high definition sound effects Hollywood intended you to hear with the SXBP2 Bipolar Surround Sound Speakers. The dual four-inch midrange drivers enhance cinema quality home theater by replicating the soundstage, tones and notes you crave from your favorite films and concerts.

Made for You
The SXBP2s are made with a trapezoidal configuration, the perfect shape to increase home theater sound. Made with engineered MDF wood cabinetry for reduced resonance, the SXBP2 bipolar speakers provide superb, rich sound performances at every volume level. The black ash wood finish match perfectly with the Classic Series, and is your ticket to an engaging, thrilling in-house movie theater experience.
Specifications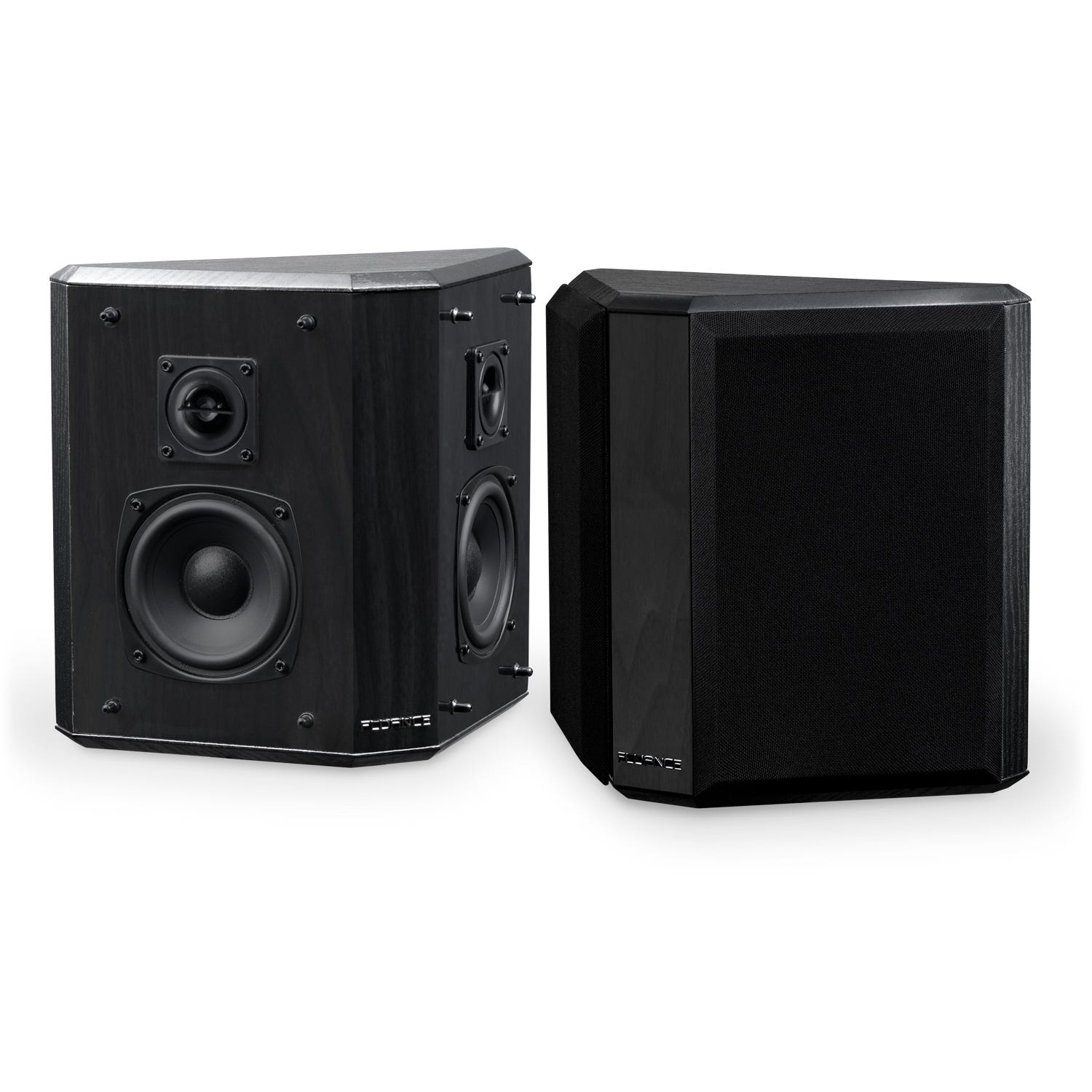 Speaker Configuration
2 Way - 4 Driver Passive Bipolar Surround Speakers
Tweeter
Dual 1 inch Neodymium Balanced Dome Ferrofluid Cooled
Woofer
Dual 4 inch Polymer Treated with Butyl Rubber Surrounds
Power Handling
20 - 100 Watts RMS
Frequency Response
130Hz - 20KHz
Sensitivity
88dB @ 2.83V / 1m
Crossover Frequency
4000 Hz Phase Coherent - PCB Mounted Circuitry
Impedance
8 Ohms
Enclosure
Acoustic Suspension Design
Dimensions
10.2 x 11.0 x 5.5 inches / 25.9 x 28.0 x 14.0 cm (HxWxD)
Speaker Weight
6.8 pounds/speaker
Series
ELITE
Speaker Type
Bipolar
Subwoofer Output
No
DOLBY ATMOS
Ideal for use as surround sound speakers in a Dolby Atmos™ Surround Sound System
Frequency Response Graph

Click to Expand

Fluance Speaker Size Comparison Chart

UPC
871363002341
What's Included
Two Bipolar Surround Sound Satellite Speakers
Instruction Manual
Full Lifetime Parts and Labor Manufacturer's Direct Warranty
Lifetime Customer Support
Customer Reviews
stephen

March 20, 2021

Virginia, United States

These speakers were a perfect addition to my 7.1 system as the side speakers.

stephen

5

Robert

March 9, 2021

Georgia, United States

They are great. I need two more.

Robert

5

Jim L.

January 19, 2021

Michigan, United States

Placed these in 5.1 system as relacement satellites. Immediately noticed an overall improvement. Hard to explain but it was like these speakers support the front drivers making it a much more immersive experience. Very pleased with performance and price point to make an overall improvement in my vintage system.

Jim L.

5

Ralph B

January 19, 2021

Indiana, United States

Awesome Sound For Surround Speakers

Ralph B

5

golden g

December 24, 2020

Song good

golden g

5

R. T

December 22, 2020

Will be difficult to find a bi-polar speaker that performs this well for 3 times the price. Rock solid sound and value. I am using two pair in a very odd shaped living room along with a Fluance Signature Center channel speaker. After the break-in, I am happy beyond expectations with the entire 5 piece surround system. BTW, I am using a SVS subwoofer for bottom end. Highly recommended also.

R. T

5

Dukedogg

December 20, 2020

These speakers are an exceptional value. Great sound, great looks, great price. These have replaced a much older set of infinity rs2's and totally blow the infinity speakers away. Movies and music have never sounded this good before. If anything changes I'll update this review.

Dukedogg

5

Jordan R

December 16, 2020

Bought these for my new basement tv room, upon unpackaging these speakers I was very impressed... UNTILWhen I connected these to my home theatre stereo I was disappointed to notice the the one speaker crackles. Attempted many things to try to remedy this issue including running a new speaker wire to confirm the issue was not on my end. I connected a different speaker to make sure all was good with my system, and it worked perfectly fine.Unfortunately this fluance speaker is of no use to me as it crackles, without a way of fixing it.Needless to say looks maybe deceiving..DO NOT BUY!!

Jordan R

1

John D

December 13, 2020

I got these for rear surrounds in my dedicated theater room. As I purchased a new receiver that can handle all the 7.1 surround/DTS/Atmos formats, I was looking for a pair of rear speakers. I wanted to get two more of my existing speaker brand but they are $600 per speaker. These Fluance speakers filled the bill without breaking the bank. Frankly, I did not expect much for the cost of a pair of these but was completely surprised and extremely happy with the build quality of these as well as the exceptional sound. Even shipped double-boxed. Based on my experience with these, I can totally recommend these or an entire setup of Fluance, if you are looking for a complete system. Not many speaker companies make speakers this good for a price this affordable.

John D

5

Dmtry R

December 11, 2020

Excellent product for this price!

Dmtry R

5

Dave

December 5, 2020

Awesome product for the price you pay, mid range quality for a budget price. As a recommendation set your crossover for 200hz for these to avoid distortion

Dave

5

James

December 3, 2020

Luv these speakers.

James

5

Dianne K

November 28, 2020

the speakers arrived well packaged .after unwrapping they looked well made and finnished with wall hangings, set them up as surround speakers sound realy good would recommend to those on a budget

Dianne K

5

Timothy L

November 25, 2020

They were boxed well. The fit and finish are fantastic. I didn't know what to expect, but I was pleasantly surprised. The matching rears for my Ohm speakers in front cost $1400.00 a pair. While my plan was to save up for them later, I don't see the need to rush to do it now. There were settings for music on my Denon AVR-X4500H that I never liked, until now.These are excellent surround speakers.

Timothy L

5

Dave C

November 22, 2020

Quite impressed with the quality of the speakers. Sound is great, and are well built. Based on what I am hearing, as long as you don't push the volume they should serve my requirements well. Very pleased, just keep in mind the wattage is not very high.

See all reviews

Dave C

5
Resources
FAQs
Do I need a receiver/amplifier for these speakers?
All Fluance passive speakers (unpowered) require a receiver or amplifier to provide them power and a connection to your home theater or media setup.
For more information on how to match your speakers and amplifier, please see our video:
Where do I place Bipolar Speakers?
Bipolar speakers are best used as surround speakers.
Sometimes placed at the rear of a 5 speaker setup, they are most at home in a 7 speakers setup used at the sides of the listening area.
Bipolar speakers are designed to output sound so that wherever you are in the room you get the same experience.
For more information, see our video: How to install and position your Fluance bipolar speakers.
Articles from our experts