Regular Price: $119.99 USD
Special Price $101.97 USD
Overview

Elite Series Bipolar Surround Sound Satellite Speakers
The Fluance SXBP2 Bipolar Surround Sound Speakers offer an energetic and enticing performance with superior components that enhance the cinephile experience. From every high speed locomotive to the ferocious jet plane flight, these bipolar speakers will reinforce the movie theater experience you dream about.

Bipolar Surround Sound Design
The unique configuration of the bipolar speakers creates a 3D soundstage. This is achieved by having two complete full-range speaker systems on opposing sides of the cabinet. The results are widespread, enveloping surround sound throughout your room. The SXBP2 are designed for placement beside or behind the listeners for an extremely convincing 5.1/6.1/7.1 surround ambiance.

Thrilling Highs
The enveloping sound design of the SXBP2s will have your heart pumping and your head rotating. The neodymium tweeters of the Classic Series bipolar speakers increase the enjoyment from your favorite cinematic blockbusters. You will feel every spine-tingling scream and rapid stampede from the SXBP2 bipolar speakers.

Richness in the Middle
Experience the high definition sound effects Hollywood intended you to hear with the SXBP2 Bipolar Surround Sound Speakers. The dual four-inch midrange drivers enhance cinema quality home theater by replicating the soundstage, tones and notes you crave from your favorite films and concerts.

Made for You
The SXBP2s are made with a trapezoidal configuration, the perfect shape to increase home theater sound. Made with engineered MDF wood cabinetry for reduced resonance, the SXBP2 bipolar speakers provide superb, rich sound performances at every volume level. The black ash wood finish match perfectly with the Classic Series, and is your ticket to an engaging, thrilling in-house movie theater experience.
Specifications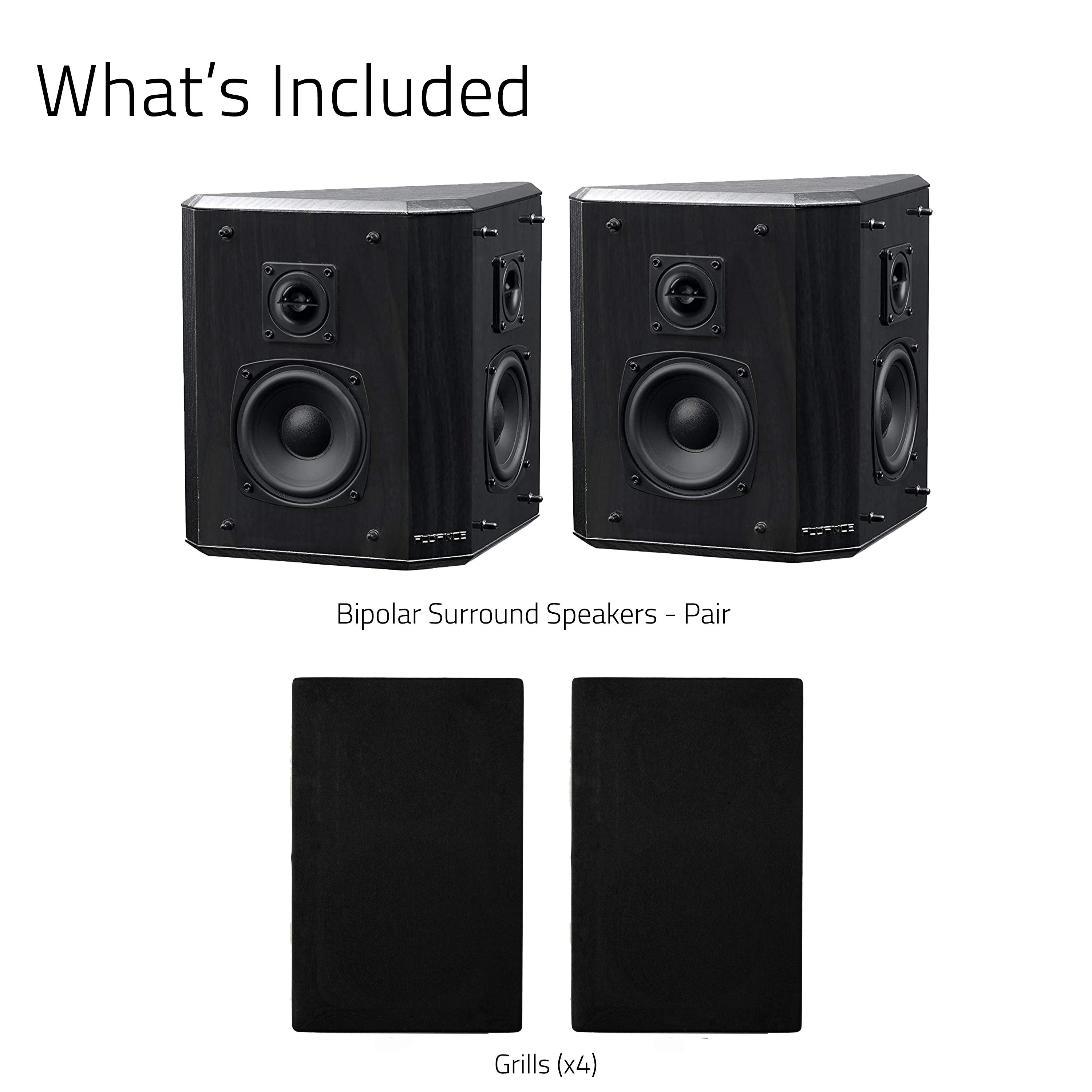 Speaker Configuration
2 Way - 4 Driver Passive Bipolar Surround Speakers
Tweeter
Dual 1 inch Neodymium Balanced Dome Ferrofluid Cooled
Woofer
Dual 4 inch Polymer Treated with Butyl Rubber Surrounds
Power Handling
20 - 100 Watts RMS
Frequency Response
130Hz - 20KHz
Sensitivity
88dB @ 2.83V / 1m
Crossover Frequency
4000 Hz Phase Coherent - PCB Mounted Circuitry
Impedance
8 Ohms
Enclosure
Acoustic Suspension Design
Dimensions
10.2 x 11.0 x 5.5 inches / 25.9 x 28.0 x 14.0 cm (HxWxD)
Speaker Weight
6.8 pounds/speaker
Series
ELITE
Speaker Type
Bipolar
DOLBY ATMOS
Ideal for use as surround sound speakers in a Dolby Atmos™ Surround Sound System
Frequency Response Graph

Click-to-Expand

Fluance Speaker Size Comparison Chart

UPC
871363002341
What's Included
Two Bipolar Surround Sound Satellite Speakers
Instruction Manual
Full Lifetime Parts and Labor Manufacturer's Direct Warranty
Lifetime Customer Support
Customer Reviews
Meladolus

December 15, 2022

I got these kind of on a whim. Bought these one night to replace some small old bookshelf speakers I was using as surround speakers in a 5.1 setup. Within a week I got a Klipsch center and two front speakers. If I had waited, I may have spent more on the Klipsch Bipole speakers.Regardless, these things hold their own. People say timber matching is crucial and I think for the front speakers that is probably true, but I just wanted some efficient surrounds that would improve my experience. These guys fit the bill. Instead of returning them, I was happy enough to stick with them and save myself 130 dollarsor whatever Klipsch charges for em these days. The keyholes on the back of the Fluance speakers made them super easy to mount to the wall. They are pretty nondescript, which I appreciate. They project well and blend right in with the rest of my home theater.

Meladolus

5

movie w

December 12, 2022

have good sound but they are not that easy to install the speaker wires very tight opening and if you try to use banana plugs they are to loose and that the only problem I have with them.I do recommend them.

movie w

5

Alan P

December 10, 2022

I'm using these for my back surround, but will end up switching this to my side surrounds one formal room construction is finished. These don't stand out much from the wall, and sound seems decent enough (crossed over at 120Hz). Since they are part of a 7.2.4 set up, and behind listening area I don't push a high volume or much power to drive them.

Alan P

4

Kyriakos S

November 22, 2022

The treble is a bit hot but otherwise the sound is good.The sensitivity is more than ok.Absolutely needs to be crossed over at 110Hz with a sub but this is understandable from 4 inch sealed surrounds.I found the best sound to be when they are put up against the wall facing directly into the room and not my ears to mitigate the treble

Kyriakos S

4

William L

November 15, 2022

I got these for surrounds. They are clean and well made. Obviously not top end but surrounds are just noise anyway. Played some music thru them in 5 channel stereo and was not bad at all. I like them.Absolutely will be good for surrounds in your system.

William L

5

rich

November 6, 2022

Pas eux le temp d essayer,mais colonne etais tres belle et de tres bonne qualité,acheter toute du paradigm,sinon aurais pas ete inquiet avec toute du fluance

rich

5

R

October 27, 2022

These speakers are phenomenal for the price, the projection is perfect for a surround sound setup, the way they work is definitely underrated, and they're built solid

R

5

Michael M

September 7, 2022

Paired these with Reference bookshelves and movies and music sound awesome! We have these in a 20 X 24 Log Cabin GR. GREAT

Michael M

5

Rosstradamuss

August 17, 2022

After reading all the reviews I figured for the price it was a great deal. The install was easy enough. I broke them in as my stereo left and right fronts. Over the time it was playing you could hear the sound become more warm and inviting. They need a break in time. I'm running them as my rears permanently. They work great for that. If you are wanting something with a bit of low end I would not get these. My subwoofer and fronts pick up that slack so my rears don't need it. These speakers have a little low end. The mids and highs tho. So crisp and clear. They get plenty loud. It's a great purchase that I'm happy with. Do your research and determine if these are the best fit for your set up.

Rosstradamuss

5

ryan

June 25, 2022

Great speakers for a good price. I purchased them to replace my rear speakers and they work great!!

ryan

5

Hondamom

June 20, 2022

The look of these are impressive and elegant.The feel of the finished product is very high end and screams genuine quality. And the most important part, the sound, these speakers are bright. They compliment my system so well I want to get the fluance elite series replacements for the front, center and atmos positions on my 7.2 channel set up. I think these are an excellent value and provide more than enough performance for the budget audiophile.

Hondamom

5

Mohammad

June 19, 2022

All good they send me wrong color

Mohammad

5

T

June 15, 2022

first time trying bipolars and I love them, paired with everything else they really spread the sound well for the price. by their nature and placement I am not looking for imaging just a wider sound stage which they do perfectly.

T

5

Amazon Customer

June 10, 2022

Excellent as souround speakers

Amazon Customer

5

W. A

June 2, 2022

What a great add-on to my sound system. The fact these will be mounted on the wall with very small nail and the sound was unbelievable. Excellent!!

See all reviews

W. A

5
Resources
Manual
Video
Guides
FAQs
Do I need a receiver/amplifier for these speakers?
All Fluance passive speakers (unpowered) require a receiver or amplifier to provide them power and a connection to your home theater or media setup.
For more information on how to match your speakers and amplifier, please see our video:
Where do I place Bipolar Speakers?
Bipolar speakers are best used as surround speakers.
Sometimes placed at the rear of a 5 speaker setup, they are most at home in a 7 speakers setup used at the sides of the listening area.
Bipolar speakers are designed to output sound so that wherever you are in the room you get the same experience.
For more information, see our video: How to install and position your Fluance bipolar speakers.
Articles from our experts