Overview
UNPARALLELED VINYL MUSIC PLAYBACK
Specifications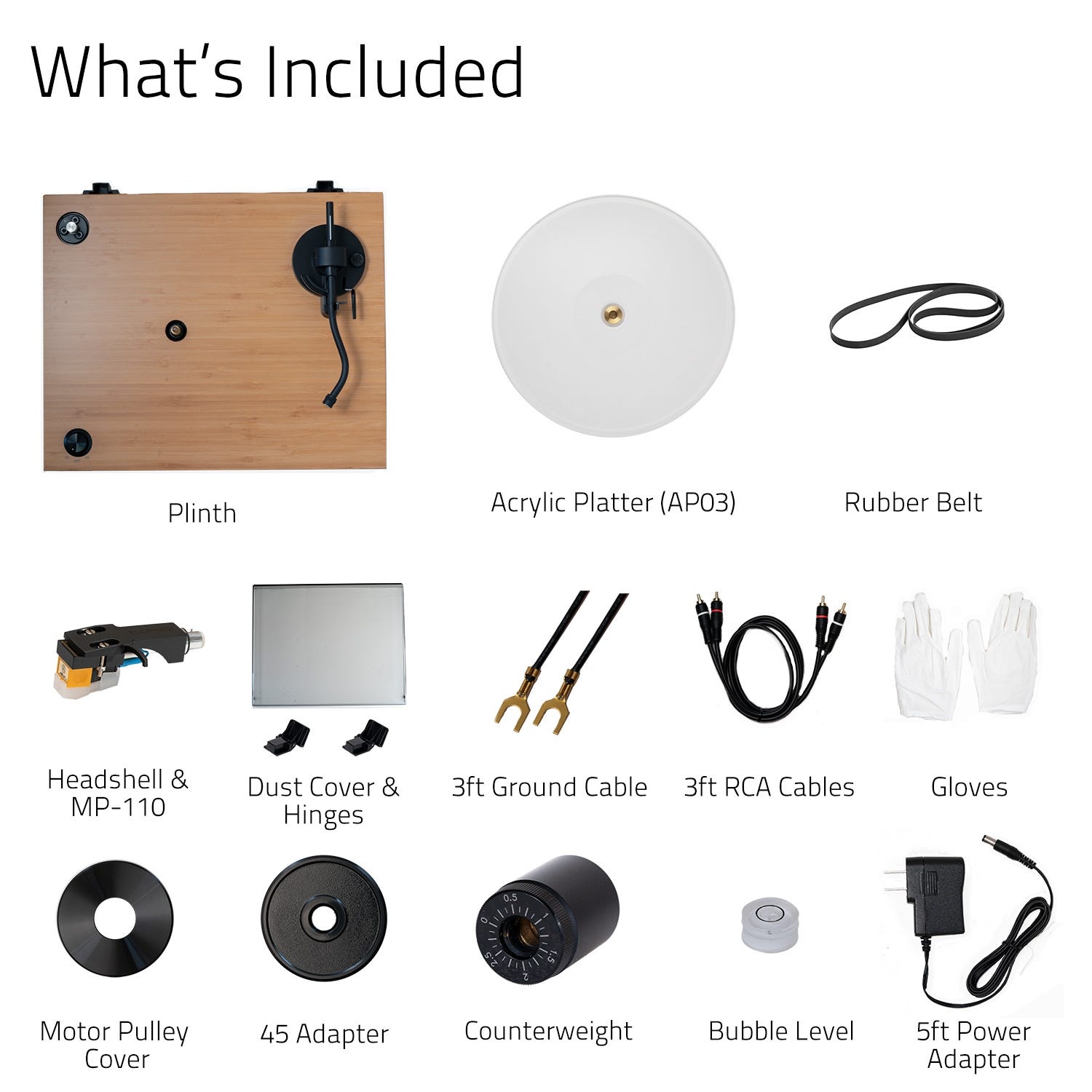 Cabinet Specifications
▼
Cabinet Material
MDF
Finish
Matte Bamboo Real Wood Veneer
Dust Cover
Yes - Tinted
Turntable Specifications
▼
Drive System
Belt Drive
Motor
DC Motor with Servo Controller Analyzes motor speed 500 times/sec
Motor Isolation
Under-mounted 7-point silicone isolation with decoupling isolation ring
Speed
33 1/3 RPM, 45 RPM (78 RPM – No)
Speed Variation
0.10%
Wow and Flutter
0.07%
Signal-to-Noise Ratio (Weighted)
68 dB
Signal-to-Noise Ratio (Unweighted)
59 dB
Platter
Acrylic
Diameter of Platter
12 inches (30 cm)
Weight of Platter
3 lbs (1.56 kg)
Height of Platter
0.62 inches (16 mm)
Auto-Stop
Yes
Turntable Mat
Not Required
Tonearm Specifications
▼
Tonearm Type
Static Balanced, S-Type
Supported Cartridge Weight
0.18 – 0.25 oz (5.0 – 7.5 g)
Counterweight
Yes – 3.60 oz (102 g) - Adjustable
Anti-skating Adjustment
Yes – Adjustable
Pivot Bearing
Yes
Cueing Lever
Yes
Tonearm Material
Aluminum
Tonearm Wire
36 AWG Litz Cable / 7 Strand
Effective Tonearm Mass
0.74 oz (21.1 g)
Overhang
0.76 inches (19.2 mm)
Effective Tonearm Length
8.82 inches (224 mm)
Headshell Mount
H-4 Bayonet Mount
Cartridge Specifications
▼
Cartridge Type
Moving Magnet (MM)
Cartridge Model
Nagaoka: MP-110
Replacement Stylus
JN-P110
Stylus
0.4 x 0.7 mil (Superfine polished elliptical bonded diamond)
Cantilever
Aluminum
Mount
Half-inch
Frequency Response
20 - 20,000 Hz
Channel Separation
23 dB at 1 kHz
Channel Balance
> 1.5 dB at 1 kHz
Load Impedance/Capacitance
47k Ohms - 100pF
Output Voltage
5.0 mV
Cartridge Weight
0.23 oz (6.5g)
Headshell Weight
0.35 oz (9g)
Cartridge Height
0.73 inches (18.5 mm)
Recommended Tracking Force
0.05 - 0.07 oz (1.5 - 2.0 g)
Vertical Tracking Angle
31° (Non-Adjustable)
Rubber Belt Specifications
▼
Rubber Belt Design
Continuous loop (joint-less)
Width
0.17 inches (4.5 mm)
Length
36.02 inches (915 mm)
Thickness
0.02 inches (0.6 mm)
Output Specifications
▼
Connector
RCA (Gold-plated)
Preamp
No - Separate Phono Preamp Required
Phono Output
5.0 mV
Ground Terminal
Yes
Power Specification
▼
Input
100 – 240 V AC (50/60 Hz)
Output
12 V / 500 mA
Consumption
1.5 W
General Specifications
▼
Dimensions
5.5 x 16.5 x 13.75 inches / 14.0 x 41.9 x 34.9 cm (HxWxD)
Certifications
FCC Certified, RoHS, CUL/UL
Unit Weight
16.76 lb (7.6 kg)
Operating Temperature
41°F to 95°F (5°C to 35°C)
Wireless Playback
No (Requires Bluetooth or WiFi transmitter connected via RCA connection to transmit audio wirelessly) 
Fluance Speaker Size Comparison Chart

What's Included

RT85N Reference Turntable Line Out

Click to Expand



RT85NB Turntable
Dust Cover + Hinges
Bubble Level
Headshell with Nagaoka MP-110 Cartridge
Counterweight (CW02)
Acrylic Platter (AP03) with Belt (RB35)
5ft 100 - 240V ~ 50/60Hz Power Adapter
3 ft 90pF RCA Cable (CA03)
3 ft Ground Wire (GW03)
45 Adaptor
Motor Pulley Cap
Cotton Gloves
User Manual
Lifetime Customer Support
2 Year Manufacturer's Direct Warranty
Press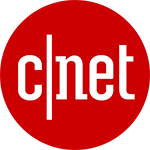 Ty Pendlebury of CNET Reviews the RT82
The Fluance RT82 "is the best overall turntable under $300... offers everything you could want"

Read Full Review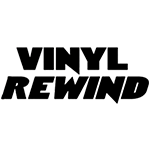 Vinyl Rewind Reviews the RT85
"I give this my highest rating of 5 pompadours out of 5"





Joe N Tell Reviews the RT82
Follow along as Joe Mariano unboxes and sets up his new RT82


Customer Reviews
KG

May 23, 2023

Missouri, United States

Great quality products and helpful customer service. Looks great in my space

KG

5

Barret J

May 10, 2023

British Columbia, Canada

After the motor on my Pro-ject Debut III bit the dust, I figured it was time for an upgrade. A ton of reading kept leading me back to Fluance, so I figured it was worth a try. I just had mine delivered today (quick shipping!), set it up (very easy set up, white gloves and bubble level are a nice touch), and after going through a stack of records, I can happily say I'm very pleased with my choice. Running it through Fluance's PA10 phono amp to my Cambridge Audio power amp and Focal speakers, the MP-110 delivers the nice warm sound I was hoping for. Incredible clarity with more technical jazz/piano music, fantastic bass response on my copy of the The Roots' first album, and the Beatles have never sounded this great on my setup. I've rediscovered my love for vinyl with this turntable, and I'm happy that my scepticism was completely unfounded. Stellar work Fluance!

Barret J

5

Brandon M.

April 24, 2023

Wisconsin, United States

After owning a cheaper record player and being relatively happy for many years, I bought myself a nice record player. I did not know what I was missing.. literally. The amount of detail that came through was almost mind shattering. I have been re-listening to all of my records, because I didn't know what I was missing and its like I have a whole new record collection.

Brandon M.

5

Jared W.

April 20, 2023

Pennsylvania, United States

I'm not very good at writing reviews, and don't really enjoy it. However I felt I had to give some thoughts. The package was shipped very quickly and carefully.
The instructions are very detailed and well written. I did not use the gloves (sorry) but nice touch! I ordered walnut and love the color because it matches the wood vaneer of my other stereo components. Although I do wish the finish was more satin and not as glossy (fingerprint magnet). The Turntable is dead silent. I tested the wow and flutter with a free app(probably not the most accurate) and averaged a wow and flutter of +-0.15% with 33 1/3 and +-0.10% for 45rpm. More than the claimed 0.07%, but still below the accepted 0.25% maximum. Trust me, nobody will be able to hear that. The tonearm is light and easy to swap headshells. Unfortunately the counterweight markings are nearly impossible to read without optimal lighting. Even then, I had to shine a flashlight on the counterweight to accurately dial in my tracking force. So Fluance, use a brighter, bolder shade of white to mark the tonearm weight and anti-skate. I reccomend customers buy a tonearm scale from Amazon (it's very inexpensive at below $15) and check the tracking force with it. I got mine fine dialed onto 1.85 grams for my MP110 cartridge. And this is a sweet cartridge! Better dynamics and detail than my AT95E, not harsh at all! I went with the Nagaoka because I have Klipsch RP-500M speakers, and I felt the 2M Blue would sound too fatigued with my speakers, and the MP110 is supposed to be quite a bit more warm, which is my reason for choosing the 85N. I have the turntable going into the phono input of my 1970s Sansui 661 stereo receiver. The whole combination makes for an excellent sounding system. I'm not an audiophile, but an enthusiast. I believe this turntable is worth the price, and that it might be the best turntable available right now for $500. I don't see myself needing to upgrade for many years. Once you get a turntable like this, it's not worth upgrading because the benefits don't really match the price increase. That's just my opinion though.


Jared W.

5

Ken B.

April 19, 2023

New York, United States

I couldn't believe this to could be that good at that price point. Sounds as good as my rega planer 6. Amazing for the price.

Ken B.

5

Mike S

April 19, 2023

New Jersey, United States

My 1980s vintage JVC belt-drive wasn't stable anymore. The Fluance with the RT81 package was the ticket. I did a lot of research, looked at a lot of used turntables on eBay. Forget buying used if you are into vinyl. Fluance hasn't disappointed: great value for money, wonderful upgrade, wonderfully stable and great sound and set-up of the cartridge. First few hours: better than what I had, after rechecking tracking and anti-skate, blowing me away on jazz, rock, classical. Great quality and value for money


Mike S

5

Andre C

April 12, 2023

British Columbia, Canada

Very happy with the purchase. Sounds great, is built well, and very nice looking. Music is very well balanced. Paired with a Yamaha RX with built phono pre amp.
Bonus that it's Canadian!

Andre C

5

Mike K

March 16, 2023

Minnesota, United States

Besides improving the sound quality of my albums, the turntable is like a piece of art. I can't stop looking at it, even when there isn't a record playing. Design and excellent quality show a lot of thought and creativity.

Mike K

5

Jeff M

March 8, 2023

Washington, United States

Great TT...the only thing I would change, is have it turn off faster on the auto shut off, so the needle doesnt take a ride in the bad area of the vinyl for the rotations that it does...other wise, its am awesome table and I'll take the nagaoka cartridge over the blue any day...very beautiful sound with a nice bass and very neutral

Jeff M

5

Liam H.

February 24, 2023

Ontario, Canada

Loving my RT85N turntable. I did so much research before buying and Fluance did not disappoint. Quality of turntable is superb. Connected to my Sonos sound system and it works great! Also love to support a Canadian brand!

Liam H.

5

Andrew R

February 17, 2023

California, United States

Brilliant, easy assembly instructions, in assembling you notice straight off the bat it's a high quality build, and at that price? I got the R85N because for the price difference i didn't want to compromise, but I'll bet all the others sound great too. This one sounds fantastic the bass is right there and tight, the soundstage is tight with lots of room in there if that makes any sense. I don't think I'll need to search any further now, my system is complete

Andrew R

5

Brian C

February 12, 2023

New Jersey, United States

beautiful turntable. Setup was easy. Balancing tonearm took a few seconds to get right. Could definitely make the markings on the counterweight easier to read. Enjoying my vinyl collection once again.

Brian C

5

Mark L

February 7, 2023

Ontario, Canada

Very pleased with my new turntable. Turned our den into a music (listening) room. Have been into vinyl since I was a teenager (I'm 62). Had a nice Thorens back in the day. Recently wanted to start spinning vinyl again. After lots of research, I decided on the RT85N. Sounds fantastic! Thanks Fluance for a great product at a reasonable price.

Mark L

5

Michael A

February 3, 2023

New Jersey, United States

Looks and sounds beautiful. Extremely happy with my purchase; I feel like I got excellent value for the money. Setup was reasonably easy.

One nitpick -- the locking mechanism for the tonearm feels chintzy, and out of character for the rest of the build. A longer power cord would also be nice, Otherwise, tough to fault anything about this turntable.

Michael A

5

Tom M

January 28, 2023

Wisconsin, United States

It was better than I thought.

See all reviews

Tom M

5
Resources
Manual
FAQs
Do I need an amplifier for this turntable?
An amplifier is only needed if you're connecting the turntable to passive speakers such as the Signature Series Bookshelf Surround Speakers. If you're looking for an option without a separate amplifier, the Ai41 and Ai61 Powered Bookshelf speakers fit the bill. With the Ai41, all you need to do is connect the included RCA cables to your preamp, then to the speakers and you're ready to listen to the music the way it was meant to be heard.
Do I need a Preamp?
If you intend to use your Reference series turntable with powered bookshelf speakers such as our Ai41 and Ai61 models, a preamp will be required. The preamp will boost the signal to line level (similar to a headphone jack) so you can play it on speakers with RCA or AUX inputs. If you have a home theater or stereo receiver/amplifier, you will need a preamp if the amplifier does not have a PHONO input. If you have a PHONO input, you may have a preamp already built-in. Be sure to refer to the manufacturer's specifications or manual for confirmation!
Why does this model not include a preamp?
This design choice was made with a number of factors in mind. The main reason was to separate electronics from the turntable's signal path to maintain the purity of the analog signal. Many listeners also like to customize their listening experience and choose specific components such as preamps based on unique sonic qualities. Using separate components also allows for optimization of cartridge and phono stage compatibility. If you upgrade your cartridge in the future, you can pair it with an optimal phono preamp to maximize performance and achieve the sound profile you desire!
What does a servo motor do?
We want our users to experience music the way it was meant to be heard and have pulled out all the stops for the new Reference series. These new turntables include a servo belt drive motor. What does this mean for you? This means that you have a sensor checking and adjusting the speed of the motor up to 500 times a second to make sure the speed of your turntable is consistent with no manual adjustments, bringing wow and flutter under 0.07%!
Which cartridges can I use on my turntable?
The RT85N features a modified tonearm to meet the specifications for the Nagaoka MP110. While it may be compatible with cartridges with similar dimensions, we have not tested them and cannot guarantee optimal performance.
Why is an acrylic platter better?
Acrylic is an extremely stable and dense material. This greatly reduces resonance that can be picked up by the cartridge from the environment such as people walking by, large vehicles passing or other sounds that create a lot of vibration. This also gives it considerably more weight compared to an aluminum platter of the same size. The extra weight of the platter during rotation helps the platter to spin flatter and at a more consistent speed, reducing wow & flutter.
Do I need a platter mat with the acrylic platter?
There is no need to use a platter mat with the acrylic platter! Additionally, the resonance of acrylic is very close to vinyl so a mat is not needed. As an added bonus, the acrylic looks fantastic!
Articles from our experts