RT81 Elite High Fidelity Vinyl Turntable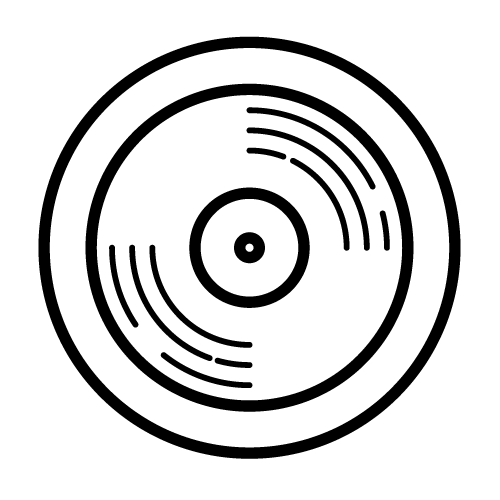 PURE ANALOG LISTENING EXPERIENCE
Premium components allow this high fidelity belt driven turntable to recreate the performance the way the artist intended

HIGH PERFORMANCE CARTRIDGE
The Audio Technica AT95E featuring a diamond elliptical tipped stylus is designed to track your record grooves with greater precision & accuracy for high definition audio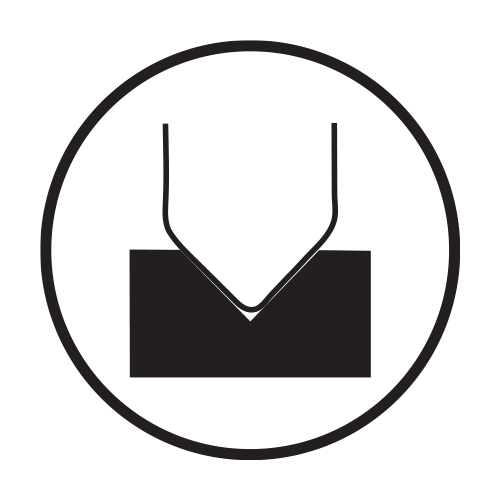 SUPERIOR RECORD TRACKING
Enjoy perfect playback using the balanced aluminum S-Type tonearm ensuring the stylus is rested deep in your record's groove, producing every audio detail indistinguishable from the original recording

HIGH MASS MDF WOOD PLINTH
The beautiful piano black finished cabinet is crafted from solid engineered (MDF) wood, incorporates isolation feet, an aluminum platter and a rubber platter mat which results in superior isolation from unwanted vibrations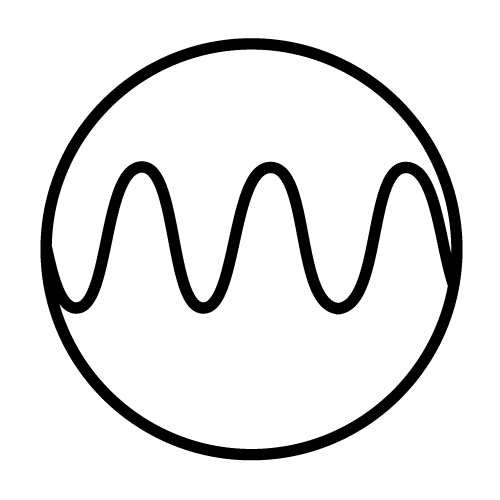 CAPTIVATING SIGNAL CLARITY
Incorporating a high quality built-in Texas Instruments preamp, ground terminal and gold plated RCA line outputs that ensures warm, true sound
Overview
UNPARALLELED VINYL MUSIC PLAYBACK
Specifications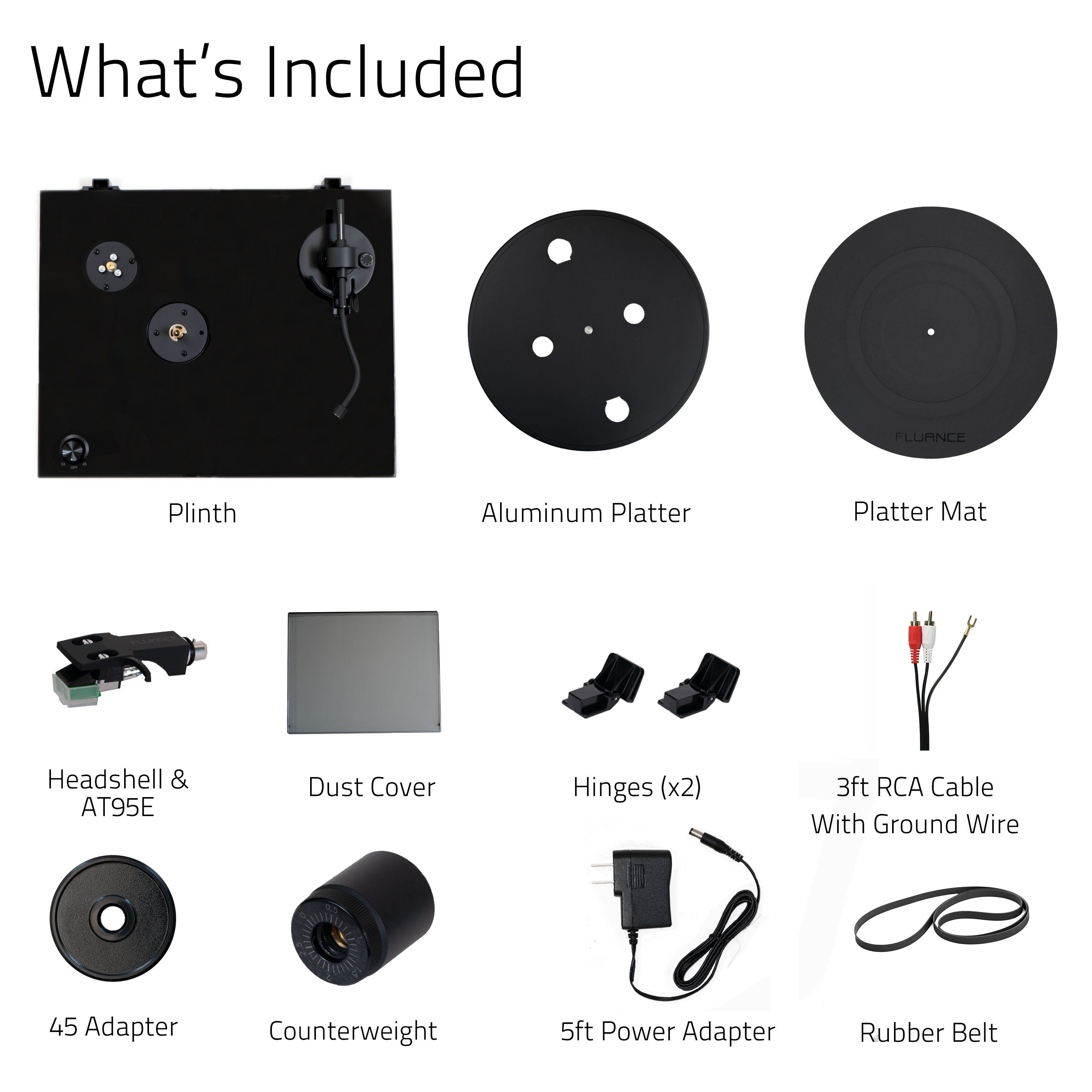 Cabinet Specifications
▼
Cabinet Material
MDF
Finish
High Gloss Piano Black
Dust Cover
Yes - Tinted
Turntable Specifications
▼
Drive System
Belt Drive
Motor
DC Motor
Motor Isolation
Three Point Rubber Isolation
Speed
33 1/3 RPM, 45 RPM (78 RPM - No)
Speed Variation
+/-1.00% - Speed Adjustment Guide
Wow and Flutter
0.2%
Signal-to-Noise Ratio (Weighted)
67dB or higher (A-weighted, 20kHz LPF)
Signal-to-Noise Ratio (Unweighted)
60dB or higher (unweighted, 20kHz LPF)
Platter
Aluminum
Diameter of Platter
12", 30cm
Weight of Platter
1.22 lbs (553 g)
Height of Platter
0.62 inches (16 mm)
Auto-Stop
Yes
Turntable Mat
Rubber
Tonearm Specifications
▼
Tonearm Type
Static Balanced, S-Type
Supported Cartridge Weight
0.12 to 0.23 oz (3.5 to 6.5 g)
Counterweight
Yes – 3.53 oz (100 g) - Adjustable
Anti-skating Adjustment
Yes
Pivot Bearing
Yes
Cueing Lever
Yes
Tonearm Material
Aluminum
Effective Tonearm Mass
0.99 oz (28.2 g)
Overhang
0.76 inches (19.2 mm)
Effective Tonearm Length
8.82 inches (224 mm)
Headshell Mount
H-4 Bayonet Mount
Tonearm Height
0.67 inches (17 mm)
Cartridge Specifications
▼
Cartridge Type
Dual Moving Magnet (MM)
Cartridge Model
Audio Technica: AT95E
Replacement Stylus
ATN95E
Stylus
0.4 × 0.7mil Bonded Elliptical (Diamond)
Cantilever
Aluminum
Mount
Half inch
Frequency Response
20-20,000Hz
Channel Separation
20dB at 1kHz
Channel Balance
2.0dB or less at 1kHz
Load Impedance/Capacitance
47k Ohms/100pF
Output Voltage
3.5mV (+/–3dB)
Cartridge Weight
5.7g (+/- 0.5g)
Headshell Weight
0.38 oz (10.7 g)
Cartridge Height
0.67 inches (17 mm)
Recommended Tracking Force
2.0g +/–0.5g
Vertical Tracking Angle
20 degrees (Non-Adjustable)
Rubber Belt Specifications
▼
Rubber Belt Design
Continuous loop (joint-less)
Width
0.17 inches (4.5 mm)
Length
21.03 inches (534.07 mm)
Thickness
0.02 inches (0.6 mm)
Output Specifications
▼
Connector
RCA (Gold-plated)
Preamp
Yes, PHONO/LINE Switchable
Phono Output
3.5mV (+/–3dB)
Phono Bypass
Yes, all electronics bypassed when using external preamp
Line Output
140mV (–17dBV)
Ground Terminal
Yes
Power Specification
▼
Input
100V - 240V AC (50/60Hz)
Output
12V / 500mA
Consumption
1.5W
General Specifications
▼
Dimensions
5.5 x 16.5 x 13.75 inches / 14.0 x 41.9 x 34.9 cm (HxWxD)
Certifications
FCC Certified, RoHS, CUL/UL
Unit Weight
14.1 lb (6.4 kg)
Operating Temperature
20°C
Wireless Playback
No (Requires Bluetooth or WiFi transmitter connected via RCA connection to transmit audio wirelessly)
Fluance Speaker Size Comparison Chart

UPC
871363017123
What's Included
RT81 Turntable
Dust Cover
2x Dust Cover Hinges
Headshell with Audio Technica AT95E Cartridge
Counterweight (PFHTCW)
Aluminum Platter
Rubber Belt
45 Adapter
Rubber Platter Mat
3ft RCA Cable With Ground Wire (PFHTCW)
5ft 100V - 240V (50/60Hz) AC Power Adapter
User Manual
Lifetime Customer Support
2 Year Manufacturer's Warranty
Customer Reviews
Tim A.

March 13, 2023

Maine, United States

The RT81 replaced my 40 year old Technics. Very impressed with the quality and looks. Does an excellent job, very pleased with it so far.

Tim A.

5

MJ Basco

December 31, 2022

Louisiana, United States

went own from Thorns td165, but this Fluance will hold it's own in quality and sound. Not a Thorns, but nice for the price. A quality product.

MJ Basco

5

Nonna

December 29, 2022

When assembled (not very difficult), I tried playing my Lab Cut LP (Donald Fagen's Nightfly) and he sounded more like Alvin of "The Chipmunks". After doing a speed test it showed the 33 1/3 speed was actually playing above 45 RPM and the 45 speed was almost 60! I set out to perform a speed adjustment (with a jewelers screw driver set) only to discover that the adjustment nuts on the rheostat of the speed controller were such cheap plastic that one had broken off at the first attempt. The whole unit itself looks gorgeous but unfortunately the internal components are very cheap. Don't waste your time or money. Look for a direct drive with a built in strobe and speed controller right next to the platter so each speed can be easily and accurately adjusted.

Nonna

1

Danyal W

December 29, 2022

I grew up with a record player but was always too scared to learn to use it. Now in my 30s I wanted to have my own. Did research and pulled the trigger on this one. Christmas morning I bring it over and my 64 yr old dad is happily teaching me all the part names and such. First he rips the ribbon holding the belt so we struggle a little to install that (oops) and when we get to balancing the tone arm we fight with the thing for almost half an hour listening to the opening of Ghost's Impera album god knows how many times. We achieve music and I take it home. I FINALLY read the instructions all the way and figure out where we went wrong. It's a nice solid and heavy player so far I love it! If I had one complaint and this is minor the power plug feels a bit on the cheaper side and it's a little bulky but that's seriously my ONLY complaint. Definitely recommend!

Danyal W

5

FJ

December 25, 2022

The variable speed controls are extremely tiny screws that can only be accessed underneath the plinth while the platter is spinning, so precise speed adjustments have to be made with an optical disk or an awkward rpm app while the turntable is up on some kind of risers that allow access to the bottom. This is a very difficult adjustment to make, and since the factory speed settings on mine were off enough to notice, I effectively ruined the tuning screws and guides while blindly (due to design) poking around trying to fit and fine tune speed. Maybe the assumption is that someone buying this model doesn't need fine speed/pitch control, but that doesn't comport with the other premium positioning, components, etc. It's a frustrating inconsistency, as I like the turntable in all other respects. Buyer beware.

FJ

3

Lexi

December 24, 2022

I absolutely love this! The quality is absolutely amazing for the price and is seriously worth every penny. I haven't had a single issue and I've had her for a few months now. It's also very easy to put together (directions are included thankfully!).

Lexi

5

Steven F

December 21, 2022

love it

Steven F

4

Jen

December 20, 2022

Bought this for a gift for myself back to using my LPs. I love it had a little bit of difficulty pairing speakers together because you need to make sure the preamp is on the right spot other than that love it

Jen

5

Jack M

December 17, 2022

Georgia, United States

At the price (and especially the $50 off sale price I recently got mine for) I think there's few if any other tables that can compete. Build quality is exceptional and the feet have it perfectly level. There are just a few caveats though. First i wish the power/speed knob had a better grip like perhaps a diamond pattern instead of the concentric grooves that make it kind of slippery to turn. Also can't believe nobody noticed but the little clip that holds the arm in place on the rest....when it's flipped out it kind of gets in the way of the cueing lever. This is not the case on my other Fluance an RT83. And lastly WHY are they not putting the newer version of the AT cartridge on these, the AT-VM95e?? It replaced the AT95e about four years ago!! My best guess is they got a deal to buy up the old stock from Audio Technica and are still using what they have. But what comes on it is perfectly fine and for the $$ this is still a great turntable.

Jack M

4

Rick

December 16, 2022

Had the rt85, and returned it.Rt82 I less prone to rumble due to the less sensitive needle.It sounds amazing throught my HK 730 and Klipsch rf620's.Highs are crisp, and the lows really dip.This reciever is rated at4hz to 35k hz., so the room for the wide range is there.Great buy at this price for a vintage nut like me.

Rick

5

Michael S

December 13, 2022

Texas, United States

Great turntable

Michael S

5

David W

December 13, 2022

Arkansas, United States

Love it. Looks preformence and ease of use. I noticed one review stated the tonearm would not return in auto off mode. Unit shuts off and isn't supposed to return, that is clearly stated in instructions and is normal and not a malfunction. Had a couple of occasions to call tech support just to make sure I understood something and they were great very helpful. No regrets with my RT 81. I have four other brands and this is my favorite.

David W

5

Collin W

December 11, 2022

Sound quality is great when paired with a proper stereo system! Lots of ways to upgrade this turntable.My one and only gripe is the auto stop function seems to have stopped working about 6 months in

Collin W

5

Gary C

December 10, 2022

Ohio, United States

Initially we bought Rt81 and set of AI60 powered speakers for Daughter for Christmas we Like them so well we bought a set for ourselves .

Gary C

5

sw

December 9, 2022

Bought this as a gift. Was expecting that it can play vinyl records on its own. Didn't expect that will need to buy a lot of complements like extra speakers, wires, etc. for it to play something. Though it's a high quality vinyl player

See all reviews

sw

3
Resources
Manual
FAQs
Does this turntable have built in speakers?
Fluance turntables do not include built in speakers.
To use a Fluance turntable, connect it to a home theater receiver or amplifier for use with passive speakers, or connect it to a set of powered speakers such as the Ai41 Powered Bookshelf Speakers.
If your receiver or speakers do not have a specific PHONO input or integrated preamp, RT80 and RT81 both include an internal preamp for quick and easy setup.
Do I need an amplifier for this turntable?
An amplifier is only needed if you're connecting the turntable to passive speakers such as the Signature Series Bookshelf Surround Speakers.
If you're looking for an option without a separate amplifier, the Ai40 and Ai60 Powered Bookshelf speakers fit the bill.
With the Ai41 and Ai61, all you need to do is connect the included RCA cables to the speakers, turn on the internal pre-amp and you're ready to listen to the music the way it was meant to be heard.
When do I use the turntable's built in preamp?
If you're using an amplifier without a phono input, or some powered speakers such as our Ai41 model, you will need to use the preamp by sliding the switch to the "LINE" position.
Can I install a different cartridge on this turntable?
The tonearm of the RT80 and RT81 model turntables is compatible with cartridges from 3.5 grams to 6.5 grams in weight.
For full instructions on this process, see our video below:
Articles from our experts