 RT80 High Fidelity Vinyl Turntable Record Player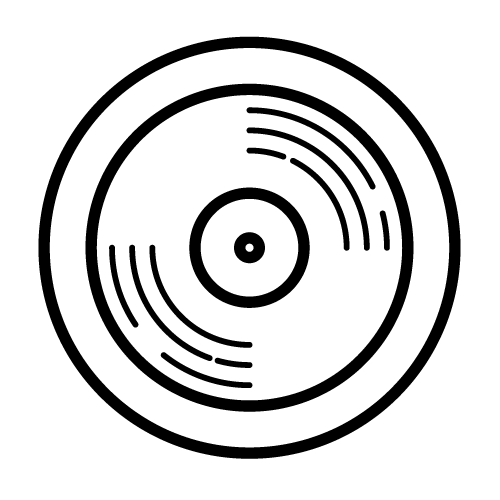 PURE ANALOG LISTENING EXPERIENCE
Premium components allow this high fidelity belt driven turntable to recreate the performance the way the artist intended

HIGH PERFORMANCE CARTRIDGE
The Audio Technica AT91 featuring a diamond tipped stylus is designed to track your record grooves with greater precision & accuracy for high definition audio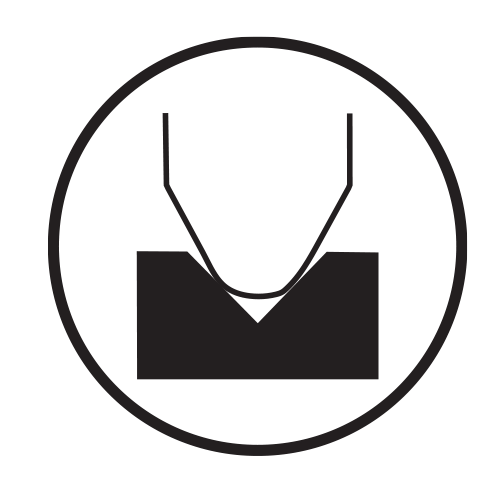 SUPERIOR RECORD TRACKING
Enjoy perfect playback using the balanced aluminum S-Type tonearm ensuring the stylus is rested deep in your record's groove, producing every audio detail indistinguishable from the original recording

WOOD PLINTH
The beautiful cabinet is crafted from engineered (MDF) wood, incorporates isolation feet, an aluminum platter and a felt slip mat which results in superior isolation from unwanted vibrations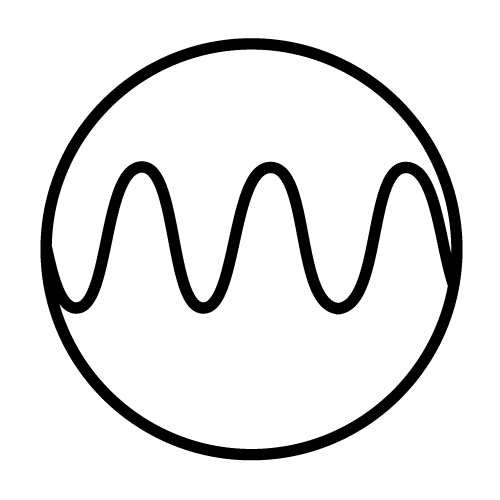 CAPTIVATING SIGNAL CLARITY
Incorporating a high quality built-in Texas Instruments preamp, ground terminal and gold plated RCA line outputs that ensures warm, true sound
Overview
UNPARALLELED VINYL MUSIC PLAYBACK
Specifications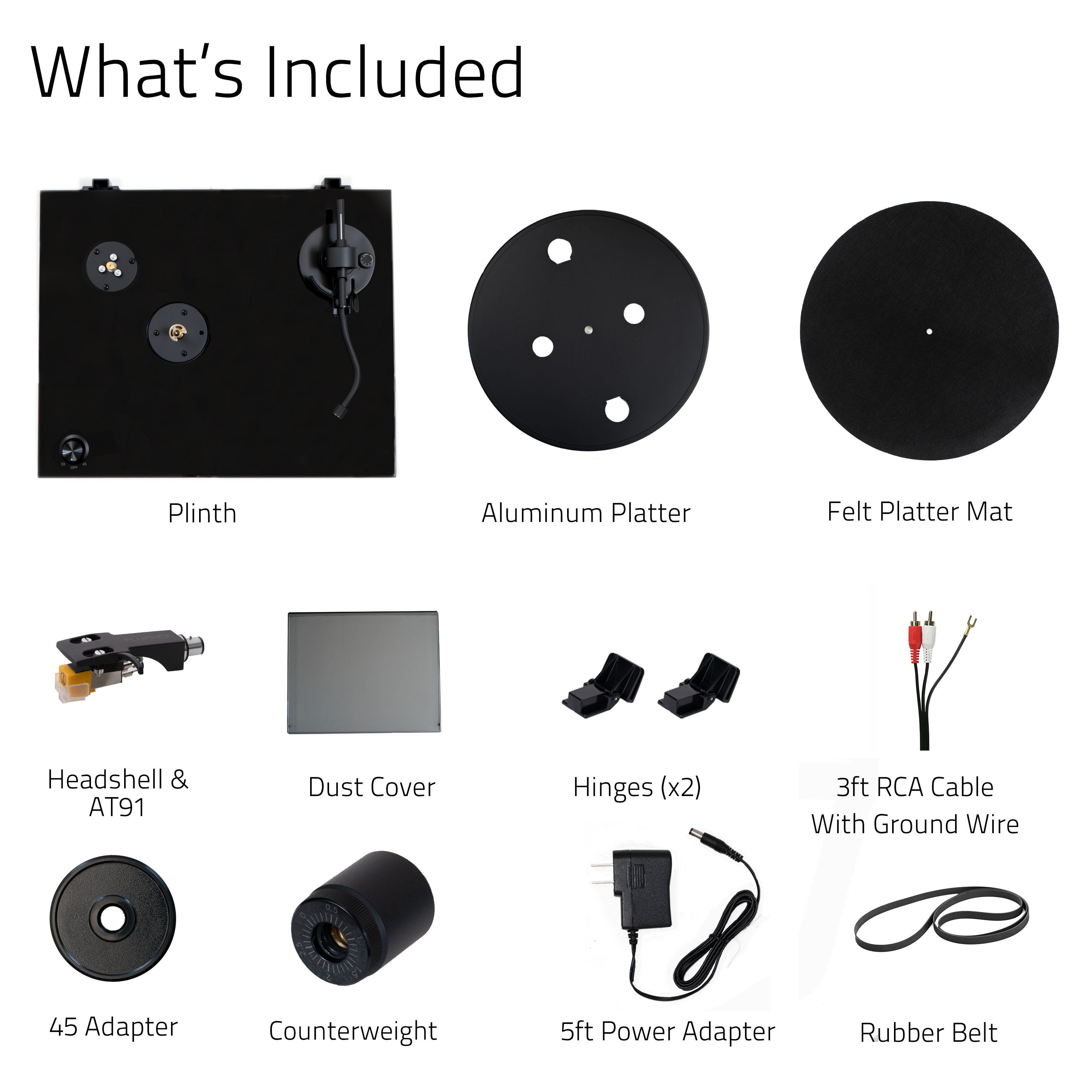 Cabinet Specifications
▼
Cabinet Material
MDF
Finish
Painted High Gloss (Black)
Dust Cover
Yes - Tinted
Turntable Specifications
▼
Drive System
Belt Drive
Motor
DC Motor
Motor Isolation
Three Point Rubber Isolation
Speed
33 1/3 RPM, 45 RPM
Speed Variation
+/-1.00% - Speed Adjustment Guide
Wow and Flutter
0.2%
Signal-to-Noise Ratio (Weighted)
67dB or higher (A-weighted, 20kHz LPF)
Signal-to-Noise Ratio (Unweighted)
60dB or higher (unweighted, 20kHz LPF)
Platter
Aluminum
Diameter of Platter
12", 30cm
Weight of Platter
1.22 lbs (553 g)
Height of Platter
0.62 inches (16 mm)
Auto-Stop
Yes
Turntable Mat
Felt
Tonearm Specifications
▼
Tonearm Type
Static Balanced, S-Type
Supported Cartridge Weight
3.5 to 6.5g
Counterweight
Yes – 3.53 oz (100 g) - Adjustable
Anti-skating Adjustment
Yes
Pivot Bearing
Yes
Cueing Lever
Yes
Tonearm Material
Aluminum
Tonearm Wire
36 AWG Litz Cable / 7 Strand
Effective Tonearm Mass
28.2 grams
Overhang
19.2mm
Effective Tonearm Length
224mm
Headshell Mount
H-4 Bayonet Mount
Tonearm Height
17mm
Cartridge Specifications
▼
Cartridge Type
Moving Magnet (MM)
Cartridge Model
Audio Technica: AT91
Replacement Stylus
ATN91
Stylus
0.6mil Bonded Conical (Diamond)
Cantilever
Carbon Fiber
Mount
Half inch
Frequency Response
20-20,000Hz
Channel Separation
18dB at 1kHz
Channel Balance
2.5dB or less at 1kHz
Load Impedance/Capacitance
47k Ohms/100pF
Output Voltage
2.5mV +/–3dB
Cartridge Weight
5.0g (+/- 0.5g)
Headshell Weight
10g
Cartridge Height
0.67 inches (17 mm)
Recommended Tracking Force
2.0g (+/–0.5g)
Vertical Tracking Angle
20 degrees
Rubber Belt Specifications
▼
Rubber Belt Design
Continuous loop (joint-less)
Width
4.5mm
Length
534.07mm
Thickness
0.6mm
Output Specifications
▼
Connector
RCA (Gold-plated)
Preamp
Yes, PHONO/LINE Switchable
Phono Output
2.5mV +/–3dB
Phono Bypass
Yes, all electronics bypassed when using external preamp
Line Output
140mV (–17dBV)
Ground Terminal
Yes
Power Specification
▼
Input
100V - 240V AC (50/60Hz)
Output
12V / 500mA
Consumption
1.5W
General Specifications
▼
Dimensions
16.5" x 5.5" x 13.75"
Certifications
FCC Certified, RoHS, CUL/UL
Unit Weight
4.5 kg (9.9 lb)
Operating Temperature
20°C
Wireless Playback
No (Requires Bluetooth or WiFi transmitter connected via RCA connection to transmit audio wirelessly)
Fluance Speaker Size Comparison Chart

UPC
061783258279
What's Included
RT80 Turntable
Dust Cover
45 Adapter
Felt Slip Mat
6ft RCA Cable With Ground Wire
100V - 240V (50/60Hz) AC Power Adapter
Quick Start Guide
Lifetime Customer Support
2 Year Manufacturer's Warranty
Press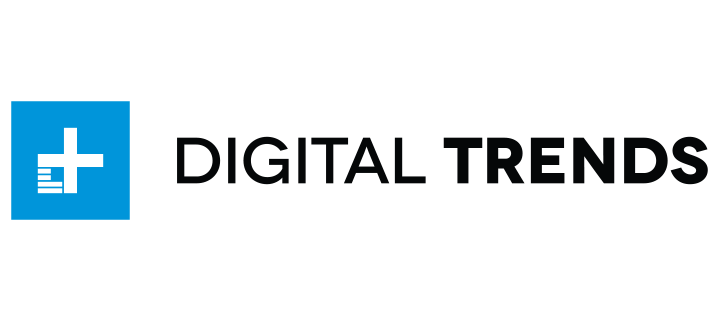 Digital Trends Review of the RT80
" If you're picking up vinyl for the first time or getting back into it, Fluance's turntables are a good starting point."
Read the Full Review
Customer Reviews
Tony

January 12, 2022

Nova Scotia, Canada

Bought it for my daughter for Christmas, she loves it

Tony

5

Jmp

December 28, 2021

California, United States

For a special Christmas gift, I researched the most respected unit for my price range and quickly discovered Fluance. The record player is sleek and attractive, sounds perfect and I liked not needing to source a separate preamp. We're very pleased

Jmp

5

Jeremy O.

December 7, 2021

Iowa, United States

This product requires assembly out of the box, which is very easily done with the directions provided. The process of balancing the needle and setting the weight of the arm gives you piece of mind that it's been done correctly as well. The built in pre-amp is a game changer. I'm running it through a pretty old and mid level stereo and it's never sounded so good. Great product.

Jeremy O.

5

Jeff G

November 25, 2021

Saskatchewan, Canada

This is seriously the best quality turntable for this price that i've ever used. Simply top notch. Would highly recommend.

Jeff G

5

Chris E

November 19, 2021

Vermont, United States

The Fluance RT80 is my first venture into turntables, and I've been thrilled with it. Not too hard to set up, sounds great, and when it started giving me trouble I was able to get support via text chat and have it fixed in 10 minutes (user error of course, thanks for the help Brent!)

Chris E

5

Hannah M

November 6, 2021

Arizona, United States

So gorgeous, fun to use, high-quality. Also, super easy to put together — instructions are thorough and simple to follow.

Hannah M

5

rory jones

October 8, 2021

Texas, United States

i did not get the correct speakers. my fault. but know i have one that does not work with my turntable. i either need to return this one or just get one that works with my turntable.

rory jones

5

Unshapenbow

September 28, 2021

This is the second fluance model that I've bought in the past year. I use a Rt 85 on my main system and I use this Rt 80 in my record room. The Rt 80 is a great turntable for the price but I recommend just paying the little extra for the Rt 81. I have no complaints about this turntable all in all.

Unshapenbow

5

Tyler L

September 26, 2021

No bells or whistles, it comes with a cartridge, felt mat, a 45 rpm adapter, and a nice dustcover that is detachable. The modes are Off, 33rpm, 45rpm. It has a built-in pre-amp that can be turned off if you want to add your own pre-amp. The tonearm is fully adjustable except for height. It has auto start for when the needle is over the platter, and auto stops when the needle is in the runout for ~8 seconds. The feet are large and springy, great for reducing vibrations.This is truly the perfect blend of entry-level and enthusiast turntable. Get this if you want to get into vinyl for the sound quality, but dont want to break the bank.

Tyler L

5

Cole F.

September 23, 2021

Texas, United States

Sounds great. Wish the included RCA cord was longer but otherwise very pleased.

Cole F.

5

pgonz

September 9, 2021

It is easy to setup and a beginner's turntable for those looking for one that is easy on wallet.

pgonz

5

Michael M

September 3, 2021

Great value

Michael M

5

Mar-Joe

August 16, 2021

1* off for the bad phono integrated pre amp ( line ).It crackles and pop a lot even with new records.I've bought a phono tube amp. It's better now.

Mar-Joe

3

Bread

August 10, 2021

-

Bread

5

Amazon Customer

August 9, 2021

Great sound quality and solid build for any enthusiast or beginner.

See all reviews

Amazon Customer

4
Resources
Manual
FAQs
Does this turntable have built in speakers?
Fluance turntables do not include built in speakers.
To use a Fluance turntable, connect it to a home theater receiver or amplifier for use with passive speakers, or connect it to a set of powered speakers such as the Ai40 Powered Bookshelf Speakers.
If your receiver or speakers do not have a specific PHONO input or integrated preamp, RT80 and RT81 both include an internal preamp for quick and easy setup.
Do I need an amplifier for this turntable?
An amplifier is only needed if you're connecting the turntable to passive speakers such as the Signature Series Bookshelf Surround Speakers.
If you're looking for an option without a separate amplifier, the Ai40 Powered Bookshelf speakers fit the bill.
With the Ai40, all you need to do is connect the included RCA cables to the speakers, turn on the internal pre-amp and you're ready to listen to the music the way it was meant to be heard.
When do I use the turntable's built in preamp?
If you're using an amplifier without a phono input, or some powered speakers such as our Ai40 model, you will need to use the preamp by sliding the switch to the "LINE" position.
Can I install a different cartridge on this turntable?
The tonearm of the RT80 and RT81 model turntables is compatible with cartridges from 3.5 grams to 6.5 grams in weight.
For full instructions on this process, see our video below:
Articles from our experts