Overview

PREMIUM FEATURES
Premium components allow this high fidelity belt driven turntable to produce a pure analog listening experience that recreates the performance the way the artist intended
High performance AT95E Audio Technica cartridge produces outstanding clarity. The diamond elliptical tipped stylus is designed to track your record grooves with greater precision & accuracy for high definition audio
Perfect playback using the balanced aluminum S-Type tonearm ensures the stylus is rested deep in your record's groove, producing every audio detail indistinguishable from the original recording
The beautiful walnut finished cabinet is crafted from solid engineered (MDF) wood, incorporates isolation feet, an aluminum platter, & a rubber slip mat which results in superior isolation from unwanted vibrations
Captivating signal clarity is produced with a high quality Texas Instruments preamp, gold plated RCA line outputs, and a ground terminal that ensure warm, true sound

RT81 HiFi Turntable
Fluance's RT81 High Fidelity Turntable plays traditional LP and EP vinyl records with stunning quality that achieves the purest sound reproduction. When you want the absolute best in music performance, pull out your favorite 33 1/3 or 45 RPM records, hook up your sound system, drop the needle, and immerse yourself in the Fluance RT81 Record Player. Your soul will be captivated by the crisp, distinguishing characteristics of the music you love. Premium components allow this belt driven turntable to produce a pure uncompressed listening experience that recreates the performance the way the artist intended.

Superior Stylus Makes for a Pure Analog Listening Experience
Your music will sound richer when the Audio Technica AT95E stylus rests in the grooves of your favorite vinyl record at a mere 2.0 grams of tracking force. The upgraded elliptical diamond stylus is renowned for its freedom from noise and distortion, clarity on musical peaks, and channel balance.

Complete Clarity Without Compromising Your Collection
You'll savor every note thanks to the balanced and adjustable counterweight of the S-Type tonearm. The fluid movement of the bearings within the tonearm coupled with the advanced anti-skating system practically caresses your record, preventing scratching and ensuring the stylus is perfectly rested deep in your record's groove while splendidly coaxing the music out of your vinyl.

Designed for Serious Performance
The walnut finished cabinet is crafted from solid engineered (MDF) wood which reduces vibrations to ensure the stylus provides the best possible signal. Sound isolation feet, an aluminum platter and a rubber slip mat significantly reduce reverberation, leaving you with pure stereophonic sound.

Premium Components
Captivating signal clarity is produced with a high quality Texas Instruments preamp, ground terminal and gold plated RCA line outputs that ensures high fidelity sound in its truest form.
Specifications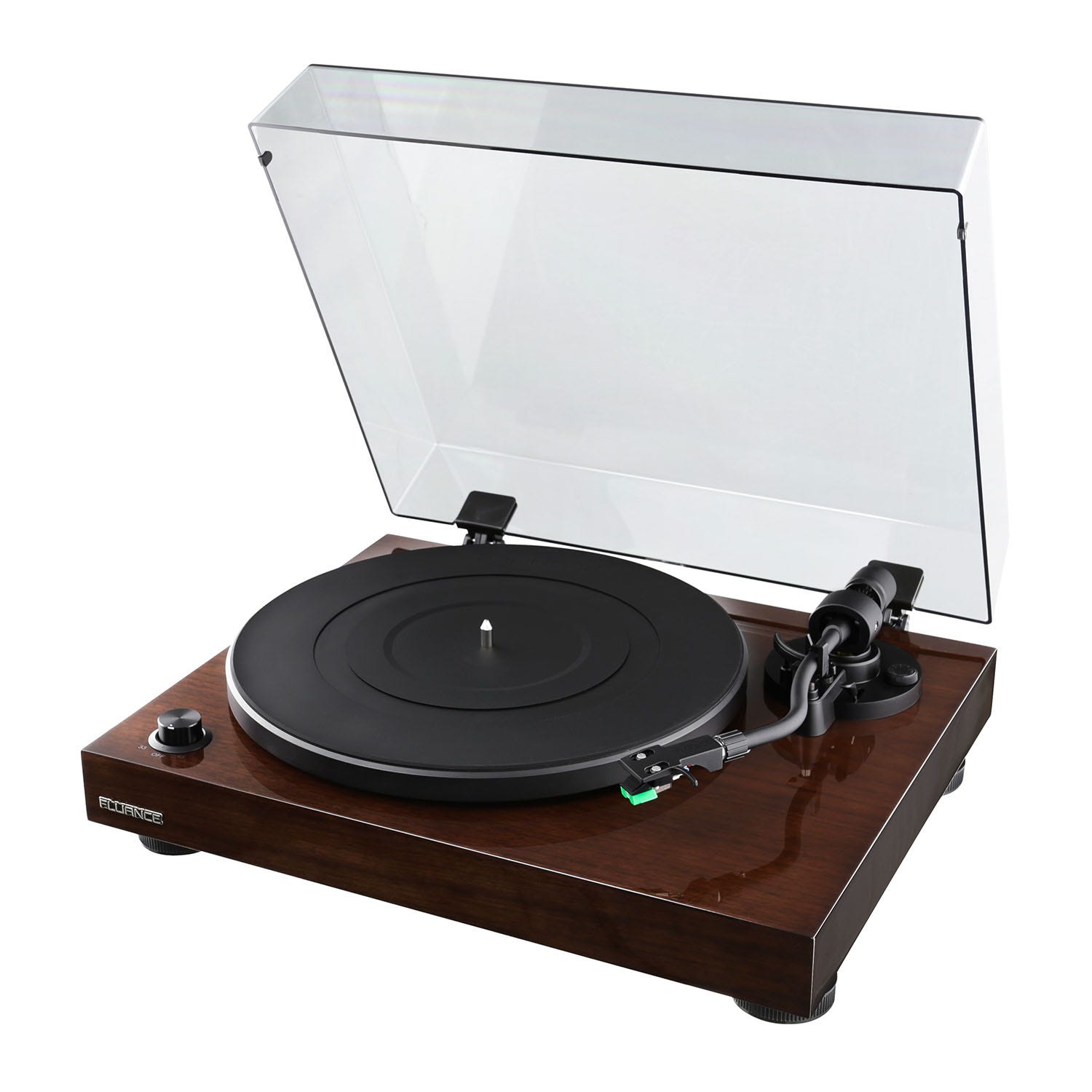 Cabinet Specifications
▼
Cabinet Material
MDF
Finish
High Gloss Walnut
Dust Cover
Yes - Tinted
Turntable Specifications
▼
Drive System
Belt Drive
Motor
DC Motor
Speed
33 1/3 RPM, 45 RPM
Speed Variation
+/-1.00% - Speed Adjustment Guide
Wow and Flutter
0.2%
Signal-to-Noise Ratio (Weighted)
67dB or higher (A-weighted, 20kHz LPF)
Signal-to-Noise Ratio (Unweighted)
60dB or higher (unweighted, 20kHz LPF)
Platter
Aluminum
Diameter of Platter
12", 30cm
Auto-Stop
Yes
Turntable Mat
Rubber
Tonearm Specifications
▼
Tonearm Type
Static Balanced, S-Type
Supported Cartridge Weight
3.5 to 6.5g
Anti-skating Adjustment
Yes
Pivot Bearing
Yes
Tonearm Material
Aluminum
Tonearm Wire
36 AWG Litz Cable / 7 Strand
Effective Tonearm Mass
28.2 grams
Overhang
19.2mm
Effective Tonearm Length
224mm
Headshell Mount
H-4 Bayonet Mount
Tonearm Height
17mm
Cartridge Specifications
▼
Cartridge Type
Dual Moving Magnet (MM)
Catridge Model
Audio Technica: AT95E
Replacement Stylus
ATN95E
Stylus
0.4 × 0.7mil Bonded Elliptical (Diamond)
Cantilever
Aluminum
Mount
Half inch
Frequency Response
20-20,000Hz
Channel Separation
20dB at 1kHz
Channel Balance
2.0dB or less at 1kHz
Load Impedance/Capacitance
47k Ohms/100pF
Output Voltage
2.5mV +/–3dB
Cartridge Weight
5.7g (+/- 0.5g)
Headshell Weight
10.7g
Recommended Tracking Force
2.0g +/–0.5g
Vertical Tracking Angle
20 degrees
Rubber Belt Specifications
▼
Width
4.5mm
Length
534.07mm
Thickness
0.6mm
Output Specifications
▼
Connector
RCA (Gold-plated)
Preamp
Yes, PHONO/LINE Switchable
Phono Output
2.5mV +/–3dB
Phono Bypass
Yes, all electronics bypassed when using external preamp
Line Output
140mV (–17dBV)
Ground Terminal
Yes
Power Specification
▼
Input
100V - 240V AC (50/60Hz)
Output
12V / 500mA
Consumption
1.5W
General Specifications
▼
Dimensions
16.5" x 5.5" x 13.75"
Certifications
FCC Certified, CE Certified, RoHS, CUL/UL
Unit Weight
6.4 kg or 14.1 lbs
Operating Temperature
20°C
Fluance Speaker Size Comparison Chart

UPC
061783264362
What's Included
RT81 Turntable
Dust Cover
45 Adapter
Rubber Slip Mat
6ft RCA Cable With Ground Wire
100V - 240V (50/60Hz) AC Power Adapter
Quick Start Guide
Lifetime Customer Support
2 Year Manufacturer's Warranty
Customer Reviews
Ron R

January 21, 2019

Ohio, United States

I actually learned about the Fluance line via a Youtube video and became intrigued. I own an Audio Technica ATLP-120 TT and still like it especially after removing the preamp. However, I did notice that the motor was a little noisy on the AT so I wanted to move to a belt driven unit. After watching the videos on Youtube I decided to go with the RT-81. It is a great table, it's quiet and you can easily upgrade the cartridge on it. It sounds amazing, I actually swapped out the Audio Technica stylus for the LP Gear CFN95Se upgrade and I must say that it opens things up considerably!
All in all, I am extremely happy with my purchase, I do wish that I would have waited for the Reference models that have just come out...:) Even so, I am very happy with the RT81, I don't even mind the built-in preamp. I bypass it and use a Cambridge Audio CP1 preamp and still exprerince very clear audio (not sure I want to remove it just yet.)

Robert H

January 20, 2019

Georgia, United States

Very pleased with the ordering process and the product I purchased.

Paul, M

January 17, 2019

New Brunswick, Canada

Arrived well packaged and easy to set up. Awesome sound and quality and beautiful appearance. Love it.

Chris H.

January 16, 2019

California, United States

I haven't had a working turntable in 30 years. My teenage son asked for some vinyl for Christmas so I thought it was time to buy a turntable and bring out my old collection from high school. I looked at the Audio Technica AT-LP120, U-Turn Orbit and the Fluance RT81. I am so glad I chose the RT81. The turntable is beautiful, the set up was easy, the phono stage is helpful, and the sound is great. I set connected the table to a pair of Audioengine A2s and was ready to enjoy some long lost albums. I'm looking to add the AI40 speakers to increase and improve the sound. Good job, Fluance.

Neil S.

January 16, 2019

Montana, United States

Haven't had a turntable in decades. In love with this one.

Emily C

January 15, 2019

Michigan, United States

I am a total beginner to turntables and the set up instructions that fluance provides on top of the videos we're so comprehensive and user friendly! I love it so much and it looks beautiful!

William L

January 15, 2019

Florida, United States

This is my first turntable and so far I am extremely pleased.

Joey Johnson

January 13, 2019

Ontario, Canada

This is my first turntable and I am very happy with it. Setup process is very straightforward even for a beginner, and it sounds great too. I paired it with the Edifier 1700's and they work flawlessly. Also, nice to support a Canadian brand. Highly recommended!

Ian M

January 12, 2019

Ontario, Canada

Record player looks beautiful. Was easy to set up and works as expected. It's only been a week but I'm very happy.

Karen M

January 12, 2019

California, United States

Excellent quality!

Netta G

January 12, 2019

Ontario, Canada

I ordered the rt81 and I was so surprised at how fast it came. The player itself is really nice and super easy to set up.

Adam R.

January 3, 2019

Illinois, United States

What can I say about this turntable other than it is fantastic! I have been listening to vinyl since high school (I'm now 26 yrs old) and the RT81 is the definition of how vinyl is meant to be heard and experienced! From the first drop of the needle I could tell how AMAZING of an experience it would be! Love this turntable and would reccomend Fluance to any vinyl enthusiast! Can't wait to listen to music with this turntable for many years to come!

Kim M

December 30, 2018

California, United States

Two years of flawless performance in one gorgeous unit! You won't be disappointed!

ally a

December 28, 2018

Tennessee, United States

An absolutely gorgeous machine with beautiful, clear sound. It was a gift for my fiance as we are new to the turntable scene and we are so pleased with it. It's easy to use and is a gorgeous addition to our home!

Charles G

December 28, 2018

Alabama, United States

Bought it for my son and he loves it!!!

See all reviews
Resources
FAQs
Does this turntable have built in speakers?
Fluance turntables do not include built in speakers.
To use a Fluance turntable, connect it to a home theater receiver or amplifier for use with passive speakers, or connect it to a set of powered speakers such as the Ai40 Powered Bookshelf Speakers.
If your receiver or speakers do not have a specific PHONO input or integrated preamp, RT80 and RT81 both include an internal preamp for quick and easy setup.
Do I need an amplifier for this turntable?
An amplifier is only needed if you're connecting the turntable to passive speakers such as the Signature Series Bookshelf Surround Speakers.
If you're looking for an option without a separate amplifier, the Ai40 Powered Bookshelf speakers fit the bill.
With the Ai40, all you need to do is connect the included RCA cables to the speakers, turn on the internal pre-amp and you're ready to listen to the music the way it was meant to be heard.
When do I use the turntable's built in preamp?
If you're using an amplifier without a phono input, or some powered speakers such as our Ai40 model, you will need to use the preamp by sliding the switch to the "LINE" position.
Can I install a different cartridge on this turntable?
The tonearm of the RT80 and RT81 model turntables is compatible with cartridges from 3.5 grams to 6.5 grams in weight.
For full instructions on this process, see our video below: