Overview

PREMIUM FEATURES
Premium components allow this high fidelity belt driven turntable to produce a pure analog listening experience that recreates the performance the way the artist intended
High performance AT95E Audio Technica cartridge produces outstanding clarity. The diamond elliptical tipped stylus is designed to track your record grooves with greater precision & accuracy for high definition audio
Perfect playback using the balanced aluminum S-Type tonearm ensures the stylus is rested deep in your record's groove, producing every audio detail indistinguishable from the original recording
The beautiful walnut finished cabinet is crafted from solid engineered (MDF) wood, incorporates isolation feet, an aluminum platter, & a rubber slip mat which results in superior isolation from unwanted vibrations
Captivating signal clarity is produced with a high quality Texas Instruments preamp, gold plated RCA line outputs, and a ground terminal that ensure warm, true sound

RT81 HiFi Turntable
Fluance's RT81 High Fidelity Turntable plays traditional LP and EP vinyl records with stunning quality that achieves the purest sound reproduction. When you want the absolute best in music performance, pull out your favorite 33 1/3 or 45 RPM records, hook up your sound system, drop the needle, and immerse yourself in the Fluance RT81 Record Player. Your soul will be captivated by the crisp, distinguishing characteristics of the music you love. Premium components allow this belt driven turntable to produce a pure uncompressed listening experience that recreates the performance the way the artist intended.

Superior Stylus Makes for a Pure Analog Listening Experience
Your music will sound richer when the Audio Technica AT95E stylus rests in the grooves of your favorite vinyl record at a mere 2.0 grams of tracking force. The upgraded elliptical diamond stylus is renowned for its freedom from noise and distortion, clarity on musical peaks, and channel balance.

Complete Clarity Without Compromising Your Collection
You'll savor every note thanks to the balanced and adjustable counterweight of the S-Type tonearm. The fluid movement of the bearings within the tonearm coupled with the advanced anti-skating system practically caresses your record, preventing scratching and ensuring the stylus is perfectly rested deep in your record's groove while splendidly coaxing the music out of your vinyl.

Designed for Serious Performance
The walnut finished cabinet is crafted from solid engineered (MDF) wood which reduces vibrations to ensure the stylus provides the best possible signal. Sound isolation feet, an aluminum platter and a rubber slip mat significantly reduce reverberation, leaving you with pure stereophonic sound.

Premium Components
Captivating signal clarity is produced with a high quality Texas Instruments preamp, ground terminal and gold plated RCA line outputs that ensures high fidelity sound in its truest form.
Specifications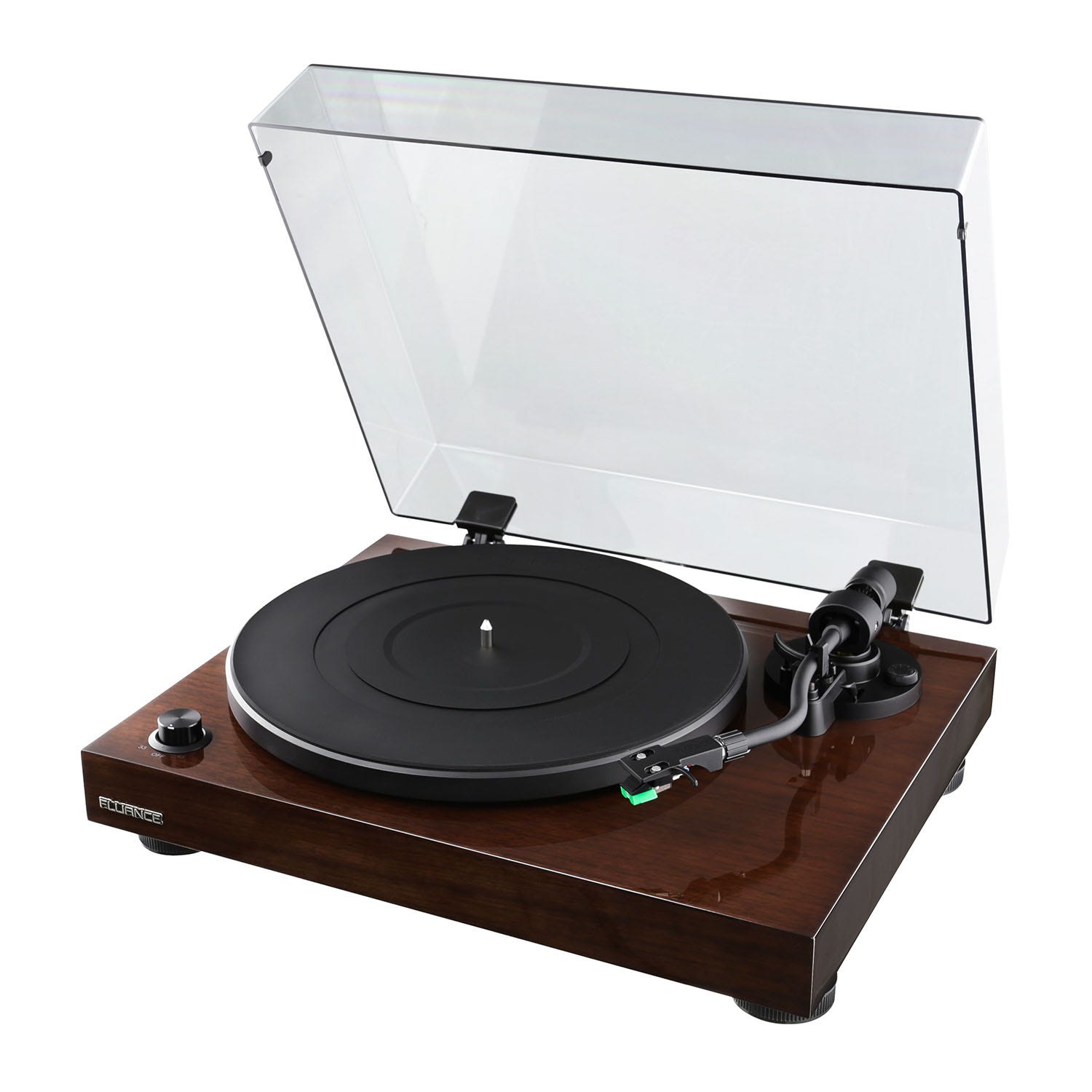 Cabinet Specifications
▼
Cabinet Material
MDF
Finish
High Gloss Walnut
Dust Cover
Yes - Tinted
Turntable Specifications
▼
Drive System
Belt Drive
Motor
DC Motor
Speed
33 1/3 RPM, 45 RPM
Speed Variation
+/-1.00% - Speed Adjustment Guide
Wow and Flutter
0.2%
Signal-to-Noise Ratio (Weighted)
67dB or higher (A-weighted, 20kHz LPF)
Signal-to-Noise Ratio (Unweighted)
60dB or higher (unweighted, 20kHz LPF)
Platter
Aluminum
Diameter of Platter
12", 30cm
Auto-Stop
Yes
Turntable Mat
Rubber
Tonearm Specifications
▼
Tonearm Type
Static Balanced, S-Type
Supported Cartridge Weight
3.5 to 6.5g
Anti-skating Adjustment
Yes
Pivot Bearing
Yes
Tonearm Material
Aluminum
Tonearm Wire
36 AWG Litz Cable / 7 Strand
Effective Tonearm Mass
28.2 grams
Overhang
19.2mm
Effective Tonearm Length
224mm
Headshell Mount
H-4 Bayonet Mount
Tonearm Height
17mm
Cartridge Specifications
▼
Cartridge Type
Dual Moving Magnet (MM)
Catridge Model
Audio Technica: AT95E
Replacement Stylus
ATN95E
Stylus
0.4 × 0.7mil Bonded Elliptical (Diamond)
Cantilever
Aluminum
Mount
Half inch
Frequency Response
20-20,000Hz
Channel Separation
20dB at 1kHz
Channel Balance
2.0dB or less at 1kHz
Load Impedance/Capacitance
47k Ohms/100pF
Output Voltage
2.5mV +/–3dB
Cartridge Weight
5.7g (+/- 0.5g)
Headshell Weight
10.7g
Recommended Tracking Force
2.0g +/–0.5g
Vertical Tracking Angle
20 degrees
Rubber Belt Specifications
▼
Width
4.5mm
Length
534.07mm
Thickness
0.6mm
Output Specifications
▼
Connector
RCA (Gold-plated)
Preamp
Yes, PHONO/LINE Switchable
Phono Output
2.5mV +/–3dB
Phono Bypass
Yes, all electronics bypassed when using external preamp
Line Output
140mV (–17dBV)
Ground Terminal
Yes
Power Specification
▼
Input
100V - 240V AC (50/60Hz)
Output
12V / 500mA
Consumption
1.5W
General Specifications
▼
Dimensions
16.5" x 5.5" x 13.75"
Certifications
FCC Certified, CE Certified, RoHS, CUL/UL
Unit Weight
6.4 kg or 14.1 lbs
Operating Temperature
20°C
Fluance Speaker Size Comparison Chart

UPC
061783264362
What's Included
RT81 Turntable
Dust Cover
45 Adapter
Rubber Slip Mat
6ft RCA Cable With Ground Wire
100V - 240V (50/60Hz) AC Power Adapter
Quick Start Guide
Lifetime Customer Support
2 Year Manufacturer's Warranty
Customer Reviews
Kelly H

September 11, 2018

Arizona, United States

I love this turntable, it was so easy to setup and has performed flawlessly every time I have used it. I can't recommend it or Fluance in general enough!!

Ron A

September 8, 2018

Florida, United States

The Fluance RT81 turntable Is my first turntable as an adult and I must say that I'm very impressed. Starting with the packaging, it arrived at my door secure and undamaged. The construction materials are top notch which is revealed with the sound quality. The setup process is user friendly. I highly recommend the RT81.

Scott J

September 7, 2018

Texas, United States

This turntable exceeded my expectations. It is well constructed and records sound amazing. I highly recommend!

Luc B.

August 28, 2018

Quebec, Canada

Just incredible. At this price point you can't have better. I'm very glad of my purchase. Thank you Fluance

WorldTravelr

July 11, 2018

I really really debated between a lot of different options before settling on the Fluance RT81. I had it between the Audio Technica LP120 The Project Debut Carbon and the UTurn Orbit. (I had also looked at the absolutely beautiful TEAC TN300 because I liked the way it looked much better than the Fluance but I quickly discounted the TEAC because there weren't enough online reviews/info.)

I read that Pro ject are probably the most common lower-end 'audiophile' quality turntables and looked at the Pro ject Carbon and the RPM 1.3 which was also absolutely beautiful. Both are $100 - $300 more than the Fluance however I found a used RPM 1.3 for sale at around the same price. The UTurn Orbit gets great reviews and is handmade in MA ... whereas the Fluance is made in China and then shipped to Canada. The Audio Technica was pretty much the runner up at this point to the Fluance because I simply didn't want to have to buy a preamp even though I know this would probably make a big difference in sound. The Fluance and the LP120 had built in preamps.

I ended up choosing the Fluance for one reason and one reason only over the LP120 ... It had an auto stop. With all the other turntables listed there is no autostop so basically the stylus will keep spinning on the label of a record until you manually lift the arm and turn it off. The Fluance was the only decent turntable I could find that had an autostop feature ... although I'd have much preferred an auto return tonearm which you only find on vintage turntables these days. I will say that the Fluance stops after 5 - 15 seconds of annoying label grinding about 80% of the time. Most times it is older/vintage 33 records which confound the Fluance into not stopping. Many of my 1950s LPs the autostop does not work on ... almost all modern recently bought albums will stop when they get to the end of the record although the stylus (needle) will just rest there on the record which can't be good for it. However it is nice to be able to leave the room while a record is playing and not have to run in from outside because the record ended but the platter is still spinning.

The biggest flaw I found is that the platter wobbles a bit. I wrote Fluance (whose customer service is pretty responsive) and the agent told me that 'That amount of wobble should be acceptable unless you think it is affecting the sound.' A friend of mine who is an audiophile and spends thousands on his equipment saw the wobble and told me it was absolutely unacceptable and to send it back immediately. I'm embarrassed to say that its just such a hassle because I threw away the box that I'll probably just live with it. This seems to be fairly common with Fluance turntables.

The sound on this turntable is pretty good. I have to admit I don't have too much to compare it to. My first turntable (which I had for 4 months) was an ION that I purchased for $40. I read lots of forums on Ion and Crosley turntables and the horrors of ruined records because of poor tracking force (the weight of the tone arm pressing down on the record) before I decided to upgrade. Under $300 for the turntable was my budget so I knew I wouldn't be getting an audiophile quality TT but at least something a bit professional. As popular as vinyl is unless you live in a hip city ... good luck going to a place where you can listen to samples of how each sounds. Instead I had to rely on the hundreds of blogs I read before deciding.

I do notice that I can hear static on almost every vintage record I play even if they appear to be pristine. The needle (stylus) is so sensitive it will pick up a lot of the dust or scuffs on a record even if it looks pretty good. Forget about playing a record in VG or VG- condition ... its unlistenable. As such I've been buying new LPs and aside from dust (the glossy wood plinth plastic dust cover and rubber mat certainly attract dust!) which I have a vinyl brush sticky roller and ONZU stylus dust cleaner (nobody ever said vinyl as a hobby would be cheap!) when a dust-free record is played it sounds great. The stylus gets very high marks on audio forums for the price point ... I have considered upgrading it but do worry because the Fluance rep I talked to said that the cartridge it comes with is specifically designed for the turntable and they cannot guarantee others will work properly. I'd love to hear an Ortofon Red or Blue to see if it makes a big difference as I mostly listen to Rock and Roll.

I'm not as huge a fan of the looks of this thing as others are. To me it looks too retro in a cheesy 1970s or 1980s kind of way. I think it would look much better with black polished wood and a silver/chrome tracking arm. The mahogany wood and smoked plastic cover look like something you'd see in a thrift shop from the 1970s. To me it doesn't look classy. However the Audio Technica LP120 looks too modern and space age for me like something a dj would use. I much prefer the Pro ject RPM 1.3 which lo - Verified Store

Walter H

July 4, 2018

Was great for two months then the left channel went out. I hope their warranty covers it because I really did love this turntable. - Verified Store

justin m

June 28, 2018

Fit and finish is amazing. Sounds so great I just ordered their speakers. Highly recommend. Had a cheaper turntable before and was amazed how much the sound improved. After you set the counterweight this thing plays even warped records without skipping. - Verified Store

Amazon Customer

June 28, 2018

Very good turntable cool - Verified Store

Richard D

June 21, 2018

The RT81 is a real good turntable for the price.
I'm giving it 4 strong stars and I'm happy I bought it.
The built in pre-amp sounds better than the one in my power amp so I'm sticking with it.
Let me get the negatives out of the way: the thing was feeding back pretty bad and I tried several cheap outboard solutions but nothing really did the trick.
Turned out it was the dust-cover.
Yeah the very cool looking tinted dust-cover basically acts as a parabolic microphone and does the unit no favors.
Once I took it off - fantastic. I have to turn it WAY up to trigger the feedback threshold.
The speed adjustments are ridiculous. It says a 1/16 standard screwdriver will work but you actually should use 3/64 jewelers.
It's a GD nightmare but I have the thing running at *exactly* 33.3 / 45 rpm.
So now you know what to look for.
I'm happy as a clam now that those issues have been handled.
I don't hesitate to recommend this turntable. - Verified Store

Amazon Customer

June 19, 2018

This baby is great. I am one of the backers from kickstarter. It is beautiful to look at plays wonderfully and is really heavy. This is my first turntable and I am very happy with it. It has everything I was looking for:
1) Belt driven
2) Bent tonearm
3) Adjustable counterweights - Verified Store

Bobby B

June 15, 2018

Love it. Beautiful craftsmanship. It's amazing how fantastic it looks in person. If you told me it was solid walnut and not mdf I'd believe you. Setup was easy and thankfully it sounds as great as it looks. The tone arm and counterweight are solidly manufactured. The cueing lever is a bit floaty for my taste but that's a minor gripe. The built in pre-amp is serviceable and should satisfy 90% of buyers however if you like your music with a lot of oomph I'd recommend a separate preamp or receiver/Amp with phono. Along the same lines the stylus/cartridge will work for most listeners as it does a fine job of covering the aural spectrum however those with a more discerning ear will probably want to upgrade sooner rather than later. Even without the 24hr burn-in I have not experienced any speed issues previous users have commented on. Overall I am extremely satisfied with this product especially when you factor in that it's priced significantly lower than other turntables with comparable build and features. I will look for Fluance products first from now on. - Verified Store

Chuck

June 11, 2018

easy set up and got great(and fast) customer support when I screwed up the easy set up.
works great. - Verified Store

Jeff W

June 10, 2018

Very solid and attractive unit...only drawback is the lack of an automatic return of the arm when the album side is finished.
But it does turn off and stop spinning. - Verified Store

mwb321

June 10, 2018

Have had no speed problems and no hum issues etc. Unit sounds great and looks like a much more expensive unit than what it is. Running it with a Yamaha a-s801 amp and Klipsch rp-160m speakers. - Verified Store

Homer S

June 9, 2018

If you're like me you are likely considering the purchase of your first turntable or at least your first turntable in a long while. If you're also like me you might be paralyzed by all the choices information and reviews out there. So I bought this one and this is why.

I am not an "audiophile" but I like everyone want something that's going to sound good and more importantly work as it should. Since this is my first purchase I wanted to keep it reasonably priced so I was targeting the $300-400 range. That left me with a few options to compare the AT-LP120 the U-Turn Orbit and the Music Hall 1.3. In my research people who want to listen to records and not DJ choose a belt drive. The direct drive is said to pass along a "rumble" that can be heard. However I really was intrigued by the ability to control the speed or pitch of the AT-LP120. But the things that ruled it out for me were the fixed RCA cables and the fact that you can't really bypass the internal pre-amp (if you choose to upgrade).
As much as I wanted to buy the American made U-Turn Orbit I was turned off by the fact that the tonearm does not have a detachable head and the counterweight seemed like a really cut corner. It's delicate enough to balance the tonearm using a threaded weight. I seemed like a real pain to do it with the set-screw method that they use. Also the dust cover is not really hinged it is attached by plastic pieces that bend in the middle. I just thought that would really annoy me. They say their AC motor will always spin at the correct rate but there is no adjustment available. I did like the fact you can choose your cartridge but didn't like that you have to pay $40 to get a lever that lowers the tonearm. That seems like it should be standard on any decent turntable.

I visited a dealer to inspect the Music Hall turntables. Of all of these I think the Music Hall are probably the most well made. However to get the model that allows you to adjust the speed you have to spend $400 which was really more than I wanted to. Otherwise I would say give them a long look.

The only thing that kept me from buying the Fluance right away was the reviews complaining of inconsistent playback speed. This is something that would bother me greatly. I have owned the unit for 30 days now listened to multiple records daily and have not experienced this. I bought the unit direct from Fluance so that I could get free return shipping within the first 30 days. I called to ask a few questions and they even gave me a discount code to use which knocked the price down a bit.

So I love this turntable. You can tell it is very well thought out. First I love the design. It looks beautiful and is reminiscent of the 70's turntables. I like that the dust cover is tinted and the hinges hold it up effortlessly. There are rubber feet that dampen vibrations. It has an S-shaped tonearm (which may or may not affect playback) and the threaded counterweight and anti-skate were solid. It comes with a descent cartridge and has a detachable head. The thick rubber mat is nice and frankly the only thing that feels cheap is the plastic 45 RPM adapter. Some reviewers complained about the quality of the internal pre-amp and let's face it the included RCA cables are cheap.

How does it sound? There are too many variables to answer that question. The answer largely depends on everything else your turntable plugs into. I have a small space and am using this with a pair of Edifier R17000BT bookshelf speakers (from Amazon). At first some rock songs sounded muddled during the loudest parts but others were great. I bought a Behringer PP400 external pre-amp and some KabelDirekt RCA cables (also from Amazon). I do think this improved the sound and overall performance of the turntable. In the end I am happy with my purchase. I was able to buy a turntable speakers pre-amp and cables for a little more than the Music Hall turntable alone. The experience and enjoyment I get out of hunting for old records and sitting down to listen to them with my wife and kids is well worth the endeavor. - Verified Store

See all reviews
Resources
FAQs
Does this turntable have built in speakers?
Fluance turntables do not include built in speakers.
To use a Fluance turntable, connect it to a home theater receiver or amplifier for use with passive speakers, or connect it to a set of powered speakers such as the Ai40 Powered Bookshelf Speakers.
If your receiver or speakers do not have a specific PHONO input or integrated preamp, RT80 and RT81 both include an internal preamp for quick and easy setup.
Do I need an amplifier for this turntable?
An amplifier is only needed if you're connecting the turntable to passive speakers such as the Signature Series Bookshelf Surround Speakers.
If you're looking for an option without a separate amplifier, the Ai40 Powered Bookshelf speakers fit the bill.
With the Ai40, all you need to do is connect the included RCA cables to the speakers, turn on the internal pre-amp and you're ready to listen to the music the way it was meant to be heard.
When do I use the turntable's built in preamp?
If you're using an amplifier without a phono input, or some powered speakers such as our Ai40 model, you will need to use the preamp by sliding the switch to the "LINE" position.
Can I install a different cartridge on this turntable?
The tonearm of the RT80 and RT81 model turntables is compatible with cartridges from 3.5 grams to 6.5 grams in weight.
For full instructions on this process, see our video below: